Does the spring equinox officially bring an end to winter? Does that mean your ski and snowboard season is over? The answer to that question is absolutely not! Think we're crazy? Don't know what we're talking about? Let us prove it to you. Put down the bathing suits and grab the snow gear. Put that trip to the Caribbean on hold. This spring, head to the mountains! Why you ask? The days are longer, the crowds have reduced to a trickle, and the winter storms have given way to sunshine and warm temperatures. If you haven't taken a trip out West this year, now is the time! Here are the 10 best spring skiing locales in North America!
Why You Should GO!
Great deals to stay & ski
Sunny weather and warm temps
Non-existent crowds
The ability to do other stuff like golf, mountain bike, AND ski in the same day
Chance to get in a sneaker pow day
Before you pick your resort, there are a few things you should know about spring skiing. First, don't expect to ride a full day. Instead, focus on the full experience. The Après ski is almost as important as the skiing in spring. Is there a cool town to hang in? Do you have a place to grill and a patio to chill? How about a mountain bike park or a golf course? Now you feelin' it? These are quite different questions to ask than a winter trip, right?
Next, don't expect the resorts to be at full operation, but this is good news. It means you'll have a ton of terrain all to yourself and can lap those runs until you can't feel your legs. Lastly, even in April or early May, there's still a chance for a sneaker pow day. We've had quite a few, and they are awesome! If you want to learn the in's & outs of spring skiing, what gear to bring, & why it's our favorite time to go on a ski vacation, check out our comprehensive spring skiing guide:
Things To Consider When Picking A Spring Locale
Where should you go? Here are the things to consider when picking a resort:
Historically open late into the season
Large amount of terrain above treeline
Deep snowpack
Ski resort that's received lots of snow for the season (at least annual average)
Best Spring Skiing Resorts in North America
#10 Killington
Average April/May Snowfall: 24 inches
Projected Closing Day: Typically May dependent on weather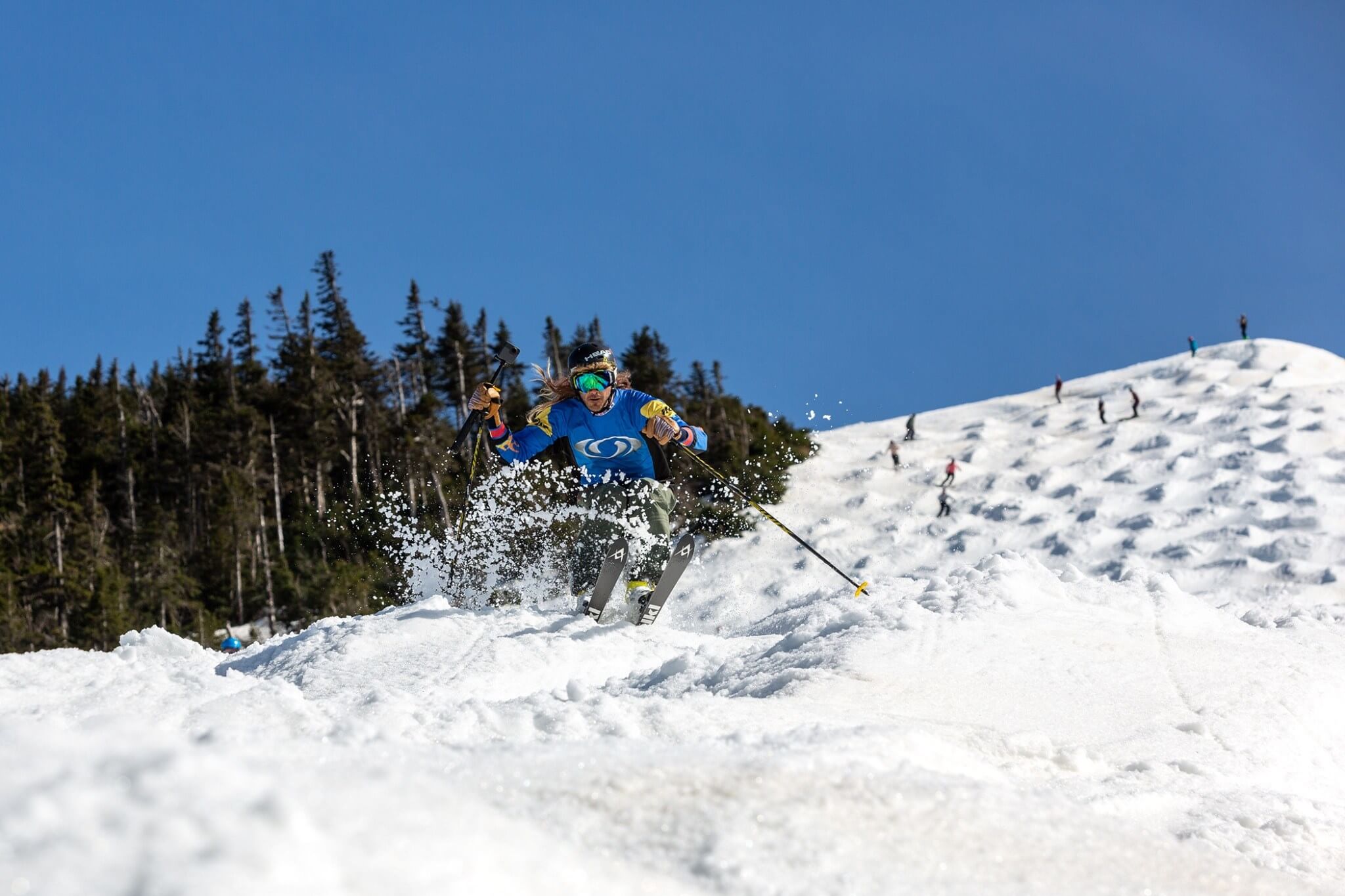 We had to at least tip our hat towards the East. Besides Mammoth on our list, Killington also pushes the envelope on extending their season as long as possible. Through mid-April, there's a good chance the majority of the mountain will be open for you to shred. Killington has even been known to stay open into late May and even into June. With a summit elevation of only 4,241 feet, how can that be? They do this by making snow on one run called Superstar all winter long. The snow on this trail stacks up to nearly three stories tall. Talk about dedication to skiing and snowboarding!
#9 Loveland
Average April/May Snowfall: 71 inches
Average Maximum Snow Depth: 70 inches
Terrain Open: 100% open through end of April conditions permitting
Projected Closing Day: Early May
Most people zoom past as they head to one of the major resorts like Keystone, Copper, or Winter Park. A no frills destination, Loveland is a great example of a mountain still tapped into the soul of skiing and snowboarding. The focus is all about the mountain and not about real estate. Receiving some of the highest snowfall counts in the region and hugging the continental divide, this translates to a season that starts in October and lasts into May or longer. Powder days still happen often in April! By this time of year, the snowpack is deep enough, allowing you to access all of the cool terrain Loveland has to share. This quaint mountain packs quite the punch and is highly recommended. The only reason it's low on the list is because of its early closing date.
#8 Whistler Blackcomb
Average April/May Snowfall: 43 inches
Average Maximum Snow Depth: 106 inches
Terrain Open: As much as possible through April 17th and approximately 1,300 vertical feet of terrain serviced by only the Emerald Chair after April 17th.
Projected Closing Date: May 22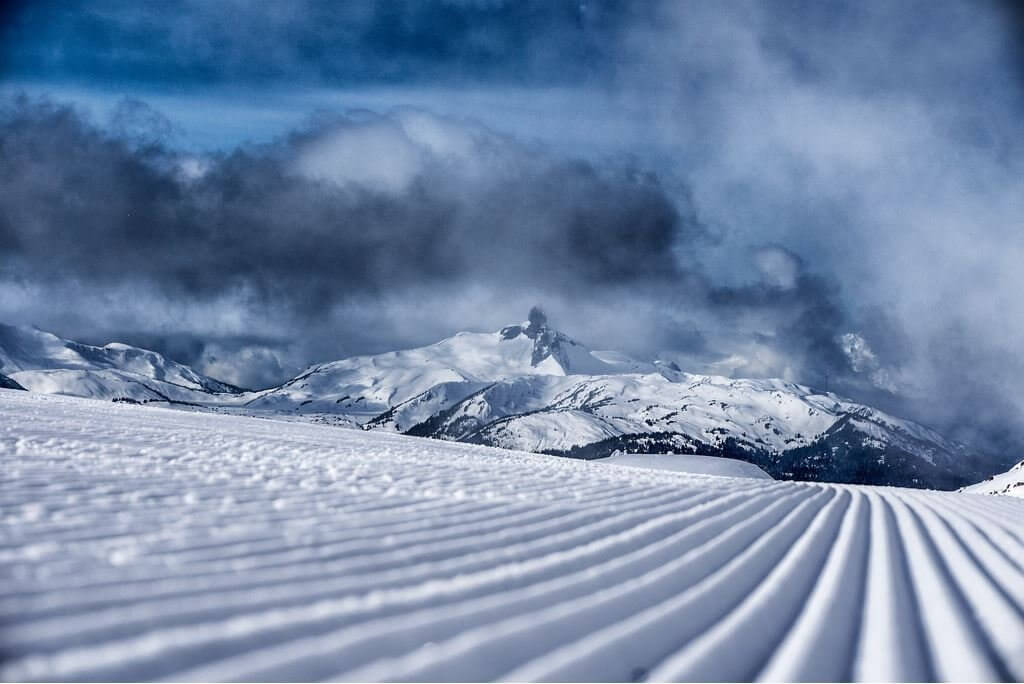 Whistler embodies what every ski resort wishes to be. The village is car-less and there's a plethora of different priced options to eat, drink, and hang out across town. The bad news first is the weather. With close proximity to the coast, there's a possibility of overcast/rainy weather but this is more likely mid-winter than in the spring. Don't worry though. Whistler makes up for it in spades with how many things you can do besides skiing.
Towards the end of April, you can ski in the morning in the upper alpine bowls and then mountain bike in the afternoon on the bottom half of the mountain. April is also when the largest winter sports and music festival in North America takes place right next to the gondola.
Will Whistler Stay Dedicated To Spring Skiing?
Over the past few years, Whistler's dedication to spring skiing after April continues to dwindle so they've moved down the list. Before Vail's purchase, they used to have AT LEAST 2,500 vertical feet of skiing and thousands of acres of glorious alpine terrain accessed by three lifts. Now, it's just one. Good news is if you visit in May, you can still ski in the morning and mountain bike in the afternoon.
#7 Snowbird
Average April/May Snowfall: 74 inches
Average Maximum Snow Depth: 109 inches
Terrain Open: 100% open through end of April conditions permitting but typically only Little Cloud and Mineral Basin Express in May to closing
Projected Closing Day: Still to be announced but traditionally at least through Memorial Day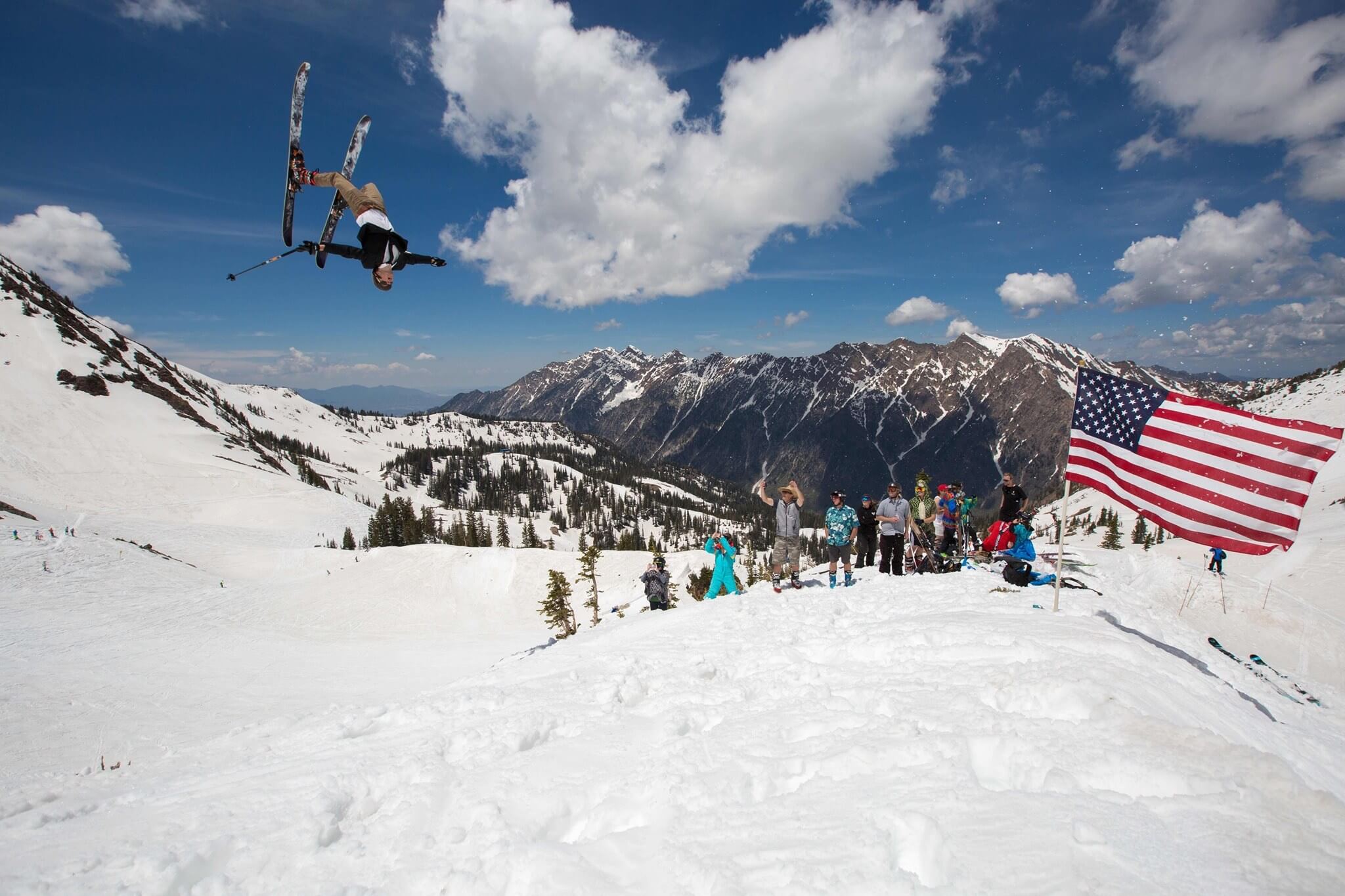 If Alta is the powder capital of Utah then Snowbird is the spring skiing locale. Being the highest ski resort in Utah and most of its terrain facing north, these attributes help keep the snow in its best condition possible. In April, they receive on average nearly 64 inches, meaning the base actually gets refreshed. Finally, with it only being 30 minutes outside of Salt Lake City, the gateway to what some consider the richest and most diverse natural surroundings of any major city, you have access to hiking, mountain biking, and even hot springs. Good times for sure!
#6 Timberline / Mt. Hood Meadows
Average April/May Snowfall: 37 inches
Maximum Snow Depth: 131 inches
Terrain Open: 100% open through closing at Mt. Hood Meadows and 1,500 vertical feet on the Palmer snowfield (@ Timberline) which is skiable all summer
Projected Closing Day: May 7th (Mt.Hood Meadows) / September (Timberline)
The actual Mt. Hood contains four major resorts that sit on its flanks each offering different terrain and feel. One of those is Timberline. It stays open all year round except for a few weeks of maintenance in September. It's THE home for summer skiing and snowboarding in North America. Summer camps such as Windell's build their own private parks for campers to shred. And the public gains access to groomed corduroy off of the Palmer chair. If you're looking for a bit more of a challenge, Mt. Hood Meadows just down the road is open through at least the first week of May.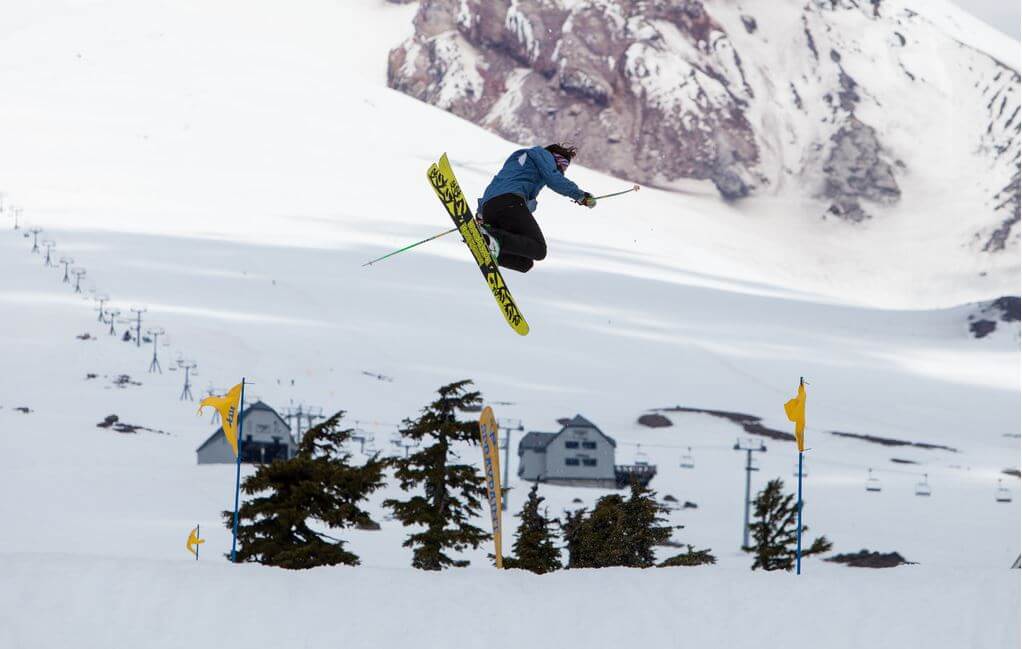 If comparing Oregon for the spring season, Mt. Bachelor offers more extensive terrain with far superior snow conditions to either of the Mt. Hood areas. Think about timing if heading to Oregon so you get the best spring skiing for the time you plan to hit the slopes.
#5 Lake Louise / Sunshine Village – SkiBig3
Average April/May Snowfall: 35 inches
Maximum Snow Depth: 81 inches
Projected Closing Date: May 22 (Sunshine Village) & May 7 (Lake Louise)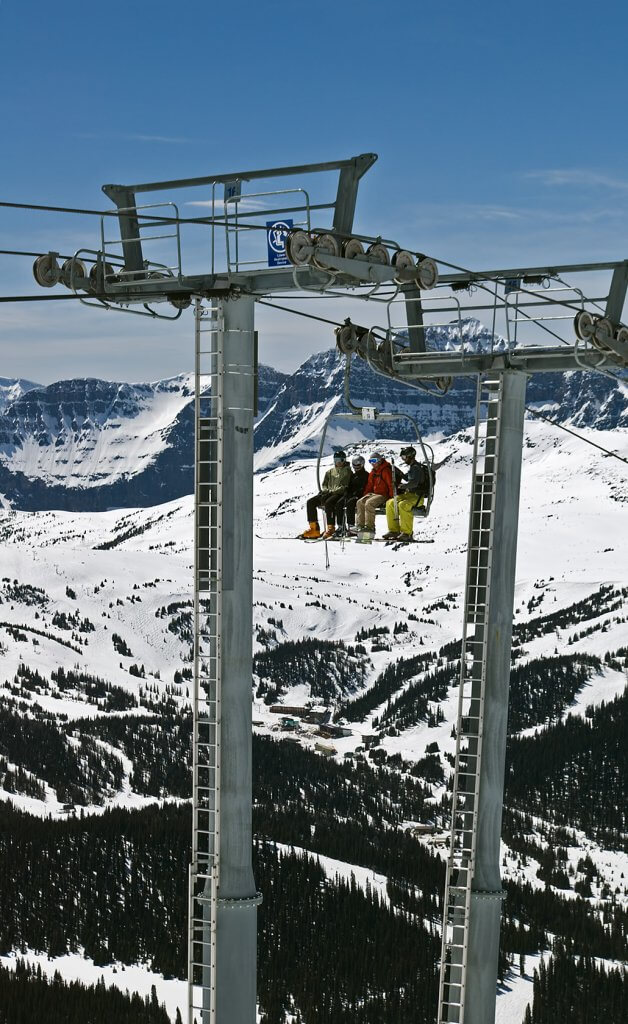 Always one of the first to open and last to close, spring is prime time for Lake Louise and Banff Sunshine Village. The extremely cold weather has retreated and the sun has begun to shine. Don't fret about the snow conditions though. Even now, mid-winter powder conditions prevail due to its northern latitude. And for those looking for a party scene, Banff is only a few miles down the road. This town is filled with amazing cuisine, great shopping, and awesome watering holes. If that wasn't enough, the views of Lake Louise from the summit are some of the most amazing in the world. One thing to consider with Alberta is to make sure they've had an average to above average winter for maximum coverage. One additional thing to note is that Banff Sunshine Village and Lake Louise are 36 miles apart.
#4 Palisades Tahoe
Average April/May Snowfall: 46 inches
Maximum Snow Depth: 115 inches
Terrain Open: As much as possible
Projected Closing Date: May 29th
Tahoe's climate of cold freezing nights and warm sunny days plus the ski resort's topography creates some of the best corn you'll find anywhere. Since Palisades Tahoe installed the Base to Base Gondola to connect to Alpine, they've become one resort. The Palisades side may stay open longer, so we recommend trying to hit the Alpine side before it closes for the season. This big craggy mountain is a "follow the sun" type of mountain, lending itself a bit better for spring skiing. Start off the day hitting the south facing Sherwood. Then head over to the east facing sections of the Summit bowl for a midday corn harvest. Finally, finish off on west facing Scott and Lakeview area in the afternoon. For more about corn snow, check out our spring skiing guide found here.
#3 Arapahoe Basin
Average April/May Snowfall: 66 inches
Average Maximum Snow Depth: 81 inches
Terrain Open: 700+ acres through closing (almost all of the terrain)
Projected Closing Date: At least end of May but most likely longer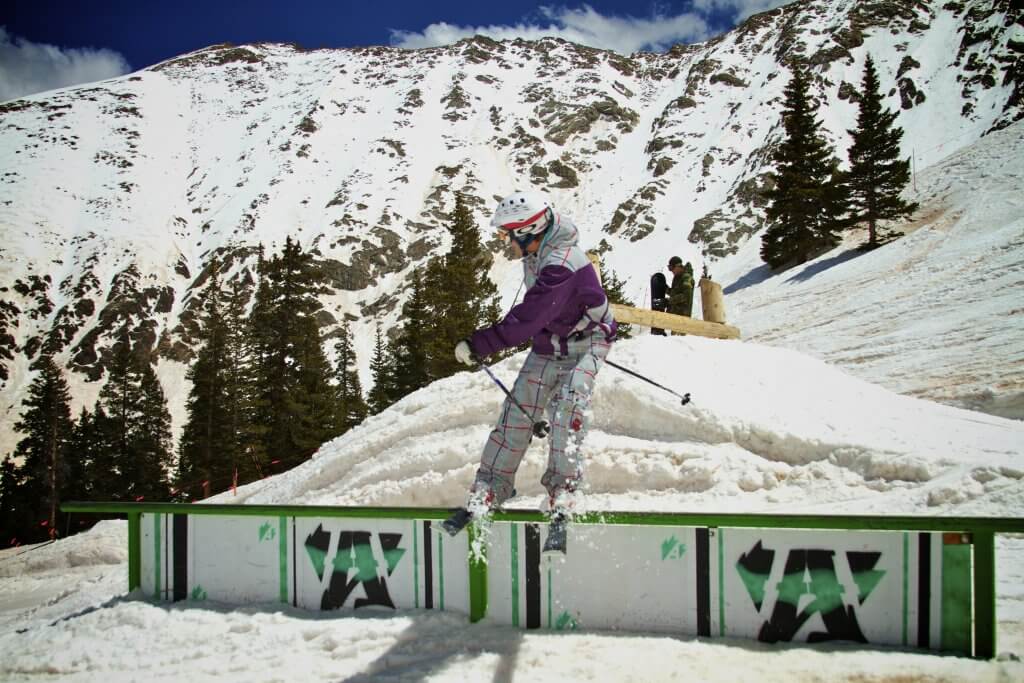 Arapahoe Basin could be considered the "King of Spring" for the Rockies. Always pushing the envelope to stay open until the snow melts, there have been years that they've been skiing until July 4th. Typically in April, it's less about the corn and more about skiing and snowboarding their packed powder with the steep Palivaccini terrain facing more north and ranging from 10,800′ to 12,200′. The parking lot is called the "Beach", and you can watch people skiing down the mountain as you grill right in front of your car. If this isn't on your bucket list to visit… it should be!
#2 Mammoth Mountain
Average April/May Snowfall: 68 inches
Average Maximum Snow Depth: 133 inches
Terrain Open: 100% in April; at least 2,000 acres through May; 500-1,000 acres through June and July
Projected Closing Day: Until the snow melts so could be as late July 4th or even later like last season.
Mammoth is a unique mountain compared to the others on our list. First, due to it close proximity to the Pacific Ocean, they receive snowfall with higher moisture content. Second, it's elevation is comparable to the resorts in Colorado. What these two facts translate to is a deep snowpack with warm days and freezing nights, helping ensure that the best conditions are possible even into May! Mammoth's dedication to grooming and having at least 2,000+ acres open makes it a great candidate to hit in late spring.
#1 Mt. Bachelor
Average April/May Snowfall: 68 inches
Average Maximum Snow Depth: 145 inches
Projected Closing Day: May 28th
Terrain Open: 100% in April and at least 2,000 acres with over 3,100 vertical feet through closing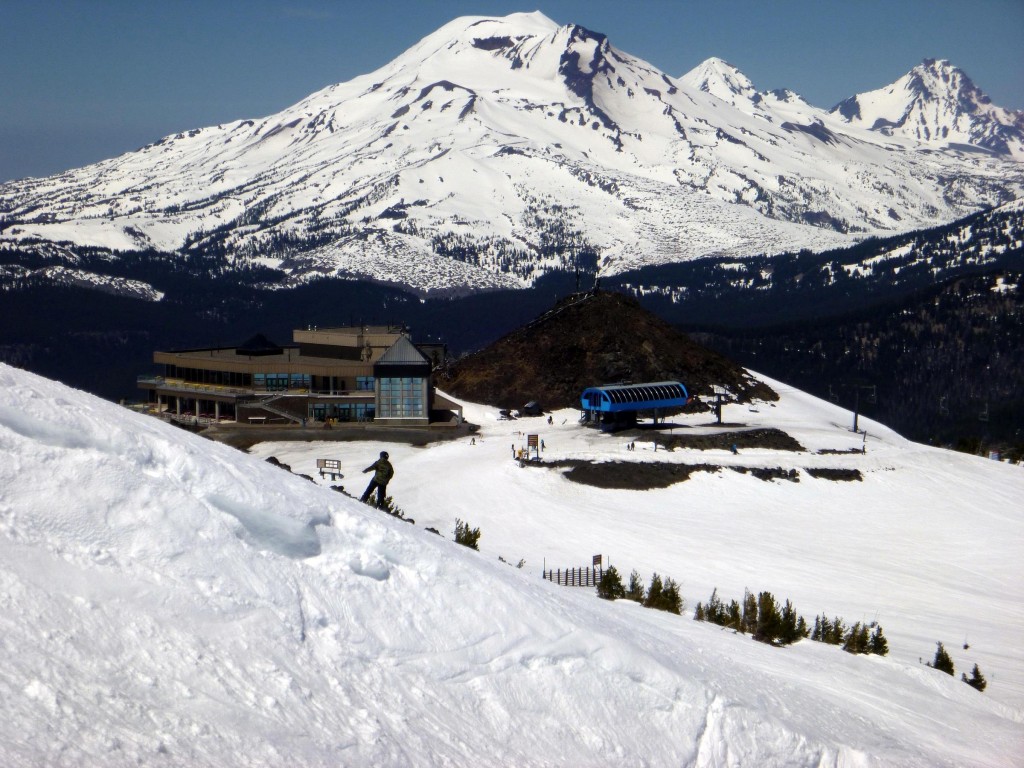 This place should be on everyone's bucket list for spring skiing and snowboarding. It could even be argued that it's better to visit Mt. Bachelor in the spring than in the winter. This is mainly because of the Summit chairlift. Accessing 1,700 vertical feet all above tree line, it's closed at least 30% of the time during the winter due to storms barreling into Mt. Bachelor. In the spring though, this sometimes elusive terrain is wide open and ready for shredding.
Find Your Basecamp For Spring Fun
With nearly 2,000+ acres available to you, Bachelor has some of the largest terrain footprints open in late season. In between storms when the temperatures rise, you will find plenty of corn ripe for the harvesting. The resort is a giant dormant volcano, allowing you to use it as a sundial finding the perfect conditions based on day & time. When the snow begins to sour in the afternoon, the Après scene heats up. Being next to Bend, OR, an outdoor mecca, there's plenty to keep you busy. From hiking, mountain biking, kayaking, paddle boarding, and even golfing, you're sure to find an activity to occupy the rest of your day. After you've worked up a good thirst, there are dozens of breweries with relaxed atmospheres to sit back and wind down.
For more about Bend and the breweries, check out our write up here. If you're looking for a guide to Mt. Bachelor, we got you covered there as well! Read our Ultimate Guide to Bachelor here.
March shouldn't be the end of your season but rather the time for you to turn up the volume! What will you plan for April, May, and even June? Happy Spring Shredding!