OK, let's get the wise cracks and *ahem* comments about the West Coast having a long season behind us. Sure… you can surf, ski, golf, and mountain bike all in the same day in places like Mammoth, Mt. Bachelor, A-Basin, and our basecamp Tahoe. BUT to do this on the East Coast or Midwest outside of Killington into MAY is rare. As summer begins to wind down and our minds begin to focus on our upcoming winter, we thought why not look back at the the 2017-18 midwest skiing season. It wasn't just good… it was HISTORIC! Here's just a few highlights from it.
2017-18 Ski Season Record Setting Closing Dates
Lutsen Mountain
Lutsen, Minnesota
Open until May 6th
Only twice in its 73-year history has Eagle Mountain at Lutsen Mountains been open for skiing in May. For this particular season, it wasn't even just one run but rather over a dozen slopes were open for people to shred. It also gave folks a chance to golf at Superior National Golf Course AND ski on the same day.
Granite Peak Ski Resort
Wausau, Wisconsin
Open until May 6th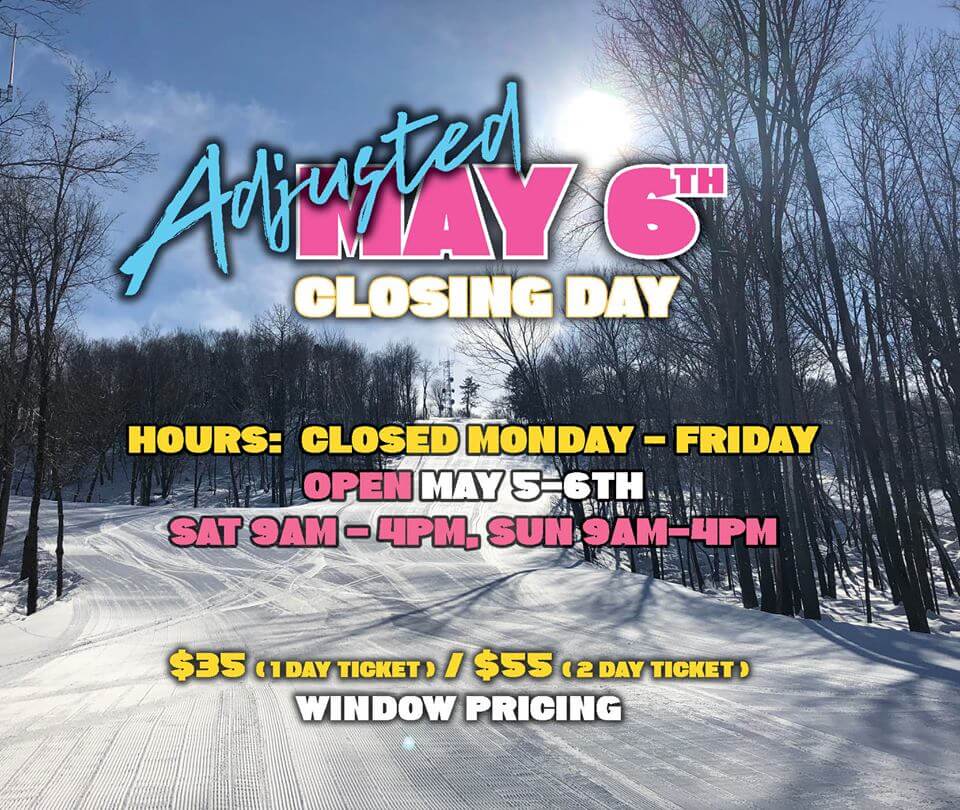 A late spring snowstorm that brought over two feet of snow to some parts of Wisconsin helped push the Midwest skiing season for one resort to its latest closing ever. Originally targeted to shut down on April 15th, thanks in part to cold temperatures and a couple of massive snowstorms, they were able to keep the lifts running until the first weekend in May. It's one for the record books.
Bristol Mountain Ski Resort
Canandaigua, New York
Open until May 1st
New York's resort that was to first open on November 11th also became one of two resorts to push their closing date into May. With seven slopes open and highs in the mid-70s, it was a one-of-a kind treat for folks living in upstate New York. In fact, this is the FIRST time in its 58 year history that skiers and snowboarders were able to slide in May. This is thanks in part to a cold snowy March and April.
Whiteface Mountain
Wilmington, New York
Open until May 5th
Home to the 1980 Winter Olympics, the resort maintained seven day operations through April 21st and then were able to stay open every weekend until May 5th. This helped push the resort to have its latest closing ever! Previously, the latest day of skiing at Whiteface was May 1st. Nine trails were open between the Little Whiteface summit and the base lodge offering top-to-bottom skiing, accessible by two chairlifts: Face Lift and Little Whiteface. This gave diehard sliders a chance to shred some awesome spring corn with temps hitting the mid-60s.
Boyne Mountain
Boyne Falls, Michigan
Open until May 6th
This winter was a wacky one for Midwest skiing. Northern Michigan received more snow in April than they did in January, and this gave two resorts an opportunity to push their limits of staying open. In effect, Mount Bohemia and Boyne Mountain Resort decided to make a bet to see which could keep its slopes open longest, with the losing resort donating $1,000 to a charity of the winner's choosing. For Boyne, this wasn't the first time they pushed their closing date into May. They did this back in the 2001-2002 season as well and even though Bohemia had over 300 inches of snow, Boyne won by closing on May 6th.
Mount Bohemia
Mohawk, Michigan
Open until April 29th
While Boyne may have won the battle, Mount Bohemia won the war on snowfall. Considered the Midwest skiing powder mecca, it features Western terrain that gets the most snowfall and has the biggest vertical all in one location. Thanks to continued cold temps and the fifth snowiest April on record, they were able to stay open until April 29th.
Banner Spring in the East
This year the East saw it all. A DEEP freeze in December, spring skiing in February, legendary snowfall in March and all-time conditions in April. While not record breaking, the perennial late season destinations were able to still push their closing dates into May and one possibly even later due to over 6-8 feet of snow the last two months of spring.
Killington – May 26th
So, here's to you ski resorts that fought the good fight and kept the lifts running because there was snow on the ground. May the upcoming 2022-23 winter be just as good!
If you're an inquisitive person that asks questions like what is the largest snowstorm ever or what are the types of snow, you'll LOVE our weather phenomenon page. We answer these types of things and much, much more: