Image above appears courtesy: Red Mountain Resort
We get it. You only have so many trips available to you. While we won't begrudge you if these behemoths in North America are a top priority to shred, we thought it would be fun to share some alternatives to the most popular ski resorts. In short, this isn't the list of the most affordable ski resorts or a selection of our favorite non-Ikon or Epic pass holdouts. It's rather a list of some of the most popular ski resorts to avoid and where to ski instead to find the same vibes at a less crowded destination.
For The Ski-Town Culture: Taos Not Aspen Snowmass
Learn more about Taos Ski Valley
Aspen has always been the hotbed of the ski-town scene. Après isn't just a few brews but rather an extension to the high quality skiing available at the assortment of ski resorts. For those with a discerning palate and enjoy the good stuff in life, look no further than Taos. When it comes to snow quality, nobody can compete with them. In fact, the snow is so dry that it seems to be made of bird feathers (don't worry – no birds were harmed in the making of the snow). Then finish the day strolling through the promenade and celebrate with a dish of New Mexican cuisine. A fusion of Pueblo culture (i.e. Apache, Navaho) with Hispano Spanish & Mexican, your tastebuds will be cheering from all the unique flavors.
Get Lost In The Woods: Red Mountain Resort Not Steamboat
Learn more about Red Mountain Resort
There's something special about tree skiing or jumping into glades. Once you head off the main trails and make your own path, you'll become addicted. It's true that Steamboat's slopes feature some of the most famous tree skiing on the planet. But, with over a million people visiting annually, expect them to get tracked out pretty quickly. For those wanting to find deep, dry snow and a varied selection of tree skiing, look no further than Red Mountain. Experts will enjoy Captain Jack's Trees & Beer Belly while intermediates will froth over the goods flanking the Paradise Lift. With over 3,850 acres to feast upon, there's a reason why their motto is "the last, great unspoiled resort" and on our list of the best non-Ikon / Epic resorts.
For A Storm Day: Homewood, not Squaw Valley | Alpine Meadows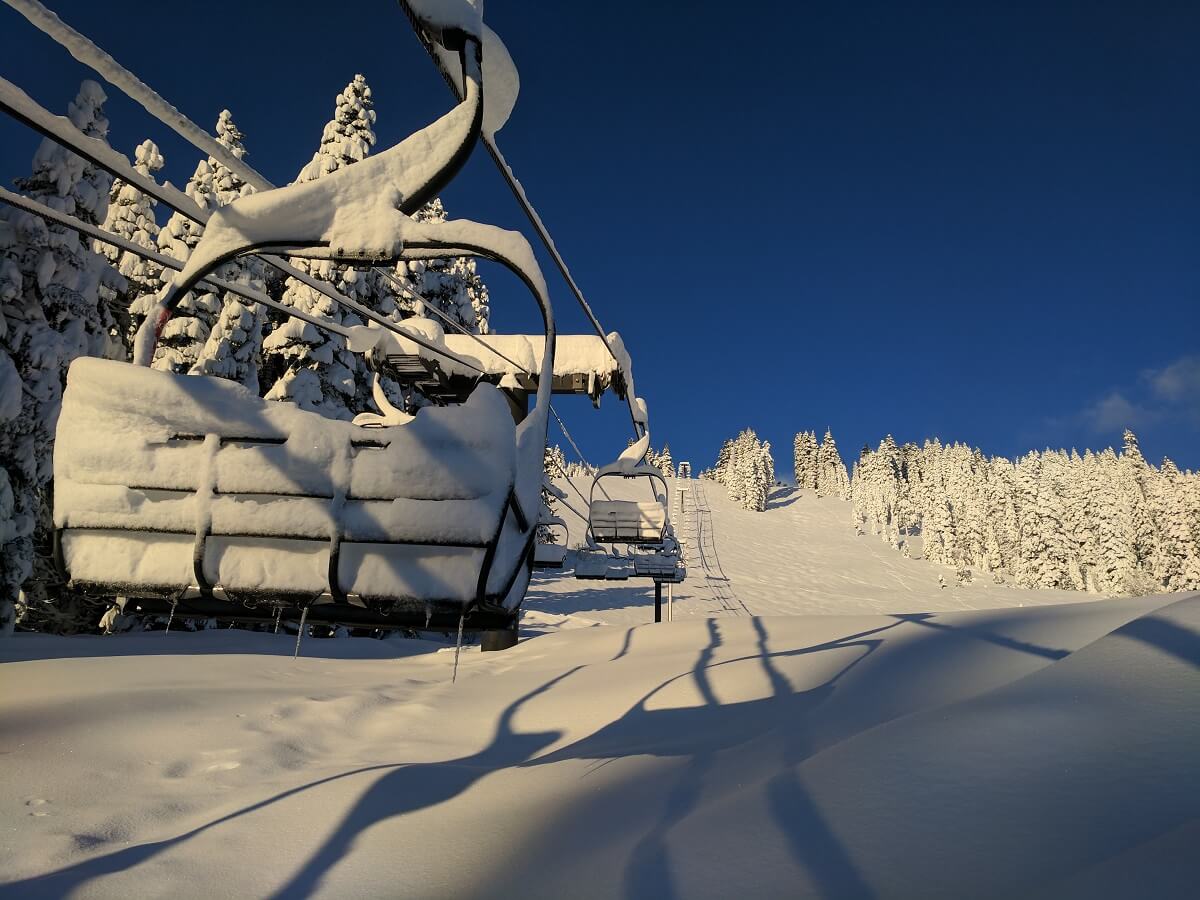 Squaw has been the central beating heart of extreme skiing for decades. A place that pushed athletes like Shane McConkey to the forefront. As such, when the snow does fall, nearly every skier and snowboarder seem to come out of the woodwork within a 200-mile radius. On a busy powder day, expect A LOT of competition. And with minimal tree skiing, visibility on a storm day can be difficult. Skip the stress and head to the western side of Lake Tahoe to Homewood Mountain. The views are spectacular, and the terrain is off the hook! And on a storm day, Homewood offers some of the BEST sheltered glade skiing when the winds are a blowin'. And compared to the other resorts in Tahoe, you'll have the powder pretty much to yourself. They also now feature cat skiing! It's the only one-of-its-kind in the Lake Tahoe Basin.
Local Freshies tip: If you're staying on the south shore keep your eyes peeled on road closures. On massive storm days CalTrans shuts down the Emerald Bay segment due to avalanche concerns.
For Those That Need Leg Room: Big Sky Not Whistler
Learn more about Big Sky Resort
Whistler is HUGE! Nearly 8,171 acres and 5,020 vertical feet of skiing & snowboarding available to you. But when you compare that to Big Sky with its 5,800+ acres and 4,350 vertical feet along with a 1 skier per acre average, it's kinda hard to NOT want to visit Big Sky. From four mountain peaks to explore featuring more than 300 runs, featuring everything from steep chutes to smooth groomers, you'll have lots of options if you do visit.
For The Steep n' Deep: Revelstoke Not Jackson Hole
There's a reason why Jackson's residential home starting price is at a whopping cool million. Surrounded by not one but TWO national parks, stunning vistas of the Tetons, and with some of the best snow on the planet falling on the steep terrain, there really is nothing like it. But the secret's out and lift lines continue to exponentially increase. Just like the original settlers heading West for space, it's time to head north… to Revelstoke. Home to a vertical drop that's bigger than Jackson's, steep terrain that'll challenge the hardiest folk, and over 480 inches of snow annually, this place is downright glorious. AND, if you have a bit more money in the bank, you can even get a few days of cat or heli skiing in.
For The Family: Sun Peaks Not Vail
Learn more about Sun Peaks Resort
Since its inception in the 60's, Vail's goal was to provide the ultimate in winter fun. Inspired by mountain towns in Bavaria, the village gives a nod to classic European alpine architecture, but at the same time, high-end luxury such as pedestrian-friendly heated streets. Just like Vail, Sun Peak's village gives a nod to European-style buildings as well, although when most think of British Columbia their thoughts go to Whistler where it's rowdy, rambunctious, and home to a maritime snowpack (i.e. heavy snow). Just a few hours east though, Sun Peaks provides a more relaxed atmosphere that caters to everyone in the family. Together with snow that is as light and dry as you'd find in places like Colorado blanketing the 4,270 acres, you'll have plenty to explore.
Of course there are places like Jackson Hole that you NEED to ski once in your life, but after you do, it might be time to expand your horizons and check out some other locales that are a bit less crowded.