Even after more than five years of ski touring, I still consider myself a green horn especially when it comes to picking new backcountry ski gear. Luckily, a good friend and mentor is the owner of Outdoor Adventure Club – Richard Bothwell. Since 1996, they've been helping people recreate outside safely from backcountry skiing to rock climbing adventures. He helped guide me on what to look for in the best backcountry ski jacket. This article is a consolidation of our research to find the best jacket for both Jaime and I. Instead of keeping our journey to ourselves, we decided to share what we learned. Be sure to comment on this article if there is one that you thoroughly enjoy or vice versa.
Get The Gear, Get Educated, And Come Home Safe
As with any time we speak about backcountry skiing, we want to highlight that when heading beyond the boundaries of a ski resort, it becomes YOUR responsibility. While it's rewarding, we urge you to take an AIARE class, obtain the proper safety gear (beacon, shovel, and probe), and find a mentor. To help you in this process, please visit our backcountry guide which contains everything we've learned, events, and even our experiences like having a person break their leg a mile from the trailhead.
Common Theme For All Backcountry Gear
Compared to resort skiing where having things like extra pockets, powder gaiters, and season pass stashes are a good thing, this couldn't be further from the truth for the best backcountry ski jacket. You want to keep it simple, ensure its bullet proof, and as light as possible. This is the case for backcountry ski pants as well as any other piece of gear you take out into the mountains. All things considered, if you have the budget, having the right tool for the job will bring your ski touring to the next level. Here's a rundown of each type of backcountry ski jacket and what they're used for.
Why A Resort Shell Is No Bueno
For the first few years of touring, we just used our resort shells. They worked ok, but each time we went out, we realized how much of a pain they were. Resort ski shells are normally a bit longer, come with a powder skirt, and tons of pockets. A good example is the North Face Eco Snow Triclimate. It took up WAY too much space, so I had to up the size of my backpack just to fit it. It was heavy as well and made me overly sweaty on most tours because it wasn't breathable at all.
Touring Shell Aka Hard Shell – Mr Versatile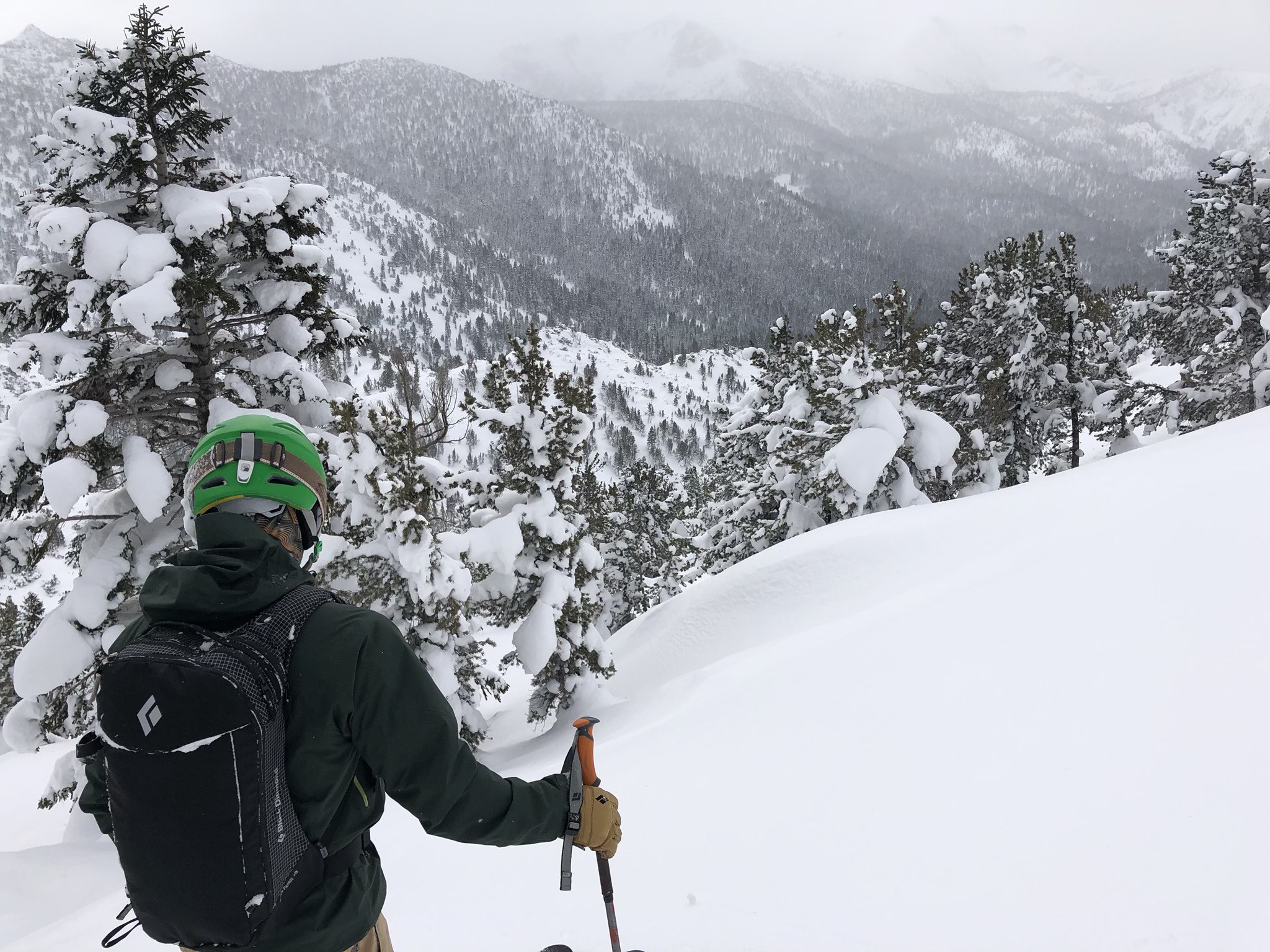 Looking over at my mentors who've been ski touring for decades, I realized that their backcountry ski jackets were TINY like everything else in their kit. For touring shells, the ideal layer is to be as thin as possible. We can't stress this enough – MINIMAL. All it's supposed to be is a barrier between you and precipitation be it snow or the dreaded "R" word – rain. We suggest steering away from an insulated jacket.
Snow/Sleet/Wind It Will Protect You
This means you don't want any inside pockets. There should be no insulation. No powder skirt. Within the jacket, you'll find a detached hanging liner. Its function is to protect the outer membrane from the oils of your skin and wear. This jacket is used only when it's actively snowing/raining or if it's brutally windy. If it's a beautiful sunny day in the mountains with almost no wind predicted, you can even consider leaving this at home or roll it up and store in your backpack.
Local Freshies® Tip: Hard Shells should roll up to no bigger than a Nalgene bottle in your pack.
Other Jackets To Consider
Besides the hard shell which we will go into MUCH more detail, we want to highlight a few of the other ones that you may want to consider if you begin to spend A LOT of time backcountry skiing. They aren't required but they add flexibility to your clothing making for a better time out in the wilderness.
Puffy – Warmth When You Need It
Before we even purchased a hard-shell, we got a puffy. This is our go-to for mid-layer. Typically, when we're ascending, we don't even have it on. Even so, it's ALWAYS inside of our backpack. Once we summit and it's windy, we'll throw this on to keep us warm. Similar to the hard-shell, this garment should also pack down to the size of a Nalgene bottle.
How Heavy To Go With It?
Depending on where you live, this doesn't need to be a super heavy down jacket. The Patagonia nano puff is only 60-g PrimaLoft® and it works just fine in the coldest days in Tahoe on a dawn patrol.
Local Freshies® tip: When getting ready for your tour at the car, rock a puffy. Once you're geared up and ready to move, pack it away. You should feel a little chilly as you leave the trailhead because you'll heat up quickly as you ascend.
Soft Shell – For Those 'Nice' Days
I can't stress this enough, up hilling is a strenuous activity. I run hot and even on the days when temps hover in the 20's, a hard shell is a bit too much for me. In comes the soft shell. I picked up the Adlerm Maloja soft shell and I couldn't be happier. A soft shell is the perfect coat to wear when it's sunny out, and you are in need a bit of protection from the wind. Other great soft shell options include the Dynafit Beast Hybrid Jacket.
Features And Construction In A Hard Shell
Hard shells come in three layers of construction: 2 layer, 2.5, or 3 layer. Depending on the brand or type of jacket, the materials used can be proprietary. For example, Patagonia's is H2No® and Mammut's DRYtechnology Pro™.
2-Layer
As the term suggests, these types of jackets have TWO layers. The first layer is made of a nylon or polyester fabric that's bonded to another layer below. The 2nd layer is comprised of a material that acts as a membrane to wick moisture away from your mid-layers or base layer. At the same time, it prevents water or snow from seeping in.
2.5-Layer
We know what you're thinking, how can this be possible? This is when a 2-Layer jacket has a third moisture-wicking layer. This layer isn't bonded and rather hangs loose within it. The idea is to add a bit more protection between your skin's oils and the jacket, so it doesn't degrade the performance.
3-Layer
The best of the best. Unfortunately, you have to pay for it too. Although the construction is similar to a 2-Layer where the waterproof/breathable membrane is bonded to the underside of an outer shell fabric, it adds another layer of protection as well. Whereas the 2.5-Layer has a third one that hangs loose, these jackets have a bonded third layer. You would think the 3L versions would be heavier… they normally aren't. This is because it doesn't include the weight of the hanging layer.
Is 3-Layer The Best Then?
Just like everything in the backcountry world, "it depends." Companies make the decision based on the layering system on what they're being used for and the material technologies IN the jacket. For example, some GORE-TEX® varieties don't use the 3-Layer construction.
Pockets
Although we said to avoid interior pockets, having external ones are a godsend. The best backcountry ski jacket varieties have pockets that are on the front of them. This allows you to access them with your pack on. And those pockets should be big enough so you can stash your skins in them. Why? Having a little body heat on the glue of climbing skins will ensure they keep sticky through multiple transitions.
Seams
Water will ALWAYS find even the tiniest gaps to seep into and on a ski touring jacket that means the seams and zippers are where they have the highest likelihood of leakage. There are three ways manufacturers deal with this.
Critically Taped
Taping coats is an expensive procedure. To make jackets more budget friendly, many will only seal the most critical seam locations. This typically includes the hood, neck, and shoulder areas. For sunny days or resorts skiing, that's fine, but for touring where you could be out in inclement weather for twelve hours, we personally would avoid these jackets.
Fully Taped Seams
A BIG step above critically taped, these are jackets that have ALL their seams sealed. This is where every spot a sewing needle has touched has been locked up tighter than a Swiss bank vault. This level of protection also comes with a bigger price tag.
Welded
As the name alludes, this is like when two pieces of metal are welded together but instead with material. And just like metal, where these two pieces of material meet can even be stronger. Instead of stitch holes for liquids to find, the bond is created by heat and pressure. Even so, not all materials can be welded together.
Venting
Nearly every ski jacket has some sort of venting available especially under the arm pits. Even so, there are some that provide the ultimate in ventilation such as Outdoor Research's Hem-To-Bicep TorsoFlo™ Venting. You can literally unzip from the bottom of the jacket all the way up to the middle of your tricep. If you run hot or do a lot of spring skiing, this is a great option to keep you dry AND cool.
Waterproof Zippers
Yet another way that manufacturers have found to get jackets lighter. The higher-end premium jackets will have a waterproof zipper instead of a storm flap over any openings with zippers.
Fit
I'm a person that enjoys a VERY baggy fit, but when picking the best backcountry ski jacket for you, be sure to consider the added weight. Getting one that fits a bit snugger if you're wearing a puffy underneath isn't a bad thing. You may be able to ski with a smaller backpack too. In summary, our experience is it's better to concentrate on finding one that fits within your price range and then focus on the features.
Best Hardshell Jackets On The Market
Now that we've gone through what to look for in the best backcountry ski jacket, let's take a look at what some of the biggest brands are offering.
Arc'Teryx
Since the beginning, Arc'Teryx is focused on making the best products on the market. For example, it takes 259 minutes to construct each Alpha SV jacket from start to finish. It's a 217-step process, which includes seven steps on the hood brim alone. That kind of attention to detail doesn't come cheap. If you want nothing but the best and only the best will do, then Arc'Teryx is always at or near the top for the best backcountry ski jacket list.
Arc'Teryx Alpha SV
Claimed Weight: 1 lb 1.3 oz
As nature makes a diamond, Arc'Teryx has made the Alpha SV Jacket. This starts with choosing the highest quality materials such as using GORE-TEX Pro. From there, they use the e3D patterning and an articulated construction to ensure you can move freely. After two decades of being the premier model along with a refresh in 2016, this is still what the most serious backcountry skiers use as their go to.
Alpha AR Jacket
Claimed Weight: 15.2 oz
Check Prices: Amazon
AR stands for all-round meaning that for this part of their product line, it's focused on versatility. Be aware that some of them in our mind come with a bit too many bells & whistles like the AR Sabre jacket sacrificing on weight. With that being said, the Alpha AR Jacket is a great option – it's a bit lighter than the Alpha SV. Starting off, this version of the Arc'Teryx still comes with the 3-Layer Gore-Tex Pro. Instead of the 100D nylon material that the Alpha SV has, this one is made with 80D. Still tough and made with the attention to detail that you'd expect from Arc'Teryx but for a few hundred less.
Mammut
Founded in 1862 as a mountaineering and trekking company, since day one they've focused on creating products that can be relied upon, even the worst situations in the mountains. They've designed their garments around the movements of the athletes using them. Which is then applied into a three-dimensional cut of the fabric allowing for maximum movement even when the material is tough. We own two of their backcountry touring bags, and we can't say enough about them. In simplest terms, you get what you pay for.
Nordwand Pro HS
Claimed Weight: 1 lb 5.8 oz
Check Prices: Backcountry.com | Moosejaw
One word can describe the Nordwand Pro HS: Rugged. This is the closest anyone has gotten to the O.G. of backcountry touring jackets from Arc'Teryx. If you're thinking about some serious backcountry summits filled with craggy granite, this will do. It's 3-Layer GORE-TEX Pro along with its heavy duty 80D x 80D denier will in fact LAUGH at it. Similar to the Alpha SV, you have to pay for all this technology as well.
Aenergy HS Hooded
Claimed Weight: 13.8 oz
Check Prices: Backcountry.com | Moosejaw
Made with a membrane by GORE-TEX's competitor called Pertex® Shield Air, this 3-Layer jacket still provides a decent 15,000 mm waterproofing but the breathability rating is its strong suit at a whopping 40,000 g/m². If you're a person that gets toasty ski touring and want something for a few hundred less than the Norwand Pro HS, this is a good option. Like most Mammut jackets, they fit true to size meaning a bit snugger.
Patagonia
If there are two companies that are polarizing more than any other, it's Arc'Teryx and Patagonia. It's like Ford and Dodge pickup truck owners. Those who LOVE Arc'Teryx tend to disapprove of Patagonia. And people that love Patagonia think Arc'Teryx is unworthy. The truth is BOTH manufacture great products so you won't go wrong with either. Over its half century, Patagonia's assortment of jackets, pants, and accessories has become quite dizzying. From the ever-popular Patagonia Powder Bowl jacket to the nano-puffy, they literally have EVERY option available to you. They're also well-known for their efforts at minimizing environmental impact.
Pluma Jacket
Claimed Weight: 14.6 oz
Check Prices: Backcountry.com
Our friend who has been backcountry skiing for almost a decade can't stop raving about this jacket. He's had the Pluma for almost eight years and is still his go-to for alpine objectives like Mt. Tallac or Mt. Shasta. Super thin, it packs away easily. The 3-Layer GORE-TEX pro shell provides the ultimate in protection from wind, snow, and rain.
Calcite Jacket
Claimed Weight: 14.5 oz
Check Prices: Backcountry.com
The Pluma is the King Kong of backcountry hard shells in the Patagonia line, but it comes with a steep price tag. Another great option for those that can't stomach the prices is the Calcite. Still light weight and comes with a GORE-Tex membrane that can still easily fit into your bag, all for a few hundred dollars less. Reason? Instead of 3-Layer protection, this model is 2.5-Layer. It's also made with GORE-TEX Paclite Plus which isn't as bullet proof as the Pro. Unless you're going to be fighting off a black bear on your descent, this backcountry ski jacket will be perfect for you. For a 3-Layer option in that price range, the Triolet is a great alternative.
Outdoor Research
Since '81, Outdoor Research has been based in Seattle creating high-performance outerwear at a reasonable price point. Anyone that has spent time in the Emerald City knows the vocabulary to describe how rain falls is unparalleled. They have some high-end options available such as the Archangel but our focus will be on their moderately priced options since that is where they really shine.
SkyTour AscentShell
Claimed Weight: 1lb 6.1oz
Check Prices: REI | Backcountry.com | Moosejaw | Amazon
This might be the SOFTEST hardshell you've ever felt. This is due to the AscentShell™ technology where through an electrospinning process, charged polymers gather into a breathable membrane. In simplest terms, it's a stretchy 3-Layer jacket that's breathable and yet waterproof as well. At 30,000 g/m² breathability and 15,000 mm waterproofness, it breaths a bit better than GORE-TEX Pro but with a little less waterproofness. A good compromise for those that don't like the feel of a hard shell but want most of the protection you'd find in one. It makes sense that this backcountry ski jacket keeps winning awards year after year for its unique design, creating the perfect balance between hard shell and soft and yet at a fraction of the price.
Foray Jacket
Claimed Weight: 16 oz
Check Prices: REI | Backcountry.com | Moosejaw | Amazon
This work horse on the Outdoor Research product line has been winning awards since the beginning. Although it's focused on hiking, this is a great option for those that want protection at a fraction of the cost. You'll still get a lightweight option. The left-hand pocket doubles as a stuff sack so you can pack it down easily when you don't need it. This is another example of one that lets you unzip your jacket from hem to bicep to let out excessive heat without having to take off your pack. In summary, this 2-Layer GORE-TEX Paclite is the best backcountry ski jacket shell for a little over $200. The women's version is the Aspire Jacket.
Black Diamond Equipment
Its roots start in the 1950's in Yosemite Valley when Yvon Chouinard began hand forging pitons and selling them from his trunk. Due to lack of profitability, he had to place the business into Chapter 11 bankruptcy in 1989. Luckily, a group of former employees led by Pete Metcalf purchased it and made it Black Diamond Equipment. Using Yvon's technology as well as inspiration, the company has become a power player in the climbing and skiing world.
Helio Active Shell
Claimed Weight: 12.8 oz
Check Prices: Backcountry.com | Moosejaw
At a feathery amount of 12.8 ounces, this bad boy is INSANE for the price. Like a boxer or MMA fighter, to get it to cut weight they've removed a bunch of the features some of the others have. Even so, based on our minimalistic requirements for the best backcountry ski jacket, you can't go wrong. It has the standard 3-Layer GORE-Tex to ensure you stay dry. Packs down easily to fit into your bag when you're not using it. And yet it still has pitzips and even twin alpine pockets to store skins in for the descent. This is definitely one of the best options for the dollar amount.
Norrona
My father always talked about his Norwegian friend that he skied with. Even in the 1960's, he HATED most ski resort skiing except for places like Mad River Glen because it was too tame. Through it all, his heart was always in the mountains and fjords of his homeland. To combat Norway's harsh and rugged landscape, you NEED durable outdoor equipment and that's where Norrona comes in. Founded in 1929, to this day this four generation family-owned company makes extremely tough and mountain-ready jackets.
Norrona Lofoten
Claimed Weight: 1 LB 9oz
Check Prices: Backcountry.com | Moosejaw
Although it's one of the heaviest hard shells on our list, you have to remember WHERE these were tested. Norway's winter are long, harsh, and brutal. Named after the islands off of Norway's northwestern coast, the focus is on toughness and use in all conditions. The 3-Layer GORE-TEX Pro provides great breathability and waterproofness in any conditions Mother Nature throws at you. At the same time, it includes a longer back length at 33.5 inches to help ensure the snow and wind don't creep up from underneath when shredding pow on your descent. Lofoten is one of the few that Function AND Form are combined for one of the more stylish options.
Helly Hansen
Yet another company started in Norway. Founded in 1877 in the town of Moss, as of 2009 it's become a subsidiary to Canadian Tire. Literally every major ski resort has their employees rocking a Helly Hansen. They come in fantastic colors. Provide great protection against the elements. And most of all, after 140 years you can expect a professional grade protection to make sure you stay dry and comfy.
Verglas Infinity Shell
Claimed Weight: 1lb 1 oz
Check Prices: Backcountry.com | Amazon
Always thinking outside the box, the Verglas shell doesn't come with a 2L or 3L but a 3.5-Layer system. In addition to the 3-Layers of protection, they've added a hanging liner between you and the fabrics. Using their breathable and waterproof LIFA INFINITY™ technology, this shell jacket focuses on the most important items for touring. It's designed in a way that fits well if you still wear a helmet, backpack, or harness. The underarm ventilation allows for the zippers to open either way. The only downside we see is that there aren't pockets on the front.
Odin 3D Air
Claimed Weight: 11.9 oz
Check Prices: REI | Moosejaw | Amazon
As the "Air" in the name describes, it's their lightweight model. In fact, on our list it's one of the lightest too. Using Helly Hansen's proprietary breathable / waterproof fabric called HELLY TECH® Professional makes it waterproof, windproof, and yet breathable. Similar to GORE-TEX which has multiple levels, this is Helly Hansen's highest protection. While GORE-TEX might give you 28,000 mm, Helly Hansen's Pro fabric is one that comes the closest with a 20,000 mm rating. Marked as a 2.75-Layer jacket, HH states that it "combines the lightweight benefits of a 2.5L but with the durability of a 3L." Yet another great option if you want a high quality backcountry ski jacket but without the steep price of the higher end models on our list.
If you hadn't noticed, most of these brands have been around for decades or even centuries. This is because people have been venturing into the backcountry way before the first chairlift even existed. Exploration and adventure are in everyone's soul. As John Muir so well penned, "The mountains are calling and I must go." To do this, you need equipment and clothing that won't fail when things go sideways. To reiterate, backcountry skiing is an inherently risky activity. We HIGHLY recommend visiting our All Things Splitboarding and Backcountry Skiing to get the scoop on what to expect, tips on gear, and more.