There's nothing more miserable than feeling uncomfortable on the slopes. From being cooked like a turkey on a hot spring day to shivering uncontrollably on the lift ride up on a stormy morning, it's no bueno. But it doesn't have to be that way. It's taken years for the female half of the Local Freshies® crew to get her snowboard gear dialed so she's perfectly comfortable in ALL conditions. Here's what she looks for in the best womens snowboard jackets and a few of her favorites.
Jacket Features To Keep Your Eye On
Sure, a snowboard jacket may look great and it's even on sale, but this isn't a t-shirt or a pair of socks. You're going to be outside in winter which means you'll be up against elements. Wet snow, tons of sunshine, and lots of wind. This is your first line of defense against what Mother Nature throws at you. So in addition to looking good, focus on features too. For a deep dive into what clothing you need in addition to the jacket and tips on what to wear in any weather condition, be sure to visit our guide:
Waterproof Rating
When you're trying to find the best womens snowboard jackets out there, one of the most important things that people skip over is the waterproof rating. This corresponds to how much water pressure it can withstand before you become like a wet, miserable cat. Grumpy and gloomy. We recommend 15,000 mm rating as a minimum. In fact, Jaime refuses to ride with anything less than 20,000 mm.
Note: Being waterproof doesn't come cheap.
Here's a quick breakdown of the ratings:
0 – 5,000 MM
Think of this as a windbreaker. It offers you almost no resistance against any moisture. This is good for sunny days or an occasional rain shower or dry snow.
6,000 – 10,000 MM
Most jackets you see will fit in this category. They offer some waterproof ability under light pressure. Good to protect you against light rain or average snow.
11,000 – 15,000 MM
This is when the materials start getting serious. Rainproof and waterproof for pretty much any conditions except the most severe. Great for moderate rain and average snow.
16,000 – 20,000 MM
The jacket and pants work under almost anything Mother Nature throws at you. Sierra Cement? Cascade Concrete? Wet Slop? Pshaw. It can take all of it with a deep belly laugh.
20,000 MM + (INCLUDING GORE-TEX)
This is bomb-proof. If you need this level of toughness, you must be riding in a hurricane. Good for heavy rain, wet snow, AND very high pressure. Great for the legendary Tahoe snow-storms where it's coming down in feet.
Taped Seams
In the same spectrum of waterproofing, you need to be very careful and look to see how seams are sealed. You might think those tiny holes from the sewing needles aren't a big deal, but over the course of your day regardless of the waterproof rating, you'll still get wet due to these little holes. Words to look for:
Fully Taped
A garment that has EVERY seam taped using a heat applicator of thin waterproof tape.
Critically Taped
Compared to fully taped, this is when only high exposure areas like the neck, shoulders, and chest are given the sealing treatment.
Breathability Ratings
While the waterproof rating tells you how strong it is against water seeping in, breathability indicates how much water vapor can move out of it. If you're a person that breaks a sweat, this tells you how much can escape in the form of vapor through the material. This is especially important if you're backcountry snowboarding. Since Jaime naturally runs a bit cooler, we tend to focus less on this. The lowest level of breathability works fine for resort skiing.
The general ratings are as follows:
5,000 – 9,000 g/m(2)
Good for your normal lift-accessed skiing and snowboarding where you aren't working too hard or take breaks in the lodge throughout the day.
10,000 – 15,000 g/m(2)
This level is perfect if you tend to hike a lot to get to your ski lines or are thinking of using this coat to do some backcountry skiing or snowboarding.
16,000 – 20,000+ g/m(2)
The Land Cruiser of breathability. Perfect when you're perspiring heavily or working hard. Great for extended trips or a backcountry mission where you might be starting in a warm climate and climbing 10,000 vertical feet to ski the line of a lifetime.
Powder Skirt
Sometimes called a waist gaiter that's usually made out of nylon or GORE-TEX, it's the elasticized lining at the bottom of a ski jacket. It's primary function is to make sure snow doesn't come up into your jacket if you take a tumble or if the snow is deep and dry. It also helps keep the cold air from flowing up your back. If this is a universal jacket you'll be using outside of skiing or snowboarding, look for one that is removable all together.
Jacket Ventilation
No matter how breathable a jacket is, sometimes it's just too darned hot especially if you're spring skiing. This is where pit zips, or in other words, underarm vents come in handy. Like opening a window, you can regulate your internal body temperature but still get the protection against the wind or other elements. Some even have additional vents across the back to allow air in or even on the body itself.
Pockets
For resort skiing, it's nice to have an assortment of pockets to store things like snacks, cell phone, and even a season pass. One of the latest innovations we've seen in the past few years is a pass pocket right on the arm. This helps make it easy to scan yourself if your local resort has a turn-style entry like we do at our home-base Sierra-at-Tahoe.
Insulated Or Not?
This could be considered the Million Dollar Question to consider for the best womens snowboard jackets. Should you buy an insulated snowboard jacket or just a shell jacket? You can solve this a few different ways. Since we're based in Tahoe, VERY cold days rarely happen if at all. Instead of an insulated jacket, Jaime likes to focus on layers. This provides flexibility to take off something like a fleece if it gets too hot, or if she's too cold, add another layer.
In spite of that, when we do visit a colder climate like Montana or British Columbia where the highs can hover in the teens, she does have a snow jacket that's heavy on the insulation.
Brands To Look For
Outdoor Research – Best Value
Shop: REI | Backcountry.com | The-House
I still remember seeing their gear on one of our many ski trips to the Pacific Northwest in the early 2000's. Since '97, this company continues to make high quality outdoor gear without the flash. A good example of this is the Outdoor Research Skyward II. It's light-weight, provides great ventilation, and is comfortable but at a fraction of the cost of the higher-performance shells. It lacks some of the bells and whistles we like such as being GORE-TEX or a powder skirt, but then just pick one of the other ones from the Outdoor Research line.
Patagonia – Environmentally Conscious
Shop: REI | Backcountry.com | The-House
Way back in our corporate days when we worked in Supply Chain Management, the leader in the outdoor sports world for sustainability and caring about the planet was Patagonia. From finding where their wool is coming to keeping their gear in play by establishing a branch called Worn Wear, they do things differently. You may pay more but expect a great product that will last A LONG TIME. We're big fans of the Patagonia Powder Bowl. If you're looking for an insulated jacket for colder climates that's got GORE-TEX waterproofing, you'll love it. Patagonia's prices might be high but as the old saying goes, you get what you pay for… and you get everything and then some with their gear.
Burton – King Of The Hill
Shop: REI | Backcountry.com | The-House
If we're talking the best womens snowboard jackets, you knew Burton would make the list. They are the Godzilla of the snowboarding market taking over 32% of ALL the revenue for the entire industry. As such, their womens snowboard jackets line covers the full spectrum from the inexpensive Jet Set to the bells & whistles GORE-TEX AK line. Focused 100% on snowboarding, their gear is designed that way with extra features like being longer so if you do sit on the snow you'll be comfy.
Volcom – True To This
Shop: Backcountry.com | The-House
Started in '91, the company has always focused not just on the sports of surfing, skating, and snowboarding but the entire culture surrounding it. As their mantra "True to this" bellows from the rafters, you'll find an infusion of fashion AND function. Jaime loves their GORE-TEX jackets. The extra-long back makes sure that on those cold, storm days, her butt isn't freezing on the lift up. Just enough insulation to stay toasty on cool Tahoe wintry days, but if the sun comes out, there are enough vents to keep her from overheating. One of the most popular ones for this year is the Volcom Bolt insulated snowboard jacket.
Roxy – Fashionista
Shop: REI | Backcountry.com | The-House
We know there are many of you that fashion is just as important as function. You'll love Roxy then. An entire brand dedicated specifically to women that love the outdoors from the beach to the mountains. If you aren't a storm rider and chase the sun instead, then waterproofing isn't as important. Roxy has an entire line dedicated to fashion forward thinking with bright colors, jaw-dropping prints, and even a few that have GORE-TEX waterproofing such as the Roxy Jetty.
Arc'Teryx – Big Mountain Flow
Shop: REI | Backcountry.com | The-House
The brand that professional guides and mountaineering legends gravitate towards is Arc' Teryx. Their focus is on providing the best product out there with no scrimping on performance and innovation. If you want the confidence that your gear will take a beating and keep on ticking regardless of price, take a close look at Arc'Teryx. A great sample of their premium product is the Arc' Teryx Sentinel jacket. Not just one layer or two layers of GORE-TEX, it has THREE. This makes it just plain bullet-proof to almost anything Mother Nature throws at you. It's also one of the lightest hardshell jackets and yet one of the softest too. If you won't settle for anything but the best… this is it and expect to pay for it too.
North Face – Never Stop Exploring
Shop: REI | Backcountry.com | The-House
Although North Face was founded and based in San Francisco, it's named after the region that features the coldest and harshest side of the mountains in the northern hemisphere. Since the beginning, they've pushed the envelope on clothing technology. But in the 80's and into the 90's, they really lived by their motto "Never Stop Exploring" by introducing their extreme skiwear collection. This included the ever popular Mountain Gore-Tex jacket and the Mountain Light jacket just to name a few.
From affordable to fashion-forward to high-end features, North Face's line will have you covered. North Face's waterproof / breathable technology is called "DryVent™." Similar to Gore-Tex, it's fully waterproof and also treated with DWR finish in order to not only prevent water from getting through, but causing it to fall off the jacket entirely by forming small beads that minimize contact time. While Gore-Tex is rated at 28,000 mm waterproof ability, DryVent is around 15,000 mm. Their highest DryVent fabric level is the 3L designed for the roughest weather and so it comes with a bigger price tag. The 2L is their lowest level but it's more than good enough if you typically are resort riding. A good example of this is the North Face Tanager shell jacket pictured above or if you want something insulated, the Superlu. For those that push the limits by going backcountry skiing or just all-mountain fun, consider picking up one with the 3L technology such as the Ceptor.
Montecwear – New Kid On The Block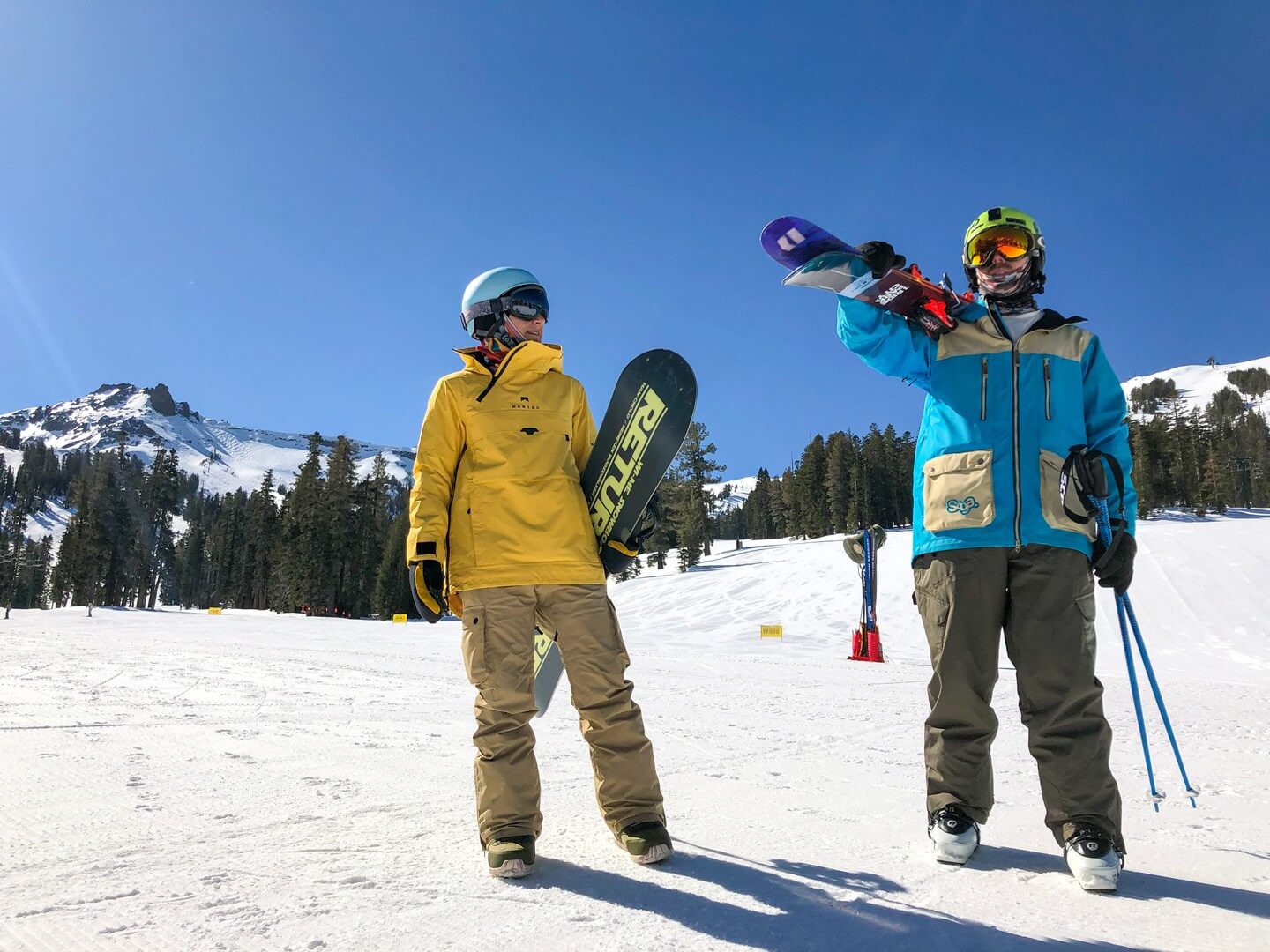 Over the past few years, a new company out of Sweden has come out called Montecwear. Jaime has a Dune Jacket, and we have to say for the price, the quality of craftsmanship is impressive. It has a lift pass pocket making it easy to scan at our local resort. Montec's waterproofing is at over 20,000 MM which is almost as good as GORE-TEX and provides breathability of 20,000 g/m(2). The only drawback Jaime noticed is that the back of the jacket is a bit shorter than she likes when it comes to riding the chair, but the difference was negligible. For only $219, it's a steal.
As you can see, the question of what are the best womens snowboard jackets on the market depends on what you're looking for. Do you want bomb-proof? Or is it about fashion? Or maybe it's a little of both.
One last thing… whatever you do, DON'T wash your jacket or put it in a dryer. That's the quickest way to ruin the waterproofing. If there's no way around it and you need to wash it, be sure to wash it with a specifically designed detergent.