Nowadays, nearly every snowboard flick has a segment filmed at Baldface Lodge. From Travis Rice's film Fourth Phase to even Red Bull Supernatural, there is a ton of footage from this amazing locale. The real question in your mind though… "How does it feel for normal shredders like you and me to ride at a place like this? Is it possible to be just as amazing and spectacular as the films make it out to be?" The answer is a resounding YES! Here's a glimpse into the Local Freshies® journey we took a few years back for our very own Baldface Lodge adventure in British Columbia.
*BEEP*, *BEEP*, *BEEP*…
That's the sound of our alarm clock attempting to wake us up. Laying there motionless, we suddenly realize that today is special. Today is different. It's the day to go to Baldface Lodge! Leaping out of bed, we rip open the curtains with excitement. Our hearts rejoice at the sight of falling snow but thoughts of doubt begin to form. "Will the helicopter be able to fly? Is there a way to the lodge when it snows? How much snow is falling up in the mountains?" But first, sustenance is needed to kick-start the most exciting chapter in our Powder Highway journey.
Panic ensues on where to go next!
After a great breakfast, another cup of coffee at Oso Negro and then some dessert, it's time to head to the airport. Driving to the airfield, a sense of panic comes over us. The only thing we see is a long runway and no other buildings. Where are we supposed to go? Fortunately, a kind soul stopped by the car and asked if we were lost. In fact, we were! Smiling, they point towards the other side of the runway and say that w-a-a-a-y-y-y-y on the other side of the airstrip is the actual Nelson airport building. "This is where the helicopter will pick you up."
Driving to the other side of the airstrip, we see the humble airport tower. Finding "official" airport parking along the fence of the runway, we park the car and walk into the building. Standing behind a fold out table is Vynessa, the host for Baldface Lodge. She greets us with her pleasant demeanor and starts our check-in process. Being excited and a little nervous, we're the first in line. An hour later, our helicopter mates begin to flood the building, check-in and prepare for the trip ahead as well.
In The Distance a Whop, Whop, Whop Can Be Heard
Introductions start around the room and we begin to get even more excited for the week ahead. In the distance, the sound of a quiet whop, whop, whop can be heard. Immediately, everyone rushes to the windows, squinting and searching for the helicopter. The sound of thumping can be heard getting louder. Through the snowflakes and fog, the helicopter suddenly appears. The nerves disappear and adrenaline fills the air.
OK, First Group Of People Step Up For The Helicopter!
We watch as the crew begins filling the helicopter with gear and supplies for the week ahead. Vynessa calls out "Ok, I need the first group of people for the helicopter to watch the training video on how to enter and exit a helicopter." Fifteen minutes later, the first helicopter ride leaves. What seemed like an instant, Vynessa then suddenly calls our names to view the film next. Rushing the next group into the hangar, we watch the safety video. It makes sure everyone understands the basics on how to enter and exit the helicopter and what to do in an emergency. This does not feel like any emergency video ever shown on an airplane. This was serious!
As the film ends, the tin walls of the hangar began to vibrate. Just like before, everyone runs to the windows to look at the helicopter coming in. Visions of Vietnam movie flicks flash through our heads as the helicopter lands. With a sudden whoosh, the door swings open and the flight crew yells smiling, "You guys ready to go?" Without hesitation, we run to the helicopter and jump in like pros.
On our way to Baldface Resort!
As the helicopter takes off, the first thing we notice is how much safer and sturdier it feels compared to an airplane. This might not be the case, but it at least felt that way. The helicopter flies out of town following the terrain of the valley for only a few minutes. Almost as quickly as we left, we began the climb over a few mountain peaks and to the hallowed grounds of many snowboard videos… Baldface Lodge.
Is It Real?
With snowy peaks everywhere and snowfall reducing visibility, the lodge appeared out of nowhere like a fantasy. "Is it real?" Gently landing, the door swings open and the crew yells over the rotors to exit. The blades continue to rotate causing snow to blow everywhere making this place seem like a fairyland.
This is Heaven on Earth…
Shrouded in a thin layer of fog, the snow continued to fall, lightly covering all 32,000 acres with a fresh coat of white. A lone lodge sat in the center of this wilderness — it was Baldface. Known for its mark in snowboarding past, present and future, Baldface is celebrated for being the first backcountry operation to accept touring and guiding by snowboarders.
A Place Built On Following Your Dreams
Jeff Pensiero, the owner of Baldface, is an avid snowboarder and a man following his passion. Born in Cleveland, OH, he went to school in New Hampshire and as an adult spent 11 seasons in Tahoe and trekked all across the world chasing snow. At 26, he struggled with the age-old question "What do I want to do with my life?" During that soul searching journey, he saved for a heli-skiing trip. Sadly, the entire experience left him with a bad taste in his mouth. Back then, snowboarders were treated as second class citizens at these operations. Also, a full days' worth of snowboarding wasn't included in the expensive cost. From this lasting impression came inspiration and the birth of a new idea — A cat skiing operation catered to snowboarders. It would be all about five-star service, high quality snow and an overall epic vacation that you'd tell your grandkids about.
Baldface Becomes A Reality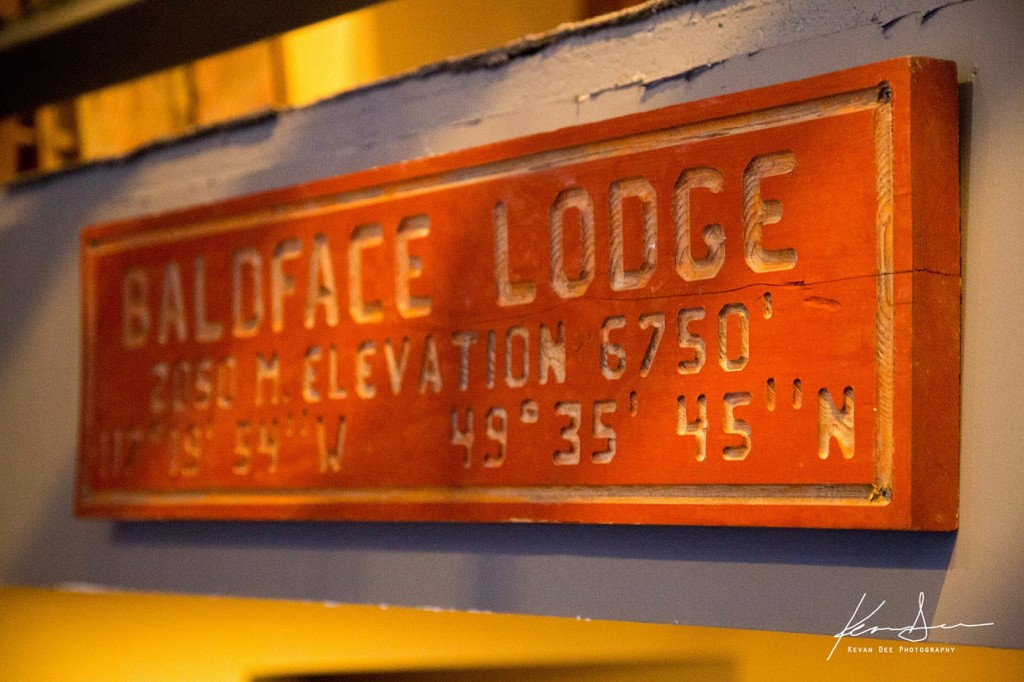 From that moment, the concept of Baldface was born. Now came the hard part. Where does one start? Jeff decided the answer to that question was… LOCATION. He looked all over North America, Europe and even South America. In his mind, there was only one choice…the Kootenay Mountains in Western Canada. The consistent quality and quantity of snow this mountain range offered, as well as its unbelievable terrain, made the decision an easy one. There was no looking back now.
Thank Craig Kelly For Baldface Lodge
With the help and support from his friends like Craig Kelly, this place became a reality. In fact, Craig helped Jeff find this location and in turn, he found a new passion — Baldface is where Craig Kelly himself actually learned to guide. At this time, Craig was already a legend. He was one of the first snowboarders to make a living off the sport. Instead of cashing in on his name, he became the student. Following his own growing passion, he headed into the backcountry to hunt for powder.
Getting Ready For The Day
Just like Craig Kelly found his new passion in the Kootenay Mountains, the focus at Baldface is on riding/skiing high quality powder. They make sure to provide a high level of service along with a first-class adventure. If you wake up a bit earlier each morning, you can join the stretching class led by the masseuse team to warm up your muscles and prepare you for a long, amazing day in the mountains.
A Feast For Kings & Queens For ALL Meals
Served promptly at 7:00 am, breakfast is simply fantastic. All the classics are offered — 7-grain oatmeal, pancakes, bacon, eggs and then a different gourmet dish each morning, topped off with coffee roasted locally in Nelson, BC by Oso Negro. As breakfast winds down around 8:00 am, it's time to pick what we want to bring in our sack lunches. No wasting time driving back and forth to the lodge for food! Baldface makes sure you maximize your vertical and are fueled by food-on-the-go while out in the snowcat. You can expect gourmet sandwiches made with local lunch meats, a hardy quinoa salad, homemade granola bars, and even fresh peanut butter cookies. A lunch perfectly suited for powder hounds. To top it off, you can take as much as you can fit in your lunch bag!
Finding Out How Serious The Backcountry Is
With stomachs filled and lunches packed, we finally got to meet the guides and the group of eleven people we'll be riding with for the rest of the trip. Joaquin, originally from Taos, NM, is the lead guide. After searching the world for the best powder, from Chamonix to Alaska, he finally settled here in the Kootenays. Mitch, the tail gunner, is a young rider learning the ropes of guiding. He cut his teeth in places like Lake Louise and spends his summers as a whitewater rafting guide in the Northwest Territories. Both are amazing guides and will make sure our group gets home safe after each epic day.
Practice Makes Perfect
Introductions aside, the guides start the process of handing out avalanche transceivers and backpacks filled with a shovel and probe to each person. Once equipped, it's time for the crash course in avalanche training. During the lesson, everyone must prove they can use the transceiver in case of a burial. Once the exercise was complete, it was time to practice our teamwork. The mission: to dig a person out covered under six feet of snow. This was scary stuff!
Do You Trust Your Group To Save Your Life?
In these situations, the people in your group are the only ones that could save your life. Do you really truly trust all these people assigned to your snowcat? It was a sobering moment when this realization hit all of us at the same time. Working as a team while out in the backcountry is incredibly important to make sure everyone stays safe and comes back alive. Fortunately, the guides are dedicated to steer the teams into safer zones on the slopes, but it's better to be prepared. For more about backcountry safety, check out our series here.
The Lib Tech Cat – Our Chariot For The Week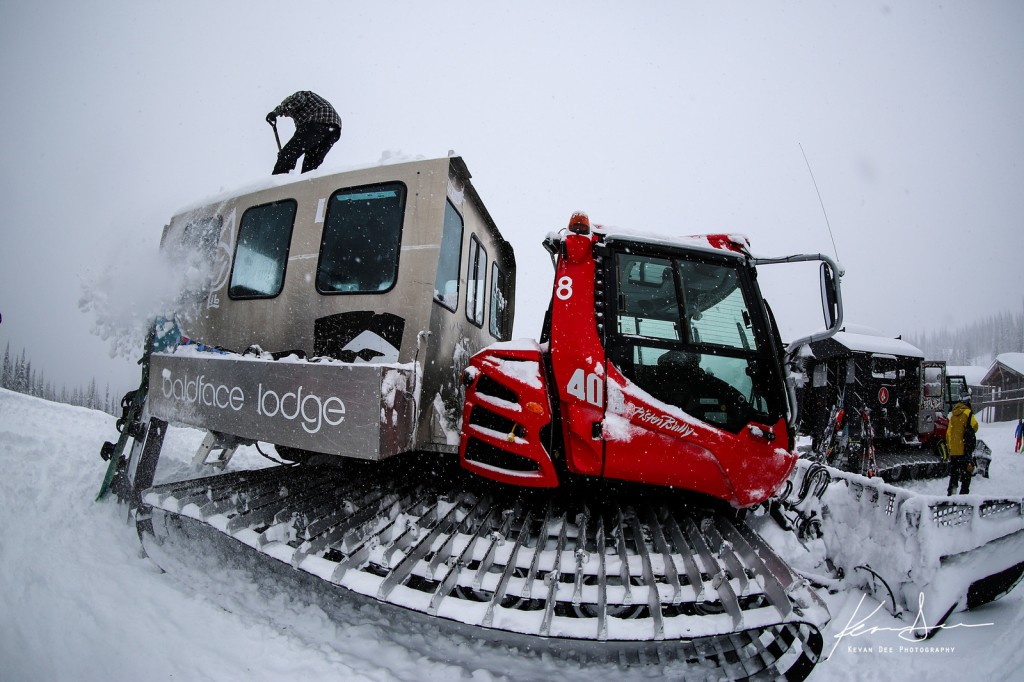 With training completed, it was time to start snowboarding! To everyone's surprise, our chariot for the trip was going to be 'THE Lib Tech Blue-Cat'. Now THIS was going to be awesome!!! As we began the drive out in our personal German Panzer tank, it made easy-work of the near vertical road. In less than 15 minutes, we made it to our soon-to-be first descent. Dropping into our first run, named Fluffy's, the realization of actually cat-boarding hit. With a decent pitch and widely spaced trees, the turns came easy. It was a great run to get our minds and legs ready. As the day progressed, the snow began to fall more consistently and the choice of terrain became more epic. One thing to note: Even if it's warm or hasn't snowed in a while, that doesn't mean you won't find powder at Baldface.
Terrain Options Expand… Up Next Air Supply
In reality, it means that you're able to hit runs that are normally off-bounds due to avalanche concerns. We cashed in on that fact. We hit a run called Air Supply, which Mitch had only done once before in his career. It was a HUGE bowl with a perfect angle allowing you to make massive swooping turns! Everyone in the group felt like one of the pros in a snowboard video.
Not Just 5 Star Riding But Dining As Well
After such an amazing day, what better way to celebrate than to have an excellent dinner. As you heard from the breakfast and lunch options, the food at Baldface is above and beyond most restaurants, and it just doesn't stop coming. Dinner was off-the-hook! The first night included a perfectly cooked pork chop, roasted potatoes, fresh salad and veggies.
So What's There To Do At Night?
Baldface lodge is divided up into two sections. The first area contains all the lodging. This part of the building is a quiet area that allows for guests to go to bed early if they so choose. What if you're sore after a day of hard charging? Well, you can schedule a massage in a private room with one of the professional masseuses.
From A Nightclub To Jam Sessions – Baldface Has It All
For those night owls in the group, the other half of the lodge is where the fun happens. With a fully stocked bar serving local brews from Nelson Brewing, home-grown wines from interior BC, and of course hard liquor, the 'hang out' section is where to be. Filled with a  huge comfortable living room, a pool table, ping pong, darts and then converted late-night nightclub, you can boogie the night away. And, if you're lucky, in the room adjacent to the lounge, you might get to see a jam session by some of the pros that are there during your week stay. Baldface is sponsored by Gibson so there are guitars available to anyone who plays. Just note, this is NOT a place to learn how to play the guitar so leave the official jammin' to the experienced.
With so much action during the day and evening, it was tough to get to bed. But by our guide's advice, it was only going to get better. There was more snow in the forecast and so we were off to our room.
Fresh Powder for everyone!!!
From Day 1 to Day 4, the conditions continued to get better and better. The moment we had all been waiting for — A classic Baldface bottomless pow day that we've only seen in the videos.
Over two feet of deep blower snow fell overnight. The turns were weightless and much more exciting. This snow made us feel like superheroes. Starting the day out on our favorite run named BB Bowl, the conditions let us stomp through the first set of trees like champions and then explode out of the forest into the bowl with massive arcing turns, sending huge rooster tails of snow behind us. Turn after turn became pure joy. Snow continued to fall all day and pile up everywhere, causing the smiles to get bigger and bigger. The entire trip was an amazing experience filled with excitement, joy, and hoots & hollers.
Our Favorite Runs Of The Trip
There were so many epic runs and each was different in its own way but here are some of our favorites from the four day life-changing journey:
Pachinko – Named after the Japanese vertical pinball game, the run fits its name perfectly. With quality trademark 'Kootenay pillows', you will pop, pip, and hop your way down this run like a ping pong ball. Pure fun is the only way to describe it!
BB bowl – This run is what heroes are made of… short but sweet, it is amazing. The top starts with a set of tight trees that you have to methodically navigate and then opens up to a huge bowl, which allows for massive turns down the face. Epic!
Cheeky Monkey – There's a reason why this run is one of the landmarks at Baldface. The steep pitch, the rollers, and the perfectly spaced trees make you ride or ski like a pro. Beyond a doubt one of the best runs in the world.
If you ever get a chance to go snowcat skiing, the Local Freshies® recommendation and review is to check out Baldface. This place might be more expensive than the other operations but there's a reason why people keep coming back year after year. The riding is out of this world and the level of service is what puts Baldface above and beyond any other place out there.
Some people say they want to go to Disneyland after accomplishing a great feat, but I'd rather say, "I'm going to Baldface."