Mountain biking isn't just about the adrenaline-pumping-downhill variety you see in the videos, but a chance to enjoy the mountains in a different way. If you want to see the Sierra Nevada & Lake Tahoe in a totally different light, the Flume Trail should be on your bucket list. With a little bit of pedaling, you'll get unrivaled views and scenery that are unlike anywhere else in the world. Here's a bit of what to expect on the Tahoe Flume Trail.
The History of Flumes
Being from the flatlands of the Midwest, when I first heard of its name I wondered… "What the heck is a flume?" After talking to a few folks and doing a bit of research, I came to find out that during the heyday of the lumber and mining industries, there was a need to transport fallen trees from the steepest sections on a mountainside to the mills. All along the Sierra Nevada, flumes were built. They consisted of 2 boards at 2 feet wide, constructed in a V-shape that were then filled with flowing water. The lumberjacks would throw the logs into the water, and it would transport them quickly to a sawmill at the bottom of the mountain.
Inspiration Behind Disney's Splash Mountain
It was also one of these flumes that inspired the amusement park ride you see in places like Disney World. The owners of one of them, James Fair and James Flood, suggested that an east coast reporter by the name of HJ Ramsdell accompany them on a ride down their 15-mile flume. Just how insane does that sound? Personally, I would never have done that ride, but somehow they talked Ramsdell into doing it. Here's a recount of the ride:
"You cannot stop; You cannot lessen your speed; You have nothing to hold to; You have only to sit still, shut your eyes, say your prayers; Take all the water that comes, filling your boat, wetting your feet, drenching you like a plunge through the surf, and wait for eternity… It is all there is to hope for after you are launched in a flume-boat."
Fortunately, you don't have to take a bare-knuckled death ride to experience the Tahoe Flume trail. All you need is a bicycle and a little adventure in your soul.
The Adventure Begins In Incline Village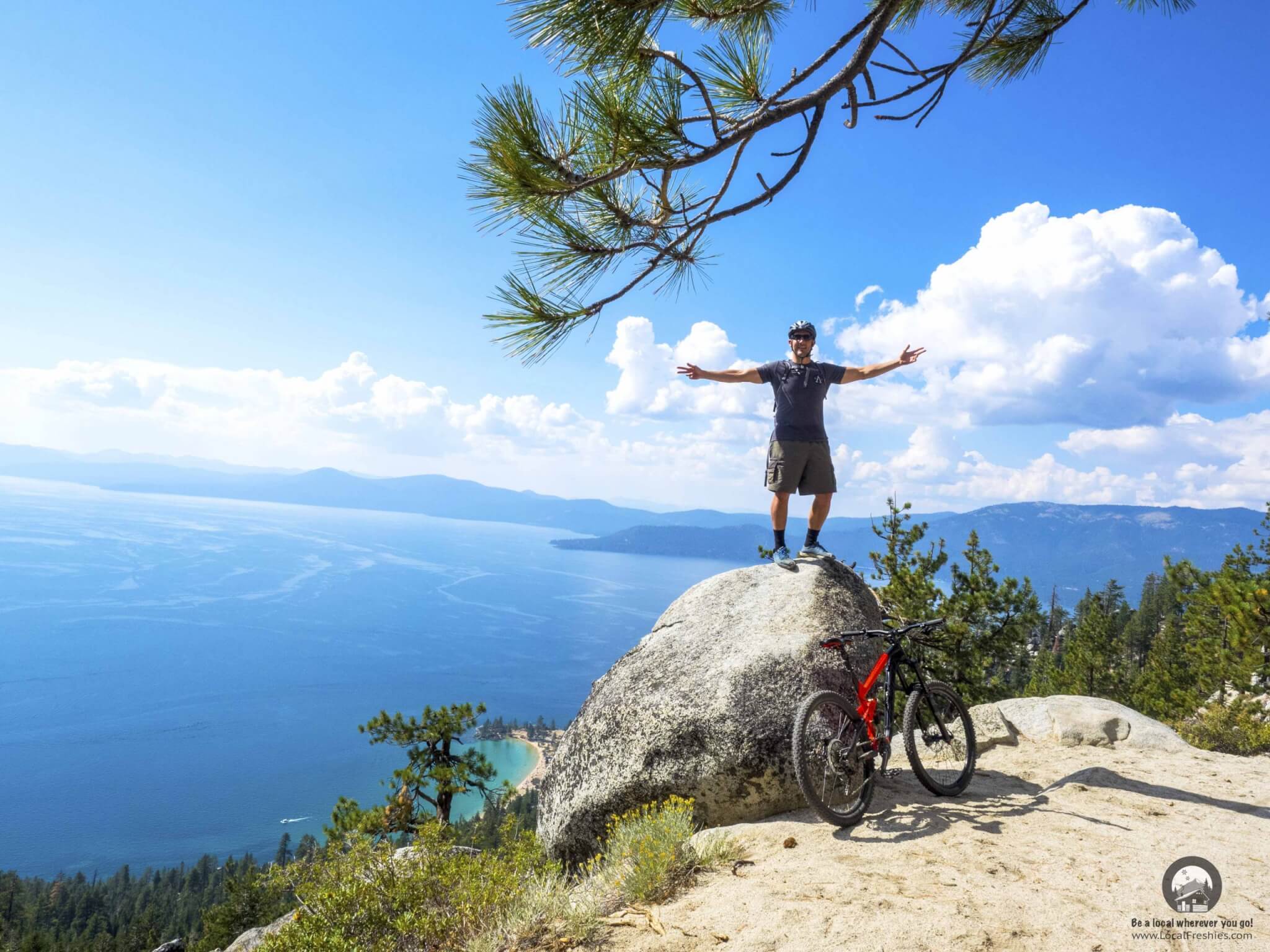 As you may have read in past posts, several summers back we jumped head first into the sport of mountain biking. If you're curious on picking up the sport, get tips on what gear to buy, or read about unique adventures you can have on two wheels, check out our comprehensive guide:
After exploring a few of the trails on the south shore, we decided to expand our horizons and check out the most famous singletrack in our area: the Flume Trail.
On a cool morning, we pulled out of South Lake Tahoe and headed north to Incline Village. On the southern edge of town lies the END of the path and a company named Flume Trail Bikes. From here, you can rent a bike. Or bring your own. And then take a shuttle to the beginning of the Flume Trail. Arriving thirty minutes before the shuttle, we put our names on the list and eagerly awaited the drive up to the start of the route.
Spooner Lake – Entrance to Flume Trail
Throwing our backpacks and ourselves into the shuttle van, we pull out of the parking lot. After a 15 minute drive, we arrive at Spooner Lake State Park and unload our bikes. From here, we're given a quick intro of what to expect this morning. A warning is given… "The first 4 miles are the toughest so take it easy as it's a steep continuous climb all the way to the highest point. But from there, it's a fun-filled ride back to the shop." Hopping onto our trusty steeds, we begin our adventure.
Snowy Peak & A High Meadow
The trail starts on a wide gravel service road, canopied by massive groves of aspen. With last night's rain, the trail is smooth and dust-free. Just beyond our vantage point, we can hear the sound of rushing water. Continuing our ascent, the aspens are replaced with evergreens. As the forest thins out, we make a large swooping turn and are then exposed to a HUGE valley surrounded by massive mountains. On the right of the valley towards the top of the ridgeline, you can see a teeny-tiny cut into the mountain… that's the Tahoe Rim Trail. Knowing how wide the Tahoe Rim Trail really is, it gives you an idea just how large the landscape features are around us.
It's All Downhill From Marlette Lake
Riding through the meadow, we head back into the forest canopy and continue our climb up. The path continues to get steeper until we crest at the summit to the Marlette Lake basin. We pause for a moment to take in the view of this high alpine lake and catch our breath. Was it as bad as they said? Nope, but it definitely took a bit of work to get here. We then decided to coast down to the shore of Marlette Lake for a closer view.
Propping our bikes against the rocks, we walk over to the beach and sit down on a massive piece of granite. A sense of calm comes over us as we attempt to absorb the sight. The water looks like a sheet of glass with only a few ripples. Wisps of clouds float along the sky making us all smile. We could stay here for hours enjoying the serenity but alas, this isn't our final destination. Throwing our packs back on, we continue pedaling our way around the lake. Towards the other side, the wide path suddenly narrows to a tiny singletrack barely discernible from the granite outcroppings. "Are we going the right way?" Unaware of other options, we continue onward.
A Little Bit Of Fun Before The Views
Quickly snaking our way down through some tight trees and a boulder-strewn corridor, we pop out the other side onto another thin singletrack. On our left we can see it falls steeply away, but the thick vegetation hides just how steep it is. It wasn't until we made a tight 90-degree turn, exposing us to the deep blue body of water known as Lake Tahoe, did we understand the thousands of feet below us that existed. We stare at the spectacle before us for a moment. The smoke from the forest fires creates a haze over the peaks making it look more like islands you would see in the Caribbean than a mountain lake.
Sand Harbor – The Crescendo Of The Flume Trail
Continuing our ride, we focus on the trail ahead. Segments of it are literally cut out of the granite walls on the mountainside. It's hard to imagine this tiny path holding a flume filled with water and logs, let alone us! One of our crew suddenly stops at a small outcropping and points to our left. Pulling up next to him, we look towards where he's pointing. There lies Sand Harbor.
The boats floating along are but tiny specks and the colors of the water are unlike anything else in nature. On the shoreline, the color palette starts clear, fading into different shades of blue & green until it finally finishes into a dark hue. One word: WOW! Taking a few snaps with our camera, we continue onward. The mostly flat trail zig-zags its way along the ridgeline until we end up on a large service road. From here we quickly descend down a sandy path at a furious pace, braking a lot more than you would like to admit & finally arriving back at the shop.
Which Mountain Bike Trail Is The Best In Tahoe
Standing with our bikes by our truck, we reminisce on our full day of adventure. Just a few months ago (at this time) we were barely riding our bikes through our backyard network of singletrack trails and now we had just finished the Flume Trail. I know what your next question is – "Is the Flume Trail better than the other ones around Tahoe?"
The answer isn't that simple. Each path is so vastly different. For example, the Corral Trail is a great one if you're into jumps and banked turns while lower Cold Creek is more of a snaky-fun run that allows you to get a mix of everything. If you're looking for views and scenery, then I absolutely agree that the Flume is king. But if you're searching for other types of adventures, say adrenaline pumping or rock gardens then you'll have to explore each one to figure out which is right for you. For a closer look at what types of trails are available in the area, check out our comprehensive guide found here:
What To Expect On The Tahoe Flume Trail
For those who want to experience this amazing adventure themselves, here's a few things to be aware of:
If you bring your own bike, it costs $18 for the shuttle. Otherwise, the shuttle is FREE if you rent a bike through Flume Trail Bikes next to the Tunnel Creek Cafe.
Arrive 30 minutes early to make sure you get on the next shuttle.
If you're afraid of heights, just know that there are certain sections with steep drops. It might scare the heck out of you. Fortunately, you can walk these segments if you wanted to.
The first 4 miles of the 14 mile journey are the hardest with a continuous climb to Marlette Lake. From there, it's a nice leisurely bike ride full of awesome views.
Looking for something else to do, wondering what's the best way to get to Tahoe, or the best cheap eats? We answer all of these questions and much, much more in our comprehensive Lake Tahoe guide: