For anyone that knows me well, I over-analyze everything, and it sometimes hinders me from trying new things. This is exactly what happened when I first started toying around with the idea of mountain biking years ago. Images from the film UnReal ran through my head, but instead of pumping me up, it terrified me. Looking back at when I first started, I laugh at myself at how I felt. All I could think of was falling and breaking something. Now, the idea of NOT mountain biking would make me insane. If you need a nudge on attempting this amazing sport, here's a look into how we got into it along with a few tips.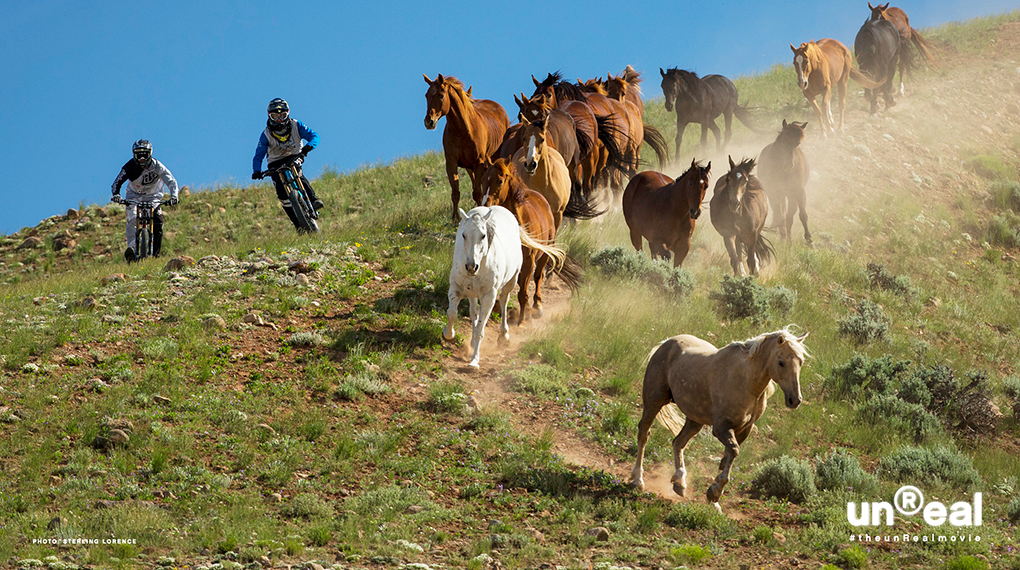 Why I Started Mountain Biking
For someone not keen on trying new things, how did I get over the hump to finally start mountain biking? Well, every winter I force my wife to push her limits in snowboarding. The entire time we're out riding, she is usually out of her comfort zone. It's exhausting to her, but she ends up enjoying the day.
The one sport she's ALWAYS wanted to try is mountain biking. Every single summer, I've dragged my feet making up excuses. It wasn't until five years ago my friends Sean and Shane opened my eyes to experience the wilderness in its purest form… and that's when my mind began to change. From hiking to backcountry snowboarding, these guys threw me into the deep end but made sure they were there to support me. I complained, huffed & puffed, and felt like a total dork. Heck, I was terrified the whole time AND sucked at every new activity we did – BIG time! At the end of each day, I'd reflect back on our adventure and realized I enjoyed every minute of it. If these endeavors are so much fun, why not try mountain biking? And, this is where my journey began.
Local Shops Are A Great Place To Start
When you pick up a new sport, no matter how much research you do, having a seasoned veteran on your side is WAY more valuable. On the south shore of Lake Tahoe, there's a few great options to choose from. If you need to get your bike fixed, we recommend Wattabike in Meyers. Kent is a magic worker and will make sure your bike comes out better than before. They also are an Ibis dealer. For those near the casino corridor, head to Shoreline of Tahoe. Shoreline's team has thirty plus years in the business and each person in the shop is passionate about mountain biking. So much so that they hold multiple women's rides throughout the season and support TAMBA (our local bike trail advocacy). Shoreline's team set us up with mid-range bikes and geared us up. Now that we had the setup, where should we start riding?
Mountain Biking in Lake Tahoe
Since we had no idea where to go or what to ride, the guys at Shoreline named off a few trails to start. They suggested hitting up the Hartoonian Trails along with another called Powerline. To make sure we didn't get lost, they also got us comfortable using the Lake Tahoe Basin Trail Map. It highlights some of the best mountain bike trails around Lake Tahoe along with short descriptions of each & even where to park. Also, if you want a taste of what's available to shred (of the dirt kind) in the region, be sure to check out our comprehensive guide found here as well:
Hartoonian Trails – Good For Beginners
The Hartoonian Trails, located behind the Tahoe Sierra (Sierra Tract) neighborhood, are a perfect starting point. Some small hills, varied terrain, and every type of ground cover you could think of helped get us comfortable with being in the 'saddle'. And, depending on how we felt, we had the flexibility to make it a long ride or just a short loop back home.
Trailhead: In South Lake Tahoe, from Lake Tahoe Blvd, turn onto Sierra Blvd and follow it until it ends. You can either park at the end of Sierra or at the end of Lodi to enter the trails.
Powerline – How I got addicted to Mountain Biking
Riding the Hartoonian Trails were a great introduction but it was time to hit something a bit bigger so we made the decision to check out Powerline. Immediately, we noticed a drastic difference. The singletrack trail meandered and zigzagged mostly through large conifers. It exposed us to sweeping turns that reminded me of tree skiing. This is when I began to realize why people enjoy mountain biking. Similar to backcountry skiing, mountain biking gets you away from the hustle 'n bustle but at the same time, introduces a bit of adrenaline.
It wasn't like any other activity I'd done before. It was about half-way through our ride when we began a moderate climb through a tight forested canopy. Nearing the summit, the trees suddenly thinned. And there it was. A view of Lake Tahoe! Standing there catching my breath and looking across the landscape, I thought back for a moment. What if I didn't push myself past my fears to try something different? I would have never seen this view or 'caught the bug' of mountain biking.
Trailhead: In South Lake Tahoe, follow Oneidas to FS 1201 and park at any of the pullouts.
Need Some More Direction?
Now that we've gotten a few years under our belt, we've begun to introduce some of our friends into the sport. It came as a shocker how quickly we forgot all the pain points of starting out. Luckily, our friend Noel was a willing guinea pig to help us re-learn what are the 7 tips to making getting into mountain biking easier.
Another aspect that most don't talk about but should is seat pain. Don't just get a big cushy seat, rather invest in a saddle that fits you. It's worth its weight in gold. We delve deep into this subject in our article The "Dirty" Secret On How To Make Mountain Biking Enjoyable. For more on how to start mountain biking, get tips, or learn about hidden vacation spots for two wheels, check out our comprehensive guide:
Hopefully this story inspires you to try something new this summer or winter. Is there an experience or activity you gave the 'no-way, not happening' attitude but changed your mind and were glad you did?