A first impression always has a lasting effect on how you envision something or someone. Sitting on a friend's velvet couch, he begins to describe his trip to Lake Tahoe. As he presses the play button on the remote, the TV goes from black to a picturesque scene, transporting me to another place… A deep blue sky. The sound of chains clanking on the road. Unimaginably massive walls of snow. As the car makes the final turn my jaw drops. Everywhere you look there's endless steep terrain. It's known as Kirkwood Ski Resort.
The Wave
It seemed pure, untouched by mega-tourism, and most of all, had unimaginable amounts of snow. It seemed almost like a mecca for snowboarders. The VHS tape flashes to what's called 'The Backside.' I found myself standing atop a large cornice, aptly named 'The Wave'. Highly animated, my friend describes the drop off. The imagery felt like a dream… Dropping a massive air into deep, soft, velvety snow. The snow wafted around him as he made turn after turn which seemed to last forever.
How Kirkwood Came To Be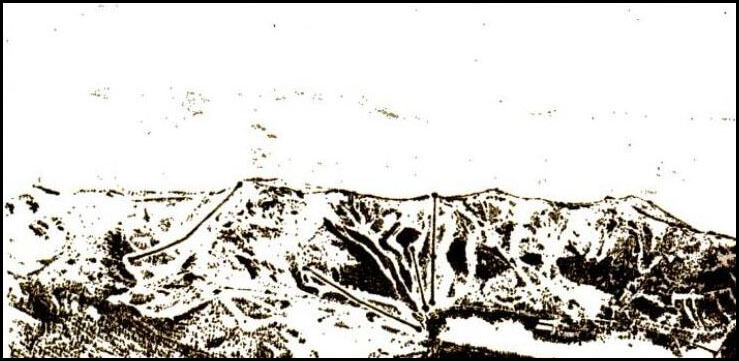 This was my first introduction to Kirkwood. Once I visited myself, I found out reality was even better than my imagination could ever make it. Driving up CA SR-88 during a famous Sierra Nevada snowstorm can seem treacherous. It's hard to envision this was the same route wagons in the late 1800's traversed during the California Gold Rush. As weary prospectors passed the horse-shoe canyon in their quest for gold, little did they know in 1971 'white gold' would be found under the chairlifts at Kirkwood Ski Resort.
Bud Klein – A Man Of Vision & Drive
Being the most remote and arguably one of the most rugged resorts in the Lake Tahoe region, it makes sense that the start of this resort followed the same rocky path. Captivated by the mountains surrounding him, Bud Klein saw a beauty and opportunity he had to pursue. With a dream and the strong work ethic of a bean broker from Stockton, he conquered every obstacle put in front of him. First up, he needed approval for his vision to start a ski resort – which he received in 1968.

The next pressing issue – Bud needed SR-88 plowed during the winter so snow enthusiasts could get to this legendary venue. Not surprisingly, he accomplished that in 1971 with cooperation from the state of California. The last hurdle was rounding up help to start installing chairlifts. First on the list were four double chairlifts named Snowkirk, Caples Crest, Iron Horse, and Sunrise. These originals can be seen on the 1975 trail map above. If you compare the two maps, you will see which remain virtually untouched from the very beginning.
Dick Reuter – A Mountain Man's Man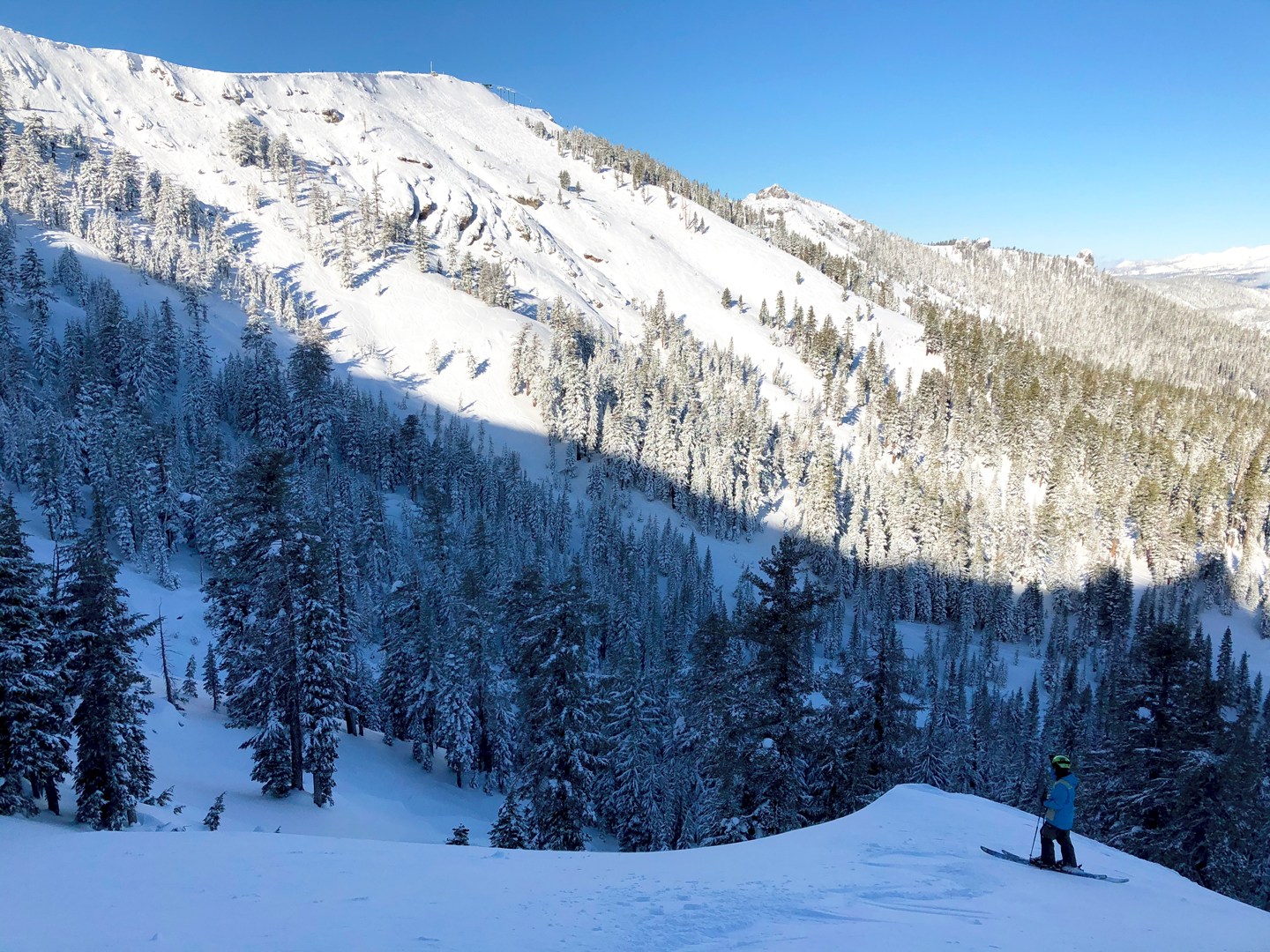 It's fitting that one of the chairs, The Reut, is named after the man that almost single-handedly built it. Dick Reuter was much like the men that discovered the Carson Pass. He was a rugged explorer, a mountain man's man, a pillar that stood as tall as the Sierra Nevada (metaphorically). Dick Reuter was made for this mission.
All the men that built this mountain were tough, resilient, and most of all visionaries. Overlooking Kirkwood from the summit, you will understand why these men put their heart and soul into opening this resort. There are cliff bands, chutes, trees, gullies, bowls, and even a well groomed beginner's area separated from the rest of the mountain. Like an MMA fighter, Kirkwood is fit, well trained, and every pound of it is chiseled to perfection. The trail map may state that it's 2,300 acres, but it skis much larger. Technically speaking, every inch of the mountain can be attempted… if you put in a little extra effort.
Kirkwood Deep
Compared to its sibling Heavenly Mountain in South Lake Tahoe, there are no big casinos. No expansive views of Lake Tahoe. No wild all nighters. What it does have is snow and lots of it. Due to it having one of Tahoe's highest base elevations (7800′), it typically gets some of the most snow in the region. Combine that with the natural playful terrain, and you have a powder hound's paradise.
Kirkwood's Layout
The way the resort's topography flows it naturally divides the terrain based on skill level.
Experts – Head to the top since the slopes are going to be steeper the higher you go
Intermediates – Check out 'The Backside' or take any of the lifts that go halfway up the mountain
Beginners – Keep towards the bottom like Timber Creek Express Area
To help gauge your skill level and find your perfect terrain, beeline for The Reut (Chair #11). This chair accesses everything from gladed trees to groomers such as Wagon Trail and even one of Kirkwood's trademark gullies. If you find this is too technical or steep, give Solitude (Chair #5) a try. It offers lots of groomed runs with a lesser pitch.
Experts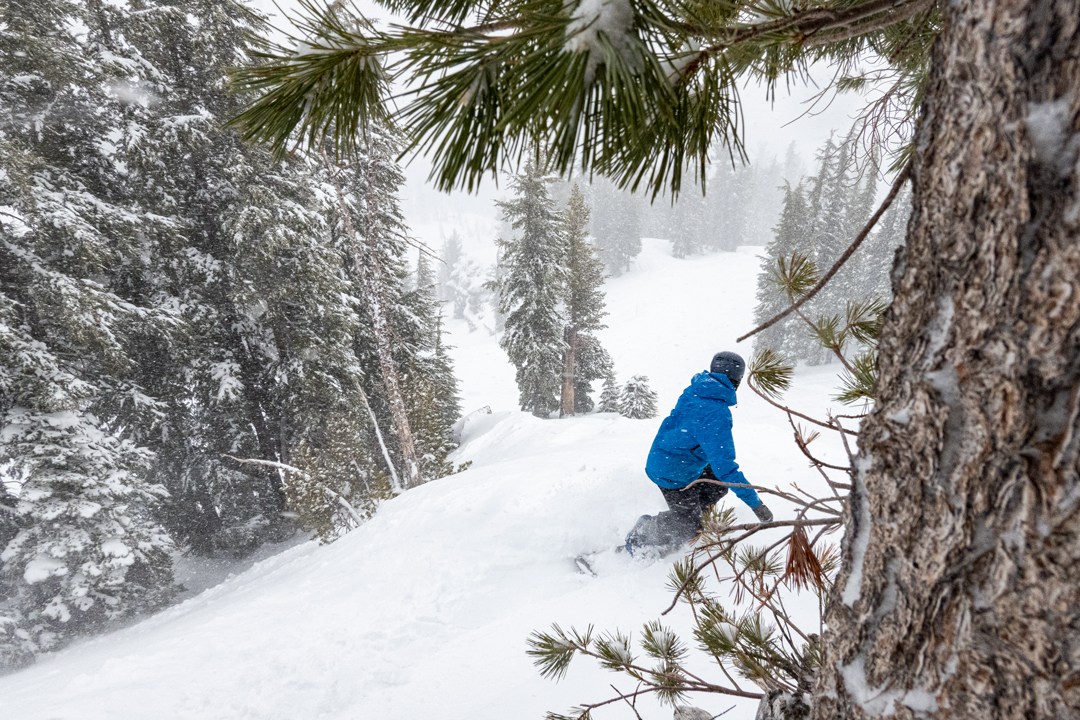 There is a decent amount of terrain for intermediates and beginners, but Kirkwood is built for experts. With 68% of its terrain in this category, Kirkwood is a formidable opponent. In fact, you can write an entire book about all the features and lines that exist. Iconic names such as The Fingers and Chamois. Everything off of Cornice Express (Chair #6) is serious business. This gives access to some of the steeper groomed runs like Zachary. The magnitude of the slope requires winches on the snowcat for grooming. Otherwise, they would slide down the mountain! For more ungroomed technical lines, head over to Olympic which has bumps, cliffs, and chutes. If you still need a bit more adrenaline, it's time to head over to The Wall (Chair #10).
The Wall – Intimidation at its best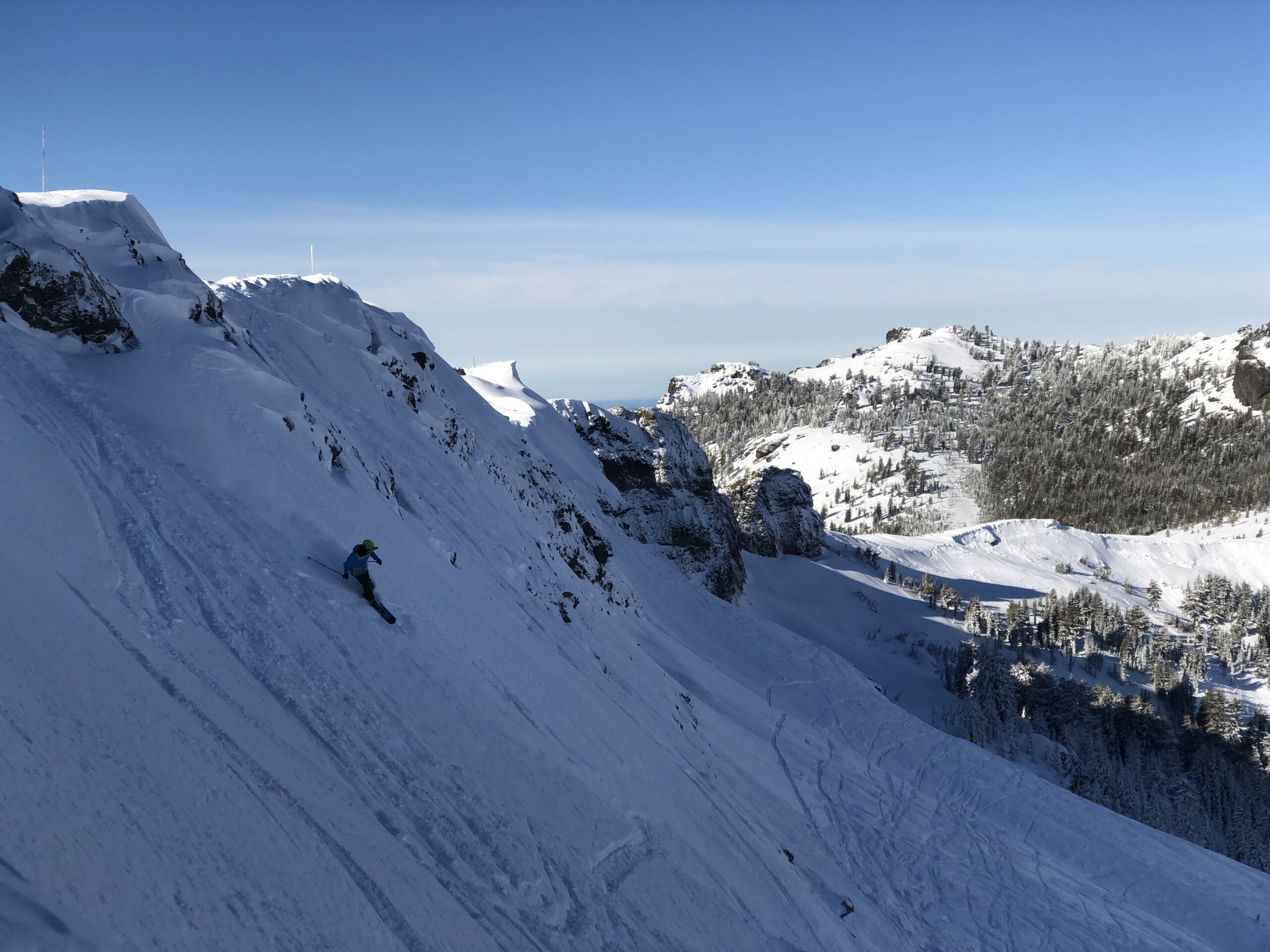 The intimidation factor begins at the entrance of the lift with a skull and cross bones stating 'Expert' terrain. As the slow, fixed-grip triple chair lumbers its way towards the top of the mountain, it feels like the ascent of a roller coaster. You begin to think twice about taking this lift. As you leave the forested corridor, the chair opens up into the bowl where a fierce wind begins to howl. Now you ask yourself "Did I make the right decision?" Finally arriving at the summit, the wind greets you with a torrential gust trying to shove you back down the mountain. Stand strong!
What It's Like For The First Timer
As quickly as you try to unload and prepare for your descent, the ferocious wind aggressively yells at you to hurry up. Your nerves are now frayed, but it's time to trust your judgment and drop into The Infamous Wall. Turn after turn, you gain confidence and begin to notice how amazing the snow is. Halfway down The Wall, you begin to feel a sense of accomplishment and a grin begins to form. At the bottom of the bowl, you will smile and look up at The Wall and think "I – yes I – have conquered The Wall."
Intermediates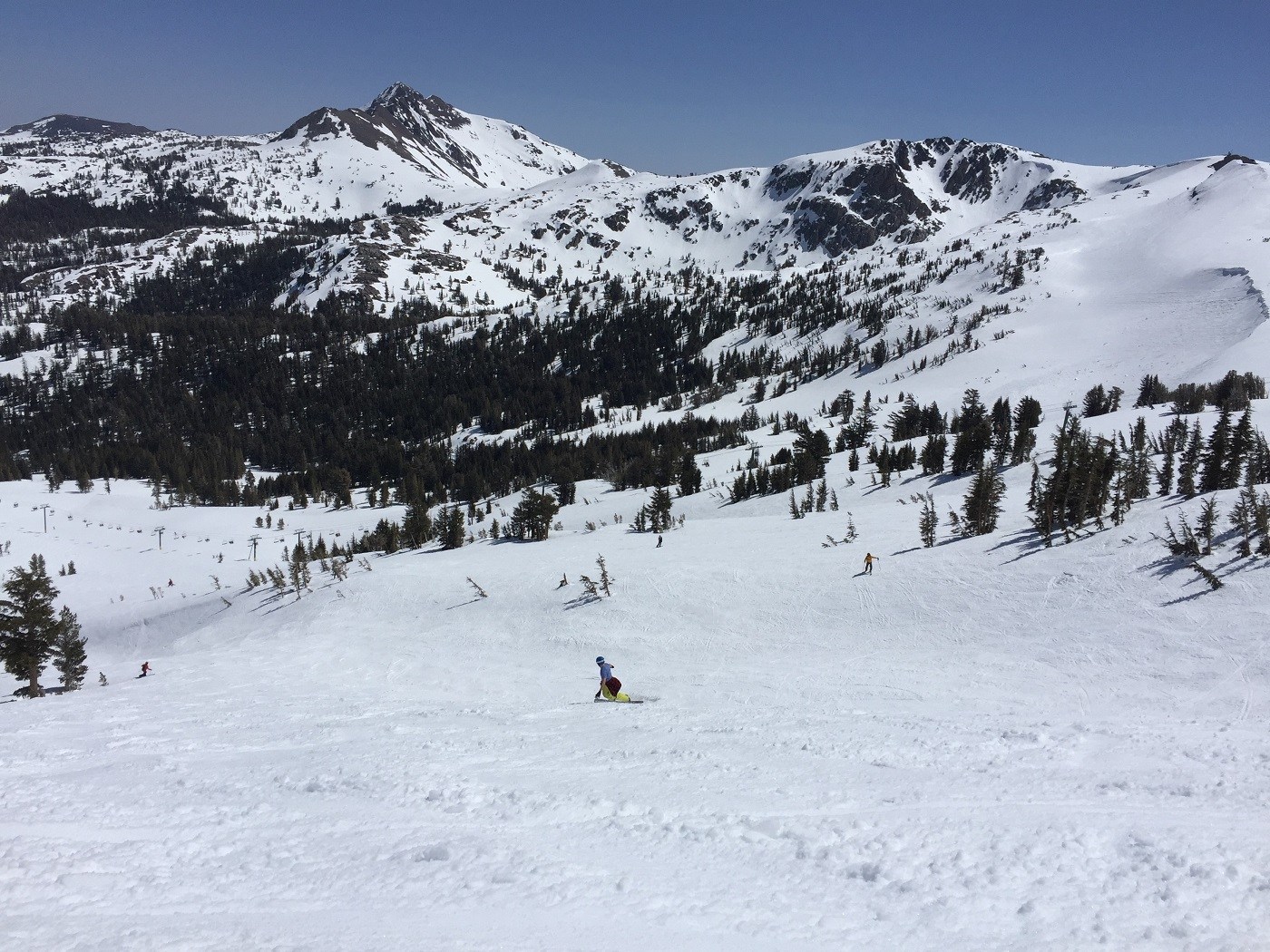 For intermediates, 'The Backside' is the place to go, once Ski Patrol opens it up of course. The easiest way to get there is to take Snowkirk (Chair #1) followed by Caples Crest (Chair #2). From the top of this chair, drop down any of the trails. Just enjoy the ride as any of these runs will lead you to 'The Backside.' One thing to note…be sure to keep up your speed! You'll need it to fly past the base of Iron Horse (Chair #3), taking you over to Sunrise (Chair #4).
A Winter Haven
Once you reach this part of the mountain, you'll notice this valley is a little different than the front side of Kirkwood. Tucked away from all the parking lots and lodging. A winter haven surrounded by wilderness. As Sunrise (Chair #4) whisks you up the mountain, initially the lift will be enclosed by a canopy of tall pine trees. In a flash, the forest recedes and suddenly you are exposed to a wide open bowl. Your mouth will drop at the options in front of you. As far as the eye can see are bowls, gullies, widely spaced clumps of pine trees, and tons of white snow. You'll begin to salivate at your newly found opportunities.
Elevator Shaft And The Wave
From the top of Sunrise (Chair #4), you will see nothing but purity and nature. Take a quick look to rider's right and you will find the famous 'Wave'. If you're lucky, you'll see people jumping off of it, hooting and hollering all the way to the bottom. The trails straight down the center of the bowl like Happiness Is or Elevator Shaft hold a good intermediate pitch that lets you open up and make giant turns down the entire mountain. After you've lapped 'The Backside' a few times, most likely you will want to enjoy this "Rare Earth", as Kirkwood has been tagged, as long as possible. Luckily, a lone structure sits at the bottom of Sunrise (Chair #4) called the Sunrise Grill. It's a great place to lounge in an Adirondack chair, have a snack, and enjoy the sunshine and remoteness of its location.
Beginners
The intermediates may have 'The Backside', but the beginners at Kirkwood have two sections all to themselves. My suggestion would be to stay in the Timber Creek area which has nice wide open groomed runs to learn how to ride. Squirrel Ridge off of Timber Creek Express (Chair #7) is a run that every kid or beginner would want to play on. It's a 'gentle' gully that snakes, winds, and rolls its way through widely spaced giant Ponderosa Pines all the way to the bottom. It will make anyone giggle with joy, regardless of age. The other beginner area is based around Snowkirk (Chair #1) near the main lodge. Both beginner areas have separate bases. To easily get from Timber Creek to the Main base area, either take Jane's Jaunt, a cat track, or a free shuttle ride.
Insider tips
First thing to know is Locals call the lifts by number, not by name. So, if someone says "Head over to #6", they mean Cornice Express. If you are lucky enough to be at Kirkwood on a powder day, ski patrol will "roll" the openings of the lifts, so keep your ears perked to find out what part of the mountain they will open up next. Normally, they start with Cornice Express (Chair #6) and then incrementally open up everything that is on the frontside. Finally, if you are really lucky, they will open up Sunrise (Chair #4) and 'The Backside' bowl will be untracked! Like everything at Kirkwood, patience and knowledge is the name of the game.
BEWARE:
Ask the frontside lift operators first if Sunrise (Chair #4) is open before you start your trek to 'The Backside.' Days after a storm, Ski Patrol could still be digging out this chairlift. You don't want misinformation leading you that direction to only have to travel all the way back.
When The Day Is Done – 7800′
There are plenty of dining establishments in the village such as Monte Wolfe's and the Wall Bar to wet your whistle. But for diehard Kirkwood skiers and snowboarders, everyone heads to the 7800′ Bar And Grill. It's the ONLY independently owned restaurant at Kirkwood. A true ski bar. What Chamois is to Palisades Tahoe, 7800′ is to Kirkwood. You'll find affordable adult libations. Tasty dishes and even live entertainment.
A Little History Lesson
Go back in time … 1864 to be exact. As you leave, take a right at the exit and head down the road about a quarter mile. There you will find the Kirkwood Inn. When Bud Klein was looking for a place to build a ski resort, this is where he stayed. In fact, that year, 1864, there was so much snow they had to dig DOWN to find the Kirkwood Inn.
A Time Capsule
This place is like a time capsule with stories of great ski days and even rowdier times when folks passed through California for the Gold Rush. One of these stories relates to the fact that the Kirkwood Inn sits in three counties. During the prohibition era, when a county inspector came to the Inn, they would literally 'roll' the bar from one side of the building to the other so that it wouldn't be in that particular county. Vail Resorts has closed this iconic watering hole since the Pandemic hit. There are rumors that they are remodeling but no news as of late as to when they'll re-open.
Peace, Quiet, and No Signal
A little bit farther down the road lies Wylder Hotel Hope Valley (formerly Sorenson's). This is a great place to stay if you truly want to leave the modern world behind and connect with people again. The lodging consists of small one-of-a-kind cabins that don't have any televisions or cell phone service. They do have all the essentials with small kitchens, cozy beds, and even some fireplaces. The main lodge has a great restaurant that serves food family style and their mixed fruit cobbler is one of the best cobblers you'll ever have!
Kirkwood is truly a unique place. We hope you visit and experience it for yourself and don't forget the hidden gems around Kirkwood Ski resort as well. For more around Lake Tahoe, be sure to check out our Tahoe homepage.