Things To Do In Lake Tahoe
This article may contain affiliate / compensated links. For full information, please see our disclaimer here.
At A Glance
Lake Tahoe means a lot of things to different people. For some, it's the miles of beaches and sunny summer days. Others, it's the legendary storms that drop multiple feet of snow on the Sierra Nevada Mountains, creating a powder paradise. If there's a mountain destination that's something for everyone, it's Lake Tahoe. From early morning adventure seekers to night owls who want to party until the wee hours of the morning, Lake Tahoe has something for you.
Lake Tahoe Quick Information
Pick A Side, Any Side
The first thing you need to know is that "Lake Tahoe" isn't a town, but a host of communities that each have their own personalities. At a whopping 72 miles around, it takes time to get around the entire lake. For example, on a busy weekend it can take you 2+ hours (or more) to get from the north shore of the lake to the south. Instead of trying to see EVERYTHING in one trip, we recommend picking a side and focusing on that area. Either go north or go south so you don't waste your time in the car.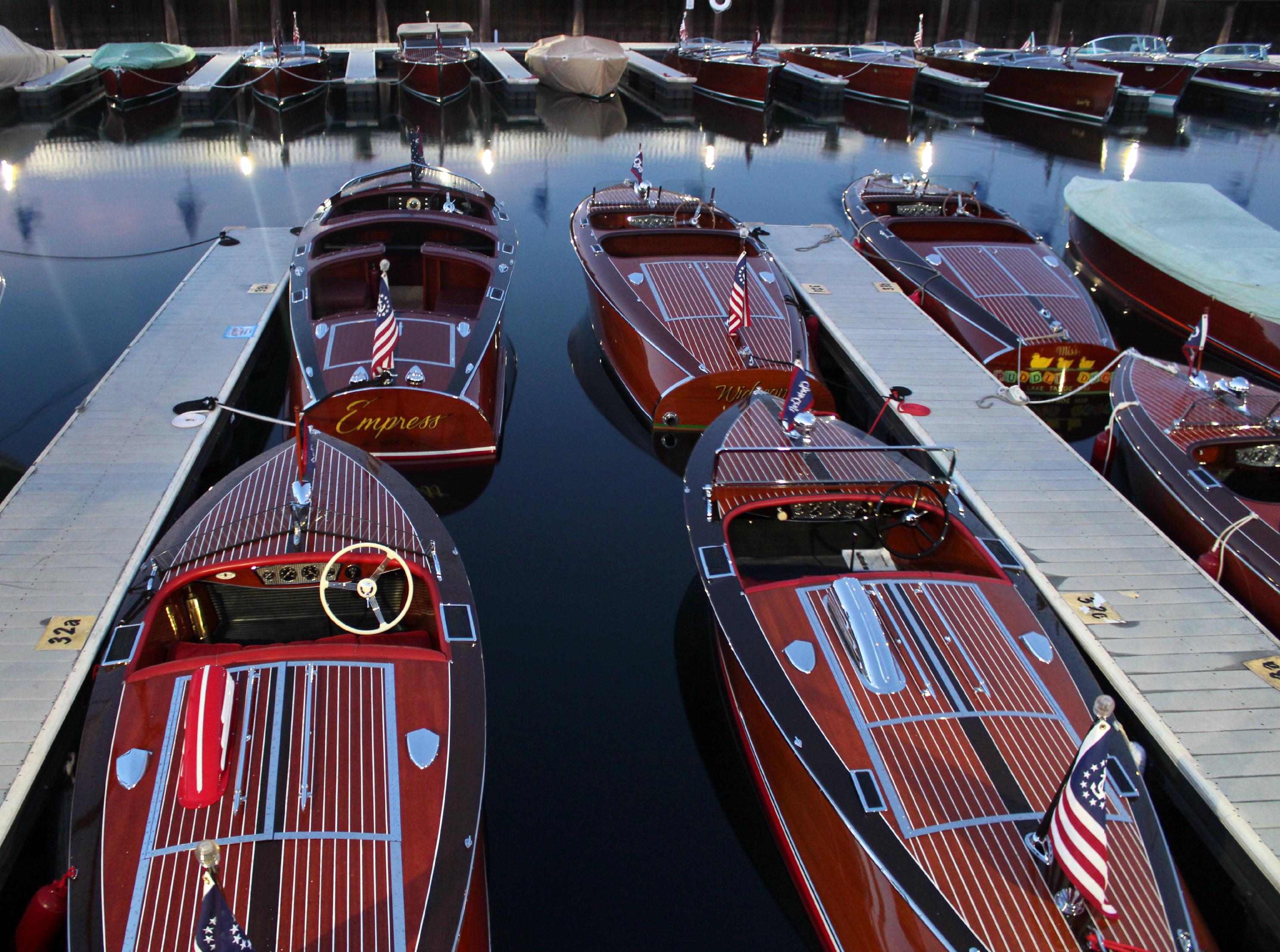 All year long there's a myriad of events, festivals, and celebrations happening. For backcountry skiers and snowboarders, the 10 day Alpenglow Mountain Festival which includes Nachtspektakel or "Night Spectacular" at Homewood should be on your list. Beer lovers will adore the Foam Fest on the north shore and Tahoe Brewfest on the south. Runners? Register for the OLDEST relay race in America.
Fourth Of July
It shouldn't come as a surprise that Lake Tahoe would rank as one of the best places to see fireworks on the Fourth Of July. First, you have the glassy waters of Tahoe. Second, you have massive mountain peaks that jut 4,000+ feet above the shoreline as a backdrop. Together, they make the most visually beautiful locale to watch "the bombs bursting in air…" Also, be sure to pick your spot early since more than 100,000 show up to watch the displays (and that's just on the south shore.)
Shakespeare Festival
Shakespeare once wrote that "all the world's a stage" and while that might be true, there's only one stage in the world like Sand Harbor State Park. Using the beautiful waters of Lake Tahoe as the backdrop, you can sip a glass of wine, eat a gourmet meal, and enjoy a professionally cast Shakespearean play and other theater experiences like Mama Mia. The annual Lake Tahoe Shakespeare Festival typically begins around the 4th of July and runs through the end of August.

SnowGlobe
On the other side of the calendar around New Year's, one of the biggest music winter festivals goes down amongst the tall evergreens and alpine beauty on the south shore. In fact, SnowGlobe Music festival is considered California's biggest New Year's Eve event and one of the biggest in the nation. Happening across three days, the event features multiple stages showcasing world-class musicians such as Skrillex, Diplo, and E-40, just to name a few. If you're a music lover, you may want to put this on your calendar.
Harvey's Summer Concert Series
Tahoe's weather in the summer is the epitome of perfection, so it shouldn't come as a surprise that they would hold a summer concert series. We're not talking small bands either. This lineup is ALWAYS the real deal Holyfield of artists. Some of the mega-stars that have graced the stage over the years include names like Paul Simon, Lady Gaga, and The Who.
American Century Celebrity Golf Tournament
Another big summer event that happens around the second week of July is the American Century Celebrity Golf Tournament. It gives spectators an opportunity to get up close with celebrities in a fun and relaxed atmosphere as they compete in this golf tournament. The annual event has a purse valued at more than $600,000 along with television exposure, making it the most prestigious celebrity golf tournament in the nation.
Concours D' Elegance
This isn't just a "boat show." Far from it. The literal translation from French means "Competition of Elegance", and the crème of the crop of these events for wooden boat shows is Lake Tahoe's. Being the "Super Bowl" of vintage wooden boats, nearly 70+ of the finest examples of craftsmanship are on hand.
For a guide on the types of boats, what to expect at the event, and why you should go, check out our in-depth article found here:
If you want a taste of what local events are happening throughout the year, check out our articles about past, present, and future gatherings in the area.
If you want to fly, Reno-Tahoe International Airport is going to be your closest option. From there, you can get to any side of the lake within an hour. There are several shuttle options that will take you directly from the airport to specific towns across the Tahoe Basin. For the south shore, there's the South Tahoe Airporter which runs multiple times per day to the casinos in Stateline, NV which is right on the border of California & Nevada. For the north shore, you'll take the North Lake Tahoe Express which will connect you to a host of towns like Squaw, Truckee, and Incline Village. Last but definitely not least, you can even take Amtrak which drops you off right smack dab in historic downtown Truckee.
Transportation
Once you're here, you'll have a few options to get around. For the north shore, the Tahoe Area Regional Transit system or TART for short has multiple bus lines that run through the area. On the south shore, the Tahoe Transportation District has a few routes running within South Lake Tahoe all the way down to Carson City. Here's a map that provides a detailed look at the South Shore Service. Lake Tahoe was also one of the first regions to offer Uber & Lyft service outside of an urban area which you can still use today.
Chain Restrictions (Winter Months)
Be VERY cognizant of when you travel to Lake Tahoe. If you rent a car from October to late April, we'd HIGHLY recommend picking up a 4WD/AWD vehicle just in case. Most likely you won't need it, but if it's a storm day, you'll be glad you did. No matter how much of a seasoned winter driver you are, you won't be able to get over a mountain pass without it. The local department of transportation known as Caltrans (or NDOT on the Nevada side) put up chain controls on every pass that's considered unsafe to drive without them. Most likely there WILL be a checkpoint to make sure you have 4WD/AWD or are chained up. No 4WD/AWD? Chain-less? No go for you!
For up-to-date information, check out the Caltrans map or type in the Highway # to get the latest about that specific route: Roads Information. Note: Over the years we have seen on several steeper sections of the Tahoe area passes that AWD vehicles have had traction issues in climbing, resulting in the drivers putting on chains to proceed. This is just a word of caution when renting a vehicle if you do have a choice between AWD or 4WD.
Lake Tahoe Trip Planning
Best Time To Go?
Lake Tahoe is the closest place to weather perfection. In the winter, the mountains receive anywhere from 300-500 inches of snow annually but on only 50 days per year. During the summer, temperatures hover between 69 and 77 degrees with a 90% probability of a sunny day. For skiing, the best bet for great ski conditions is March (locally known as "Miracle March") or April, but you really can't go wrong any time of the season.
For summer activities like hiking or mountain biking, consider coming in July or August. The only issue is these times of year are also the busiest for Lake Tahoe. If you want the place to yourself, come in mid-April for skiing and fall for summer-like activities. The locals know that autumn is the secret season where temperatures stay warm in the 60s and 70s during the day, but you have the place pretty much to yourself.
Feast or Famine
Being the first mountain range to the Pacific Ocean has its advantages AND disadvantages, one of them being the Feast or Famine storm cycles during winter. Depending on if you're a glass half-full or half-empty type of person, you can be happy or frustrated with the outcome. Even in the biggest winters, expect long stretches (weeks) of tranquil sunny weather. During the worst winters in Tahoe history, it can be months before a snowflake falls. The good news is that even in the worst winters, the snow stays great, and there's so much to do that even if a Pineapple Express or a Miracle March doesn't show up, you'll still have a blast. Simple mantra: Be flexible.
Best Things To Do In Lake Tahoe
Attractions
Emerald Bay
Besides the plethora of outdoor activities, there are some classic attractions that are a must see for first-time visitors. The one that usually bubbles up to the top is Emerald Bay State Park. Besides the obvious beauty of the bay hosting the only island on Lake Tahoe, it's also home to Eagle Falls AND the finest Scandinavian architecture in the U.S.: Vikingsholm. No matter what time of year you visit, it's going to be packed. So, either go early or late in the day.
DL Bliss State Park
Just a little north of Emerald Bay is the DL Bliss State Park. Here you'll find great hiking opportunities and a chance to see the highest elevation lighthouse in the United States. From Rubicon Point, you get a great panorama of Emerald Bay, Fannette Island, Lake Tahoe, and the distant Nevada shore.
Ed Z'berg Sugar Pine Point State Park
The chain of parks continues northward on the western side of the lake. This park is home to beautiful beaches, great hiking trails, and one of the most beautiful historic homes in Lake Tahoe. The Hellman-Ehrman Mansion, completed in 1903, was considered one of the finest in the Sierra. In the summer, you can get up close and personal by going on one of their tours.
Tallac Historic Site
Another bounty of beautiful architecture and estates exists within the Tallac Historic site. A century ago it was considered the "grandest resort in the world" since it was the summer retreat for three of San Francisco's socially elite families. Now the Pope, Baldwin, and Valhalla estates are open to the public for a glimpse of the opulent past.
Skiing / Snowboarding
Within the confines of the Lake Tahoe region, there's A LOT of skiing & snowboarding to be had. From the breeding ground of extreme skiers at Squaw Valley to the humble slopes off of Donner Summit, there's a ski area that will fit your group's needs. For a destination resort that offers great intermediate terrain, a speckle of expert trails and access to a host of off-hill activities, Heavenly Mountain Resort is a good option. For the best bang for your dollar, either head to Homewood or Diamond Peak. Love tree skiing? Sierra-at-Tahoe has some of the best around. We love our home resort so much that we wrote a love letter to Sierra-at-Tahoe for doing it right.
For more on why we think Sierra-at-Tahoe has the best glade skiing and a few tips:
And for those powder hounds in the pack, Kirkwood is a must to visit. Due to its high elevation, location, and topography, they get some of the largest snowfall totals in the region.
For a full run-down of what to ski and where to après, check out our guide here: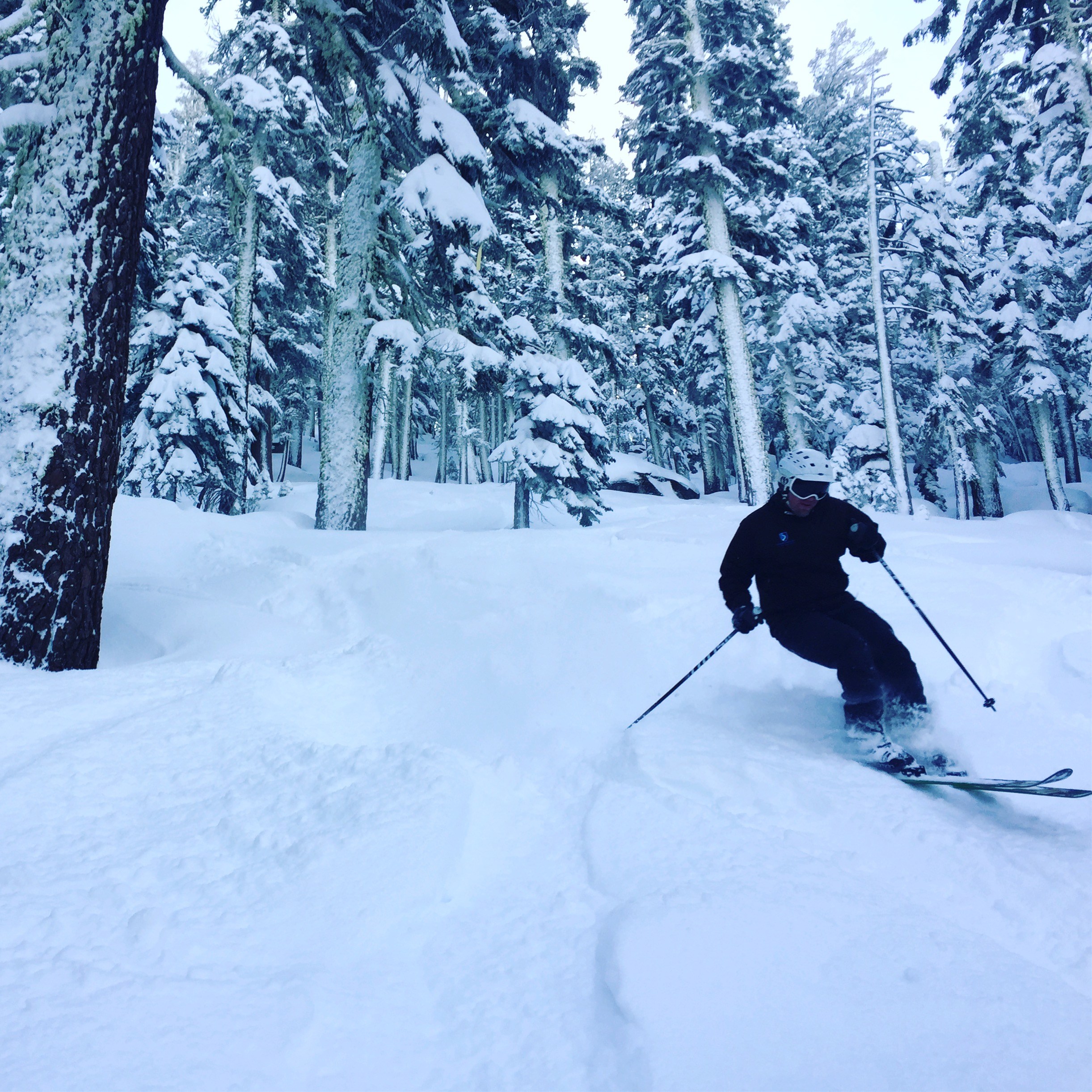 Snowmobiling
If you want to enjoy the area behind a set of handlebars, there's quite a few outfits that provide this service. For a quick family endeavor, you can race around a track via Tahoe Snowmobiles. For more of an immersive experience, we'd recommend going out on a tour instead. Lake Tahoe Adventure Company provides options in the Hope Valley area which is near Kirkwood. If you're looking for views, the Zephyr Cove Snowmobile Center will hit the spot. Departing from Zephyr, you'll ascend to an elevation of almost 9,000 feet above sea level. The two-hour tour provides panoramic views of Lake Tahoe's cobalt blue waters that very few others get a chance to see in the winter months.
Cross Country Skiing
Another option for a day off from the slopes is to plan a cross country skiing outing. Royal Gorge on the north shore is the LARGEST cross country ski area in North America. They are known for their sweeping views of the Sierra and eight distinct trail networks spread out across 6,000 acres. On the south shore and if there's more than two feet of snow, Camp Richardson within the Tallac Historic site is a must do. Located RIGHT on the shore of Lake Tahoe, it offers up-close and personal views of Mt. Tallac as well as Lake Tahoe. And if you're on the west shore, Sugar Pine Point State Park has fantastic groomed trails as well.
Winter is absolutely amazing in Lake Tahoe, but as the locals say, "summer is when you fall head over heels in love with this magical place." There's so much to do that the list is almost endless. Below, we take a broad stroke and highlight some of the activities that are unique or special.
Mountain Biking
Lake Tahoe's mountain biking trails are as diverse as the options of activities you can enjoy here. A Disneyland-like place for outdoor enthusiasts. For experts, the pinnacle is Mr. Toad's Wild Ride. Not for the faint of heart, this one will bounce you around like a pinball if you don't have the skills and gear for it. For first timers or those a little nervous, check out Powerline. This mellow singletrack will get you hooked on the sport. Read about it in Fear and Horror… That's How I Got Into Mountain Biking. And of course, you can't mention Tahoe mountain biking without calling out the trail that put the area on the map: The Flume Trail. If you're wondering what it's like, check out our article: What To Expect On The Tahoe Flume Trail.
For a more comprehensive look on what trails are available to you, check out our guide found here:
Hiking Trails
If there's one activity that everyone should do when visiting Lake Tahoe during the summer, it's to go for a hike. If you want to take in a sunset, Cave Rock on the east shore provides a 270-degree panorama of Lake Tahoe as the sun sets over the mountains on the west shore. For more of a challenge, consider hiking to the top of Mt. Tallac. The 10.5 mile out-and-back trail gains 3,500 feet to the summit. While not the tallest or the most challenging, the views are worth it. For an adventure that's in between, consider a stroll on the Tahoe Rim Trail. Looping around the lake with eight designated trailheads, it gives you access to everything from wildflowers to waterfalls and loads of vistas. Or, if none of these sounds tough enough, you may want to consider the Tamarack Trail. The trailhead is hard to find, features some bushwhacking, and is VERY steep. For our personal experience of this challenging route, check out the article: Tamarack Trail… Testing My Fears.
Beaches
A canvas of white sands. Impossibly sky-blue waters that sparkle like jewels in the sunlight. Caribbean? Nope, we're talking about the gorgeous beaches of Lake Tahoe. To find the largest concentration of beaches, you need to head down to the south shore. From Zephyr Cove all the way to almost Emerald Bay, there are mile and miles of sandy shoreline. This includes Pope, Kiva, and Baldwin which is one long massive stretch of sand. For arguably one of the most beautiful beaches in Tahoe, you'll need to head east to the legendary Sand Harbor.
Local Freshies® Tip: Parking at ANY of the beaches in Tahoe is limited, meaning you need to get there early, ESPECIALLY Sand Harbor. Even mid-week, we've seen the small parking lot full by 9 am or earlier. Consider riding your bike on one of the many paths.
If you do want to experience a beach that has a few less people, check out our article: Off The Beaten Path – The Best Beaches In Lake Tahoe To Get Away From The Crowds.
Lake Tahoe Fall Activities
Lake Tahoe might be home to a large concentration of conifers, but once autumn arrives, there's still an assortment of places to check out to get your leaf peeping on. Just like any natural phenomenon, timing is essential. Fall color in Lake Tahoe arrives around the middle of September and peaks through October, but the exact schedule for when the leaves change color varies somewhat from year to year.
Here's a few of our favorite spots for fall color in the Tahoe Basin:
For The Foodie – Restaurants To Check Out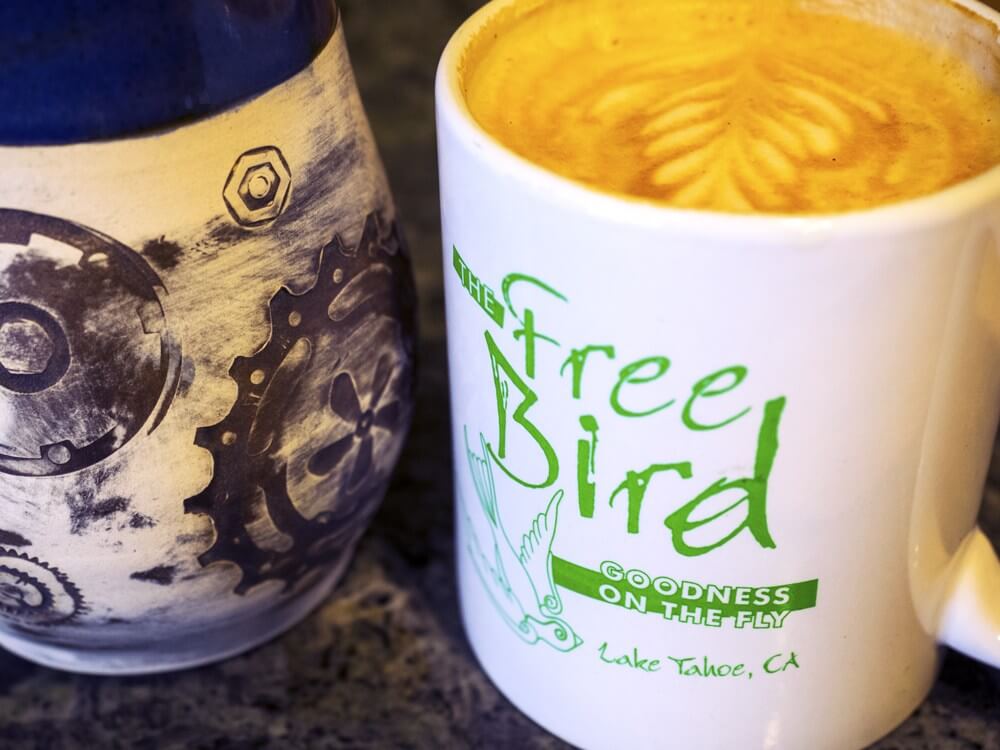 As we said earlier, Lake Tahoe isn't a "town" but rather a multitude of communities each with their own style and demeanor. Here's just a few of our favorites to consider:
Morgan's Lobster Shack & Fish Market (Truckee):
If you're hankering for some seafood, we recommend Morgan's. While the prices are a little high, it's got some of the best fish (& lobster) sandwiches we've had outside of New England.
Mountain High Sandwich Co (Incline Village):
If we're in the northeast corner of the lake, we make it a point to have lunch at Mountain High Sandwich Company. Their smoked tri-tip is some of the most tender and juiciest we've had anywhere! Pretty much anything on the menu is delicious.
Freshies Tahoe (South Lake Tahoe):
When it comes to jaw-dropping summer views of the lake served up with amazing food, our go-to spot is ALWAYS Freshies. From our buddies who've visited Baja say, "their fish tacos are legit." Besides an assortment of fish to choose from, you can get 'em served grilled, fried, blackened, or sauced in a variety of ways like Jamaican Jerk or Buffalo Style.
Free Bird Café (South Lake Tahoe):
For a unique morning wake-me-up experience, we highly recommend a stop at Free Bird Café. This little coffee shop next to Red Hut serves up Chai. We're not talking any powder scoop either… we're talking about Chai house-made from REAL whole spices simmered for hours. It's unlike any Chai you've ever had before, unless of course you've been to India.
For a full list of places we like to eat at in Lake Tahoe & more head over to our Lake Tahoe, CA/NV homepage:
Lake Tahoe Adventures
Since we're based in Tahoe, we've done a lot of "adventuring" in our backyard. This section includes stories from opening days at ski resorts to things like seeing a chairlift fall from a line and even snowboarding a glacier in June.
Where To Stay In Lake Tahoe
Let me preface this section… there really isn't a BAD place to stay in Lake Tahoe. Rather, it's what kind of amenities and experiences you're looking for. For a picturesque ski town then Truckee is a good option. Want to be on the lake and still have a relaxed vibe? Towns on the north shore like Tahoe City and Kings Beach give you easy access to the lake and still have that small town feel. For old school charm and the least crowded part of the lake the West Shore is where it's at. Party animals and extroverts will want to base camp on the south shore due to the 24 hour nightlife and apres scene within the Heavenly Village. Last, but not least is the East Shore. Home to Sand Harbor and plenty of undeveloped lands if you want to stay on this side of the lake the only major town on this side is Incline Village. To learn more about what each of these regions offer and the best places to stay in each of them be sure to check out our article:
No matter how well you maintain your equipment, it WILL fail at some point. If you're visiting and you break a binding, snap a crank, or just want to shop local, here's a few shops that we like to support:
Tahoe Mountain Sports (Truckee)
Your one-stop shop for any backcountry activities like hiking, backcountry skiing, or even camping if you're in Truckee. If you need something like a headlamp or a good pair of gloves, they'll hook you up.
Alpenglow Sports (Tahoe City)
Even though we're based on the south shore, this is OUR shop for all backcountry gear. Sure, you can pick it up on the internet, but this crew KNOWS their stuff and won't B.S. you. They know their products and will fit the right gear to YOU. Let them know that Local Freshies® sent ya!
Shoreline Of Tahoe (South Lake Tahoe/Stateline)
Purchased by long-time employees Ken and Lani, they have the biggest selection of snowboard specific gear on the shore. This is our spot for picking up a pair of bindings, snowboards, and anything else you need for winter. They also have one of the biggest selections of splitboards in the Tahoe Basin. If you need a bit of inspiration, read about their personal story here: Still True to This – Shoreline of Tahoe Acquired by Long-time Employees.
Over The Edge (South Lake Tahoe)
OTE has a unique business model that's a bit different than a normal small business. Instead of just one shop, it's a consortium across the world. From how we understand it, it's similar to ACE or True Value Hardware stores. They're still each locally owned but have the support of each other to make sure they're competitive. Regardless how it works from a business model, when it comes to getting our bikes worked on or needing some beta on trails, this is where we go.
Additional Resources About Lake Tahoe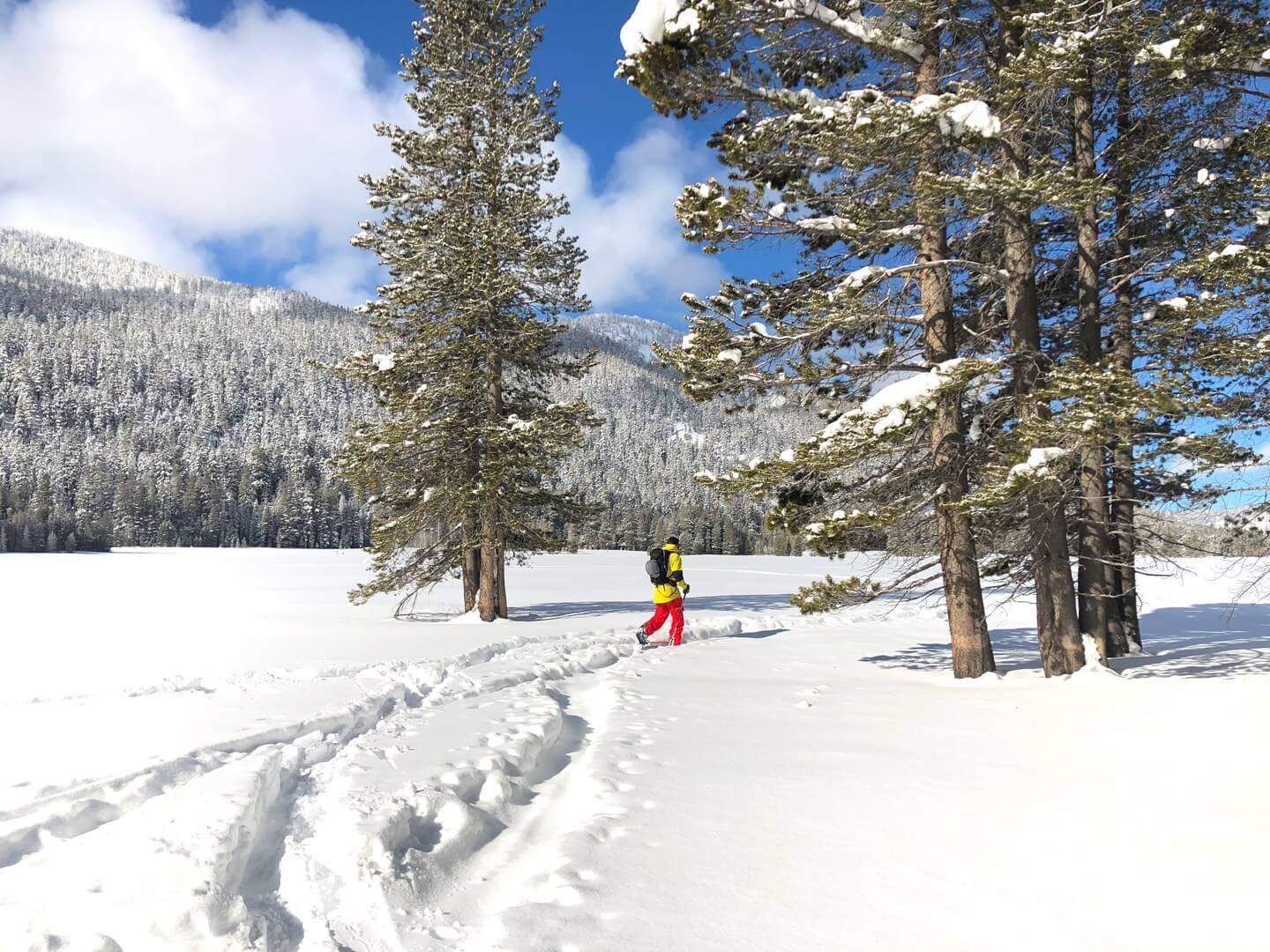 Lake Tahoe Water Trail
Although the sunny summer weather can lull you to sleep, this is still a high alpine lake. The water is VERY cold, and being in the mountains this means weather can change quickly. If you're heading out on the water, check out the Lake Tahoe Water Trail page. From safety to how to access the LTWT, it's your one-stop planning resource for paddling water sports.
Sierra Avalanche Center:
If you've completed your AIARE training, have the gear, and are wanting to explore the backcountry in Lake Tahoe, check the avalanche forecast. For the Lake Tahoe area, this is the Sierra Avalanche Center. They provide daily avalanche forecasts typically from Thanksgiving through the end of April.
USFS Lake Tahoe Basin Unit:
Another great resource to check out before you go on a hike or setup camp is the USFS Lake Tahoe Basin Management Unit. This is where you can pick up a pass or permit, learn about when beaches open, and much more. They're VERY active on social media as well giving you the latest news on topics like fire restrictions.
As Mark Twain so eloquently put it, "To breath the same air as the angels, you must go to Tahoe." From beach bumming to adrenaline seeking, you'll find your idea of perfection somewhere in Lake Tahoe.