Winter's final grip has loosened and the snow receded to the highest points in the Alpine. Besides the perennial holdout of Timberline, are there any ski resorts left standing when it comes to skiing in May? The answer is YES! We suggest slapping on some slush wax, grab your decks, and check out one of these resorts for what most of us will call the final hurrah.
For suggestions on spring skiing at these ski resorts in North America, see our article, "Everything you need to know about spring skiing & why it's the time of year to visit."
Where To Ski In May
Mount Bachelor
Acreage Open in May: Top-to-bottom skiing and over 2,000 acres
Learn more about Bend & Mt. Bachelor
Our personal favorite, Mt. Bachelor, is ALWAYS our go-to for skiing in May. Besides having the most perfect topography and weather to generate primo corn, as of the 2017-18 season, they introduced a new outdoor extravaganza. For the first time ever, you were able to ski or board, bike and drink brews — all in the same day to close out Mt. Bachelor's season! Sunshine lift was open for mountain biking, while Pine Marten, Skyliner, and Summit were open for skiing and riding (weather permitting). If you do make it up there around Memorial Day, be sure to check out the ULTIMATE spring tradition the Pole, Pedal, Paddle Bend race which starts on the slopes of Mt. Bachelor and finishes on the legendary Deschutes River.
Mammoth Mountain
Acreage Open in May: Top-to-bottom skiing and normally 1,500-2,000 acres
Learn more about Mammoth Mtn. & Mammoth Lakes
Warm sunny days and cold windless nights translate to spring being THE time to hit the slopes at Mammoth Mountain. Besides the average end of lift-served skiing, Memorial Day weekend also signifies the beginning of mountain biking season. That's right! You can shred in the morning and then take some laps in one of the best mountain bike parks in the nation. Don't forget to set aside time to apres and enjoy some great brews at Mammoth Mountain Brewing, JLB, and Distant Brewing. With plenty of sunshine, a deep snowpack, and a ton of pro riders calling it home, what other proof do you need? They also have the top team of snow sculptors crafting their terrain park! This is the place to be in the spring! This mountain is worth a trip even into June.
Squaw Valley|Alpine Meadows
Acreage open in May: On a good snow year expect around a 1,000 acres to be open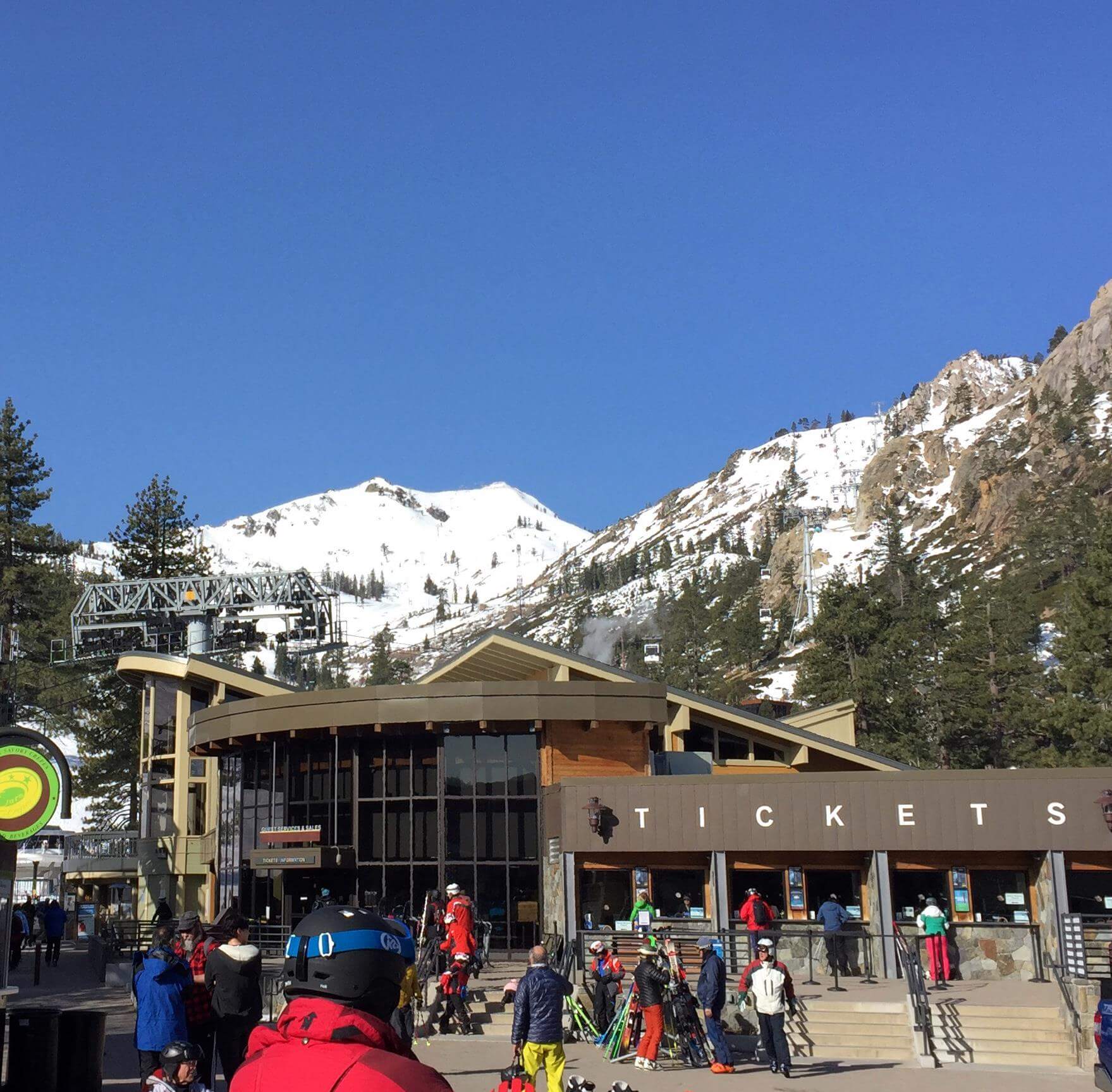 The world-famous Cushing Crossing might've happened a few weeks ago but that doesn't mean the fun is over. In fact, there's still plenty of terrain open for all-time spring shredding, hot tubbing at High Camp, and of course the Made in Tahoe festival. Local artisans, businesses, culinarians, organizations and entertainers will gather in the Village to display a wide array of offerings that are made or inspired in the Lake Tahoe Basin and Truckee areas. In fact, we've had some of our BEST powder days of the season in May. How good was it? See for yourself: The Winter That Won't End – May Powder Day In Lake Tahoe.
Snowbird
Acreage Open In May: Skiing and riding via its Mineral Basin Express and Little Cloud chairlifts, with uplift and download service via Aerial Tram
Just a mere thirty minutes from Salt Lake City tucked away in the Little Cottonwood Canyon is the ski area with the longest ski season in Utah. The "Bird" as it's known usually by this time of year is one of the only ski resorts open in May. It has at a minimum the Mineral Basin and Little Cloud chairlifts running, but if the snow is deep and the crowds do show up, there's a good chance they'll start running a few more. Spring skiing and riding is always a bit different than that in the winter. In the spirit of the party atmosphere, Snowbird normally has live music on the deck every week. All performances take place on the Plaza Deck from 12 – 3pm weather permitting.
Whistler Blackcomb
Acreage Open in May: Emerald Chair only
It used to be that Blackcomb would be open until late May providing 2,500 vertical feet of skiing and snowboarding and thousands of acres via Jersey Cream, Seventh Heaven, and Glacier Express lifts. Unfortunately, ever since Vail purchased Whistler Blackcomb, they've decided to shut that down. Instead, they've opened up Whistler albeit on a much smaller scale. Even then, it's still home to a ski village that all other mountains try to replicate, so it's definitely a must try for spring skiing. The best part of skiing in May is that you can ski the upper elevations of the mountain in the morning and mountain bike the bottom part in the afternoon. Talk about a fun filled, adrenaline rushing day!
Killington
Acreage Open in May: Normally a handful of trails
Have a Nor'Beaster spring pass? Then this year you'll have a chance to get some runs in at Killington over Memorial Day weekend. The Superstar Express Quad will re-open this Friday for two more days of skiing. While you may have to walk a bit on Saturday to get to the last shred of the white stuff, there's a TON to do this weekend as well. From the Bike Park opening in late May to the annual legendary New England stage race and golfing on the links, there's all kinds of multi-sport fun to be had.
No moping about the house that snow season is over! Skip the "summer traffic" in the city and head up to the mountains. You'll enjoy some daytime drinking, get some shredding in, and maybe even your 1st sun burn of the year! I don't know about you but that sounds like a great long weekend.