While most resorts are trying to ramp down and close-up shop by April 1st, there are a few ski resorts still waving the spring break skiing flag. Besides the party scene going off on the slopes, corn-huntin' season is in full effect! Here's a bunch of resorts offering you UNLIMITED skiing & snowboarding through the end of their season. It's spring season pass time as they push the limits on those closing dates.
Ski Resorts Offering A Spring Season Pass
Springtacular
Mt. Bachelor, Oregon
Target Closing: Memorial Day Weekend
The "OG" of the spring season pass, it's one of the best out there for late season. In fact, it can be argued that it's even better for spring break skiing. How come? Just like most mountains near the Pacific Ocean, storms come in fierce in the winter bringing LOTS of wind and snow, forcing the resort to shut down the summit chair 30% of the time. As the season wanes, the summit chair is open almost all spring long due to the massive amounts of sunshine and beautiful weather. With nearly 100% of Mt. Bachelor open typically through the end of April and 2,000 acres in May, it has some of the best late season skiing on the content. We already have our sights set to visit this juggernaut this spring.
* Beginners / Intermediates be aware that the Skyliner Express chair is closed for the remainder of the season due to supply chain issues.
Learn more about their spring pass
Nor'Beaster
Killington, Vermont
Target Closing Date: Late May or until the snow melts
The Beast of the East is always known for pushing the limits of what a ski season's length should be. In fact, last year they pushed closing day all the way into June! This is your time to celebrate spring in the mountains with soft snow, sunshine, and most of all – parties.
Learn more about the Nor'Beaster
Spring Unguided Pass
Silverton Mountain, Colorado
Target Closing Date: April 19th
Less of a ski resort and more of a lift-served backcountry destination, Silverton's spring pass with its high elevation gives you a chance to get in some powder riding before the season ends. The Spring Unguided Pass includes the spring season, plus an exclusive private day at Silverton Mountain on March 16th, along with access to $59 Heli skiing runs and many other discounts throughout the winter season. While it's already sold out for this year, keep your eyes peeled this summer for the 2022/23 spring season.
Learn more about the Spring Unguided Pass
The Indy Revolution
Indy Pass Resorts Across North America
Target Closing Date: Varies As Late As Mid-April
This is the NEWEST kid on the block. If you haven't noticed, we LOVE everything this brand is doing. You get access to now 82 resorts across North America AND Japan. Instead of selling unlimited passes which drowns the local resorts on powder days, you get two days of skiing/riding at their resorts, or at most, unrestricted access to your one local resort. New this spring, they've created an Indy Spring Pass allowing you to ski two days to ALL their resorts until closing. And if you already own a pass, the price tag will then add another two days to it.
Learn more about their Spring Pass.
Give Summer The Bird
Snowbird, Utah
Target Closing Date: Varies As Late As June

The longest season in Utah gives you the chance to soak up the sun and experience the last bit of winter. This time of year represents a land of contrasts when it comes to weather. One day it's a bluebird, goggle tan perfection kind of day. . . while the next could be a powder day filled with more face-shots than you can count.
Learn more about the Snowbird Spring Pass
Here's Johnny!
Timberline Lodge, Oregon
Target Closing Date: Spring pass goes through May 26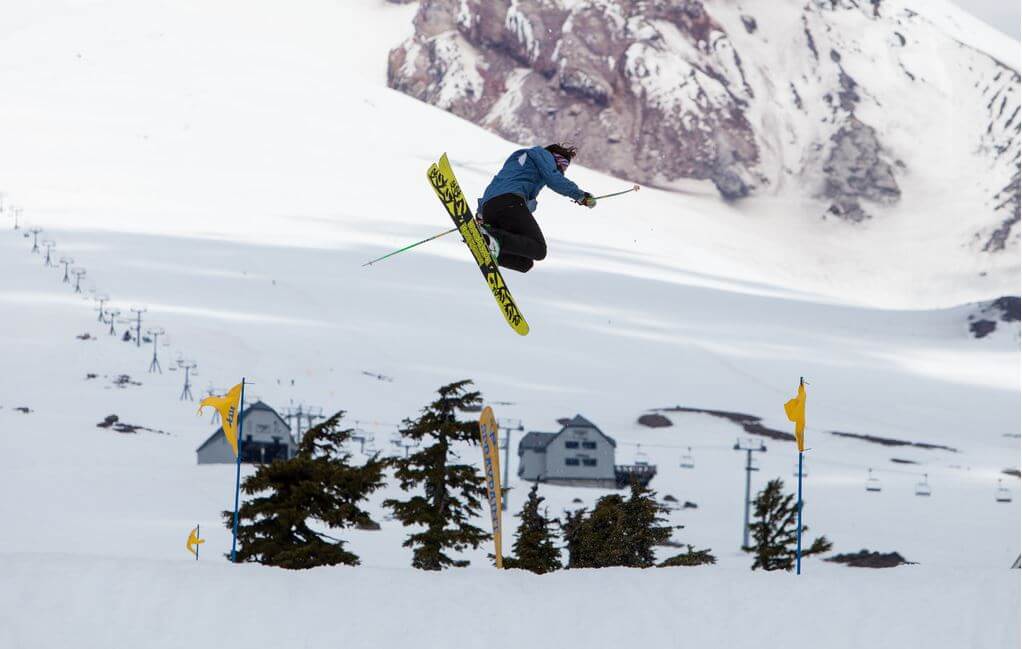 You can't say spring skiing without talking about Mt Hood and Timberline Resort. Besides having the longest season in North America (7 days a week until June), it also offers you:
Diverse terrain for all ability levels
Night skiing
Access to amazing restaurants and bars in Portland
Historic Timberline Lodge
Learn more about the Timberline Lodge Spring Pass
Oh, Canada!
Lake Louise, Canada
Target Closing Date: Late May
The longest season in Canada offers the chance to experience the last bit of Old Man Winter before he makes his retreat to the southern hemisphere. Due to its northerly location, mid-winter temps can be frigid and are often below 0 degrees Fahrenheit. Spring is when these temps warm up to the point that they're comfy and yet you can still sample the legendary cold smoke Rocky Mountain powder. Historically, April sees almost as much snow as February or March! If there's a time to visit Lake Louise, it's in the spring.
Learn more about the Lake Louise Spring Pass
So, if you aren't done with skiing and snowboarding, why not pick up a spring season pass, plan a trip or two, and head to one of these spring break skiing meccas. For tips on how to make the most of this time of year, what to wear, and how to tune your gear, visit our homepage to all things spring: Everything You Need To Know About Spring Skiing… And Why It's the Time Of Year To Visit