Hours
Monday: Closed
Tuesday – Sunday: 8 AM – 4 PM
Address
120 Country Club Dr #28
Incline Village, NV 89451
Website
We're all about venturing off the beaten path. From heading into the backcountry to finding the cool local places and events in mountain towns…the more unique the better. Many times this happens by accident and that's how we found Mountain High Sandwich Company.
On our way back from opening day at Northstar Ski Resort the heavens opened up and were pummeling the Sierra Nevada Mountain Range that we haven't seen this early in years. Instead of our normal journey back to South Shore we decided to stop and get a late lunch on our way home.
Mountain High Sandwich Company
This small restaurant is definitely a must to check out if Incline Village. As you step into the restaurant the first feeling you get is that it feels more like a deli than a restaurant. You order the food at a high counter that contains lunch meats, cheeses, and all kinds of snacks underneath you. Above this case in the corner Home-made granola bars and assortments of pastries and bagels are available for purchase as well. Like Clark Kent everything seemed pretty normal on the surface but as you begin to look deeper you begin to see things that are unique.
First, the small refrigerator to the left of the counter contains beers from Lake Tahoe Brewing, Tahoe Mountain Brewing and Rubicon along with import classics like Stiegl. For those unaware of Stiegl, it is a refreshing Weiss-like beer that has a bit of orange in it. If you are looking for something a bit different this might be an option to check out. In addition, they also serve fresh Kombucha on draft from Folk Brewing.
One Of The Best Tri-Tip Sandwiches In Tahoe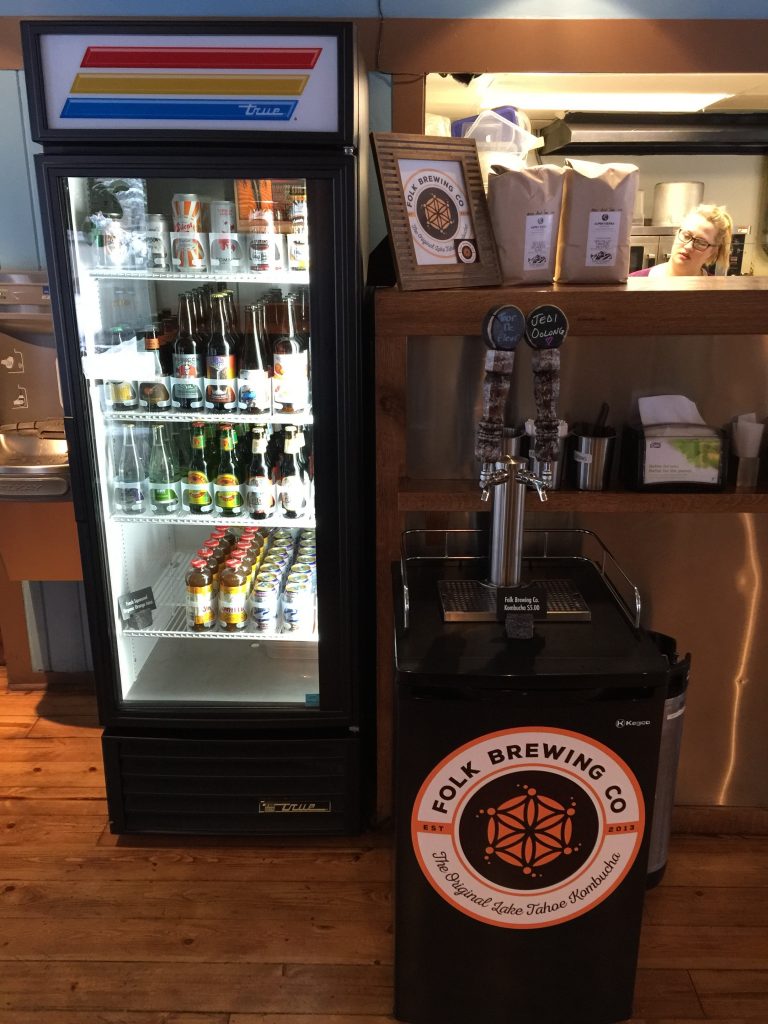 Second, in the back of the cooking area a modest smoker can be seen. Inquiring into what that's for I come to find out that all their turkey and tri-tip that they serve is smoked in house in their own smoker. Talk about fresh! Holding back my excitement I order the smoked BBQ tri-tip sandwich. As it arrives I am blown away at the size of it. Picking up the warm tri-tip I bite into the sandwich and again shocked at all the flavors going on. The warm sandwich with only a dash of smoky BBQ compliments the crunchy fresh Cole slaw that could be eaten by itself. The sandwich is the epitome of a "hot mess" and you'll love it. The smoky BBQ combines with the tri-tip to make what quite possibly be the most tender, juiciest tri-tip I've ever had. For those put off by the smoky flavor don't worry it can be tasted but it's not overly powerful.
House Smoked Turkey Pesto Avocado Sandwich
If the tri-tip was that good would the Turkey hold up to that same standard? The answer is a resounding YES! One word describes this sandwich perfectly and that is Refreshing. The bread that they used is very light and slightly crispy. Inside the sandwich the smoked turkey and avocado blend perfectly with the creamy pesto to make a kick ass sandwich. Just like the tri-tip the smokiness can be tasted but it is not overly powerful.
Long story short if you are heading through Incline Village and are looking for a place to eat that's quick and great tasting this is an awesome option. And after a quick bite to eat swing by Alibi Brewing and get yourself a growler for your trip back home. Be sure to let them know Local Freshies sent ya!