Spring…the sun is shining and it's t-shirt weather. Turn after turn comes smoothly and then all of a sudden there is a "pull" like gremlins just came out of the sticky snow and tried to tackle you. Bummer. The day is shot, right? Well, it doesn't have to be. A lot of times this only means your gear isn't setup properly for the conditions. There are many ways to prevent or reduce that suction-feeling in spring snow. All kinds of different methods and strategies are used to ensure optimum performance. Here's what we found works for us and combats sticky snow.
Sticky Spring Snow Doesn't Have To Equal Slow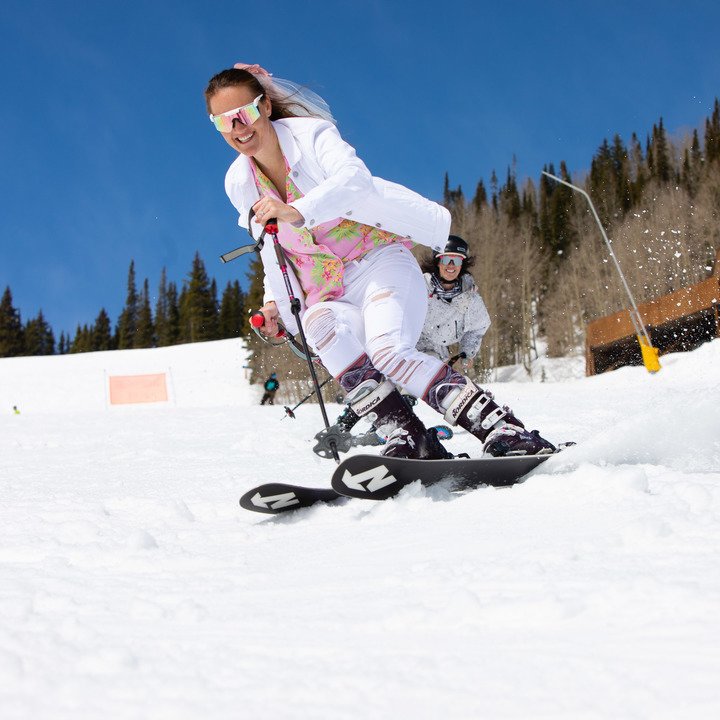 To understand what causes you to slow down, you need to understand the mechanics of what's happening under your feet. Short and sweet, it's known as "Wet Friction." It's a fancy term that means there's high moisture content in the snow ala sticky snow. Threads of water called capillaries attach to the base and slow you down. Imagine two pieces of glass that are wet and press them together. This will create suction and the two pieces of glass stick together like glue! Like most things in life, it's all about balance. When water is present in small amounts, it acts like lubricant to the hard snow crystals. Once there is enough water though, it suddenly begins to slow you down.
Combating Wet Snow
Wax With Fluoro!
The easiest thing to do is understand what kind of wax works best in the snow conditions you are attempting to ride. In spring, your choice of wax is more critical than any other time of the ski season. Wax works because it reduces friction. In spring, you want to make your base waterproof so that the capillaries don't slow you down. To do this, attempt to find a wax with a high amount of fluorocarbons.
It Ain't Cheap
Beware, high quality fluorinated waxes aren't cheap. We did find a good alternative from Ass Industries, called Haul Ass Wax (the yellow one & says fluorinated) which retails for about twenty bucks that we were impressed by. Unfortunately, it's SUPER hard to come by so stock up if you find some. There was almost no suction on the snow until the very end of the day. When this happens, we usually carry the following in our pocket during a warm spring session:
Tiny bottle of citrus base cleaner (use as last resort to clean off visible dirt before applying wax)
Paper towel to wipe it off
Some warm weather specific paste wax (I like Maxiglide Maxx Waxx since it comes with an applicator) And if you're a environmentally conscious there's a new company called MountainFlow that's putting out a product which we haven't tried just yet.
When applying wax on the slopes, remember less is more…only use a tiny amount or it will slow you down even more!
Note: There's been a lot of rumors and speculation that fluorocarbons from skiwax are harmful. Well, it's not a simple yes or no answer but rather it depends on the manufacturer. If you're wondering what the deal is, here's a great article in Ski-Racing Premium providing an in-depth write-up of the controversy. In fact, due to ski competition making it illegal to use Fluoro waxes Swix has created a new wax in 2021 for warm weather competitions called UR10 Yellow Bio Racing Wax. We haven't used it yet, but it's something to look into.
Nylon Brush – A Poor Man's Stone Grind
Ok, so now you found the wax you are going to use. It has high fluorocarbon content in it and will make your deck slide like Clark Griswold's sled. Another great option is to take a nylon brush or steel brush and lightly create a cross-hatching pattern on the base like a diamond pattern. These tiny grooves will direct water to the edge of your board to clear the base more efficiently allowing for less drag.
Stone Grind – The Magic Touch
If you really want a fine tune, take one step further. Take it into a shop and ask for a wide open aggressive crosshatch stonegrind. What does that mean? Wide Open Aggressive stands for a deeper cut like a snow tire. While Crosshatch stands for cutting the pattern, scoring your board with the diamond shape described above. This is a tricky technique to master, so it's a good idea to ask around town to find out who does it well. For those in South Lake Tahoe, Sports LTD is a little pricey but does great work. Make sure you explain exactly how you want your deck to be tuned, and it's always a good idea to tip your local shop guru with a 6 pack to make sure it comes out nice.
Keep Away From Trees!
Finally, there is another major factor to consider when spring skiing. This is environmental pollutants such as tree pollen or sap, volcanic ash, exhaust fumes, and salt from snowmaking. To ensure your skis or snowboards stay fast, stay away from any snow that looks "dirty" and definitely avoid the trees! And if you're looking for the BEST places to ski during spring, be sure to check out our top 10 list.
So that's our recipe to keep your shred stick gliding. If you've found techniques that work better or feel we've left something out, be sure to comment so we can share.