Today's the day! The forecast reads 24 inches of new snow and more coming. You're excited for the adventure. As you open your car door, you get pelted with snow, and the wind is howling. You groan, "Don't let the weather ruin my fun!" Here's a full breakdown of what to wear for skiing.
'Weather' Or Not… Be Flexible
What to wear for skiing and snowboarding is all about the weather. LOOK AT THE FORECAST! We've seen a lot of people on the slopes absolutely miserable because they either wore too much clothing or just not enough. If you're spring skiing and it's supposed to be in the upper 50's and sunny, wear lighter clothing. On the other hand, if the forecast says high's only in the 20's and a chance of snow, don't just wear a t-shirt and rock a pair of sunglasses.
Ski Socks
When we first started skiing and snowboarding in the mid-nineties, we wore plain ole thermal socks. They worked okay for the most part, but they started having problems. They bunched in weird spots. Our feet were unbelievably cold or soaked in sweat. So we finally made the leap to ski & snowboard specific socks and couldn't be happier. Lean towards thinner socks so they allow the moisture to wick through them into the liner of the ski boots. A good place to start is to look at merino wool socks. Focus on socks that are flat and with integrated seams so they don't irritate your feet or cause blisters.
Underwear
Technically, the base layer or long johns are themselves a type of underwear. That being said, it's a bit of a different case for thermal underwear. Personally, we want support under them like briefs, trunks, or jocks. Heck, it's not a bad idea to even pick up a pair of moisture wicking athletic underwear.
Base Layers
If you have issues with being cold when you're skiing, you can blame your base layer. Even if you don't realize it, your body sweats even on the coldest days. The base layers job is to push that sweat away from your skin so you stay warm and dry. That means out of all the gear you're rocking, this layer should be a snug fit like second skin. Invest in a good pair. You won't regret it, and they'll last you for years. First, look for moisture-wicking top and bottom. For most mid-winter conditions in places like Tahoe, Colorado, or Utah, a mid-weight layer will do you just fine. If you're typically skiing in the Upper Peninsula or Snowmass where highs rarely get above ten degrees, you may want to get a heavyweight base layer as well. We LOVE our Smartwool Merino 250 Base Layer. Comfy, soft, and made out of real wool.
Mid Layer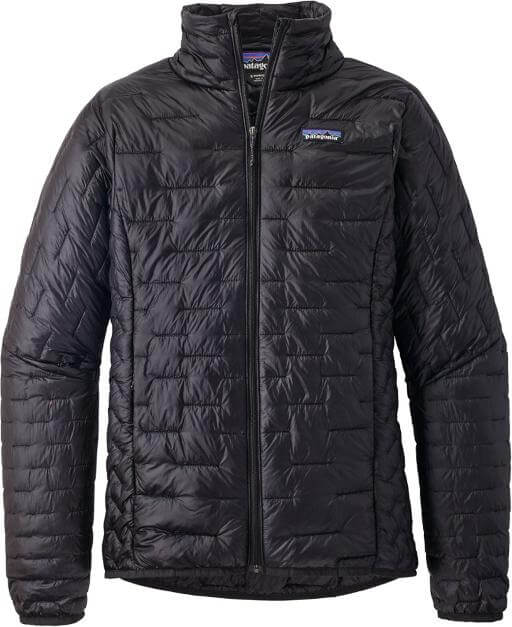 This layer is one we don't always rock. If it's supposed to be cloudy, high's only in the mid to upper 20's, and winds gusting up to 30 mph, we'll throw it on. On the other hand, if it's supposed to be super sunny, highs in the 30's, and next to no wind, this is something we'll leave in the car. Of course, this is a personal preference. If you're a person that gets cold quickly, like the other half of Local Freshies®, she ALWAYS rides with a mid-layer unless it's spring skiing. Mid-layers also have the biggest assortment of variations. You'll find hoodies, fleece jackets, shirts, and a mix of all three in one. In fact, we own two types of mid-layer options: a fleece and a puff jacket both having a zipper. The reason being is that if we get too hot, we can get some ventilation. One ultra versatile item is our Patagonia puff jacket. THE perfect backcountry splitboarding option. When you don't need it, it collapses into its own pocket. It's so compact that it will most likely fit in your outer jacket pocket or you can throw it into your backpack.
Outerwear
If you have any kind of inkling of skiing in spring and only want to own one jacket or pair of pants, DO NOT go insulated. Also, if you're a person that runs warm like me, keep an eye out for jackets and pants that have inside/outside leg zippers to exhaust the heat on those days you're working hard. You'll definitely appreciate it. For those that venture into the backcountry, there's a whole different level of functionality that you'll need. We deep dive into these requirements and which ones are the best ones on the market in our article Backcountry Ski Jackets Are Like Fries, You Can't Have Just One.
Fabric Waterproof Rating

Before we jump into outwear like jackets or pants, be on the lookout for what kind of waterproof rating each piece has. Many companies will say 5,000 mm is good enough. For cold, dry snow in places like Colorado or New Mexico, that's fine. But anywhere else, we disagree if the snow is at all wet. At a minimum, we recommend finding a 15,000 mm rating.
0 – 5,000 mm
This level offers you almost no resistance to some resistance to moisture. This is good for sunny days or an occasional rain shower or dry snow.
6,000 – 10,000 mm
These types of jackets or pants provides some waterproof ability under light pressure. Good to protect you against light rain or average snow.
11,000 – 15,000 mm
This is when the materials start getting serious. Rainproof and waterproof for pretty much any conditions except the most severe. Great for moderate rain and average snow.
16,000 – 20,000 mm
The jacket and pants work under almost anything Mother Nature throws at you. Sierra Cement? Cascade Concrete? Wet Slop? Pshaw. It can take all of it with a deep belly laugh.
20,000 mm + (including Gore-Tex)
This is bomb-proof. If you need this level of toughness, you must be riding in a hurricane. Good for heavy rain, wet snow, AND very high pressure.
Breathability
This is less important in our eyes compared to the waterproof rating. The rating is in grams and the idea is how much sweat can escape the material in a 24 hour period. The higher the number, the more breathable it is allowing for moisture and sweat to come out of your body. The lowest ratings sit at < 5,000 g while the highest breathability ratings are greater than 20,000 g.
Jacket / Shell
The word shell or "hard shell" and jacket get intermingled a lot. All shells are jackets, but not all jackets are shells. A shell foregoes the insulation and focuses on protecting you from wind, rain, and snow. They usually are combined with a base layer or puffy to give you the insulation when needed. And on hot spring days, you just need to wear the shell to block the wind. A jacket, on the other hand, comes in a variety of styles. Some are insulated to keep you warm. Others provide only wind protection but no waterproofness.
When To Get A "Bomb-Proof" Jacket
The importance of this layer depends on where you're skiing. If you're typically schussing down slopes where wet snow or rain may happen, you NEED to look for a jacket that can be waterproof. For "bomb-proof" jackets and pants, you can always look for Gore-Tex. This is the gold standard of breathability and waterproofness. Of course, not all brands have Gore-Tex, so if not, you need to look closely at the waterproof rating listed.
Additional Things To Look For In A Shell
If there's more than a foot of fresh powder to shred through, a nifty feature is the powder skirt. This is designed to keep the snow from getting up your back if you take tumble. There's some that are even removable. Another thing to look for are jackets with hoods that are compatible with helmets. Anything you can do to protect yourself from the elements is something to really consider.
Pants
Similar to what we talked about above for what to wear for skiing jackets, you can either pick a pair of insulated pants or go with a shell ski pant. Consider the type of resorts you normally visit and when you like to ski. For the most flexibility, just get uninsulated waterproof ski pants that are a "relaxed" fit. If it's an especially cold day, you can throw on some fleece bottoms and be toasty. From a fashion perspective, cargo pockets are so 90's but we always say "function over form when in the mountains." Those extra pockets on your legs allow you to store a couple of granola bars or some hand warmers if needed.
Snowboarder Or Skier?
If you're a snowboarder and typically strap in by sitting on a bench or on the snow, a higher waterproof rating is always a good idea. Jaime had a pair of 10,000 mm pants she used to snowboard in, and on spring days, she'd end up being soaked and miserable.
Gloves
Similar to your ski jacket and pants, gloves should be waterproof. In fact, they should be the most waterproof out of all your gear. Translation: look for gloves or mittens that are Gore-Tex. There's nothing worse than soggy hands on a powder day. Compared to your base layer, go a little bigger on those gloves. When they're too tight, you'll restrict blood flow turning your fingers into frozen fish sticks. Second, if you're a person that gets cold quickly, consider a pair of mittens. Their design allows the fingers to stay together which in turn generates more body heat. On the other side of the spectrum, for spring skiing, focus on lightweight gloves that are water resistant. Shell gloves like the Burton Formula Glove or REI Co-op soft shell glove are good examples of this.
Neck Gaiter / Balaclava
This might be the most forgotten item when it comes to what to wear for skiing. If the wind is brutal, the snow is coming down at a furious clip, or just the sun is beating down on you, the balaclava or neck gaiter is essential. Similar to your base layers, during mid-winter you want one that's a bit heavier to keep you warm. For spring skiing, even if it's in the forties, the higher sun angle will be brutal to your skin. Pick a very thin one that wicks away the moisture AND has UV blocking characteristics.
Skull Cap
If you're a person that skis or snowboards with a helmet, even the most lined brain protectors let air in. Usually the worst culprit is between your helmet and your googles. Even at the most snug fit, the chilly air rushes in hitting your forehead. I've personally had this happen, and it feels like an ice cream headache… not fun! To solve for this, you can either wear a balaclava or go with a skull cap.
Goggles
Technically not clothing for skiing, it's something we at least wanted to mention. When looking for a pair of goggles, be sure to bring your helmet shopping with you. You want to make sure it fits properly and doesn't have a huge gap between it and the goggles. If you want to learn more on how to find the best pair for you, be sure to read our ski & snowboard goggle guide and get the scoop on all the brands and how to pick them the right way.
Gear
In addition to what you're wearing, be sure to put some thought around the gear as well. Boots that fit correctly are paramount followed by skis that make it easier to ski for the day's conditions and your skill level. For more about how to find the right gear for you, head over to our ski & snowboard equipment guide:
Additional Accessories To Consider
The rest of these items aren't technically essential in what to wear for skiing, but they make life a little easier and more pleasant when shredding.
Hand / Toe Warmers
Sometimes those digits just don't want to stay warm. On those kinds of days, it's a good idea to bring a few heat packs. Typically they're for one-time use. You rip open, shake, and voila. Those hands and toes keep toasty. DO NOT put these against your skin.
Backpack
Half the time we spend in the backcountry, so we've gotten used to riding with a backpack. For resort riding though, we keep it simple, light, and something that is designed to carry a water reservoir. We strap up with something like an Mammut Aenergy ST 20-25L or Osprey Kamber 20L Snowpack. It isn't bulky, and you don't even notice that you're riding with it.
Water Reservoir
Most of the backpacks don't come with a water reservoir which means you can pick your own. You can of course go with a classic Camelbak, but we LOVE our Osprey Hydraulics Reservoir. Instead of the normal unscrew lid, it opens from the top making it SUPER easy to clean. It also comes with a stiff backer plate so it's easy to slip into your backpack and sits more low profile.
Snacks Like Rx Bars
Big corporate ski areas charge an arm and a leg for below average food. When we're out there riding, we normally fill our pockets with snacks like jerky and granola bars. We'd rather save our hard-earned money and celebrate after a day on the slopes at a pub that's locally owned.
Tool
No matter how much you maintain your gear, it will loosen up on the slopes. Despite ski resorts typically having a workstation where you can tighten up anything that loosens, those tools can be a bit unwieldy. We always carry a Dakine Torque Driver Tool. It's compact, allows you to ratchet, and comes with a host of bits to fit every size binding or board.
Rub-On Wax
In the warmer days of spring, your gear needs a bit more love than normal. I usually carry the following in my pocket during a warm spring session:
Tiny bottle of citrus base cleaner (use as last resort to clean off visible dirt before applying wax)
Paper towel to wipe it off
Some high fluoro paste wax or equivalent (I like Maxiglide Maxx Waxx since it comes with an applicator)
If you're intrigued and want to learn more, check out our full article:
Like any sport, if you're only going to spend a day or two doing it or you're just beginning your snowy journey, focus on the necessities first and then go from there. On the other hand, we're about getting the most out of our time shredding especially if it's a storm day. Instead of letting the weather ruin your day, use it to figure out what to wear for skiing. Need some inspiration on where to go on your next vacation, get tips on when to visit, or just read about unheard of ski resorts that you can find fresh powder days or even weeks after a storm: