Having the right gear is critical to have a fun day in the mountains. Such as picking snowboard boots so your feet aren't cold or a jacket that won't leave you sweaty or soaked. Today we take a long, hard look into all the different snowboard shapes to help find the right board (or boards) for you.
Lingo, Jargon, & Slang
Before we jump into the profiles you'll find in the shop or website, let's dig into some of the terms and what they mean.
Sidecut
Looking from the top of the snowboard or ski to its tail, the sidecut is the literal rounded curve of it. The sidecut helps skiers and snowboarders engage a turn. And the deeper it is, the quicker you can get from edge to edge. For a novice or a park rat, a lesser sidecut will provide extra stability and a bit more forgiveness when the focus is less about turning and more on landing tricks or staying upright.
Length
The next one is pretty straight forward. The length of a deck is always measured in centimeters and is the length from tip to tail. A good starting point of how long your board should be is to look for one that's between your chin and nose. Of course, there are personal preferences and for specific riding styles. For example, some freestyle techs ride ones even shorter than that. Also, take into consideration a brands' size charts and recommended weights since a lot of companies beef up the internal composition to support heavier riders.
Width
Similar to your own waist, this is the narrowest point on the board and is always between the bindings and measured in millimeters. For many it may not be important, but if you have a larger foot size (size 10 and above), be VERY cognizant of this. For a men's size 11 boot, you'll want to look for one that's above 255mm, and to make it even better for yourself, a lot of companies specifically call these out as "WIDE."
Style Or Snowboard Types
When looking at technical specs, you'll normally see a category that provides a bit more context on what it was designed for. Freeride means that it will tackle pretty much any terrain you throw at it. Think glades, chutes, and big mountain backcountry goodness. Freestyle is specifically designed to kill it in the park. Jumps, rails, and half-pipers are its playground.
All-Mountain is in between these two. It likes to tackle hairy lines off trail but still is known to dabble a bit in the park. Think of it as the Swiss army knife. Powder boards are just that. Three feet of wet glop or cold smoke, and it doesn't matter if it's fresh. These decks are designed explicitly to keep you afloat.
Last but not least, one of the newer categories is the splitboard. As the term dictates, they split in half so you can use them as skis to travel up a mountainside and then combine them back to ride down. Normally, these aren't used within resort boundaries.
Bolt Pattern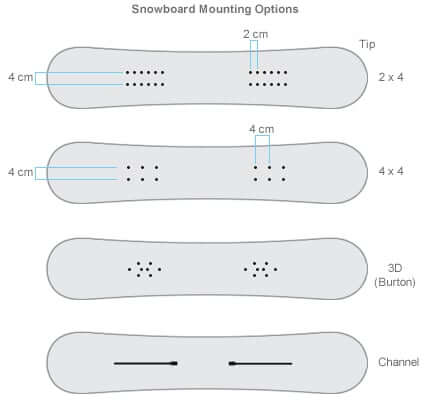 When attaching snowboard bindings to a deck, there are a few different mounting options out there. The first and most prevalent is the 2×4. Two stands for the 2cm distance in between the horizontal holes and 4cm between the vertical holes. Another one that's popular is the 4×4. Same concept except instead of 2cm, it's 4cm in between both the horizontal AND vertical holes.
Burton's Bolt Patterns
Of course, Burton has to do their own proprietary design. In fact, not just one option but TWO. The first is the 3D. The idea is to provide an assortment of options (up to eight spots) but lower the weight by reducing the number of holes. And the second is the channel system. Two long channels provide an infinite amount of choices to the user since they can slide it to the exact spot they want. Since Burton is the most popular brand out there, many binding companies provide compatible disks so you can mount them on a Burton too.
Overall Shape
When you lay a snowboard down on the ground, the first thing you'll notice is its curves. Snowboard shapes come in a few basic categories specifically for the type of snowboarding you want to do.
True Twin
If you're an engineer, a Virgo, or just a person that likes everything in its place, you'll fall in love with a true twin snowboard. As the name dictates, both the nose and the tail are the exact same length and width. In theory, if you cut it in half, you'll have two pieces of board that are the same shape i.e. "twins." These types of boards are geared towards those who spend a lot of time in the park. Why? Because if you tend to ride switch a lot then you can easily ride with your left foot forward OR right foot forward. Examples of this design include the Burton Process, Salomon Huck Knife, CAPiTA Scott Stevens, and Arbor Westmark.
Directional Twin
Unless you have a strong attention for detail, the only way you'd know that a deck is a directional twin is based by the sticker on it. In this category, the nose is a bit longer than the tail. Typically, the natural stance is setback a smidge (less than ¾ of an inch). Even this little bit will help the snowboard naturally float better in powder. Despite the setback stance, these boards are quite comfortable riding switch. An example of this type are the Arbor Wasteland and Jones Flagship.
Directional
These are designed to go one direction and do it well. Within this category of snowboard shapes, the variations can be drastic. You could find pow slashers, classic carving killers, or just a good all mountain freeride board. They're also usually stiffer meaning less forgiveness at slower speeds but helpful at mach ten. In addition, the stance is setback as much as an inch closer to the tail. Directional snowboard shapes are normally ridden by those that are about the art of the turn and have a few years under their belt as well as spend less time in the park.
Tapered Directional
When the snow is deep and we're talking three feet of sludge, do you have a problem keeping the nose afloat? This is where a tapered directional helps a lot. In this directional variation, the nose is wider than the tail. The nose width can be as much as a few centimeters wider or just a few mm. This ensures the nose stays up, allowing you to put less weight in the back seat and more time enjoying the pow. Imagine a surfboard slashing through water. The problem? On chunder or groomed snow, these types of decks make it a bit more challenging to turn. Good example of this style of board is the Jones Hovercraft, Stratos, Burton Family Tree First Cut, or the Bataleon Surfer.
Volume Shifted
Another subcategory of the directional shape is the volume shift. Inspired by the short boards of surfing, the idea is to have the same surface area of a longer deck by trading the length for increased width. This allows a rider to make quicker turns and yet stay afloat in deep powder. If you live in mountains that receive big, massive dumps and tree lined terrain, this is a good tool to have in your quiver. Be aware, they're tough to ride in choppy snow. Some of the best in this category includes the Ride Warpig, Never Summer Swift Gnu Gremlin, and Capita Spring Break Slush Slasher.
Camber Profile
In addition to the board's curvature while looking down at it, another perspective to think about is the camber profile. When looking from the side of the snowboard, this is what kind of flex pattern it has. There are three basic types: Camber, Rocker, or Hybird. For an in-depth explanation of each of these variations, be sure to read our article:
Additional Technology
Now that you have a basic understanding of snowboard shapes and what all these terms mean, let's look into other pieces of technology that go into making a snowboard.
Asymmetrical Shape
One of the newer concepts in snowboard shapes that's come around in the past few years is the idea of an asymmetrical twin. As anyone who has snowboarded a lot has found, the amount of pressure you apply on a toe-side turn and heel-side carve is different. And through a ton of R&D, companies have figured out how to help improve your riding.
Why Asymmetrical?
These boards are designed with sidecuts that have both a shorter and deeper, more pronounced heel side sidecut. In return, this helps riders make tighter heel side turns and improve maneuverability. Asymmetric sidecuts also improve your balance, giving you more natural and intuitive control while engaging the board's heel side edge.
Serrated Edge (i.e. Magne-Traction)
Burton might be the name that's synonymous for snowboarding due to its big marketing budget, but Lib Tech is the one that's pushing the boundaries. Some of their different snowboard designs were a bit too creative such as a base made out of Teflon, but when they do hit… it's HUGE. Like Magne-Traction. Instead of one long smooth edge, they introduced multiple contact points like a serrated knife. This helps in firm or icy conditions to lock in that perfect turn. Over the years, multiple other companies have applied the concept such as Niche, Rossignol, and even Jones Snowboards (Traction Tech 3.0).
Picking a snowboard is like choosing a cookie. For some, it doesn't matter. EVERY cookie is amazing. For others, once they find the perfect cookie nothing will suffice. And then there's the cookie connoisseur. They must have and sample the best of ALL varieties. So, are you a connoisseur? A collector of all snowboard shapes? Or just a fiend to snowboard?