Everything You Need To Know About Spring Skiing… And Why It's the Time Of Year To Visit
This article may contain affiliate / compensated links. For full information, please see our disclaimer here.
Places like New York, Florida, and Texas wake up from their mid-winter slumber while flowers begin to sprout. Majority of skiers and snowboarders put away their gear. What they don't understand is that THIS is the time to plan a skip trip. Empty slopes, insane deals, great weather, and soft snow make spring skiing the best time to visit ski country.
Why Spring Is The Time To Go
---
When we talk about "spring skiing", it's about the true start of the season – after the vernal equinox. Even on the driest winters, by this time of year, the snowpack is going to be deepest of the year. The issue isn't about snow on the ground, but enough people to keep the lifts running.
Sunny Weather, And Soft Snow
By spring, the storms' fury is reduced drastically to a trickle. Instead of freezing your butt off in the negative temps of mid-winter, they are replaced with ample amounts of sunshine and warmth. There's still a chance for a powder day, but more likely than not temps during the day will hover in the 40's and 50's with lots of blue skies. Combine those warm days with overnight lows below freezing, and you're pretty much guaranteed soft snow. Think beach weather, but in the mountains.
Mountain Biking, Golfing, & Skiing In A Day?!?
With so much sunshine, warm weather, and more daylight brings the ability to do many sports in one day that just aren't possible in the winter. For instance, a typical spring day in the mountains could be skiing/snowboarding in the morning followed by a round of disc golf, a hike, or even a bike ride in the afternoon/evening. The options are limitless. And if you're competitive, you can try your skills in the ultimate mountain man triathlon – the Pole, Pedal, Paddle. For a taste of one of the biggest in the country, check out our article What Is The Pole Pedal Paddle Bend Race & Why You Should Check It Out.
Pond Skims
The equivalent of Mardi Gras on snow, pond skims are the climax of a ski season well enjoyed. Contestants, typically wearing a costume, ski or snowboard into a frigid pool or 'pond' with the goal of skimming across to the other side. A chance to get a little wacky before the long fast of the sweltering summer or at the least watch and cheer along. Here's a list of our favorite pond skims happening across North America.
Great Deals
If that wasn't enough reason to come in April or May, the cost of lodging and lift tickets start to go WAY down. In fact, one of the BEST deals of the year begins to show up – spring season passes! Similar to a normal season pass, which gives you access to a mountain any day of the week. The spring version is a heavily discounted pass that provides access around the end of March through closing day (normally May or later). And expect to have your run of the litter when picking lodging too.
Trip Planning For A Spring Skiing Trip
---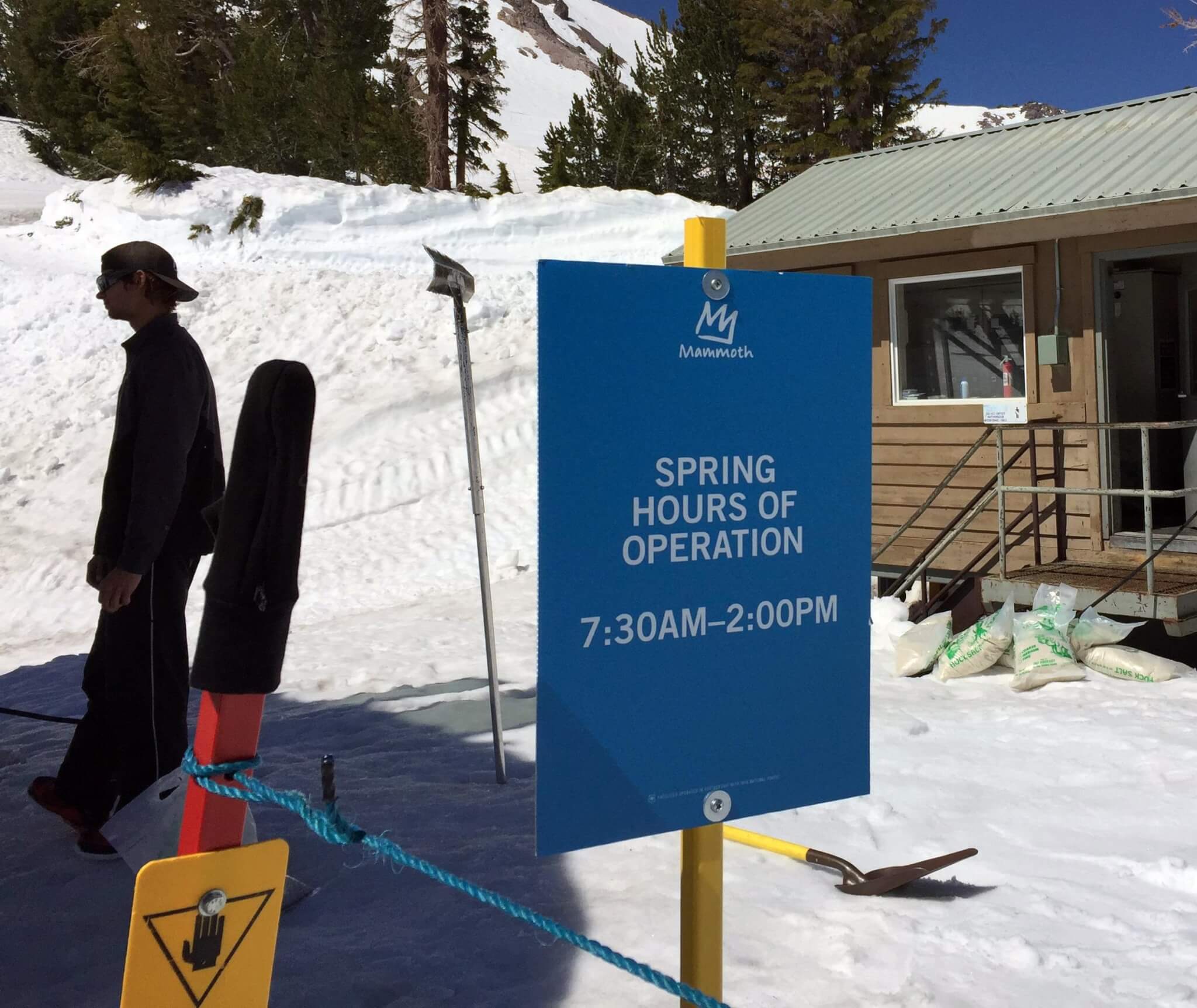 Over the years we've heard many people say things like:
"I can't ski in April because it gets all slushy"
"Doesn't the snow suck when its 60 degrees out?"
"I hate mashed potatoes, so I won't go snowboarding after March."
All these statements came from those that are unknowledgeable on where, when, and how spring skiing works. More often than not, April and May are the two best months to ski not because they get the most snow, but because its prime "corn" season. Each day during spring can be as good or better than a powder day mid-winter. Like a good recipe, it's all about planning. Here's some tips on making sure your spring skiing trip is the best it can be!
Avoid Spring Break & Easter Where Possible
For starters, be aware of the local schools' spring break. Although the dates may fluctuate a bit based on the year, most colleges have their's in late-March. So, the later you go, the higher likelihood the crowds will be exponentially less. Pretty much any time in April is a great time to visit as long as it's not over Easter weekend.
Look At Spring Operations
Next, be cognizant that there is going to be less people visiting and thus less lifts will be running. The good news though is that the majority of the ski areas that do run into late April or May will already have their plans on how many acres they will have open posted way ahead of time. For example, Mt. Bachelor which is open through Memorial Day weekend, has a page dedicated to their spring operations. In addition, ski resorts will change their lift operations so that visitors can take advantage of the best conditions possible.
Strategy For Spring Skiing
---
By April and May, there are two types of snow you'll typically find – Corn or Powder. If it's powder, you'll only have a few hours. So get out there as soon as the lifts start turning. But the other more prevalent type of snow you'll see is 'corn.' These little nuggets get their name from the fact that they look like frozen corn kernels. Corn is a fickle beast though. Get there too early, and it will be hard as an ice-skating rink. Too late, and it will be what they call "mashed potatoes." Just like a well-cooked meal, timing is everything. To get a deep dive on how to cook your corn snow perfectly, check out our article:
Proper Tune Up Is Essential
Compared to any other season, spring skiing requires some extra "love" when it comes to your skis and snowboards as well. For those that want to keep it simple, the easiest fix is by using a wax specifically designed for corn snow. Look for a type that has a high amount of fluorocarbons. Think of those molecules as oil spray to combat the stickiness. Personally, I usually carry the following in my pocket during a warm spring session:
Tiny bottle of citrus base cleaner (use as last resort to clean off visible dirt before applying wax)
Paper towel to wipe it off
Some high fluoro paste wax (I like Maxiglide Maxx Waxx since it comes with an applicator)
If you're intrigued and want to learn more, check out our full article:
You've figured out when you have to be there to hit the right conditions. You've got your boards or skis tuned to perfection. Now it's time to ride it. Here's some basic tips on how to enjoy corn snow.
Follow The Sun
Since harvesting corn is all about timing, figuring out WHERE to go first on the mountain is key as well. The big ole orange globe in the sky is what melts the snow. That means you'll want to follow the sun. On the perfect day (froze hard overnight), you'll want to begin the morning on runs that face south. Once it starts getting too soft or sticky for your blood, head to east facing slopes. From there, western aspects and finally finishing the day off on northerly terrain.
Avoid Brown Snow & Trees
Dirty snow isn't a good thing to keep those skis and snowboards running well. If you see a patch or segment that's brown, do your best to avoid it so that you'll spend less time applying wax and more time riding. Also, avoid the trees at all costs. Their pollen and sap end up on the surface of the snow, creating a globby sticky mess that will ruin your day.
Let The Skis Or Snowboard Do The Work
Once the first few inches soften, corn snow is some of the easiest to practice carving on. Instead of making tight turns, let the ski or snowboard shape do the work. Let the turn develop by virtue of the skis' shape, tipping them over to carve through the corn, leaving a more defined track in the snow. Focus on the carve. In your wake, you should be leaving a more defined track in the snow. If you do get too much speed, ride UP the mountain making what they call a classic "C" carve.
Mind The Piles
Over the course of the day, the thawing process drives deeper into the snowpack and thus gets more tracked up via skier traffic. This creates piles of snow that are similar to sandy waves. You have two options to navigate them:
"Surf" it like a wave, banking off them like your own private banked slalom course
Arc through the slipped-off troughs nearby
If you use these basic tips, you'll have a blast shredding what we think is the 2nd best type of snow after powder.
Where To Go For The Best Spring Skiing
Unfortunately, not all ski resort snowpacks are the same. For corn to form properly, you need a few things. For starters, it helps to find a resort that's above treeline or has very few trees. This is important because the debris from trees such as pine sap or needles will cause your board to stick. Second is to go somewhere that has a deep snowpack. Ski resorts closer to the ocean (California, British Columbia, and even Utah) will have more moisture in their snow meaning that it will last longer. The most critical by far is a place that has temperatures dropping below freezing at night. Depending on when you visit, we have a few different articles showcasing the best by month along with a list of our favorites overall:
Our personal favorite for spring skiing is Mt Bachelor. It was like Mother Nature created this place with spring skiing in mind. The magic trifecta to pretty much guarantee excellent late season skiing. First, the consistency of having a deep snowpack is legendary. Even in the worst recorded snowfall winter, they still received over 200 inches, meaning there is still enough to ride through late May. Second, while during the day it may get into the 50s, at night it drops below freezing, helping to ensure the most perfect corn snow you'll find anywhere. Finally, as we mentioned before, the mountain is a cone which means you can literally chase the perfect softness of snow based on the time of day. There's even a chance to get a powder day… or DAYS as we highlighted in our article Bend Oregon In April – Spring, Winter, Or Sprinter?
Mammoth Mountain
Home to great brews at Mammoth Mountain Brewing or Distant Brewing and sick terrain, this place kills it in the spring. With plenty of sunshine, a deep snowpack and a ton of pro riders calling it home, what other proof do you need? They also have the top team of snow sculptors crafting their terrain park! This is the place to be in the spring! This mountain is worth a trip even into June. If you're wondering how it is in June, here's a 1st person account of our time there during June.
Whistler Mountain
Both Whistler and Blackcomb stay open to the end of April. Home to a ski village that all other mountains try to replicate, it's definitely a must try. The best part is if you show up in late April. You can ski the top ½ of the mountain in the morning, and mountain bike the bottom part in the afternoon. Talk about a fun filled, adrenaline rushing day!
Palisades Tahoe | Alpine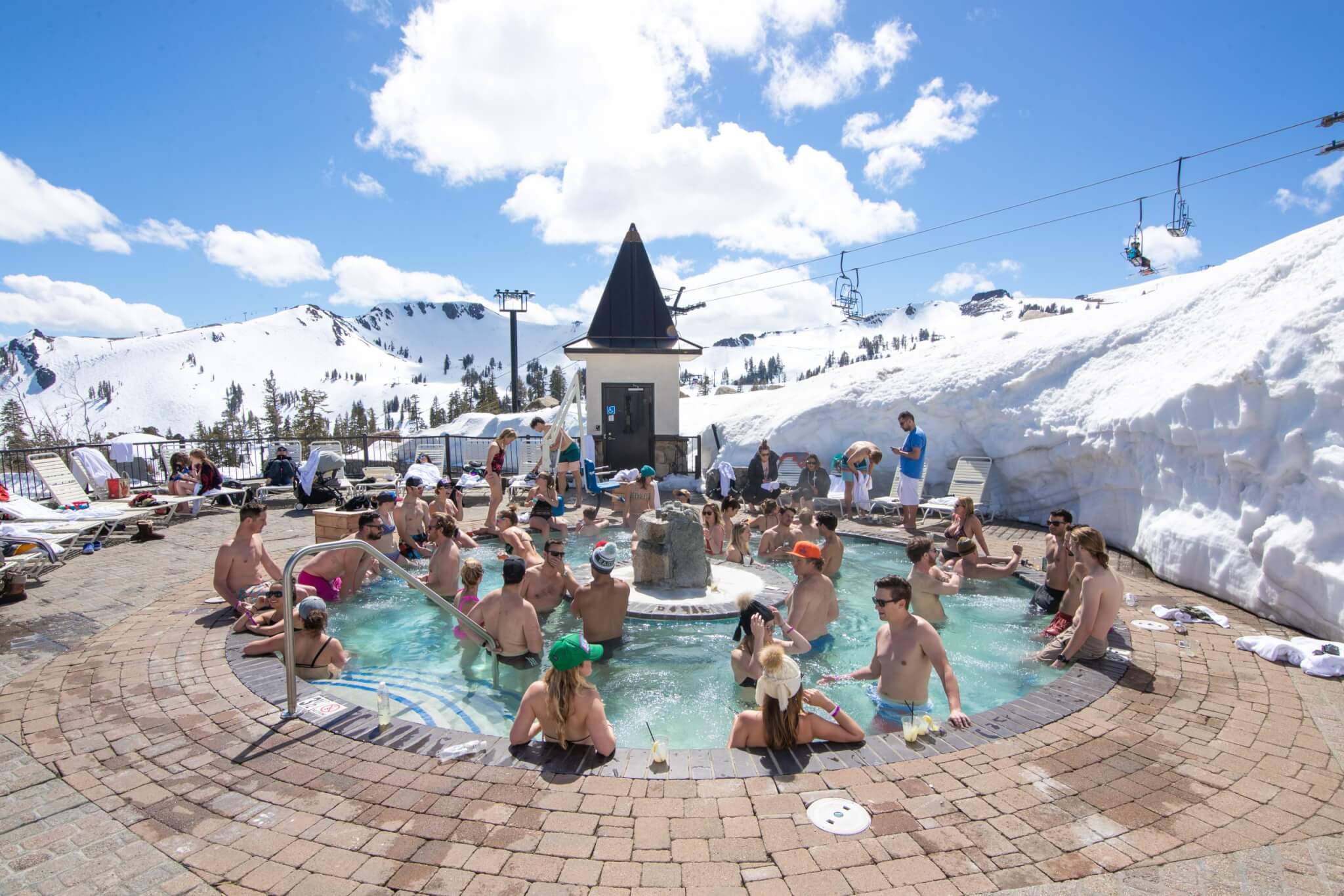 This ski area dubs itself the "capital of spring skiing" and rightly so. First, most of the terrain is above treeline. Second, they do their best to keep the lifts running as late as possible. Third, they host some of the funnest spring flings out there like the world famous Cushing Crossing Pond Skim. And last but not least, there is a ton of activities off the slopes once you're done. Simply put, you really can't go wrong with Palisades Tahoe | Alpine.