For some reason, most skiers & snowboarders visit ski resorts mid-winter. In December, there's a good chance most terrain isn't open yet. January may have a break in-between storm cycles causing icy conditions. February can be good, but it can also be fickle. Skiing In March is perfection. Despite the calendar saying it's spring, it's the BEST month to plan a ski trip and here's why.
Biggest Snow Month For MANY
No matter how bad of a snow season it's been, for some reason March is magical. For a LOT of regions in North America, this is their BIGGEST month of snowfall. This includes resorts in places like Colorado, New Mexico, and even Lake Tahoe.
Shout Out To Miracle March
Lake Tahoe's Marches are so legendary that they've become colloquially known as "Miracle March." Even in a "famine" year, you can pretty much be guaranteed that storms will return and provide some of the good stuff from up above.
What About Utah?
We know someone will ask the million-dollar question. What about Utah? Well, based on the long-term averages, Utah's snowfall is VERY consistent so there really isn't a BEST month to go for snowfall. Nearly every month from December through March averages around 80".
Deep Snowpack
Another thing that makes skiing in March the best month to go is that it's the deepest the snowpack will be in the season. When people visit a destination, you want the chance to ski EVERYTHING, but if you visit too early, a lot of terrain might be closed. For example, in Taos you need at least five FEET of snow before most of the terrain is skiable. This time of year, it's almost a sure bet every lift and trail will be open.
Sun, Sun, & More Sun
We're suckers for storm skiing. We live for soft snow… but we have to admit, if it isn't snowing, it's pretty nice to be out there in the warm sunshine. By this time of year, storms seem to arrive quickly, deposit a bunch of snow, and depart even quicker. In between these storms you'll find plenty of sunshine, and even if the temperature reads cold, it'll feel MUCH warmer due to how high the sun gets in the sky.
Corn Hunting Season Arrives
After powder, our second favorite type of snow is corn. Instead of waiting for the next storm, corn snow is all about timing. If Mother Nature whips you up a batch and you do get to experience it, you'll be hooked for life.
Shenanigans
The snow is soft. The sun is high up in the sky. There's plenty of daylight left after the lifts close. You can enjoy sipping a barley pop on the deck. BBQ some great food. Soak in a hot tub. If you're an active person that needs more outdoor time, there's a good chance you can combine your ski vacation with other activities like hiking, shoving off on a bike ride, or even getting a round of golf in.
Crowds Are Dwindling
People's minds are beginning to drift to other activities like baseball. Heading to the beach. Riding their bike. Even the busiest destinations are finally letting out a sigh of relief. Skiing in March usually means shorter lift lines which translates to more vertical. There's also a good chance you'll find bigger discounts.
Where To Go
Now that we've got you interested in the idea of skiing in March, the question is where? Instead of an exhaustive list, we opted for sharing a good sampling from across the nation that most often offer great skiing this time of year.
Taos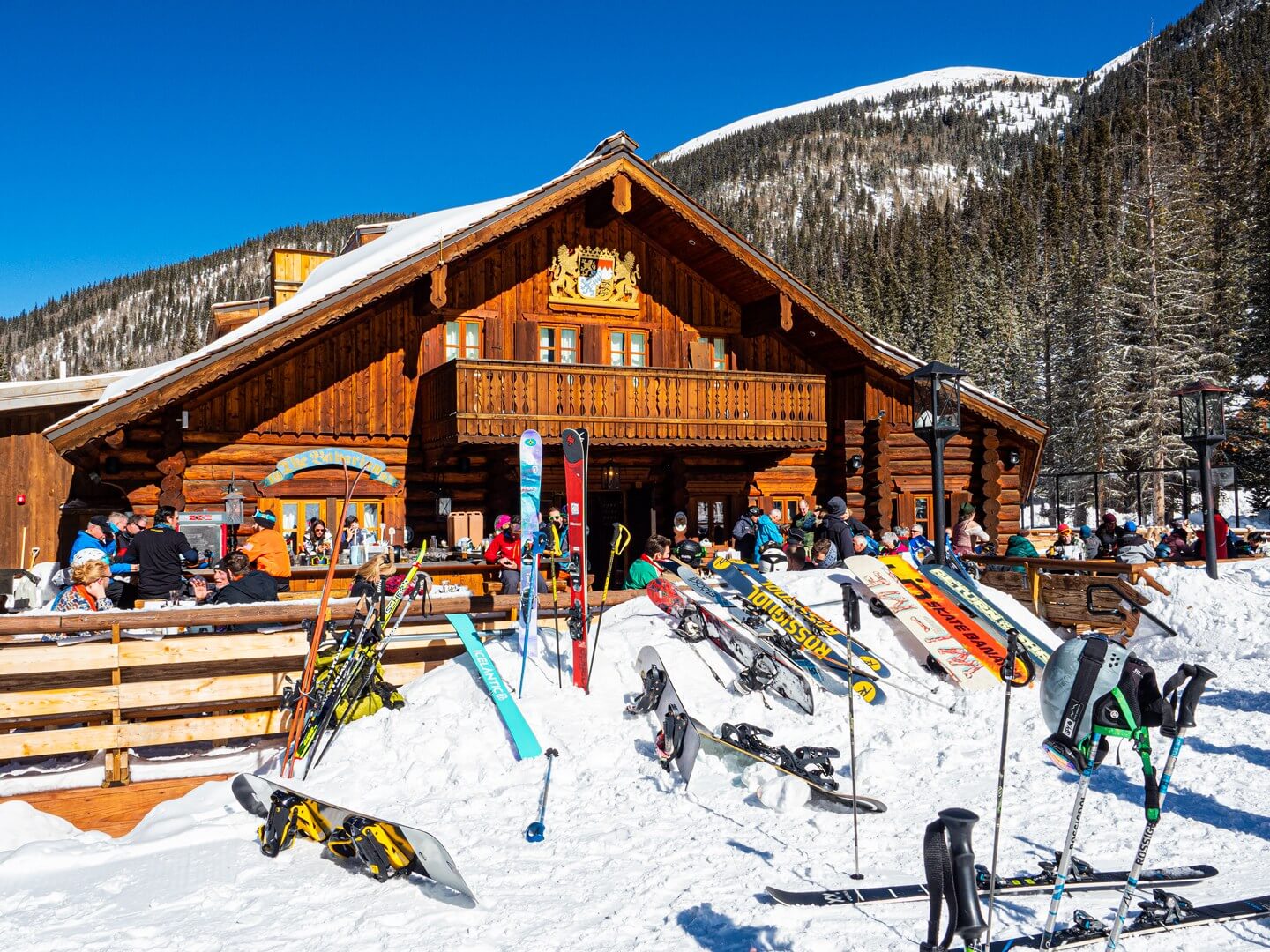 Ever since we visited Taos Ski Valley, we've been hooked. Skiing in March means the temps are a bit warmer than winter but due to its elevation and prominent northerly aspect, expect to find the deepest snowpack of the year and mid-winter conditions. And once you're done skiing, you have the town of Taos which in itself is worth a trip.
Winter Park
If you're looking for a great mountain in the front range that has an easy-going atmosphere, Winter Park will hit the spot. Although it has a reputation for good intermediate slopes, there's also quite a bit of expert goodness to be had. You'll find the legendary bumps and steeps on Mary Jane but don't forget to dip your toe into Vazquez Cirque. And since March is their snowiest month, if it does snow be sure to head to Summit Express to sample the powder in the chutes and glades.
Palisades Tahoe (Palisades and Alpine sides)
Self-proclaimed spring skiing capital Palisades Tahoe lives up to that moniker by always trying to have the longest season in Tahoe. In good years, this means skiing until at least Memorial Day. Open terrain with multiple aspects means that in-between storms, it creates perfect corn snow to harvest. And then once you're done for the day, be sure to head to the "Chammy" for a few brews.
Local Freshies® Tip: Get a Buddy Pass at Le Chamois for $100 which is good for 20 beers of domestic and save yourself $20.
Sugarloaf
Although the East Coast doesn't see its deepest snowfall typically in March, you'll usually find quite a bit of the white stuff still falling this time of year. The "Loaf" as it's known has two main factors helping it be a great spot for skiing in March. It has elevation AND a northerly location. During the mid-winter months, it can be frigid so this is your opportunity to enjoy what is called the "Beach." Located in front of the base lodge, you'll find sun, snow, and some Adirondacks to enjoy the spring days.
Boyne Highlands
Just like the East Coast, it's all about heading north to find the best spring skiing conditions in the Midwest. As a kid, I remember my father taking me on my first spring break getaway. The warm temps, tons of sunshine, and my first ever experience of corn snow. With their dedication to snowmaking and location near Lake Michigan keeping the temp's cooler in the spring, they typically push the closing into April.
So, if you want to learn the in's & outs of skiing in March, what gear to bring, & why it's our favorite time to go on a ski vacation, check out our comprehensive spring skiing guide.