Taos New Mexico Travel Tips
This article may contain affiliate / compensated links. For full information, please see our disclaimer here.
The problem with visiting most major ski resorts in North America is the soul has been sucked out of them. It feels like you're skiing at a giant department store. Sure, the scenery might be different but everything else is the same. The food. The atmosphere. Even the town. Taos isn't like that. It's like no other vacation destination in the country and arguably in the world. You may come for the skiing or history, but you'll fall in love with everything else it has to offer. Here's what we learned on our journey of what to eat, where to go, and of course, the best things to do in Taos NM when you're there ANY time of year.
Taos New Mexico Insider Info
The town is older than the United States (settled in 1598). The skiing is steep… REAL steep. They embrace their uniqueness. That's maybe why for the first time ever, it broke the top 5 for Ski Magazine as voted by readers in 2020. After visiting, we agree this place is truly magical.
Christmas Is All Year Round
It isn't "Tex-Mex." Don't you dare call it "Mexican." Sure, there are certain influences or staples in the regional fare known as New Mexican cuisine that it relates to but that's where it diverges. For starters, chiles are the backbone of the meal. Similar to tomatoes in Italian dishes, you'll be asked if you want "Red or green" with a dish. This is in regard to the chiles (the peppers) and chilis (the stew-like dishes) that you'll encounter in New Mexico. If you want to have both green and red in your dish, it's called "Christmas."
Follow The Sun
Being in the high desert and an average of 285 sunny days a year, to be comfortable, we learned from the locals that you must follow the sun. What we mean by that is in the winter skip the shady spots and try to stay in the sun to keep warm. And in the summer, it's all about hopping from one shady spot to the next. The difference in temperature between shade and the sun can be as much as twenty degrees.
New Mexico Snow Is Different
Once you make a turn on New Mexico snow, you'll realize there's something different about it. The best way to describe their dry form of feathery flakes is "packed powder." We're not talking about the firm and icy stuff you find in other states. Even if it hasn't snowed in days or weeks, expect to ride snow that's soft and chalky.
Taos Ski Valley Is High… REAL High
If you're coming from sea level and thinking about staying in Taos Ski Valley, we recommend spending a day in Taos proper or even a day in Santa Fe to get acclimated to the high elevation. Taos Ski Valley sits at 9,321 feet above sea level versus the town which sits just shy of 7,000 feet. And don't forget to drink LOTS of water.
If you're flying to Taos, the closest major airport is in Albuquerque followed by Santa Fe. Santa Fe provides non-stop service between Dallas/Fort Worth, Denver, and Phoenix. During winter, Taos Ski Valley has chartered flights between Taos itself and multiple destinations in California and Texas to make it even easier to get to the slopes.
Note: For 2020/21 season, Taos Air has been suspended due to the pandemic but hopefully will be back next season.
While there are shuttle services from Santa Fe to Taos and there is Uber, we'd recommend renting a car. We also suggest allotting extra time and taking the "High Road" instead of the "Low Road." The High road meanders its way past 13,000-foot peaks and isolated mountain towns filled with the flavor of the early Spanish that settled these places nearly four centuries ago. While the "Low Road" is still charming, it follows the mighty Rio Grande through New Mexico farming lowlands and is the more direct route.
Transportation
The town of Taos is about thirty minutes and several thousand feet lower than Taos Ski Valley. If you want to experience the town and immerse yourself in the New Mexican culture, we suggest staying in Taos itself. And if you don't feel like driving from Taos, there's a FREE shuttle that connects Taos and the surrounding towns to Taos Ski Valley. On the other hand, Taos Ski Valley has a very European feel to it and if you're only about the skiing and snowboarding, then absolutely do stay there.
There really isn't a bad time to visit this amazing destination. In fact, with so much to do in each season, it's a good idea to plan a few different trips to explore what it has to offer each time of year. For winter, there's the skiing, and we're talking some of the most unique skiing anywhere. As the snow melts away, the hiking and mountain biking are some of the best as well. Finish off your trip by strolling through a town and historical sites that are older than the United States.
What To Pack For A Taos Trip
In 1915, a group of six artists formed an alliance which helped push Taos into a world-renowned art colony. From that, Taos' fashion style is casual, funky, and fun to wear. During the summer months, expect to see residents wearing airy dresses, flowy pants, comfortable skirts, and a dabble of soft colors that relate to the beauty of the surroundings.
For Winter Vacation
In winter, it's about function. Highs might average in town in the low 40s, but the nights can get VERY chilly. In addition, up at Taos Ski Valley, high's typically stay below freezing. This means classic ski clothing like a Patagonia Puff Jacket or fleece are a good idea. For a bigger run-down on what to wear, be sure to visit our article: The Emperor's New Ski Clothes – What To Wear For Skiing & More.
Best Things To Do In Taos NM
Attractions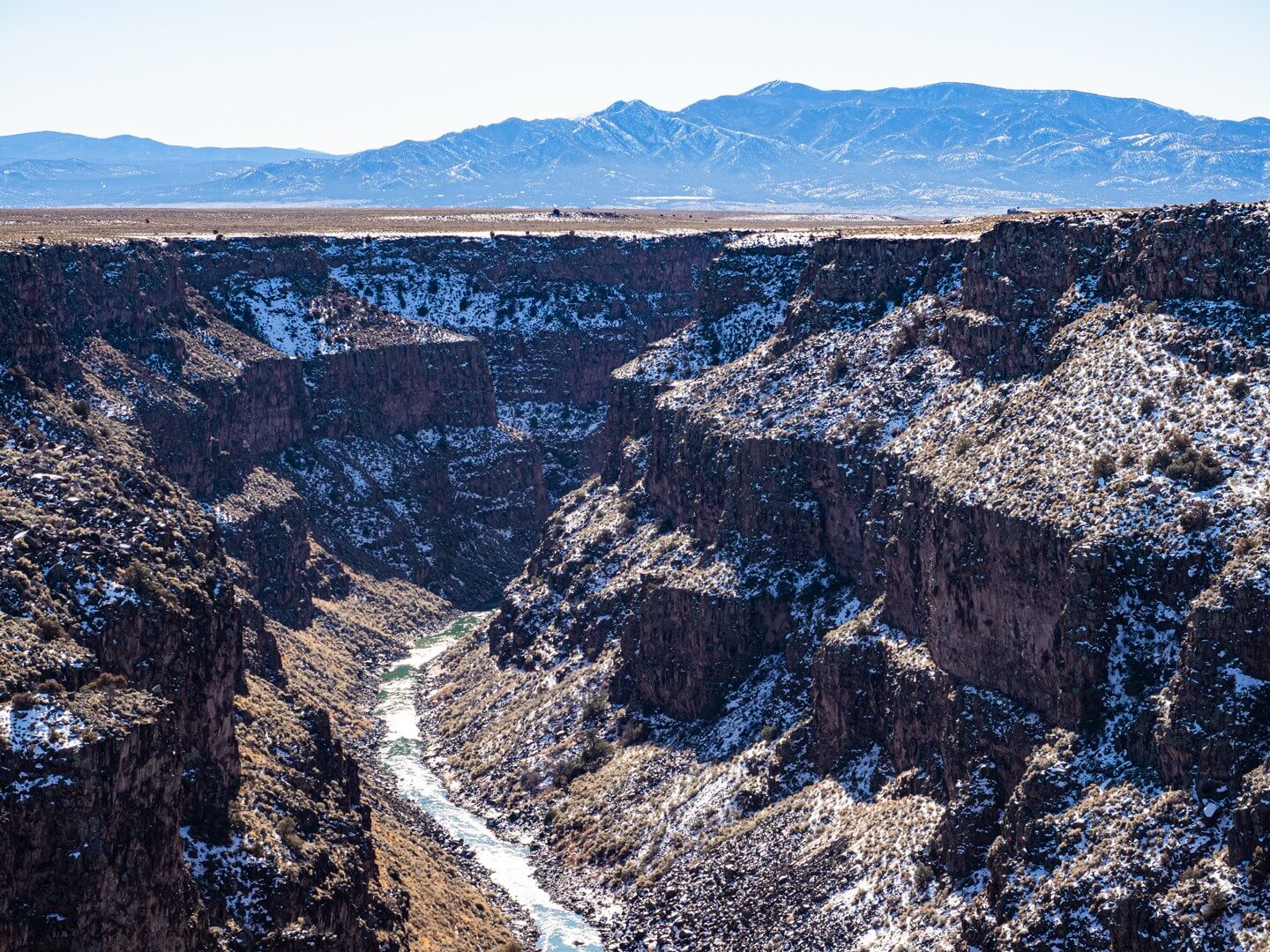 Explore buildings that are more than a thousand years old. Drop into some of the steepest ski terrain in North America. Peer hundreds of feet down to the mighty Rio Grande. You may have come for the adventure, but you'll fall in love with the culture. Here's a list of some of the best things to do in Taos NM.
Taos Pueblo
If there's one thing EVERYONE should put on their things to do in Taos NM list, it is to see the Taos Pueblo. Only three miles north of the Kit Carson Plaza, it's home to the oldest continuously inhabited communities in the United States. The Puebloans have been living in the multi-storied adobe complexes for roughly a THOUSAND years. It's no wonder that it's the only living Indian community designated both as a World Heritage Site by UNESCO and a National Historic Landmark.
Rio Grande Gorge Bridge
While Taos butts up to the mighty Sangre De Cristo Mountains, just to the west is a long wide-open plain for miles and miles. In this expanse, the Rio Grande cuts a mighty gash hundreds of feet deep into the landscape that you don't see until you come upon it. And to cross it, they built the fifth highest bridge in the United States. Nicknamed the "Bridge to Nowhere", it's due to the fact that when it was first built they didn't have enough money to continue the road on the other side.
Local Freshies® tip: If you're feeling brave, we suggest pulling over and walking to the center where there's a cantilever. On the journey, you'll feel EVERY bump from cars passing by. Then once in the center, the deck juts out several feet allowing you to take it all in.
Taos Plaza
The Spanish settlement in the area evolved around 1615, but the plaza itself didn't come to be until 1796. This is the year the Don Fernando de Taos Land Grant was given to 63 families by the King of Spain and helped establish the plaza. Centuries later, the adobe-style buildings clustered around the public square still feature a host of restaurants, museums, shops, and historic homes like Kit Carson's house to explore.
Take In Taos Art
The landscape of Northern New Mexico sparks residents and visitors alike to embrace art. It might be the colorful landscape, the thousands of years of history, or just the culture itself. For whatever reason, to this day it's still an art colony in its soul. You'll find artists creating works of art in all formats from carvings to paintings and everything in between. Immerse yourself in its thousand years of art and culture by visiting one of the art museums such as Millicent Rogers Museum and Harwood Museum.
San Francisco de Asís Mission Church
A great example of how the area inspired art is this church, founded in 1710 and re-built between 1772 and 1816. When Georgia O'Keefe visited Taos in 1929, she was inspired by this adobe structure and its organic relation to the landscape. So much so that she created a painting about it that sits in New York. Even other artists like Ansel Adams were enamored with it. Since it's still made with true adobe material, every June parishioners and community volunteers join together to re-mud the church. The plaza where it sits is actually older than the Taos place itself. Built in the 1700's by the Spanish colonists, it was constructed to protect against nomadic Indian raids.
Kit Carson
This name may ring a bell if you've been to many parts of the Western United States. Places like Carson Pass next to Kirkwood California are named after him. A fur trapper, mountain man, legendary guide and explorer, if you look into his history, it's one that's quite "interesting." Some consider him a hero but in New Mexico, many consider Kit Carson one of the most despised white men in American History. This can't be seen more evidently than in Taos.
A Complicated Man
When Kit Carson first made it out West, he was widely known as one of the best and fairest Indian agents. His first two wives were in fact Indian. Unfortunately, as anyone who's been in the army knows, you have to follow orders. He was given the order to fight against the Navajos in 1864. Initially, he refused the assignment but was finally forced to do so.
Following Orders Leads To Hate
Deliberately disobeying the order to capture the women and kill all the men, he went on a scorched earth tour. Even though he wasn't the one that actually led the Navajos on the Long March that killed thousands, they blamed him for it and to this day never forgave him.
Where To See Kit Carson Up Close
A short walk from the plaza, you can get a close look at this interesting man. Merely a block from the plaza is where Kit and Josefa lived in a four-room, 1820s adobe house that is now a National Historic Landmark operated as the Kit Carson Home & Museum. And just a five-minute walk from their home of 25 years, he's buried in the Kit Carson Park and Historic Cemetery alongside his third wife.
Go Skiing
If you're here in the winter months, skiing should be on top of your list for things to do in Taos NM. The town itself is the beginning of what's called the "Enchanted Circle." The scenic byway in and of itself is worth a drive any time of year, but in the winter, it connects the ski resorts of Taos Ski Valley, Angel Fire, and Red River Resort.
Taos Ski Valley
Taos Ski Valley is everything it's cracked up to be. Some of the steepest slopes you'll find inbounds anywhere. And yet there's enough diverse terrain for beginners and intermediates to enjoy themselves. If you're wondering where has the soul of skiing gone? The answer is: Ski Taos
Angel Fire
Families will LOVE Angel Fire with its relaxed attitude, slope side accommodations, and perfectly groomed slopes. For those with an adventurous spirit, we HIGHLY recommend doing the hike to the outer trails to find powder WEEKS after a storm. From one of a kind sunsets to frito pies you'll take in a piece of heaven by skiing Angel Fire.
Red River
And last but not least is Red River Ski Area. Not owned by a corporation but a real skier that's passionate about skiing. Butting up to the town with the same name, this place is as unique as they come. Expect to find terrain just as challenging as Taos but on a smaller scale along with suitable areas for beginners and intermediates.
For a deeper dive into what each of these ski areas provide and what you can't miss at each area be sure to read our article:
Hiking
Near the top of the list for summer things to do in Taos NM must be hiking. Set aside time to take in the vistas from the Rio Grande Gorge that carves a chasm in the wide-open plain to the west of Taos itself. For some of the most spectacular vistas, head to the Wild Rivers Recreation Area in the Rio Grande Del Norte National Monument.
For a taste of the high alpine, Williams Lake Trail is a good choice. Four miles round trip, this takes you into the Wheel Peak Wilderness named after the tallest peak in New Mexico which is within this area. Once you arrive at the lake, you'll be almost entirely surrounded by the jagged mountain peaks of the Sangre De Cristo Mountains. Then finish it off with a cold beer at the Bavarian.
Local Freshies® tip: To get to the trail head, be aware it's a dirt road and 4WD is HIGHLY recommended.
Via Ferrata
Have you ever wanted to try rock climbing, but just don't have the time to learn? Then you should consider trying one of the newest things to do in Taos NM. The Via Ferrata at Taos Ski Valley. Italian for Iron Road, it gives novice climbers a chance to try a dangerous route by adding climbing aids such as iron rungs and a steel cable bolted into the wall. Taos' just opened in 2019 and provides beginner through advanced via ferrata route challenges, a 100-foot skybridge, and a double-cable catwalk right on the famed Kachina Peak.
Mountain Biking
Surrounded by arguably some of the best mountain biking in the Southwest. Just in the Carson National Forest alone, it has over 60 miles of trails within its 1.5 million acres. From the award-winning lift accessed trails at Angel Fire Bike Park to the legendary South Boundary Trail, you'll find a variety of tasty dirt to shred. And in 2019, Taos Ski Valley launched the Pioneer Bike Park which includes the valley's first flow trail named Green Chile (formerly known as Berminator). For a deep dive into all the hot mountain biking available in Taos be sure to read our article:
Food or rather cuisine in its truest sense is art. And one of the highlights of things to do in Taos NM is eating. From high-end fine dining to hole in the wall traditions, you'll find a host of restaurants serving dishes that are different with a twist of local flair to them. Luckily, after a full day of on the mountain skiing or hiking in the Del Norte Rio Grande National Monument, your body will thank you.
Best Places To Eat
Michael's Kitchen Restaurant & Bakery
Certain places are landmarks that personify a place and that's Michael's. For nearly four decades, this spot has been serving New Mexican dishes that will leave you happy and full. The local favorite's like the MANHANDLER or breakfast enchilada are where it's at. Be sure to leave room for the state cookie, the Bizcochito. A biscotti meets churro packed into a sugar cookie shape, it has a strong anise flavor with a hint of cinnamon.
World Cup Café
For a quick to-go breakfast that's healthy, the World Cup Café is a sure bet. What it lacks in options, it more than makes up in flavor. Normally, when you order an Americano, it's… terrible like a watered-down piece of bitter leather. Not so at World Cup. Expect foam on the top and as big a flavor like a latte without the milk. For food, the vanilla kefir with their homemade granola is to die for and filling. Be sure to check their glass case to see if they have any gluten-free blue corn bread. Imagine the densest pumpernickel bread but made with blue corn and smeared with honey thyme chèvre… a delight.
The Love Apple
Located inside one of New Mexico's oldest chapels, the interior is decked out in dim lighting like a French Cottage. A perfect spot for a romantic evening. A fusion of French meets New Mexican, the menu changes based on the seasons. Expect your taste buds to be delighted, no matter what you pick.
Local Freshies® tip: Love Apple does not take credit cards so be sure to bring enough cash. We spent around $150 which included wine, appetizer, entrees, dessert, and tip.
Manzanita Market
Local craft shop, ice cream parlor, bakery, and ALL creativity. The perfect place for a relaxing lunch. It's yet another spot you can't go wrong with any menu items. For meat lovers, the Salazar pepperoni pickle sandwich is like a Cubano meets Reuben in flavor. For vegetarians or those with a sweet tooth, the biscuits served with fresh jam and butter are crunchy on the outside and tender on the inside similar to a high-quality scone.
The Bavarian
We couldn't list the best places to eat in Taos without mentioning the Bavarian up at Taos Ski Valley. For some reason, the beer just tastes better here. Maybe because you're surrounded by the Sangre De Cristo Mountains. Or possibly that it's almost 10,000 feet above sea level. No matter the reason, the German fare is the most authentic we've had outside of Bavaria. Hearty not heavy, the sausage plate with real mashed potatoes is amazing. Not a beer drinker? The Glühwein is the real deal!
Taos' accommodations are just as unique and authentic as the town itself. You can kick your feet up after a day of exploring in front of a cozy fire in a casita. Enjoy New Mexican cuisine for breakfast at one of the adorable B&B's that are more than two centuries old. Experience world class luxury mere footsteps from the lifts at Taos Ski Valley or even enjoy a stay at a host of historic hotels. Lodging shouldn't be just a place to lay your head, but also part of the experience of your vacation and these one-of-a kind lodges to stay in Taos will do just that: