We get it. For most skiers and snowboarders soul doesn't matter. It's about who's the biggest. Which resort gets the most powder. Or even which one has the fastest lifts. Maybe it's because we're getting older, but that's not what we care about anymore. We search for experiences that are different and more soulful. We'd rather savor a sick line that we had to hike to instead of lift bonging a high-speed racking up vertical. While many things have changed over the years, the soul of skiing is still alive and well when you ski Taos.
The Iconic Sign
If there's one thing that's burned into memory after visiting Taos, it's the sign placed at the entrance of the village. It reads the following:
"DON'T PANIC! YOU'RE LOOKING AT ONLY 1/30 OF TAOS SKI VALLEY."
The original goal in the 1960's was to reduce the anxiety for beginners and intermediates staring up at the daunting Al's run and mineshaft. Instead, it got me excited at the prospect of what was to come. Only 1/30th?!? Jeez… that's a lot of terrain. I couldn't wait to get on the slopes.
True Fall Line Skiing
Getting whisked up the mountain via the newly installed high speed, our jaws drop. It's like a giant playground. Everywhere you look the terrain is just itching to be ridden. Chutes to the right that remind me of ski films from my childhood. Below them low angle groomers that follow the topography with banked turns begging for you to lay out some massive carves.
It's Bigger Than The Stats
For those engineering minded folks, don't look at the acreage statistic and annual snowfall numbers. First, the snow is some of the highest quality fluff we've ever skied anywhere. More on that later. Secondly, it packs more in its nearly 1,300 acres of terrain than some 4,000-acre ski areas we've visited. Why? Because of its natural topography dividing each trail so you can't sidecut or traverse to ski many at once. Once you're locked into a trail, many you have to ski to their bottom.
Terrain
Compared to other resorts where there's a ton of traversing and cat tracking (you know who you are), Taos is more pick your line and ski it. What do we mean by this? Besides the natural division of trails at Taos, dozens require you to hike a ridge. This ensures only the most dedicated skiers and snowboarders will enjoy many of the runs. Yet another plus is that it keeps the quality of snow up to snuff for weeks after a storm.
Beginners
Ski Taos' expert heaven is rightly earned, but there are some areas that you can enjoy as a beginner. Honeysuckle meanders its way down to the backside where you can enjoy a refreshment at the Bavarian. Off of Lift 1, you'll find White Feather, a roaming trail that makes its way back down to the front. Although there is some beginner terrain, if it's your first-time skiing or snowboarding, consider starting at Red River or Angel Fire before graduating to Taos. You'll have a bit more elbow room and a more relaxed atmosphere to hone your skills.
Intermediates
Those that are this level will be in heaven at Taos. Lift 8 provides nice, banked groomers to let the skis rip. For those looking for nicely spaced glades, you'll find some off Lift 7 along with some more fun trails to explore. Pretty much anything marked a blue you'll enjoy.
Experts
We've skied and snowboarded all over the continent, but Taos is by far Jaime's favorite. Nothing even comes close. Everything is an adventure. Each run has its own feel and character. For those that are looking for nicely spaced glades, you can't go wrong in Wild West Glades. For some steep narrow chutes that you'll have to straight line a full thousand vert down a sheer vertical pitch, pretty much anything off of West Basin Ridge will turn the puck factor up to 11. We could go on and on about all the tasty lines ski Taos offers you… just know you won't be disappointed.
Contemporary Makeover
No matter how much you want to stick to the past, you have to change with the times. Since 2014, Taos has been under going a major makeover upwards of $300 million in investments. Think of it less as losing its Southwestern-meets-Europe vibe and more as a refresh.
Much Needed Upgrades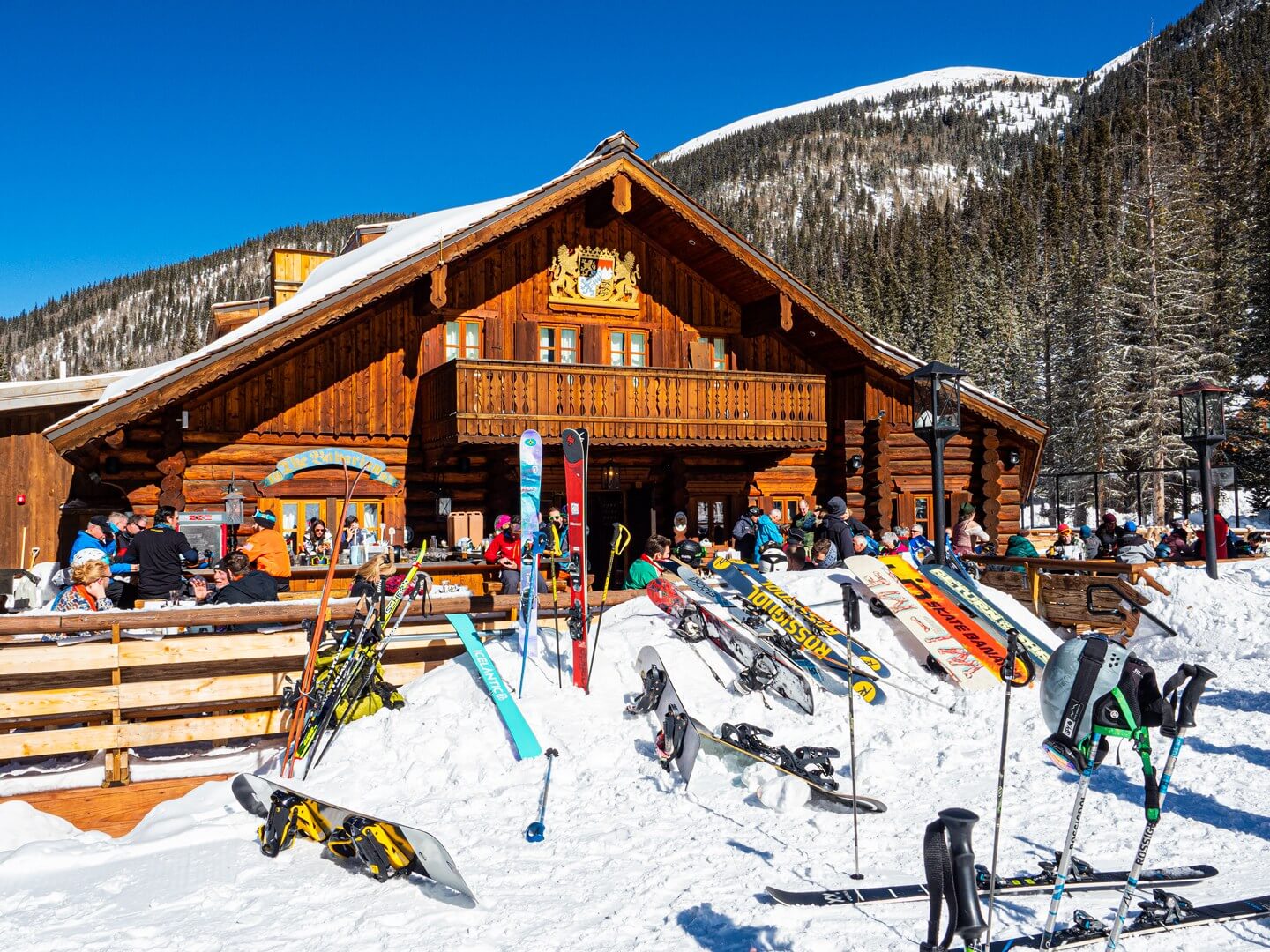 Some of the improvements includes modernizing and renovating the dining areas at the Bavarian and Phoenix Grill. Refining the lodging experience by constructing The Blake providing a luxurious place to stay mere footsteps from the lifts. The purchase of high-capacity snowmaking equipment, including new pumps, 30 new tower guns, and 50 new hydrants allow more terrain to open during the early season. And of course, lift upgrades such as installing a high-speed to transport visitors quickly from the base area.
The Kachina Lift
One of the changes that's a bit controversial with the locals was the addition of the Kachina lift. We get it. It had to be done. Most visitors don't want to take an arduous forty-five-minute hike to get to terrain that good. Looking up from the base of it and seeing moguls the size of VW bugs, I can only imagine how amazing it must've been before the lift arrived. Fortunately, there are a host of other zones that you can still hike to instead.
When To Go
Ski Taos has some STEEP terrain which means it needs quite a bit of snow before you can ski a lot of the good stuff. From locals we spoke to, the magic number is 60 inches of 5 feet. With that being said, Taos is a good candidate to visit in March. The snowpack is at its deepest. The sun is higher in the sky. And it's the snowiest month of the season for them.
Where To Stay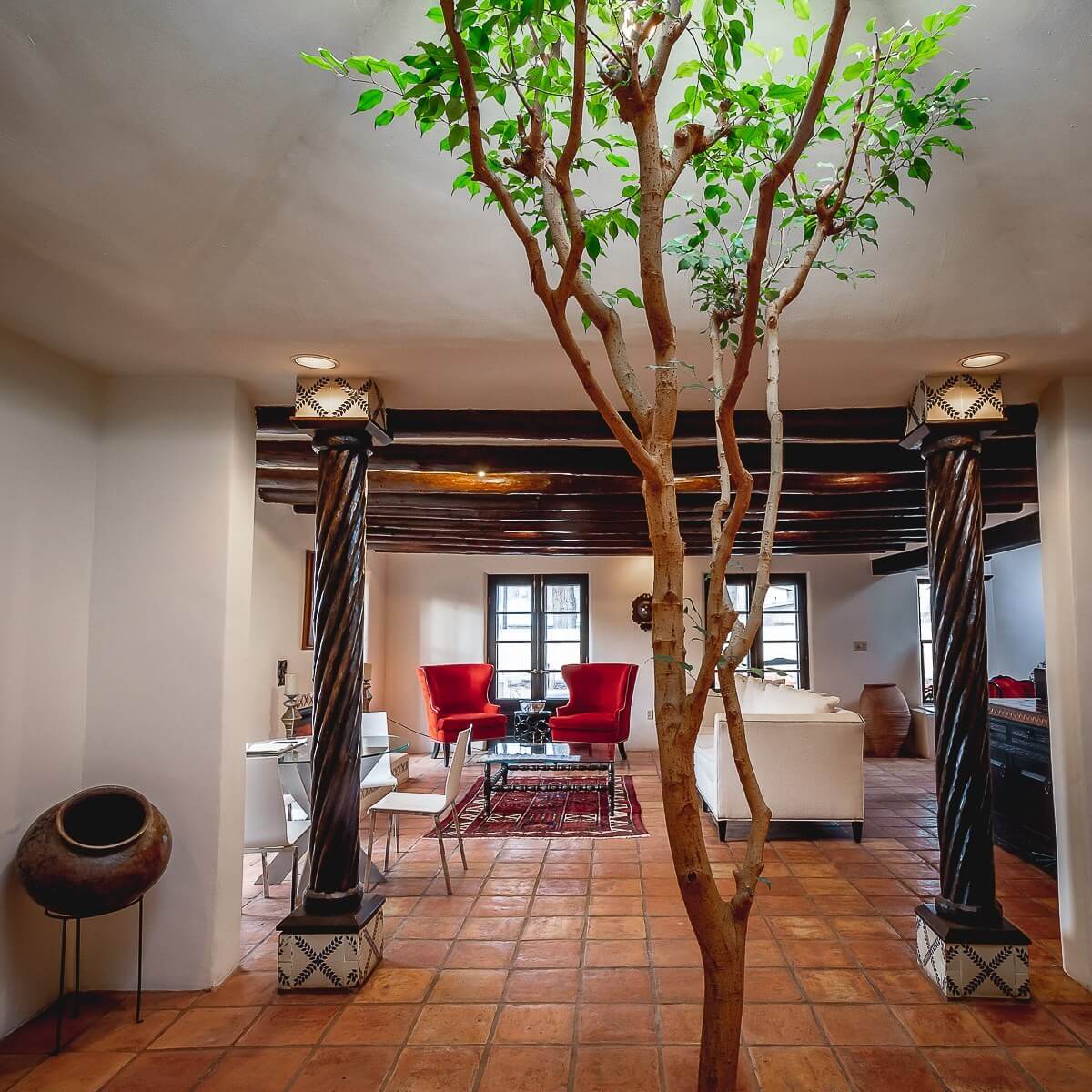 Be forewarned the base of Taos Ski Valley is at a dizzyingly high 9,321' above sea level. I still remember my only bout of altitude sickness in Telluride, and it's no fun. Give your body a chance to acclimate by staying in the town of Taos (6,900') for a day or two and drink plenty of fluids. From five star accommodations to two hundred year old B&Bs, here's the best places to stay at on your next vacation.
Unlike Anywhere
People who ski Taos know that the resort is home to some incredible skiing. Along with this world class mountain, it blends seamlessly with the local culture and a nice helping dish of international flair. Founded by a passionate Swiss skier and surrounded by restaurants started by Frenchmen and Austrians, it has an Alps feel to it. And yet, you drive down to Taos and you'll find a deep history of Spanish and Native cultures.
Describing this place, you would think it's "trendy." Far from it. Taos is what it is… an enigma wrapped in a mystery. Home to buildings where people have lived for more than a thousand years. An art colony. Ski Taos embraces their past and looks towards the future. Once you visit, you'll get it. But until you do, it's mere words.