Even with AIARE 1 and AIARE 2 certifications and years of ski touring under my belt, I still feel like a beginner. Every season provides new things to learn. Another snowpack to study. Figuring out how to fuel my body better. Gear that doesn't work as well as it did or causes frustration. I've learned that it's a lifetime journey that never ends. Last season it was our backcountry ski jacket. This year we've got our laser focus on what are the best Splitboard Poles?
Service Announcement
Any time we talk about backcountry skiing, splitboarding, or snowboarding, we have to stress the importance of getting avalanche educated first. No matter how good the tools you have, it's the mental aspect that's most crucial. Take an AIARE class, obtain the proper safety gear (beacon, shovel, and probe), and find a mentor. The harsh truth is that more people die from avalanches in the United States than earthquakes. If you're a beginner or looking to up your gear, visit our page – All Things Splitboarding & Backcountry Skiing
What To Look For In Splitboard Poles
There's no such thing as a perfect piece of equipment for everyone. You have to be honest with yourself. How good are you with skinning up a mountain? Do you like a bigger grip or smaller one? This will make it easier to understand and prioritize the tradeoff of cutting weight.
DO Sweat The Technique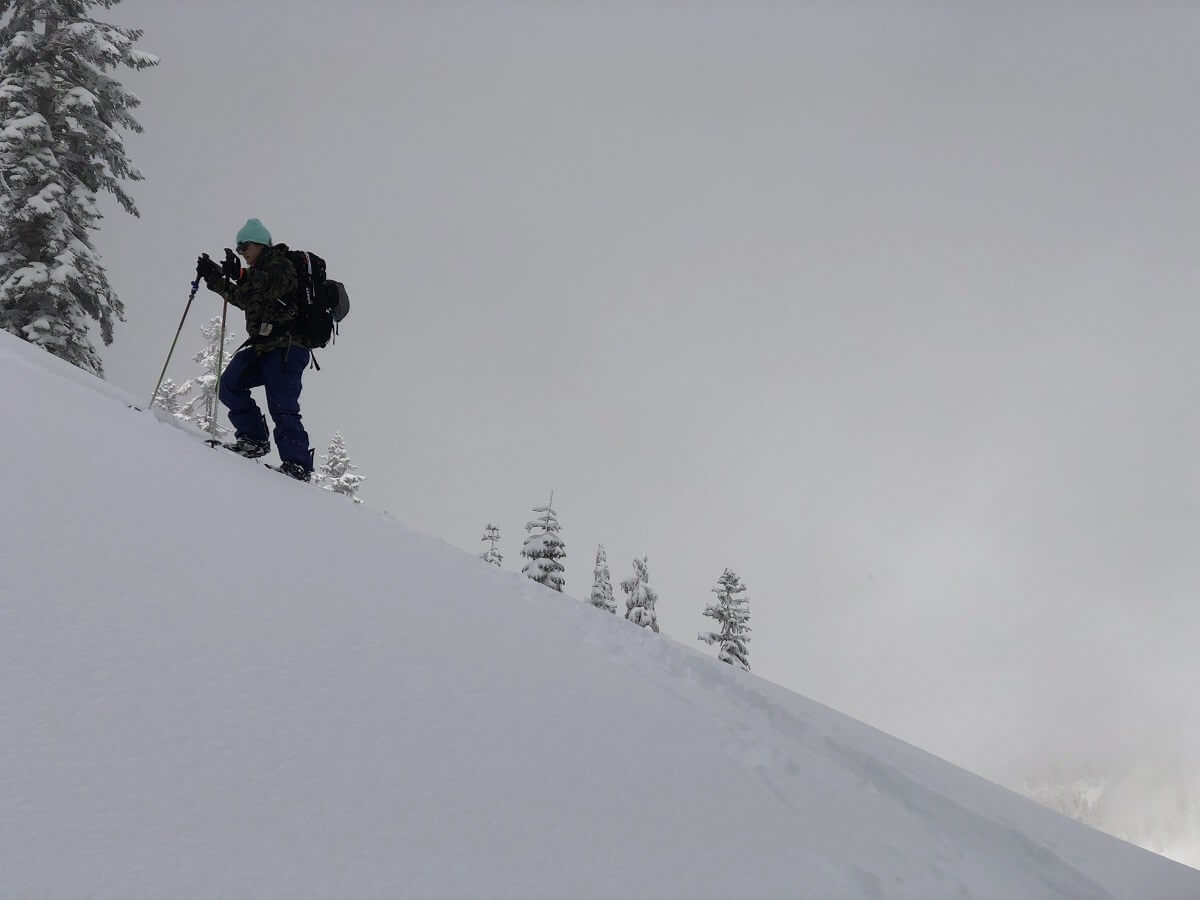 Many people don't want to hear this, but your technique may be breaking your poles, not a design flaw. Being in balance while skinning, making kick turns and during split-skinning will help keep your poles straight and in one… (actually 3) pieces. Don't expect your lightweight 3-section poles to hold up if you're leaning hard on them for balance.
Durability
The running joke when I ask my mentors what is the best [insert piece of equipment name] on the market? They'll always say, "The ones that don't break." When you're hours away from the truck, you don't want to have equipment that malfunctions. Or worse yet, break. You want something that has a simple design and is pretty bullet proof.
Easy To Assemble / Disassemble
Inside the store where it's warm and dry, you can put together and take apart the poles with no issue. But what if the winds howling and it's twenty below – can you take it apart with your gloves on? Put it back together if the connections are frozen? We learned this the hard way. Our first pair we borrowed were HORRIBLE! The metal pins would freeze, and you had to take your gloves off to take apart. No bueno.
Length
A lot of the models listed below provide two sizes. I'm 6'3" and comfortably like to have the poles set to 130cm when ski touring. Another item to consider is where are you going to store the poles on the descent. If you like them INSIDE the bag, make sure they are short enough when collapsed.
To Fold Or To Collapse That Is The Question
Splitboard poles on the market come in two basic styles – foldable or collapsible. Foldable poles have a rubber fitting that connects the pieces. A collapsible, on the other hand, collapses into itself. The advantage of the foldable variety is that they can disassemble into a smaller size than the collapsible ones. Personally, we don't like the foldable ones because the the rubber pieces cracked on the first pair we owned. On top of it, many have metal pins that can freeze and make it difficult to unlock in inclement weather.
Weight
Compared to boots, snowboard bindings, splitboards, climbing skins, and even gear inside, the bag weight is something to at least think about. The only problem is when you obtain a lighter pole you then sacrifice in durability. Beginners may want to focus on getting a pair that is more durable and less light.
Splitboard Poles
To help you find the find the right pair of splitboard poles, here's some of the most popular ones on the market.
BCA Scepter 4s
Weight: 12 oz
Collapsed Length: 45 cm
Usable Length: 110 cm – 130 cm
Compared to other foldable poles on the market, instead of a metal button to release which has a tendency to freeze up like some of the other splitboarding poles available, these use the same technology that BCA applies on their probes. This translates to one of the easiest collapsible models to disassemble. Built with an eye towards keeping it lightweight and yet focused on being built to last, these might be the most well balanced backcountry poles on the market.
Local Freshies® Tip: Be aware that BCA sells THREE types of Scepter poles – aluminum, carbon, and 4S. 4S stands for four seasons and as the name dictates are designed for four seasons and are the only ones that collapse fully. This makes them the best and only option for splitboarders.
G3 Pivot Pole
Weight: 10.8 oz
Collapsed Length: 35 cm / 38.5 cm
Usable Length: 105 cm – 125 cm / 115 cm – 135 cm
These are another pair of foldable poles that don't have the painful metal pins at the upper connection point. Instead, it has easy an easy flip-switch and grips at each split point. Another great feature is that the foam extends down the poles further than some of the other brands to provide a versatile grip on varied angle skin tracks. I can't tell you that often when the terrain is steeper, you have one pole really low on the downhill side while on the uphill side you'll want to actually grip it lower on the pole. If we were to pick a new pair of foldable ones, these would be it.
Black Diamond Expedition 3
Weight: 18 oz / 19 oz
Collapsed Length: 57 cm
Usable Length: 85 cm – 125 cm / 100 cm – 140 cm
There's a reason why these are some of the most popular poles in the market. Black Diamond's tried and true Flicklocks lock in the poles when they're extended or collapsed. These come in 2 sizes and are simple in design meaning less things to break. We've had the older version for years and through wear and tear, they've lost some of the glide to collapse easily.
Black Diamond Compactor
Weight: 20.64 oz / 21.44 oz
Collapsed Length: 41.5 cm
Usable Length: 105 cm – 125 cm / 115 cm – 135 cm

These are a great option for beginner splitboarders. In fact, these were our first pair as well. Made out of aluminum and sturdy in design even if you put all your weight on one you won't break it. It uses a tension-lock system helping the rider assembled the poles completely in mere seconds helping to speed up your transitions. Be aware of the metal pin holding the pole's tension on the pole handle. On storm days, they can be a challenge to sometimes take apart. For a lighter option, Black Diamond does sell a carbon version of these as well.
Jones Talon
Weight: 17.8 oz
Collapsed Length: 61 cm
Usable Length: 105 cm – 135 cm

As the weight would suggest, these are built like a truck – beefy. Made out of recycled aluminum, this pair is designed to be used for a lifetime and feel like they could take a beating. The three-section poles collapse into itself. A unique design feature on these is that the basket on the bottom floats, providing a bit more traction on snow. They also make a carbon version called the Jones Talon Pro that weigh in at 16.4 oz.
Are you rocking a different pair of splitboard poles that should be on this list?