Cabin fever is real. This past summer, over 80% of visitors heading into the wilderness were first-timers. Unfortunately, many of them were unprepared. A good indicator of their unpreparedness were the records being set across the country from the Adirondacks to Utah and even Colorado on search and rescues. As winter begins to gain steam, we reached out to our local backcountry ski patrol. The goal was to learn what they do and where people can learn more.
Eyes And Ears Of The Forest Service
Similar to how ski patrol maintains and promotes resort skier safety, that's what the backcountry version does too. Instead of a small area within a resort's boundaries, they keep an eye out across a huge swath of backcountry. Each patroller is certified at a minimum with wilderness first aid and AIARE 1 certification or higher. If they do come across an injured skier, splitboarder, or snowshoer, they offer assistance. In addition, they let the Forest Service know of any issues via their radios and repeaters connected to Forest Service channels.
Create A Safe Environment For The First Foray
Another aspect of their mission is to provide first-timers a place to experience the backcountry in a safe way. For many, they're unfamiliar on how to do it correctly or even how to stay safe. Instead of saying "No, don't do it.", they give enthusiasts a good place to dip their ski poles into the proverbial waters by trying Nordic skiing in the backcountry.
Blue Markers Lead To A Safe Adventure
The Eldorado Backcountry Ski Patrol manages a host of different trails marked with blue markers in the Crystal Basin, Highway 50 Corridor (Echo Lakes), and Highway 88 Corridor (Carson Pass Region). These are perfect places for first-timers to navigate safely through the mountainous environment, giving them an opportunity to explore but in a safe manner.
Education
Last but not least, they provide education to those interested. Throughout the winter months, they offer classes and programs geared towards learning how to travel safely in the mountains.
As they'll tell you themselves, they aren't a replacement for having your own rescue gear and knowledge of avalanche safety. You are responsible for yourself. All over the country, there are a host of other backcountry ski patrols all doing their part. They help those who are injured and educate travelers as well as maintain ski huts and winter trails. And they even act as a sounding board for inexperienced backcountry travelers.
Backcountry Ski Patrols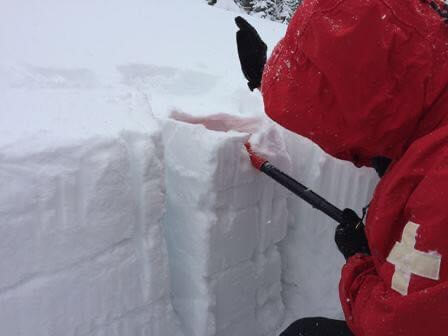 If you want to join a backcountry ski patrol or want to learn more, here's a list of some of the larger organizations across the western US:
Responsible for Highway 50 Corridor, Carson Pass, and Crystal Basin Area in the southern region of Lake Tahoe.
California's Tahoe National Forest, specifically in the sizeable Castle Peak area north of Donner Summit and on the Pacific Crest Trail.
Patrol the Blaine County area surrounding Sun Valley.
Patrols the undeveloped backcountry slopes, trails and logging roads around Snoqualmie, Steven's and Blewett Passes as well as Washington Pass in the spring.
Diamond Peaks serves Cameron Pass near Fort Collins, CO.
The Patrol's area of responsibility is primarily Flathead County.
A huge thanks to Ray Peart and Ted Lenzie of the Eldorado Backcountry Ski Patrol for helping create this article. If you want to learn more about how to start backcountry skiing/splitboarding, read gear reviews, or learn from some of our personal experiences be sure to visit our homepage: All Things Splitboarding & Backcountry Skiing.