"Here's Johnny!" That's the first thing that should come to mind if you venture to the Pacific Northwest. The infamous hotel from the movie The Shining is located at one of the many ski resorts to go skiing near Portland Oregon. So, what's so special in this corner of the country? First, Mt Hood doesn't have just one resort on its flanks, but rather three major ski resorts. Second, the ski resorts are located less than two hours away from Portland, making it the perfect destination for anyone looking for some deep powder and some metropolitan style après. Here's our guide to Mt Hood's Ski Resorts and some affordable places to eat in the city of Portland.
Before You Go
The good news is if you're skiing near Portland Oregon, you'll find resorts that get pummeled with snowfall. On average, they're some of the snowiest in the nation. For example, Mount Hood Meadows receives on average 430 inches and Timberline nearly forty-five feet. The problem is that in between these BIG snowfalls, they get a lot of rain. If you have a week to kill and you're flexible on which days you ride or ski in between checking out Portland, you'll be set.
As we stated in past posts, this winter is all about being flexible. If you're ready to get on the slopes at one of these ski resorts, be sure to check their website with the latest requirements.
Timberline Lodge
Home of The Shining
Just like the name implies, most of the ski resort is located at or just above timber line. One of its claims to fame is the main lodge. You may recognize the exterior of this building as it was used in the classic film The Shining. Don't worry though. The interior is just as spooky as the movie but in a more wilderness motif.
Interesting Packages
Built in 1937 as part of the New Deal, this landmark hotel provides a few options that harken back to an earlier era. You still have all the modern conveniences but also an opportunity to enjoy sipping on drinks at Rams Head Bar or enjoy dinner entrees as part of your lodging package. Even if you don't stay there, at least ski or snowboard past it and take in its beauty.
To check prices & read reviews check: Booking.com
Mecca For Summer Skiing/Snowboarding
The second thing Timberline is known for is its summer skiing. During midwinter, the highest lift – the Palmer chair, doesn't open due to the massive amounts of snow it receives. But by the end of May, they begin to dig out the chairlift to prepare for summer operations. Summer camps such as Windell's shuttle kids from their lodging at the bottom of the road up to the resort. Each summer camp then sets up and holds their activities on a private part of this snowfield.
In the winter though, all the other lifts will run and give you access to even more challenging terrain like the Stormin' Norman chairlift named after a famous skier who helped found this resort. You can't go wrong in either season – winter or summer!
Mt Hood Skibowl
Largest Night Ski Resort in North America
It may be the smallest of the three major resorts on Mt Hood for skiing near Portland Oregon, but it still throws one helluva punch. To start, Mt Hood Ski Bowl has the largest night skiing operation meaning they have more trails and acreage lit up than anywhere in North America. It also contains a decent amount of challenging terrain that even an expert will enjoy. Definitely a resort to consider if you're staying in Portland.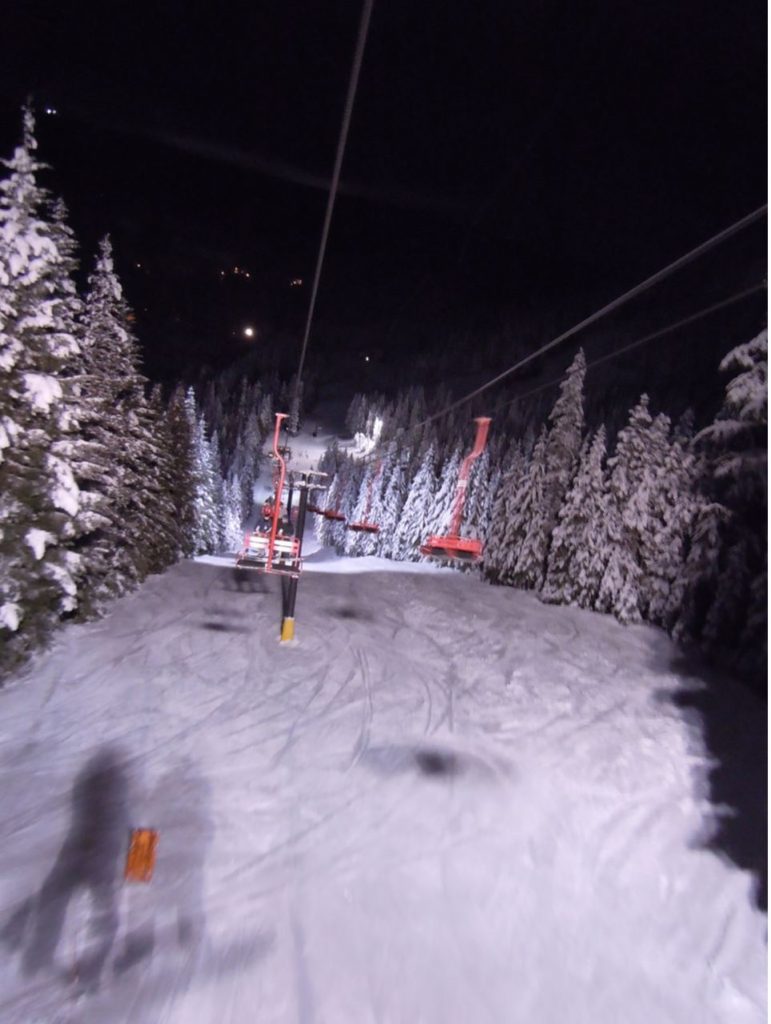 Mount Hood Meadows
King of the Hill
So, out of three major resorts for skiing near Portland Oregon, which one is the biggest, baddest, and toughest resort on the hill? If you guessed Mt Hood Meadows… you're a winner! Featuring 2,777 foot vertical drop and 2,150 skiable acreage to ride, there's a lot to explore. And if that's not enough, there's also 1,777 vertical feet of skiing by hiking.
All Levels Will Love It
Containing terrain for all levels, it has everything from steep drops and cliffs to long carving trails above tree line making it a great mountain to visit. For nice open groomers, head over to Cascade Express. Gulch and Boulevard are great runs too for massive swooping turns that follow the fall line down to the bottom of the lift. Finally, for beginners, give Vista Express a whirl.
Where To Go On A Powder Day
If you're lucky enough to hit Meadows on a powder day and you're an expert skier/snowboarder, head over to Heather Canyon. Filled with nicely spaced trees, bowls, and cliff drops, this section is amazing if you hit it at the right time.
For High Snow Levels
Like all Pacific Northwest resorts, keep your eyes peeled on the snow level for a storm. If the snow levels are high, the terrain off of Shooting Star Express is your best option. No matter what, Mt Hood Meadows should be on your list of resorts to check out if you're in the Pacific Northwest.
Tip: If you do head to Mt Hood Meadows, make sure to buy a Sno-Park permit from one of the parking lot attendants. We found out the hard way. If you don't get one, they'll ticket you!
Cooper Spur Mountain Resort
Good Intro To Skiing & Snowboarding
Cooper Spur is the spot for first-timers of families that want to get out on the snow for the day or the season without breaking the bank. This cozy ski area offers up a FAMILY season pass for only $439 or an adult individual ticket for $42.
Perfect Weekend Winter Getaway
Despite you only being ninety minutes from skiing near Portland Oregon, make it a weekend by staying at their lodge or cabins. Located smack in the midst of the Mt Hood National Forest, you'll have views of the iconic peak and the surrounding alpine environment. Be aware that they're only open on weekends or holidays.
Summit Ski Area
2nd Oldest Ski Area In US
Another option if you're starting out or have a family is Summit Ski Area if you want to go skiing near Portland Oregon. Built in 1927, it's the second oldest continuously operating ski area in the US. For nearly a century, it's been catering to everyone who wants to enjoy the mountains and some snow fun at an affordable rate.
Long Term Plans
Located on the southern shoulder of Mt. Hood and near the east side of Government Camp, it's a true community ski hill but with a vision to the future. Since Timberline Lodge and Summit are owned by the same company, they're hoping they can link them via a gondola. This would also include creating multiple trails (year-round) to connect both areas.
Willamette Pass
Uncrowded & Affordable Pow Option
For those that want to get away from the crowds, you may want to travel a bit further south to Willamette Pass. In a little under three hours, you can be on their slopes and riding Oregon's only six-pack. Featuring a base elevation of 5,120 feet and over 430 inches of snow annually, there's a good chance you'll find some pow to slash. A bonus is that from the top of Eagle Peak you get a 360-degree view of the high Cascades surrounding the ski area.
Affordable Alternative For Powder Hounds
Focusing on keeping the lift ticket prices to a minimum, you'll find all the amenities you need without the extra frills that balloon the price. It's one of the reasons it made our list: Time For Plan B: 10 Of The Best Small Ski Resorts To Ski During COVID season.
Fantastic Backcountry Access
Another aspect that the numbers don't convey is the volume of backcountry you can access from the mountain. The most popular is Pulpit Rock which you can take laps right next to the resort. Remember that if you do walk past the boundary, you're on your own. Carry the gear, know how to use it, and most importantly, read the avalanche forecast. If you want to learn more visit our homepage for All Things Backcountry Skiing & Snowboarding.
Mount Bachelor
Head Honcho In Oregon
Mt Bachelor is big. How big? It's now expanded to 4,300 acres making it the sixth largest resort in the country. We LOVE this mountain especially in the late season (April and May). This lone dormant volcano is home to some of the best spring skiing in the world. Although no matter when you visit, the topography features of gullies and windlips makes it feel like you're literally surfing the mountain.
Consistent Snowfall
Compared to the other resorts on the list, it's location east of the Cascade crest and high base elevation of 6,300' means that they have a higher likelihood of snow compared to its brethren in Oregon. Be aware that the summit lift is known to close approximately 25% of the time in mid-winter due to the ferociousness of the storms that hit it.
Doable But Further Than You Expect
They say it's only three plus hours from Portland, but we're guessing that's for pro rally drivers like Ken Block. We've done this drive a few times and it takes quite a bit longer especially on a day with inclement weather. Why? For starters, to get to it you need to drive over the same mountain pass through Government Camp past all the other ski areas on Hood. Then it's still a single lane highway for most of the journey. Honestly, a better option would be to stay in Bend.
Places to Eat
After a long day on the mountain, some good après are always in order. Fortunately, Mt Hood is just down the road from the city of Portland featuring some amazing cuisine. From the food truck plaza to a plethora of bars carrying all the amazing micro-brews, this town definitely has a lot to offer. Here's just a sampling of some of our favorites.
Stanich's
Going back to the Iron Curtain
Have you ever wondered how it must've felt to go back to an era where the Soviet Union was still strong and there was an Iron Curtain? Stepping into Stanich's makes you feel like you've been transported back to that time. Old televisions show the current sports games, but the walls are adorned with sports memorabilia from the 80's such as Starter hats with the Charlotte Hornets to Pacific Northwest college pennants from that era. In addition, the prices of the burgers and beer are affordable too which is shocking in this part of the country.
Voodoo Donuts
The "OG" of Artistic Donuts
When it comes to fried dough, the original home of artistic creations for many could be considered Voodoo Donuts. The tales of what they put into their confectionery concoctions are legendary. Are they still the best? This can be argued, but travel is all about experiencing the culture and going to the original storefront is definitely something you must do once in your life. Regardless of the taste, which is amazing, the presentation and naming of the donuts is how this place stands out. Our personal favorite is the Old Dirty Bastard named after the Wu-Tang member. Packed with chocolate frosting and peanut butter and housing a mountain of crushed Oreos, it will get you as hyped as the front man of the Clan.
Be warned: The wait for a donut can be disastrous… up to an hour on some days. Be sure to head over early or show up late and be patient.
Stumptown Coffee
Third Wave of Coffee Brewers
Named after one of Portland's many nicknames, this coffee shop is a must stop if you're in town. Sure, you might be able to get a cup of their dark java in metropolitan cities like San Francisco, Chicago, or New York but visiting the "mothership" is worth it. Stumptown is one of the original companies to help bring forward the idea of roasting coffee as an artisanal skill. Being so pivotal for the coffee world, this movement was even named the "Third wave of coffee", and the rest is history. Enjoy!
Sushi Land
Affordable Sushi and a Cool Experience
Traveling can be expensive, but you still need to eat. Why not make it an experience as well? A great option if you're in Portland is a place called Marinepolis Sushi Land. It's expanded quite a bit over the years with locations in Seattle and L.A. but it started back in 1991 in the Portland area. The sushi is served on a conveyor belt with plates that are numbered with how much they cost. From $1 to $3, you pick the sushi off the belt and then pay at the end. Of course you can get some made to order if you don't see something you like, but the concept is refreshing and enjoyable.
This is only an introduction to skiing near Portland Oregon. We hope you get the chance to visit, and if you do ever end up in the Pacific Northwest, we HIGHLY suggest stopping at one of the cute roadside coffee "huts." They are a unique cultural mainstay that isn't like anywhere else in the country. Happy travels and let us know if there are any other "must trys" when hanging out in Portland.