For those of us rightly named 'snow-addicts', the warm weather of summer can lead to depression, anger, and frustration. The idea of giving up skiing or riding is sometimes just too painful to bear. Is there a way to cure these doldrums? Absolutely! Of course, you could head to South America and chase the powder but for most of us that is too much dough. What about North America? Is there anywhere you can go to get your fix in? You bet. Especially for this year! The record setting snowfall across the West means the options of where to ski in June and later is possible.
Where to ski through at least Memorial Day
Listed below are all resorts that are open through AT LEAST Memorial Day. This means you have a few more months of shredding available to you.
Timberline Lodge
Closing Date: Open through September for maintenance
Are you a fan of Stanley Kubrick's The Shining? If you are, why not kill two birds and visit Timberline Lodge located on Mt Hood. This famous lodge built during the depression by the WPA was used as the setting for the famous outdoor scenes in the Stanley Kubrick film. In addition to being a Hollywood star, it's also THE most famous summer skiing destination on the planet. This ski area literally stays open all year round with only a few weeks closed in September for maintenance. Skiing/riding on the Palmer snow field in July while the rest of your friends are sitting at home cooking in the heat is a great option for a vacation. Mt Hood is also home to the famous summer snowboard camp known as the High Cascade Snowboard Camp. This place is perfect for teenagers looking for fun Summer activities to help them improve their riding skill as well as the chance to ride with some of their idols.
Whistler Blackcomb
Closing Date: Blackcomb will close on May 22 and glacier skiing will run from June 10th through July 16th
Whistler Blackcomb is the epitome of all season fun. With a car free village, you'll enjoy walking around to shop, eat, or hang out in the mountain bike park situated right in the middle. The bike park is filled with ridiculous natural terrain augmented by hand crafted jumps…There is so much to try out and conquer in the mountain bike park you may never want to leave.
Like the cherry on top of any respectable sundae, the glacier skiing at Whistler Blackcomb may be the best part of the journey but the ice cream is still darn good! Similar to Mt Hood, Whistler Blackcomb also has a summer camp called the Camp of Champions which helps up and comers hone their skills and kill it the next season.
Mammoth Mountain
Closing Date: At least through Memorial Day
Even in a normal season Mammoth Mountain continues their streak of being open as long as possible. With such an amazing winter they've confirmed that they'll be open through AT LEAST July 4th. And with cold nights followed by warm days this resort has some of the best weather for corn skiing. The town of Mammoth Lakes also offers some amazing cuisine and things to do besides skiing. If you're planning a summer skiing trip then this might be one to put on your list.
Squaw Valley
Closing Date: At least through Memorial Day
The self-proclaimed "king of spring" is pushing the length of their season to the max this spring. While the rumors last season that they might try to stay open all summer long for the first time ever didn't happen. The Lake Tahoe region has something for everyone so a morning on the slopes followed by mountain biking or boating in the afternoon is a reality this year.
Beartooth Pass – True Mountain Men
Closing Date: May 27th through July 2nd
If the previous two choices seem a little tame for you then Beartooth Basin may fit your bill. A true Mom and Pop resort, this gem was started by people who live to ski/snowboard. The newest of all summer skiing destinations, this ski resort does not open until summer. Yup, that's right! It doesn't open UNTIL late May. Beartooth is designed for more adventurous folks looking for something that hasn't been done before. Everything about this place is rugged like the beautiful state it lives in, Montana. With only a Poma lift to access' the goods', you will be forced to hike to get to some of the premier features available here. In addition to the resort, the mountains surrounding Beartooth Basin are the perfect backdrop for anyone looking to do a ton of summer ski-touring as well.
Arapahoe Basin
Closing Date: June 4th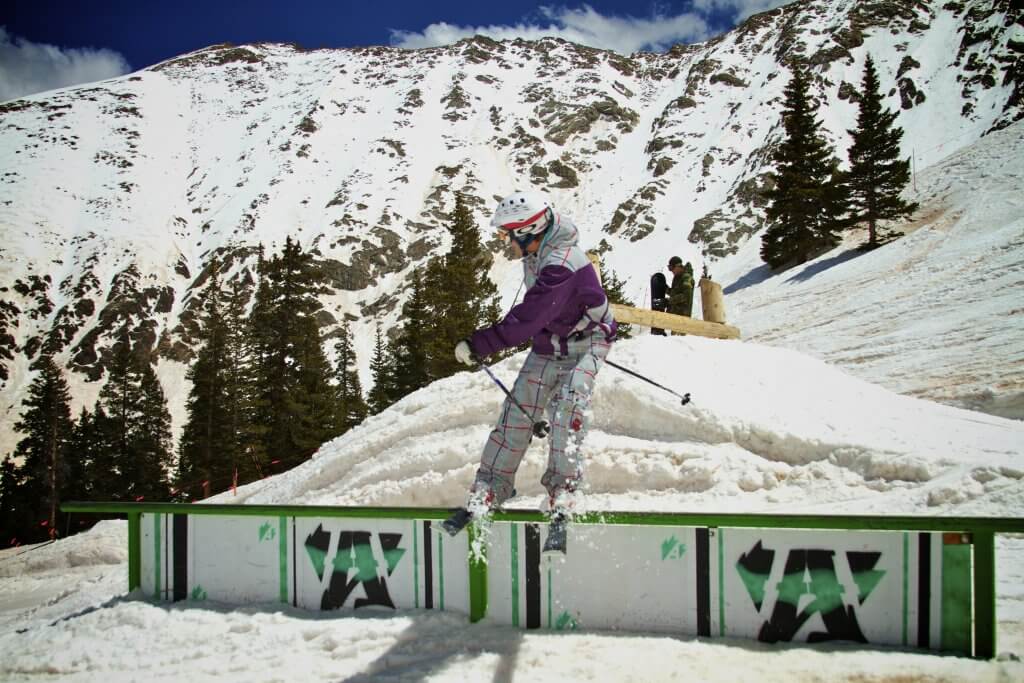 Always pushing the envelope to stay open until the snow melts, there have been years that they've been skiing until July 4th. Typically in April, it's less about the corn and more about skiing and snowboarding their packed powder with the steep Palivaccini terrain facing more north and ranging from 10,800′ to 12,200′. The parking lot is called the "Beach" and you can watch people skiing down the mountain as you grill right in front of your car. If this isn't on your bucket list to visit… it should be!
Are you excited yet about your Summer possibilities? We certainly hope so! Stay tuned as we go deeper into each of these spots and explore all they have to offer each time Summer rolls around.