For those that didn't hear, Arapahoe Basin just announced they'll re-open for the 2019-20 season on Wednesday, May 25th. Earlier, Beartooth Pass and Timberline reported that they'll have skiing & riding through at least June as well! The question that always comes up immediately… "Is snow even good this late in the season?" Answer – ABSOLUTELY! It's what we like to call corn skiing, and it's one of our favorite conditions of the year.
Of course you can't really guarantee weather. But under normal conditions, there should be plenty of sunshine & clear nights. The snow gets a chance to refreeze at night meaning amazing corn skiing. If you want to know what this type of snow is, check out our article:
How Ski Resorts Ensure Great Late Season Conditions
We can't give Mother Nature all the credit though. Here are a few things some resorts do to make sure that the corn skiing & their snow quality is the best it can be this late in the season.
Open early
Corn is all about timing. If the air temperature didn't get below freezing, the perfect time to ski it might be early in the day. To cover that window, lifts may start running as early as 7:30 am.
Close early
To preserve the snow & make sure you ski at the best time, they close the lifts by 2:00 pm. This means you can spend the afternoon doing things like an après party or mountain biking.
Salt the runs
Normally salt melts snow, but when it's above freezing, it slows the snow melt leading to better snow conditions in the spring. If you're worried about the environment, don't be. They're only allowed to use a certain amount of salt per year and have confirmed that any salt that goes into the ground is negligible.
How You Can Help Make It Better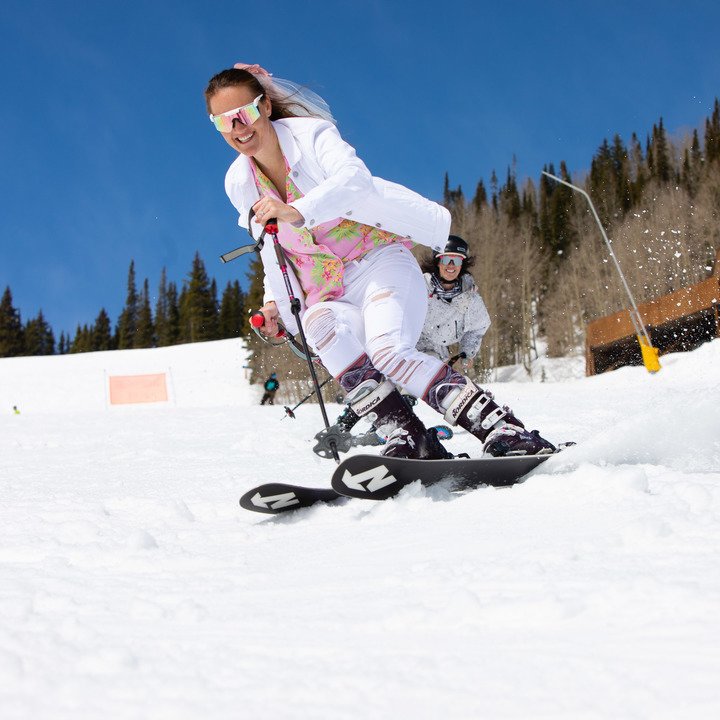 Just like any other ski condition, it's up to you to wear the right clothes, have your equipment tuned correctly, and understand how to ski / snowboard it. For a comprehensive run-down on how to do this, check out our spring skiing guide found here:
So, if you got a hankering for a few more turns this spring – as of this moment, Timberline, A-Basin, and Beartooth Pass have announced they're re-opening for skiing in June. While traveling during this time is a bit stressful, if you do live near one of the resorts, a little corn skiing might be just what you need. The snow will be great, and the beer will be cold.