I am by no means an expert in snow science. Over the years of living and traveling across North America, I've become what many of my friends would like to call a snow snob or connoisseur. Just like a person who enjoys good wine, whiskey, or craft beer, it goes beyond the knowledge and appreciation of snow. It's using your abilities to predict where (or when) is the best snow to ski that day and skip the rest. If you're a Chionophile (a lover of snow), you'll enjoy this breakdown of the types of snow for skiing & snowboarding and what to expect.
Snow Characteristics
Similar to a beer, the ingredients for making snowflakes is pretty simple. The four essentials for types of snow are: moisture content, air temperature, humidity and wind. With these four "brewing" ingredients, the weather will whip up everything from graupel to dendrites to columns. Of course, there are exceptions to the rules, but as a general thought, you can characterize types of snow you'll ski based on snowpack classification.
Snowpack Types
The definition of a snowpack is the snow on the ground in mountainous areas that persists until the arrival of warmer weather. In general, there are three types of snowpacks you'll encounter in North America – Maritime, Continental, and Intermountain. Even within these different categories, you'll find slight variations on how the snow skis. With that being said, this discussion is more on appreciating the differences so you can ski better and not looking at it from a backcountry viewpoint. For a full write-up of snowpack from an avalanche perspective, check out this article by Bruce Temper on Teton Gravity.
Continental Snowpack
Continental is by far the lowest moisture content of the three. What you gain in dry-ness, you lose substantially in depth of snowpack. This means when skiing glades or chutes be aware of monsters lurking just below the surface. Normally, this can be found along the eastern front of the Rockies in places like Alberta, Colorado, and New Mexico.
Maritime Snowpack
As the 80's rock groups used to yell "Turn up the volume", that's exactly what happens in the Maritime Snowpack. The quantity is exponentially higher (feet instead of inches from a storm) than the Continental. What you gain in depth you also gain substantially in moisture content. You'll normally find this on the west coast near the Pacific Ocean.
Intermountain Snowpack
These are the mountain ranges that aren't as dry as Continental, but not as moisture laden as the coastal region. The quantity is high, but typically not as high as Maritime. This could be the second set of mountains inland. One that comes to mind is Mission Ridge in Washington. Just a few miles east of Stevens Pass as the crow flies, their snow is MUCH drier than its next-door neighbor. The challenge of where an Intermountain snowpack exists is that it's not always located in a certain region. Instead, it could be based on elevation or even micro-climates. Many high alpine regions in coastal areas may have an Intermountain snowpack up high while the lower half skis like a Maritime snowpack (i.e. Whistler).
Powder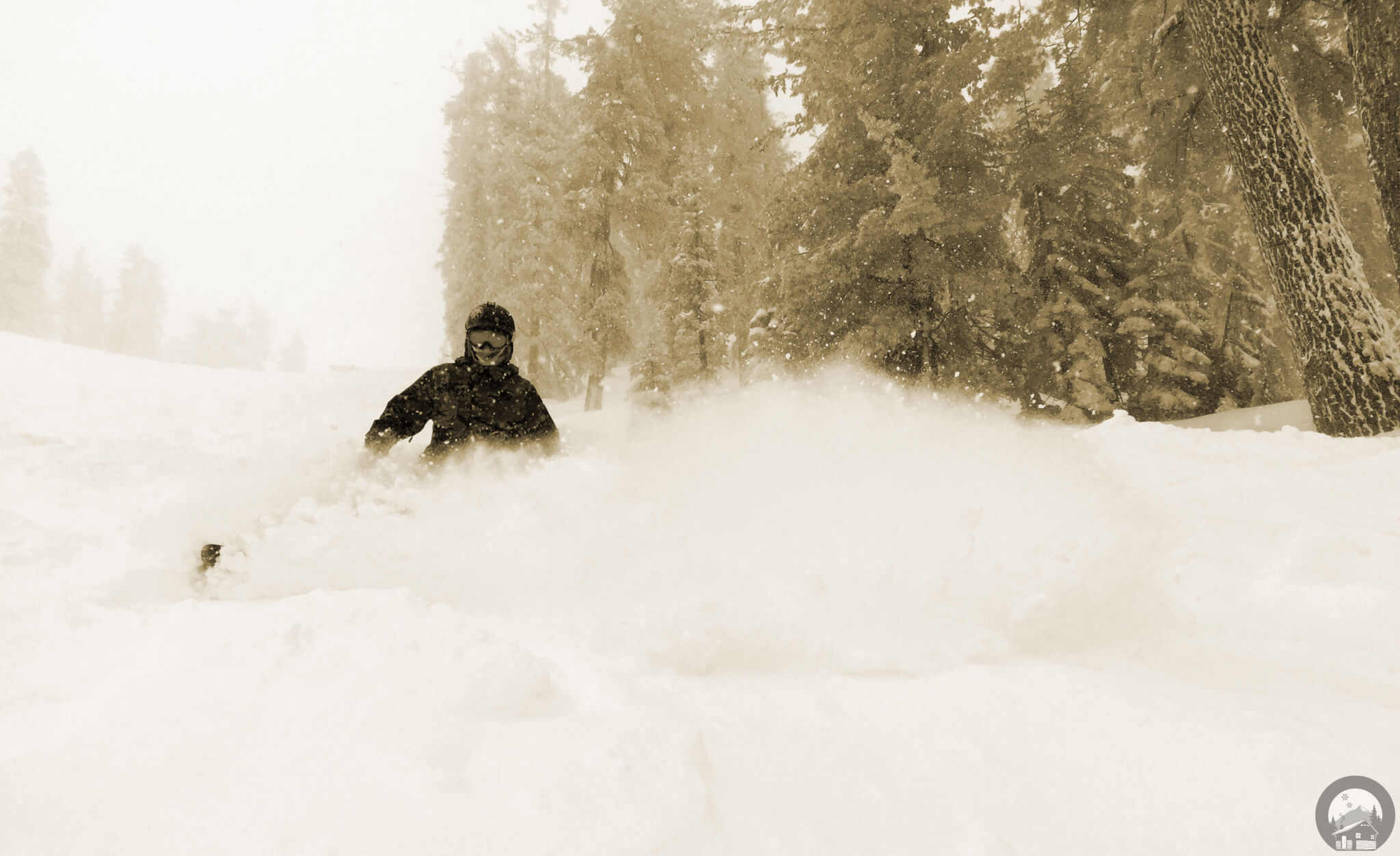 What almost every skier or snowboarder yearns for. It's when fresh snow has fallen on a slope and hasn't been ridden. A blank canvas unsuspectingly waiting for someone to come and slash it or carve it up. Unfortunately, powder doesn't come in one size or shape. To give a taste of each type as well as the pros and cons, we'll look at the differences based on snowpack.
Note: ANY mountain range could get the ones listed below. This is only what each snowpack region "normally" receives during a storm.
Continental
The driest of the dry. Like angel feathers. Even if it's multiple feet deep, the snow is so dry that you literally ski through it. And that's why you'll see images of people riding with snorkels. Instead of bonding, the snow is literally thrown around like a pillow that has exploded. The con to this type of snow is two-fold. First, if it hasn't snowed in weeks, instead of skiing or snowboarding over a firm base, there's a chance you'll be making turns on ice. Second, with a shallow snowpack, you could be hitting rocks, stumps, trees, or anything else without knowing.
Maritime
Depending on how cold the storm came in, the snow can feel heavy and brutish or creamy and floaty. What it lacks in dryness and ease of skiing, it more than makes up on how it fills in terrain. Literally shellacking mountainsides, the steepest terrain gets filled in quickly in the coastal mountains. If you do grab first chair, it's the closest feeling you'll have to surfing a mountain. Another advantage is if you see it, you can ski it without worrying about lurking monsters to grab your gear. The cons are pretty obvious. It's heavy AND deep meaning that if you do fall, it's gonna take a lot of work to climb out. Second, once it's tracked out, you'll feel as though you're getting thrown around like a piece of clothing in a wash cycle. See "chunder" below.
Intermountain
This is what Kirkwood locals like to call "Cold Smoke" or in Utah "the greatest snow on Earth." It has enough volume to where you float above the surface, but dry enough to where it's easy to ski. Unfortunately, with it being an Intermountain region or micro-climate, many of these mountain ranges can get some days that are heavier. And it's still more difficult to ski or snowboard than Continental powder.
Chunder or Chowder
The day of the storm after the powder hounds have had their fill, this is what's left. Normally, this is found when the snow has a lot more moisture in it. It can be found in Continental or Intermountain as well if the storm provides a lot of snow (more than two feet). As the snow consolidates, it begins to form berms and piles that you can't really cut through. Simply put, it's uneven and bumpy. Not necessarily bad, just more like riding a bronco. You just need strong quads to make sure you can absorb the jostling.
Packed Powder
This is a term that literally could be considered "everything but the kitchen sink." It's when the snow has been naturally packed down by either skiing or grooming.
Continental
This is where Continental snow really shines. As we talked about in our New Mexico article, while it may be tracked out, it skis like the term dictates – packed powder. You can easily get an edge into it making for soft carveable snow, days or even a week after a storm.
Maritime
Once snow has been around for a day or longer in a Maritime snowpack, it becomes highly variable. It can be as soft as Continental or as hard as a blue plate special. It's 100% dependent on amount of sunshine, sun angle, and air temperature.
Corduroy
No matter what you think, not all corduroy is the same. For example, one of the best places we've EVER skied corduroy was in a small ski area called Pomerelle. This was because the ski area is small enough that they can really focus on the quality of the finished product. With that said, the quality depends on variables such as temperature, type and depth of snow, terrain, traffic volume, wind, current or incoming storms, water crossings and thermal areas. All these can make grooming challenging. The easiest factor for skiers and snowboarders to identify is which trail was groomed in the morning versus last night. The morning will ALWAYS be softer. Keep your eyes peeled for a grooming report.
Transitional … or "Crud"
A classic backcountry skier term. This type of snow normally happens in the spring after a snowstorm. During the morning, it's 100% quality A+ prime powder. But as the sun rises high above the horizon, it begins to 'cook' the luscious powder into a soupy mess. It becomes sticky and very heavy. This is when you need to skip a day and let nature begin the process of creating corn. To learn how to combat the "glue" feeling, check out our article:
Corn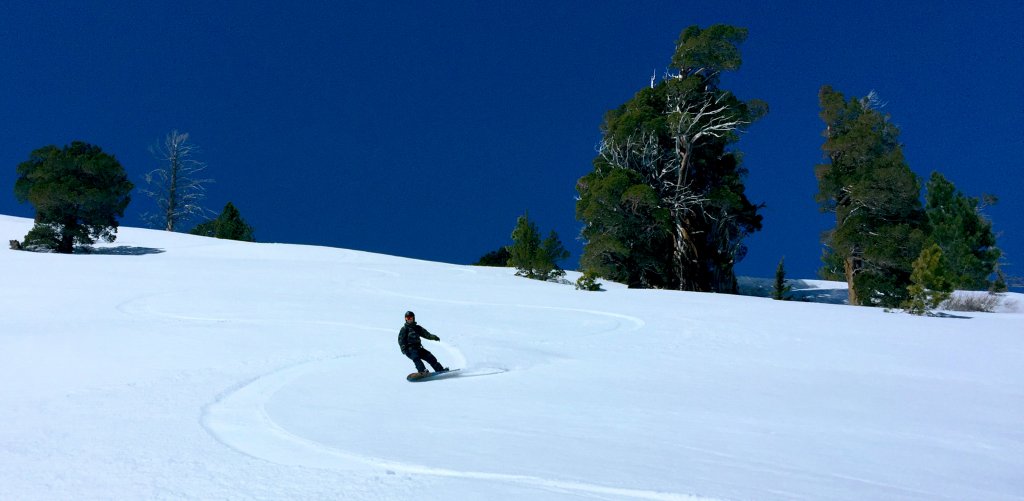 Our second favorite type of snow after powder. Normally happening in the spring, this is where the Maritime snowpack is king. As it forms over the course of multiple days, the snow resembles something that looks like frozen corn kernels and thus the name corn snow. To learn more about spring skiing, how to ski corn snow, what to wear, and where to go, check out our in-depth spring skiing tips article:
Hard Pack
This condition is for serious skiers or snowboarders only. It's when the snow is old and firm, and while it isn't really ice per say… it's firm. You can get an edge but if your technique is even a micrometer off, expect to slide. To really enjoy it, you need to be focused on what you're doing.
We hope this article helps you get a grasp of the different types of snow and starts your journey to become a snow connoisseur. Let us know if we should add any other types of snow to this list.