Sun Valley Never Goes Out Of Style – Things To Do In Ketchum Idaho
This article may contain affiliate / compensated links. For full information, please see our disclaimer here.
Out of any ski town in North America, Ketchum Idaho can arguably be the most complicated and intriguing we've visited. It's sophisticated and yet homey. It's an American ski resort at its core but has European tendencies. You can step out your door and be in wilderness, and yet still in town to enjoy world-class dining you'd find in big cities like New York or LA. Until you go, you won't understand. Now that we've wet your whistle, here's a full run-down of where to go, what to eat, where to stay, and of course all the things to do in Ketchum Idaho in ANY season.
Sun Valley Ski Resort And Town Of Sun Valley
Back in 1936 when the resort was built and the first chairlift ever erected, it wasn't on Bald Mountain. Rather, it was on the other side of the Wood River Valley on the smaller Dollar Mountain. It was here that the resort city of Sun Valley and the iconic Sun Valley lodge were built. In between the larger Sun Valley Ski Resort's Bald Mountain and the town of Sun Valley you'll find Ketchum.
Cold Winter Nights
The temperatures may rise quickly during the day to near freezing, but we recommend bringing your warmest coats for the nights. During our stay in February, it got near zero every night making for quite a chilly time to walk around. Fortunately, it's a very dry environment so it won't FEEL as cold as a Minnesota winter's day.
Pedestrian Friendly
A lot of ski towns say it's a breeze to get around car-less. The reality is usually not the case. Well, it's true in the Wood River Valley. Regardless of you staying in Sun Valley center village or on Ketchum's Main Street, you really don't need a car to get around. Ketchum's downtown is packed with an assortment of shopping, dining, and drinking establishments to satisfy a foodie or shopaholic. And when you do want to visit another area in the region, Wood River Valley's public transportation offers up free shuttles to get you everywhere including the slopes.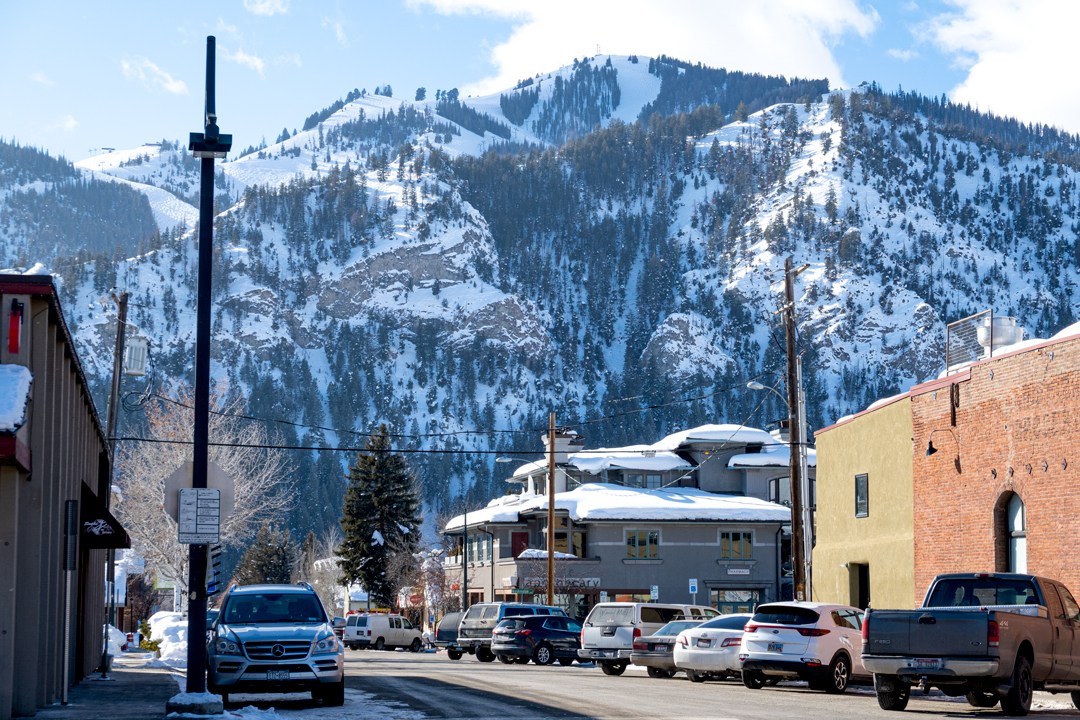 The primary way into Ketchum is via Highway 75. Most visitors in the winter come from the south following the Big Wood River. It's pretty much a straight shot from the junction of Highway 20 as it slowly ascends into Ketchum. From the north, it's a different story. Coming from Stanley, you need to drive over Galena Summit, a true mountain road and the highest paved road in Idaho. In between winter storms or visiting in summer, this drive is a must.
Via Air
If you're flying into Ketchum, the closest airport is in Hailey at twelve miles south of town. The airport has nonstop flights from six major cities including Seattle, Denver, LA, San Francisco, Salt Lake City, and Chicago. The closest major airport is in Boise, about a 2.5-hour drive.
Note: The shortest drive (and most scenic) from Boise is via Route 20 from Mountain Home to the junction of Highway 75. When traveling in winter, be sure to check road conditions ahead of time since this is a true mountain road.
Ketchum Trip Planning
Sun Valley and the town of Ketchum are like a high-quality glass of wine or an eighteen-year Scotch. You can't rush the experience but savor every moment. Take a day off and stroll through town. Embrace the après and enjoy a frosty pint with former Olympians at Apple's. Don't worry, you'll have more than enough time to get more vertical in a day than you'd get in a week at other major resorts.
Best Things To Do In Ketchum Idaho
Stargaze
Who says you can't have a vibrant community and a beautiful night sky? Since 2018, the town of Ketchum was awarded by the International Dark-Sky Association as a Dark Sky Community and included in the nation's FIRST International Dark Sky Reserve. For most Americans, due to light pollution, this is your chance to see the Milky Way with your own two eyes.
Go Shopping
Shopping isn't really my thing… but as an avid outdoorsiest, this town is packed with more well-stocked gear shops then I've EVER seen anywhere. And they're all within walking distance. Backwoods Mountain Sports is one of the few shops I've seen that carries a FULL line of high-end backcountry gear that you can actually try on from brands like Arc'Teryx, Patagonia, Mammut, and many others. Sturtevants is THE shop for resort skiing gear and cyclists. I've never seen a bigger selection of items from companies like Hestra's or Smartwool. And this is only the tip of the iceberg.
Save AND Help The Community
Then there's the Gold Mine Thrift Store. This isn't your neighborhood Salvation Army. As the name implies, this is one if not THE best thrift store I've ever been to. Due to the high population of wealthy conscientious residents, it's filled with items you would never see in a thrift store especially for women. Jaime picked up a pair of almost new Prana pants and a Marmot jacket for only THIRTY BUCKS! And all the proceeds go to the community library. EVERYONE should put this near the top of their list of things to do in Ketchum Idaho.
Ice Skating Outside – All Year Round
You read that right. Right in the center of the Sun Valley village, you'll find one of the country's ONLY year-round OUTDOOR ice rinks. Get a lesson or go for a skate. Or better yet, on Saturday nights throughout summer to Labor Day, watch an all-star lineup of some of the world's finest skaters as part of the annual Sun Valley on Ice.
Festivals And Celebrations
Wagon Days
Ketchum's history is woven into its fabric and celebrated to this day. For example, each Labor Day they host Wagon Days as an ode to their silver and lead boomtown days. Back then, to transport the heavy loads of silver and lead from town, they developed the gigantic Lewis Ore Wagons. As part of the celebration, these monstrous wagons with six-foot wheels are the grand finale of the largest non-motorized parade in the PNW.
Trailing Of The Sheep
As the price of silver plummeted in 1890, the town slowly transitioned into a sheep ranching center. It became so big that during the early twentieth century, Ketchum was one of the largest sheep shipping centers in the world, second only to Sidney, Australia. While the number of sheep may have dwindled since then, they are still very much part of the community's tapestry. Since 1996, the local sheep ranchers began the festival known as the Trailing of the Sheep. Highlighting the annual migration of the fluffy flocks through the valley and the diverse traditions of herding culture. It's now considered one of the BEST fall festivals in the world.
Winter Shenanigans
Maybe its cabin fever or just the excitement of winter but for some it brings a whole different spice to Wood River Valley's events. For example, the town of Hailey hosts a must see to believe event called Skijoring. Part Western and part European, a skier or snowboarder is pulled by a rider and horse through an obstacle course. Then there's the Stanley Winterfest on President's Day Weekend.
Mountain Biking
Two-wheel fun of the dirt kind is BIG in the Sun Valley / Ketchum region. Besides the endless gravel grinding opportunities, there's every kind of mountain biking fun to be found. Lift accessed gravity fed Hijinx on Bald Mountain to more than 400 miles of singletrack to get lost on. From mighty day-long journeys like Osberg Ridge to quick classics such as Greenhorn to Imperial. Expect big views, fast-flowy singletrack, techy segments, and wide array of climate zones. It's no wonder it's become just as big a mecca for mountain biking as for skiing in the winter.
Hiking
As you would expect for a place with so much world class mountain biking, there's a plethora of hiking options as well. You can of course attempt to summit "Baldy" via your own two legs. The route climbs more than 3,400 vertical feet across its five miles. And once you've taken in the views, you can shuttle yourself down via a chairlift back to the base.
Over an Ernest Hemingway style Scotch & Soda (or two), we got the scoop from locals on their favorite hikes to do:
Easy Stroll – Titus Lake: Just under four miles out-and-back, this journey gains about 700 feet of elevation as it covers the rolling topography while dipping and climbing its way to the lake. While there are certain steep segments, they're relatively easy enough for even families with kids. As you descend into the cirque and come upon the lake in the distance, you'll understand why it's so popular. Its emerald green waters create a striking sight amongst a backdrop of mighty peaks.
Moderate Challenge – Kane Lake: Only a twenty-minute drive from downtown Ketchum, this hike slowly turns up the volume. It's not until the last mile that the majority of the 1,600 feet of elevation gain hits you. Luckily, the reward of seeing Kane Lake against the backdrop of mighty Sawtooth-like peaks is worth the effort.
Local Freshies® tip: Be aware that the access road requires a high clearance 4×4. And due to the creek crossings, it's a good idea to wait until later in the summer to hit this trail.
Hard Effort – Hyndman Peak: Don't let the Class 2 rating fool you. This hike to the ninth tallest mountain in Idaho (and highest point in the Pioneers) is no joke. Within the six-mile journey to the summit, you'll cover a whopping 5,000 vertical feet. What you'll find though on top of Idaho's 12ers is one of the most stunning 360-degree views of other Idaho mountain ranges. You can even see Mount Borah, Idaho's highest peak.
Sawtooth Scenic Byway
When it comes to things to do in Ketchum, regardless of your age, going for a drive along Highway 75 from Ketchum to Stanley is a must. As the name "Scenic Byway" indicates, expect to be awed by the natural beauty. You may encounter wildlife such as elk, deer, and even pronghorn antelope. But the real stars are the rugged peaks that you can take in from places like the Galena Summit overlook. Finish off the journey with lunch at Limbert's located right on the beautiful Redfish Outlet Lake. Situated in a rustic lodge built in 1929, you won't be disappointed if you order up the grilled Idaho Trout.
Go Skiing
This place lives and breathes downhill skiing like no other in the United States. To date, FIFTY-SIX Olympians hail from Sun Valley. It isn't what's in the water, but what looms over Ketchum – Bald Mountain. In fact, the culture is so ingrained on its slopes that if you win an Olympic medal, they name a run after you.
Sun Valley Resort
Cold, dry snow that you'd find on the slopes on Colorado. Runs groomed to the standards of Augusta National if it was a ski resort. Trails so long and with so much vertical that most skiers & snowboarders will not want but NEED to take a break. And yet for some reason, you won't find brutally long lift lines you expect on a daily basis at other star-studded resorts. If you're planning a visit or just want to know more here's All There Is To Skiing Bald Mountain Sun Valley.
Dollar Mountain
The smaller and gentler Dollar Mountain might arguably be the best place to start skiing or snowboarding. Its natural topography is primarily treeless, reducing obstacles to avoid. And since it's separated from the intermediate and experts on Bald Mountain, it provides a relaxed atmosphere for families and beginners to frolic without stress.
Rotarun
Maybe it's that it reminds you of your childhood. Or that it feels as comfortable as your favorite pair of gym shoes. But small ski areas like Rotarun are 100% about the fun. From the smallest tikes to those young at heart, everyone feels welcome. Due to the massive support from the community, they offer FREE skiing for kids 10 and under and adults only have to pay FIFTEEN BUCKS! It's no wonder that it's known as the "little mountain with a big heart."
Local Freshies® Tip: If you do visit Rotarun, be sure to check their hours ahead of time. Certain days they only offer night skiing and are closed on other days during the week.
Soldier Mountain Ski Resort
A little over an hour from Ketchum you'll be on the front lines of soul skiing at Soldier Mountain Ski Resort. Even on the deepest powder days you won't find nary a lift line here. The resort's terrain reminds me of a mini Mt. Bachelor. Gullies to slash. Ridge lines to drop into. Hidden powder stashes along with $2 beers at the bar you don't want to sleep on this ski area. If that wasn't enough they even have cat skiing available and open boundary policy for those who like to earn their turns. As GI Joe proclaimed "Now you know. And knowing is half the battle."
Cross Country Skiing
It isn't just downhill skiing that's one of the popular things to do in Ketchum Idaho. Nordic skiing is just as popular as the gravity fed variety. Folks in the know call it "Nordic Town, USA." It has the perfect climate – plenty of sun and cold consistent temps… but not too cold so the trails stay in tip-top shape all season long. The Wood River Valley has more than 250 kilometers of groom trails. The expansive network covers nearly fifty miles starting in the north with the Galena Trail system all the way south to the town of Bellevue. And to add the cherry on top of an already hefty sundae, it's home to the ONLY designated cross-country skiing Olympic and Paralympic training site in the United States.
Winter Fly Fishing
As you take a chairlift up Mt. Baldy, you may notice individuals casting into the Wood River Valley. Fly fishing in winter?!? Sun Valley is home to a bevy of world class fisheries that you can catch every ? from species of trout to Salmon. The best part about fishing in winter is you don't get up early. Rather, fish begin to bite as the daytime temps rise.
Local Freshies® tip: Due to complexity of winter fly fishing, we recommend booking a guide with an outfitter such as Silver Creek Outfitters to increase your chances of catching the big one.
One way to know that a town or city has a healthy food culture is that it has something for EVERY price range. From ski bums with a few dineros up to the sophisticated palates of French travelers, eating out is definitely one of the key things to do in Ketchum Idaho. Something Old World, Something New – Sun Valley Restaurants will leave you smiling along with a stomach full of great food. The best part of the area is that there are NO chains as far as the eye can see. Even the Starbucks within city limits is the ONLY individually owned branch in the world (as far as we know).
For breakfast, the Kneadery is where it's at. Order up a "Papa Bear stack" of their off-the-hook pancakes to fuel your day's adventure. For après, Apple's on the Warm Springs side of Bald Mountain is a must. Walls and ceilings are adorned with the racing bibs of the world-class skiers that frequent it. If you only have one night for dinner, head to the Rickshaw. This tiny gem serves up big flavors you'd expect in a metropolitan city like New York or LA. And finish off with a nightcap at an old Ernest Hemingway stomping ground. When Hemingway wanted to mingle amongst locals, he'd head to the Casino. To this day, its still an old school dive bar joint that serves up heavy pours for a great price. For an upscale watering hole, head over to the Sawtooth Club.
Places To Stay In Ketchum
Hotel Ketchum
To see prices and read reviews check: Hotels.com | Expedia | Booking.com
There are two types of lodging in this world. The first is where you lay your head to sleep and that's it. The other is a place that immerses you in the entire experience. Hotel Ketchum fits into the latter. The décor is one of those rare lodges that is modern and yet feels homey. You'll find visitors hanging out in the lobby catching up, reading a book, or just sipping on a locally roasted coffee. Rooms are spacious, feature beds that even a sheep would enjoy, and offer jaw-dropping views of Sun Valley's slopes. To make sure you start the day off right, they serve a REAL breakfast. We're talking freshly scrambled eggs, hot links, and even biscuits. Last but not least, its central location right off of Main Street allows you to park the car and walk everywhere. And to get to the slopes just step outside and hop on a shuttle.
Sun Valley Lodge
To see prices and read reviews check: Hotels.com | Expedia
It all started here. Instead of resting on its laurels, on its 80th birthday the "Inn" was renovated and reborn to take back its place in the elite place to stay. The room count has dropped from 148 to 108 all but 27 of them suites. This makes for the biggest standard rooms at a resort. The legendary Duchin Lounge where Earnest Hemingway took breaks from writing "For Whom The Bell Tolls." It has been opened up and brightened.
Additional Resources About Ketchum
Sawtooth Avalanche Center – If you're a backcountry skier or snowboarder, understanding the snowpack is key before venturing out. When in the Sun Valley area, the Sawtooth Avalanche Center provides daily avalanche forecasts to make sure residents and visitors are in the know on what's happening out there.