What is this winter going to look like? Will it be better than last winter? Anything's possible, but it probably won't be all candy canes and gum drops. Most likely, the popular resorts are going to have an explosion of visitors. Backcountry zones will be heavily populated and packed with novices. Powder will be a tough commodity to enjoy for even human-powered individuals. Should we get mad? Depressed? Hell no! We're planning to look under the proverbial rock and visit the best small ski resorts via road trips.
We know many of you are die-hard Epic and Ikon Passholders, and that's perfect for a lot of peoples' ski season wants. But, if you're looking for a ski area that's less frills and more skiing, this list of the best small ski resorts will increase your chances of riding instead of crying.
49 North Mountain Resort (Washington)
Vertical Drop: 1,851 Feet
Skiable Acreage: 2,325 Acres
Annual Snowfall: 300 Inches
Although Washington is normally known for its "Cascade Concrete", if you head inland you'll find drier snow at 49 North. Located approximately 50 miles from Spokane, expect to find wide-open groomers to let it fly and hundreds of acres of glade skiing to get 'lost' in the woods. And it's one of the many ski resorts on the Indy Ski Pass!
Red River (New Mexico)
Vertical Drop: 1,600 Feet
Skiable Acreage: 209 Acres
Annual Snowfall: 214 inches
They say don't judge a book by its cover and when it comes to Red River that's EXACTLY true. Ever since we skied here, we fell in love with this place. Although the stat sheet says they only get 200 inches annually across their 209 acres, don't let that faze you. Just like Taos, the snow here stays soft all winter long. Out of any ski area we've visited, this place maximizes EVERY acre making it feel like it's a thousand acres strong. Expect great fall line skiing, and when they mark it an expert trail, they really mean it. Finally, once you're done for the day, head to the Motherlode Saloon for world class music where artists like Neil Young were discovered. Planning on visiting? Here's a deep dive on all things Red River from what to do, what to eat, and where to stay.
Lost Trail Powder Mountain (Montana)
Vertical Drop: 1,800 Feet
Skiable Acreage: 1,800 Acres
Annual Snowfall: 300+ Inches
What's the first thing most skiers and snowboarders are looking for? Reliably soft snow and hopefully some fresh powder. Even in Montana's consistently good snow conditions, Lost Trail bubbles to the top. Located on the border between Montana and Idaho, you'll find primarily intermediate terrain with steep shots in between. Beware that Lost Trail is usually closed Monday through Wednesday, which means Thursdays are typically powder days! And if you're a fan of hot springs, set aside time to soak those weary bones at the Jackson Hot Springs. Lastly, this is yet another amazing ski area on the Indy Ski Pass.
Snowy Range (Wyoming)
Vertical Drop: 865 Feet
Skiable Acreage: 250 Acres
Annual Snowfall: 250 Inches
High maintenance skiers need not apply. If you're looking for a place that's affordable and provides gravity fed sliding without the attitude, you'll like Snowy Range. Located just north of the ever-popular Steamboat, it's a great option to just get away from the fancy-shmancy and ride some pow pow. As the name eludes, this place gets pounded with the same storms that Northern Colorado and Utah get. And a day lift ticket will only set you back $49. That's a screaming deal.
Beaver Mountain (Utah)
Vertical Drop: 1,600 Feet
Skiable Acreage: 664 Acres
Annual Snowfall: 400 Inches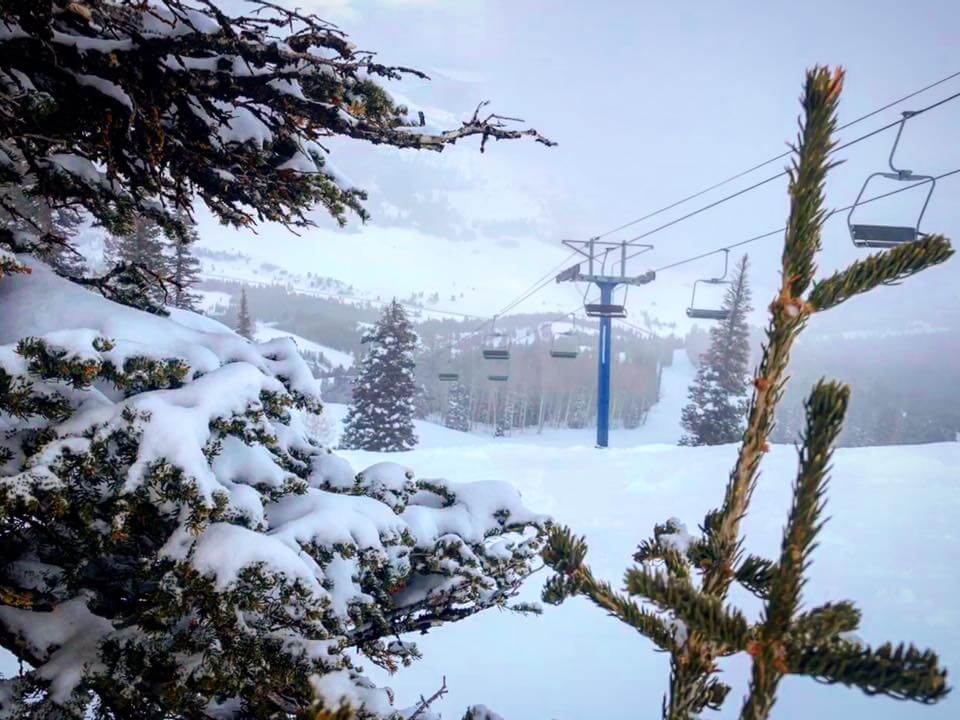 The secret's out on Utah… it does have the world's best snow. The problem is everybody knows it too. The traffic in Big AND Little Cottonwood Canyons on a powder day is more like the Long Island Expressway in New York during rush hour. The "Beav" on the other hand is far enough away from the SLC metropolis (110 miles) and has a slower pace so it flies under the radar. If you still want to partake in Utah's snow but skip the crowds, this is a great option. It has to be pretty good if it's the oldest continuously family-owned ski resort in the US. And guess what? It's on the Indy Ski Pass too!
Tamarack (Idaho)
Vertical Drop: 2,760 Feet
Skiable Acreage: 1,100 Acres (+ access to insane amount of backcountry)
Annual Snowfall: 300 Inches
As an overall state, you really can't go wrong on visiting ANY Idaho ski area during the winter. The one that rises to the top of our list for one of the 5 best Idaho ski resorts to visit now is Tamarack. Why? There's a new owner with grand plans on investing and upgrading the resort. The secret will be found, so now is the time. Because once it does, you'll regret not being able to reap all the fresh powder. Not enough? Here's a few more reasons why you should visit Tamarack now.
Purgatory (Colorado)
Vertical Drop: 2,029 Feet
Skiable Acreage: 1,600 Acres
Annual Snowfall: 260 Inches
Don't be put off by its name. The skiing here isn't going to be full of torment or suffering. Rather, expect soft blissful snow without the sea of humanity you'll find at other Colorado resorts. Tucked away in the San Juan Mountains, if you're a strong intermediate or beginner, you'll love the mountain's layout. The groomed trails feature rollovers, banks, and terraces that'll make it feel as if you're on a boardercross course. And if you're a fan of soft moguls, nearly 40% of the terrain that's considered expert contains bumps. Lots and lots of bumps.
Bear Valley (California)
Vertical Drop: 1,900 Feet
Skiable Acreage: 1,280 Acres (+400 acres of additional non-lift served terrain)
Annual Snowfall: 360 Inches
Ok. Ok. Yes, compared to the many others on the list, Bear Valley is way more popular. But if you line it up to other ski areas in California, this is a hidden gem right under people's noses. As the crow flies, Bear Valley is roughly thirty miles from the legendary steeps of Kirkwood. In the winter though, it takes an additional three hours to get there from Tahoe since the Highway 4 pass is closed during the snow filled months. This is a good thing. Instead of the in your face entertainment and tens of thousands thronging the scene, BV is chill. What it lacks in vast Palisades Tahoe-like steeps, it more than makes up in hidden chutes and adventure.
Willamette Pass (Oregon)
Vertical Drop: 1,563 Feet
Skiable Acreage: 555 Acres (with TONS of sidecountry)
Annual Snowfall: 430 Inches
This made our list of one of the best small ski resorts because of the ample amount of snow it gets, the volume of sidecountry you can access via lifts, AND that it's further away from the larger metropolitan areas. Expect off the hook tree skiing, Oregon's only six pack high speed lift, and some of the steepest terrain in the PNW (averaging 50+ degrees in some spots). If you're more focused on a full-service ski area in Oregon, head to Mt. Bachelor. But, if it's just about uncrowded skiing with ample room to explore, you'll like it at Willamette Pass.
Saddleback (East – Maine)
Vertical Drop: 2,000 Feet
Skiable Acreage: 440 Acres
Annual Snowfall: 225 Inches
If you haven't heard the news… after many turbulent years, one of the largest ski areas out East reopened in 2020. Don't call it a comeback, call it a rebirth of Saddleback. It's one of only seven ski areas with a summit elevation of 4,000'. One of only THREE ski areas in Maine with a vertical drop of 2,000'. And based on what we heard, when it snows, head straight to the Casablanca glades for some classic steep New England skiing.
If there's a winter to get away from your normal, this is it. As the Nobel Prize Winner Andre Gide once said, "Man cannot discover new oceans unless he has the courage to lose sight of the shore." Just like Jeremy Jones, make this the year you go deeper. Further. Higher. If you're at one of the best small ski resorts we've listed, keep your eyes peeled for a tan '95 4Runner. You may just see us on the 1st chair. Happy Hunting!
For more trip planning ideas like what time of year to visit a certain resort, the scoop on items to bring, or even a list of unheard of ski resorts that you can find fresh powder days or even weeks after a storm, you'll find some juicy tidbits in our guide found here: