When people mention Idaho skiing, the first thing they'll say is Sun Valley and rightly so. It was the first destination ski resort and home to some of the most consistent fall-line skiing you'll find in the country. But… you shouldn't stop there. The state of Idaho has eighteen resorts that cover over 18,000 acres and a lenient out of bounds policy for those with backcountry experience. Here's what we personally think are the 5 best Idaho ski resorts to visit now.
5. Silver Mountain
Read about our personal experience of skiing Silver
What was one of the foremost metal producing areas in the world for nearly a century is now home to another boom… snow! Located in the Silver Valley just above the town of Kellogg, Silver Mountain is a great choice for those thirsting for powder but without the crowds. The 2,200 vertical feet of skiing is laid out across two connected peaks called Kellogg and Wardner. If you're lucky enough to visit when the snow's deep in the valley AND you have backcountry experience, you can ski/snowboard all the way down the 3.1 miles to the gondola base. But, be forewarned. This is out of bounds, and there's a good chance you'll have to do some bushwhacking to make it work.
4. Tamarack Resort
Read about our personal experience shredding Tamarack Resort
When Tamarack opened in the 2004/05 ski season, it was the first four-season resort to be built in the U.S. in more than two decades. Over the years, it's had its ups and downs, but 2019 was the THE year of the break out. With a new owner in charge of Tamarack, the focus is on the mountain and can be seen with the Wildwood lift being installed in 2019 accessing another 200 acres of terrain. If you LOVE uncrowded slopes and skiing untracked powder into the afternoon, this is THE place to visit. And for those that enjoy lift-accessed backcountry it's heaven on earth. The resort is located on a ridgeline that easily provides access to over five thousand acres of backcountry goodness to the north and south. The backcountry zone feature cliffs, chutes, and bowls. Not enough? Here's 4 reasons you should visit Tamarack this winter.
3. Pebble Creek
For more about Pebble Creek Ski Area check out our in-depth Travel Guide
Pebble's motto "If you can ski Pebble Creek, you can ski anywhere" is one that shouldn't be taken lightly, as we found out personally. On the surface, the 2,200 vertical feet might seem small, but more than HALF the terrain is rated expert. While the 225" might not seem like a lot, due to its cold climate, there's a good chance you'll find powder turns even weeks after a storm if you're willing to put in some work. If you're a person that loves challenging terrain, world class dining, and 2-dollar beers AT the resort, Pocatello and Pebble Creek are an affordable ski vacation like none other. And if Glen Plake loves this place… you KNOW it's the real deal.
2. Schweitzer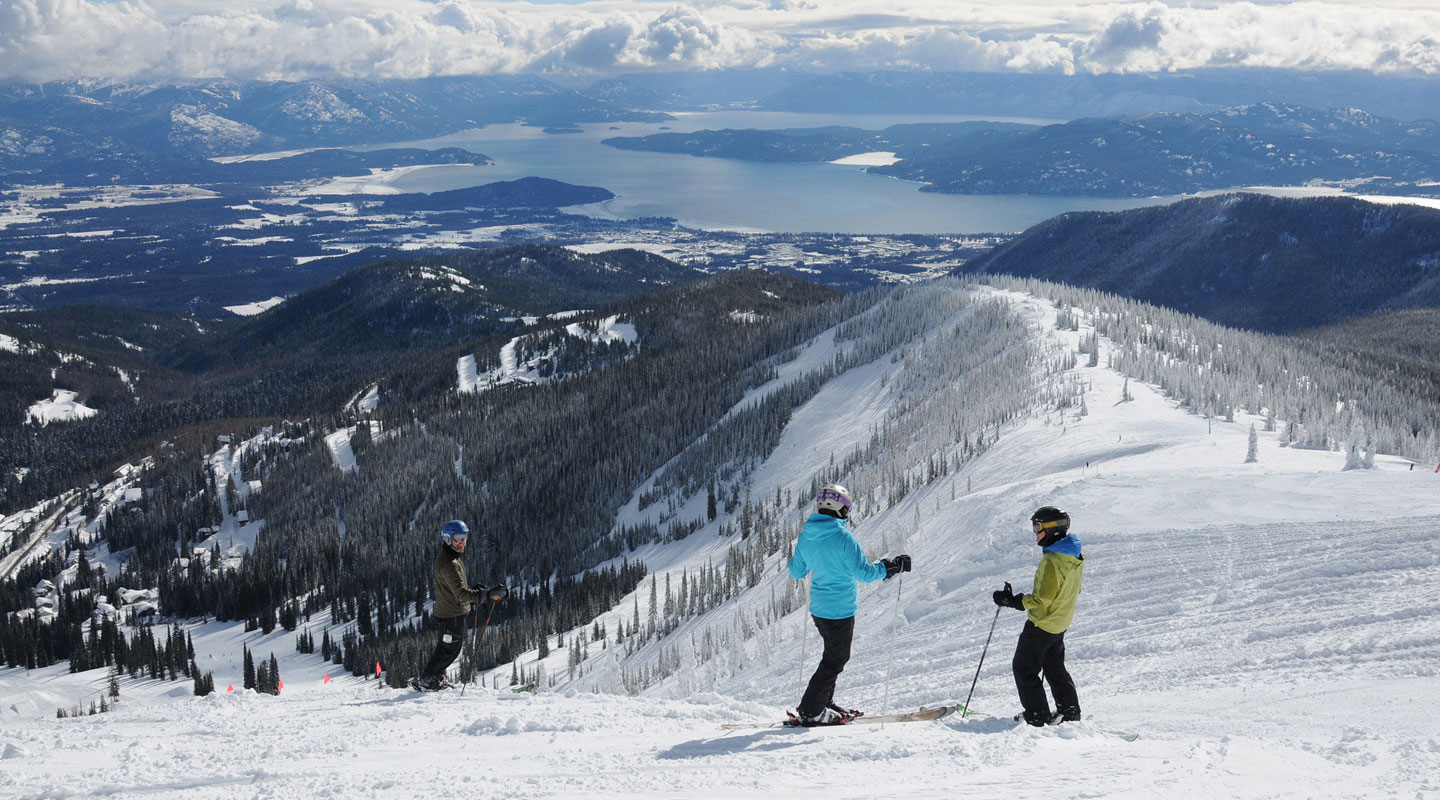 It's been more than a decade since we've visited the slopes of Schweitzer, but to this day, it's a place we vividly remember. Deep snow, amazing glade skiing, and some of the steepest groomed terrain we've experienced anywhere. In acreage, it's the largest ski resort in the state, and the word is out on just how good this gem is. When the skies clear, the views are jaw dropping. From the summit, you can see Montana's Cabinet Range, Canadian Selkirks, and of course the massive Lake Pend Oreille, and the town of Sandpoint.
1. Brundage Mountain
For more about Brundage Mountain and the 'Ski Town USA' of McCall check out our Travel Guide
We don't just like Brundage… we LOVE it! In fact, it hits ALL of our checkboxes for being the perfect resort. Continuous storms throughout the cold months deposit nearly 350 inches annually making sure powder days are often. Combine that with winter averages typically holding below freezing, it means the quality of snow stays prime. While on the surface it may look like there really isn't a lot of steep terrain, with a bit of snooping around, you'll find everything from steep 'n deep to cliff bands if you so choose. Finally, you have the town of McCall just down the road. It's filled with amazing cuisine, award winning breweries, and tons of fun winter activities like plenty of Hot Springs.
Honorable Mention: Lookout Pass
For more about Lookout Pass & the surrounding Silver Valley check out our Travel Guide
Some may say you leave your heart in San Francisco, but for us, we left ours in Historic Wallace and the Lookout Pass Ski Area. Their snow is the stuff of legends. In fact, they're the snowiest resort in Idaho due to it being the highest point on I-90 between Missoula and Seattle. While they currently don't have a ton of steep terrain, this issue is going to be resolved soon! They received approval to expand their acreage to double its size which includes the massive steep faces of the St. Regis Basin. They're targeting to get this expansion open to the public as of the 2022-23 ski season.
Is there really a BAD ski resort in Idaho? Nope. These are just a sampling of the best Idaho ski resorts we've visited in the last few years and that we consider worth checking out this winter.