Let's be honest. Daily life can be stressful. Work. Life. Family. Each of these stacks onto your shoulders until you become a giant stress ball. Sure, we love adrenaline pumping fun on our vacations, but to us, there's one thing we are ALWAYS on the lookout for and that's hot springs. And when it comes to the biggest variety next to a ski town from luxurious to rustic to natural, McCall Idaho hot springs ranks near the top.
McCall – A Must Visit Destination
Ever since we visited McCall, we've fallen in love with it. Some mountain towns say they are "authentic", but in reality, they are cookie cutter. McCall doesn't have corporate restaurants, businesses are still owned by those who live in town, and most of all, you'll find unique adventures any time you visit. For more about what to do, what to eat, and where to stay, be sure to head over to our McCall First Timer's Guide:
Note: Be aware that some pools may be closed or have altered hours due to COVID-19. Reach out to them directly to confirm if they're open.
Gold Fork Hot Springs
Reopened July 2021 – Proof of vaccine required with photo ID
Cost: $10.00 Adults – $10.00 Children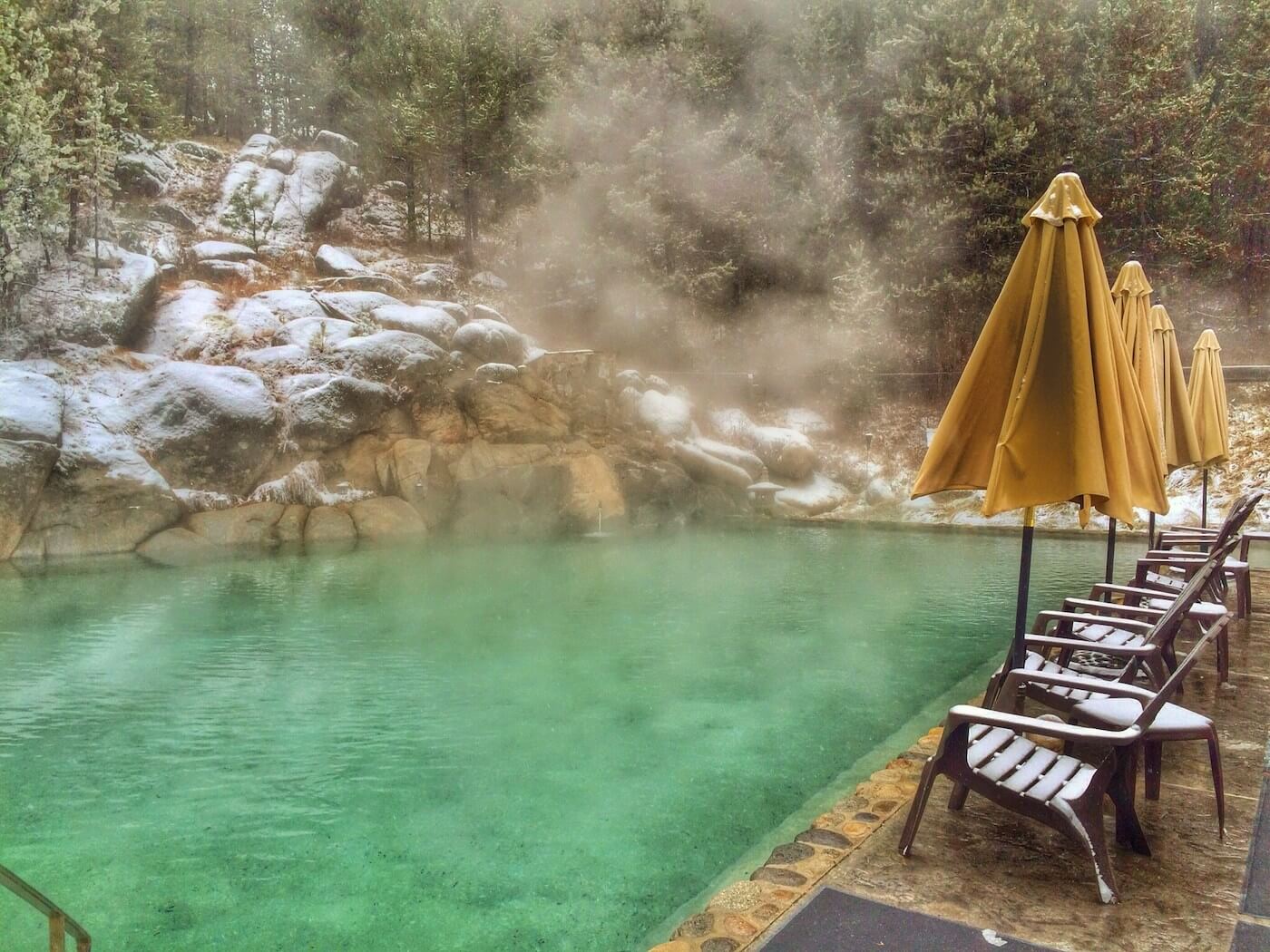 After you're done shredding the powdery slopes of Tamarack resort in the winter or dive bombing its mountain bike singletrack in the summer, you can head to the luxurious McCall Idaho hot springs known as Gold Fork. Home to six pools of varying temperatures ranging from 85 – 110 degrees. The water from one pool flows down into the next tier subsequently cooling a bit at each level. Be sure to take a dip in the pool with the sandy bottom too.
Directions: If you're staying in McCall, head south out of town on Highway 55 for 17 miles. Past Donnelly, you'll see a marked blue sign for the spring – take a left. Follow the road for 8 miles until you make it to the resort. Open year round (road is plowed in the winter).
Mundo Hot Springs
Note: Appointments are required to use the pool on Saturdays and Sundays
Cost: $10.00 Adults – $5.00 Children (6-13)
If you're looking to make a day of it and see the surrounding countryside outside of McCall, Mundo is a great option. Situated right on the Weiser River, it's about an hour and a half drive to it. The geothermal water is pumped directly from the spring right into the pools. Designed in such a way that fresh water is continually flowing through it, they also do a full clean every week.
Directions: Head north on Highway 55 from McCall. Once you reach New Meadows, travel south on Highway 95. One mile north of Cambridge you'll make a right on Bain Road at the sign. Mundo Hot Springs is located on Bain Road and signs direct you to the resort.
Burgdorf Hot Springs
Proof of vaccine required with photo ID; reservations may be required
Cost: $20.00 Adults – $15.00 Children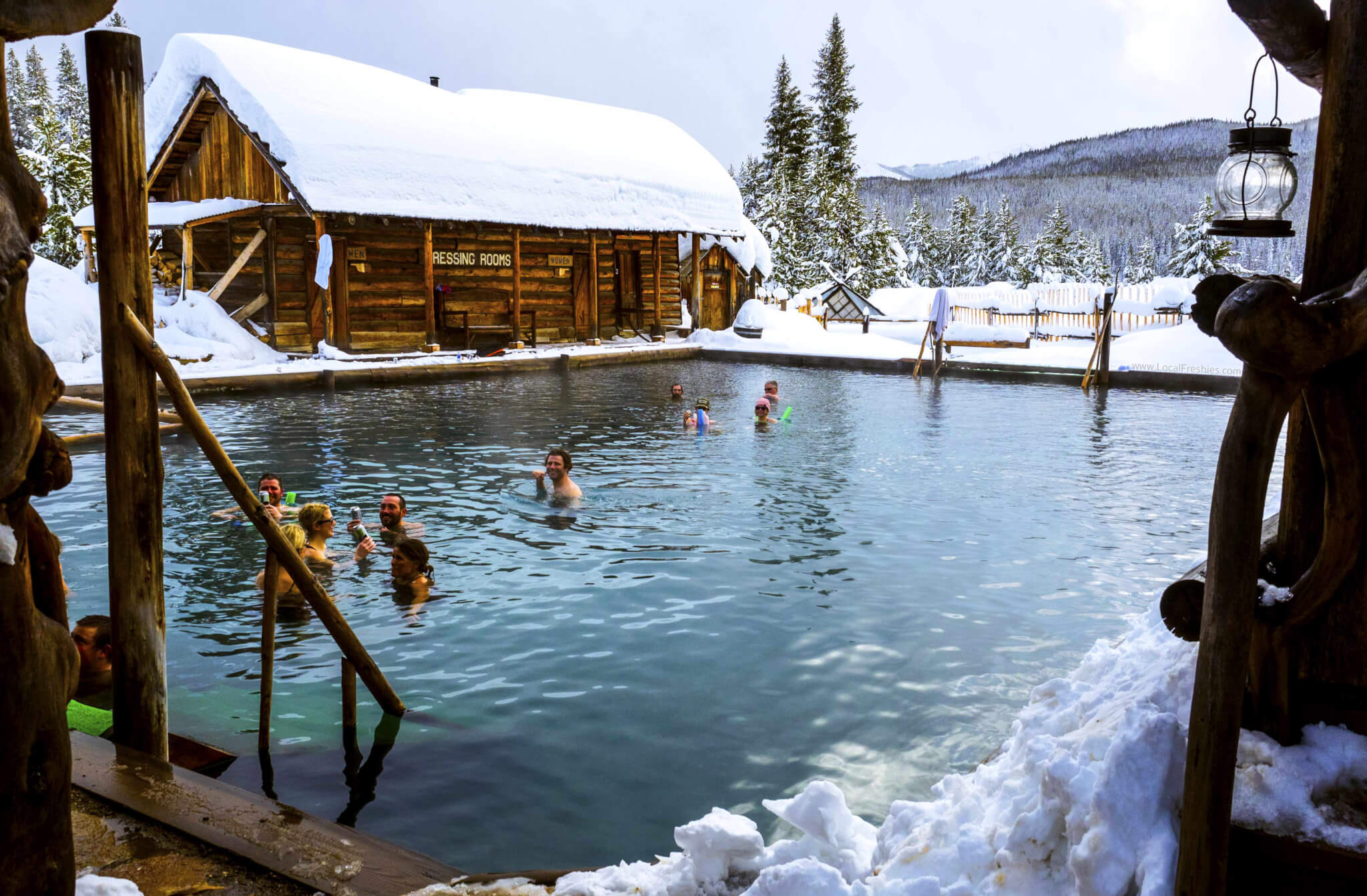 Have you ever imagined what hot springs were like back in the late 1800s? Situated in the Payette National Forest surrounded by naturally weathered wooden buildings miles from any civilization, it's the closest you can get to it. Out of any of the McCall Idaho Hot Springs, this is a must do. And once the snow starts falling, the ONLY way to get here is by either snowmobiling or human power. Out of all our wintertime adventures, Snowmobiling To Hot Springs Near McCall will always be one of the coolest things we've ever done.
Directions: You'll take Highway 55 north until Warren Wagon Road. Making a right, you'll continue on it for approximately 28 miles. Turn right on Burgdorf Road / NF-246 (a sign marks the turn). Burgdorf is about a mile up the road on the right. Remember, in the winter the ONLY way to get there is to hop on a snowmobile or by human power. We suggest taking the tour that starts in Brundage Mountain Resort.
Trail Creek Hot Springs
Natural Pool
Sometimes you need to just get away from it all and hop into some bubbling pools in nature. For residents of towns like McCall, Cascade, and Garden Valley, it's the McCall Idaho hot springs known as Trail Creek or Samuel's Hot Springs. Created by blocked off boulders and cement, they've created a little piece of heaven in the mountains that sit right next to the river. You can access these year-round but be aware that the road to it can be covered in snow, ice, and can close during more severe storms. In addition, the hike up to them is steep and used heavily so be sure to wear a pair of grippy boots. As we said earlier, these are popular with the residents, so if you do want to enjoy them, you better go early.
Directions: Head south on Highway 55 from McCall to Warm Lake Road just north of Cascade. You'll make a left onto Warm Lake Road and travel 19.2 miles. Keep an eye out for a large parking area on the south side of the road. The hot springs are accessible by a 60-foot-long trail near the west end of the parking area.
Council Mountain
Natural Pool
For a more secluded soak in nature, we recommend venturing to Council Mountain. This is because to get to them, you'll need to hike four miles round-trip and ascend more than a thousand feet of elevation gain. If you visit in the late spring, you can do your best impersonation and explore the chain of pools to find the one with the temperature that's just right for you. Be aware, this is NOT one to visit in the winter. The road typically opens around May and stays snow-free into November.
Directions: From McCall, drive north on Highway 55. In New Meadows, head south on Highway 95 to mile marker 130 (just south of Council). Turn left onto the gravel road and follow for 9 miles along the Middle Fork Weiser River to a small sign indicating trail number 203. Follow the trail for two miles uphill to the springs.
So, if you're a lover of soaking the daily routine funk out of the muscles, these McCall Idaho Hot Springs are just what the doctor ordered. It's just yet another reason we LOVE McCall Idaho and you will too.