McCall Idaho Travel Tips
This guide may contain affiliate / compensated links. For full information, please see our disclaimer here.
No matter the season, the residents in McCall embrace the outdoors. In the summer, it's a beach town. Located on the shores of the clean glacial waters of Payette Lake, this body of water provides great fishing, awesome boating opportunities, and of course fantastic mountain scenery. As winter descends upon McCall Idaho, it becomes a ski town. Home to three amazing ski areas all within less than half an hour. Besides the amazing outdoor fun, this town offers great cuisine and awesome stores to explore any time of year. After visiting McCall Idaho, we've put together this epic travel guide, highlighting the best of what you can see and do in McCall.
McCall Idaho Quick Information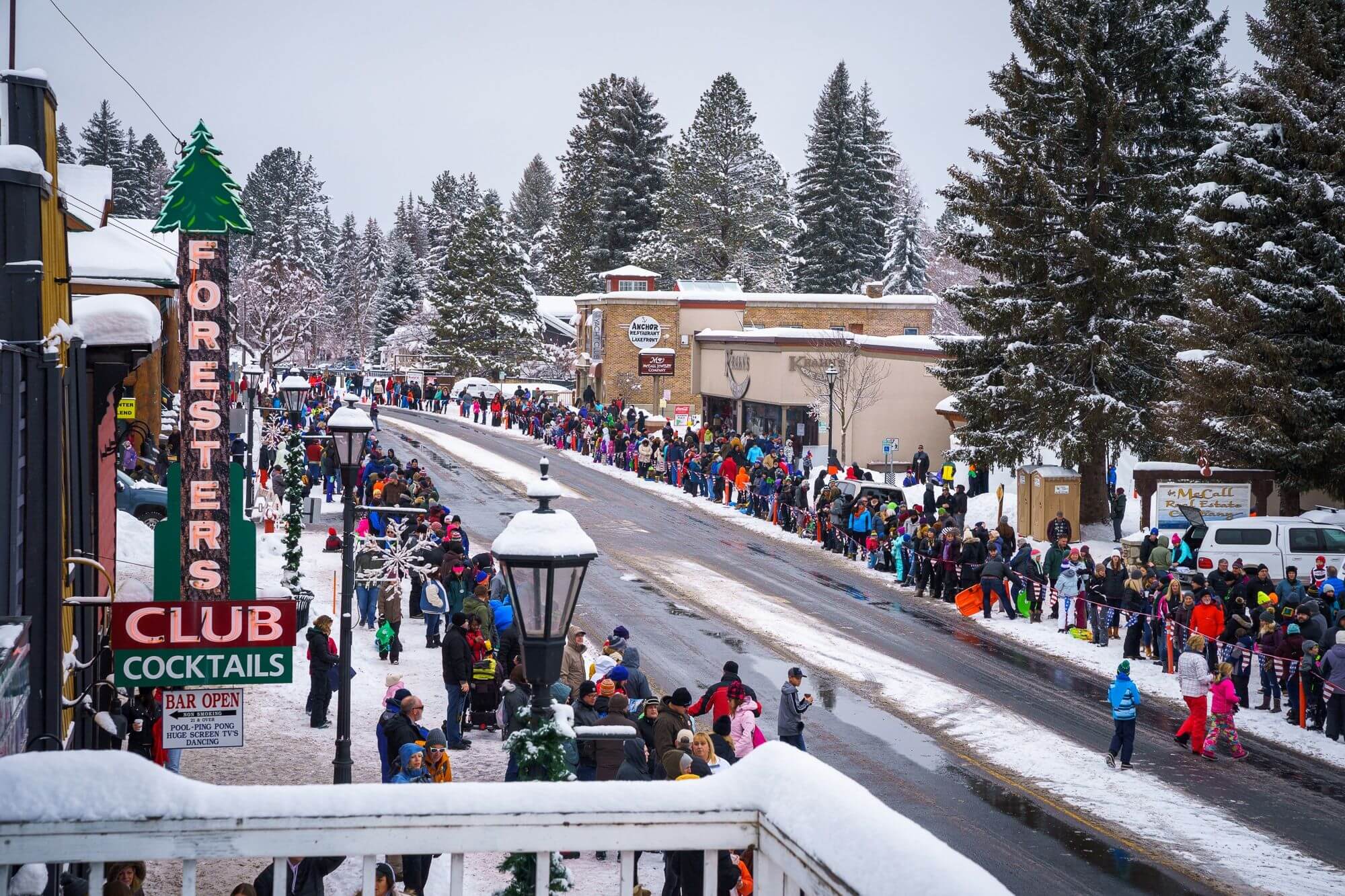 Be Aware Of Time Zones
If you happen to be taking a road trip through Idaho and hitting a few different ski areas, be VERY cognizant of the time zone demarcation. The time zones within the state are divided by North and South not East and West. For example, the town of McCall is in the Pacific time zone while Wallace is in the Mountain time zone.
Festivals and Celebrations
As most parts of the country stay inside during the colder months, McCall does the opposite. They celebrate it! They do this by holding their annual McCall Winter Carnival on the last week of January. Started in the 60s, it has grown into a one-of-a kind extravaganza that you need to experience in person. This multi-day event includes such things as snow bike races, Torchlight and Mardi Gras parades, monster dog pull, and of course their famous snow sculpture competition held throughout town. And if you visit in the summer, there's a plethora of fun events like the North Fork Championship and IMTUF running festival just to name a couple.
Now Known As The "Former" Ski Town USA
For decades, McCall has dubbed itself as "Ski Town USA" due to the fact that it has produced an unusual amount of Olympians for a town of its size. Just like the story of McDonald's, it doesn't matter if you came first if your competitor is better at big business like trademarking. As such, McCall is now known as the FORMER Ski Town USA. So, who is the OFFICIAL Ski Town USA? Per law, it's Steamboat Springs but you can formulate your own opinion.
Getting To McCall
If you're thinking of flying into McCall, the closest major airport is in Boise. While Greyhound does provide service from Boise to McCall and there is a local taxi service, we'd recommend renting a car. The 106-mile journey takes about 2.5 hours and gives you an opportunity to drive one of the most scenic roads in the country – Highway 55. When we visited, the roads were very well maintained, but like any mountain travel, we'd recommend renting a 4WD vehicle just in case.
Transportation
Once you get to town, you won't really need the car except for some of the fun day-trips you may take. The town's footprint hugs the main strip meaning it's pretty easy to get around. And for those that don't feel like driving up to Brundage Mountain to go skiing, there's a free shuttle that picks up and drops off from their McCall Sales Office.
McCall Trip Planning
Like any great mountain town, when to visit depends on what kind of activities you want to do while there. For ski bums ok with dressing in a few more layers, your best bet to catch a powder day is mid-winter from late December through mid-March. They might not get the BIG dumps like Utah, but the competition is a FRACTION of any of the other powder mecca destinations you can think of. Translation: Go mid-week! Now for those wanting to enjoy the summer activities, you'll want to visit any time between June and August. If you want to whitewater raft, the best time is to go earlier in the summer instead of later since the rivers are fed by snowmelt. Shoulder seasons are where it's at if you want to score discounts on lodging or just spend some alone time in the wilderness hiking, mountain biking, or sightseeing.
What To Pack For McCall Idaho Ski Trip
McCall's vibe is like a well-adjusted adult who has a few years under their belt in the working world. Confident in who they are but doesn't need to show it off. It provides the classic ski town experience you're looking for without needing to dress up in a fancy chic faux fur coat. With that being said, be sure to dress less to impress and more to keep warm.
Best Things To Do In McCall Idaho
The town and the region surrounding the area pack a BIG punch when it comes to things to do in McCall Idaho. Despite the vast array of activities to enjoy, it's still a destination that for now only residents of Boise frequent on weekends and those who are in the know. This means that if you show up mid-week, you'll pretty much have the place to yourself. Here are a few of the best things to do in McCall Idaho.
Take A Dip In A Hot Spring
Regardless of when you visit one of the things that should be high on your things to do in McCall Idaho list is to go for a soak in one of the many, many hot springs. After a full day of adventure there's no better to unwind and help those weary muscles relax than by heading to one of these hot springs:
Go Skiing – LOTS Of Skiing
There's something about a place that looks tame on the surface, but once you start exploring its nooks and crannies, you realize just how good it is. That's what McCall skiing and snowboarding is all about. On the surface, the three ski resorts of Brundage Mountain, Tamarack Resort, and Little Ski Hill provide around 3,000 acres of lift accessed skiing. Sure, that's awesome but then add thousands upon thousands of lift-accessed backcountry AND nearly 18,000 acres of guided snowcat skiing, and you got yourself a paradise of adventure for those souls with enough backcountry experience to last a lifetime. Top that off with consistent snowfall and cold temps to keep the snow in great condition. One word: Perfection. Not enough? Click below to read more about what each resort provides in detail & why McCall should on your hit list for the upcoming winter:
Lift Hours Updated
If used to be that the lifts didn't start running until 9:30 am at Brundage Mountain, and Lakeview on the backside doesn't start turning until 10:00 am. Due to popular demand they've now started turning the lifts at 9 am and Lakeview starts at 10am. Tamarack as well starts at 9 am. For Little Ski Hill, the hours vary depending on the day, and it's closed on Monday & Tuesday.
Take A Snowmobile Tour To A Hot Spring
We've gone on quite a few different snowmobile tours in our adventures across the United States and Canada, but the one that we keep circling back to is the one to Burgdorf Hot Springs. Starting out at Brundage Mountain Resort, you hop on a sled and travel around thirty miles to get to them. On the way there, you have enough time to sightsee and experience the wilder side of snowmobiling, like attempting to take a few laps in powder fields. The cherry on top though is the hot springs at the end of the road. And there's not a single other way to get there except by snowmobile. Most likely you and only a handful of others will be there, providing an unforgettable experience. For a full in-depth write-up of our experience just click below:
Enjoy A Snowshoe Hike Under The Stars To A 5 Star Dinner
For those that are more "foodie-lovers" and less-adrenaline junkies, the snowshoe dinner to the Blue Moon Yurt is a cool evening excursion. In the tranquil twilight, you walk on a pair of snowshoes following a set of tiki torches that were carefully laid out to guide you. Once there, over the course of the evening you'll get a refreshing culinary adventure with a side helping of new friends. Expect most of the dishes to be cooked at the yurt including some over a charcoal grill or locally sourced items like the dessert from Stacey Cakes.
Update: Previously the Blue Moon Yurt was within the Ponderosa State Park. It's now moved to Jug Mountain Ranch which is just a bit further out of town.
The fun doesn't stop after winter either in McCall. For aquaphiles Payette Lake offers up fantastic fishing, boating, and an assortment of watersports. Then there's the mountain biking with lift accessed goodness up at Brundage Mountain, singletrack surrounding the area, and even the one-of-a kind Jug Mountain Ranch. Then you can finish off the day with a cold brew at one of the many breweries in town. McCall Idaho is a true four season destination.
Go Whitewater Rafting
All that snow in the winter transforms the rivers into a whitewater paradise. The rapids are so good that it's home to one of the best whitewater kayak events in North America – the North Fork Championship on the same named river. Whether you're new to the sport or an expert, the surrounding rivers (Salmon, Little Salmon, Snake, & Payette) have some of the best whitewater in the country.
Mountain Bike At Jug Mountain Ranch
As other parts of the country get hot, dusty, and crowded, the mountain bike trails in McCall are prime for the shredding. About a ten-minute drive from town is Jug Mountain Ranch named after the adjacent Jughandle Mountain Wilderness. You can hit the 1,400 acre ranch trail network or take a one-of-a kind shuttle. Instead of taking a bus or chairlift up to the top for some downhill at Jug Mountain Ranch, you get taken up in style – a vintage army people mover!
Local Freshies® Tip: Shuttles run Saturday and Sunday from 9am – Noon and 1pm – 4pm.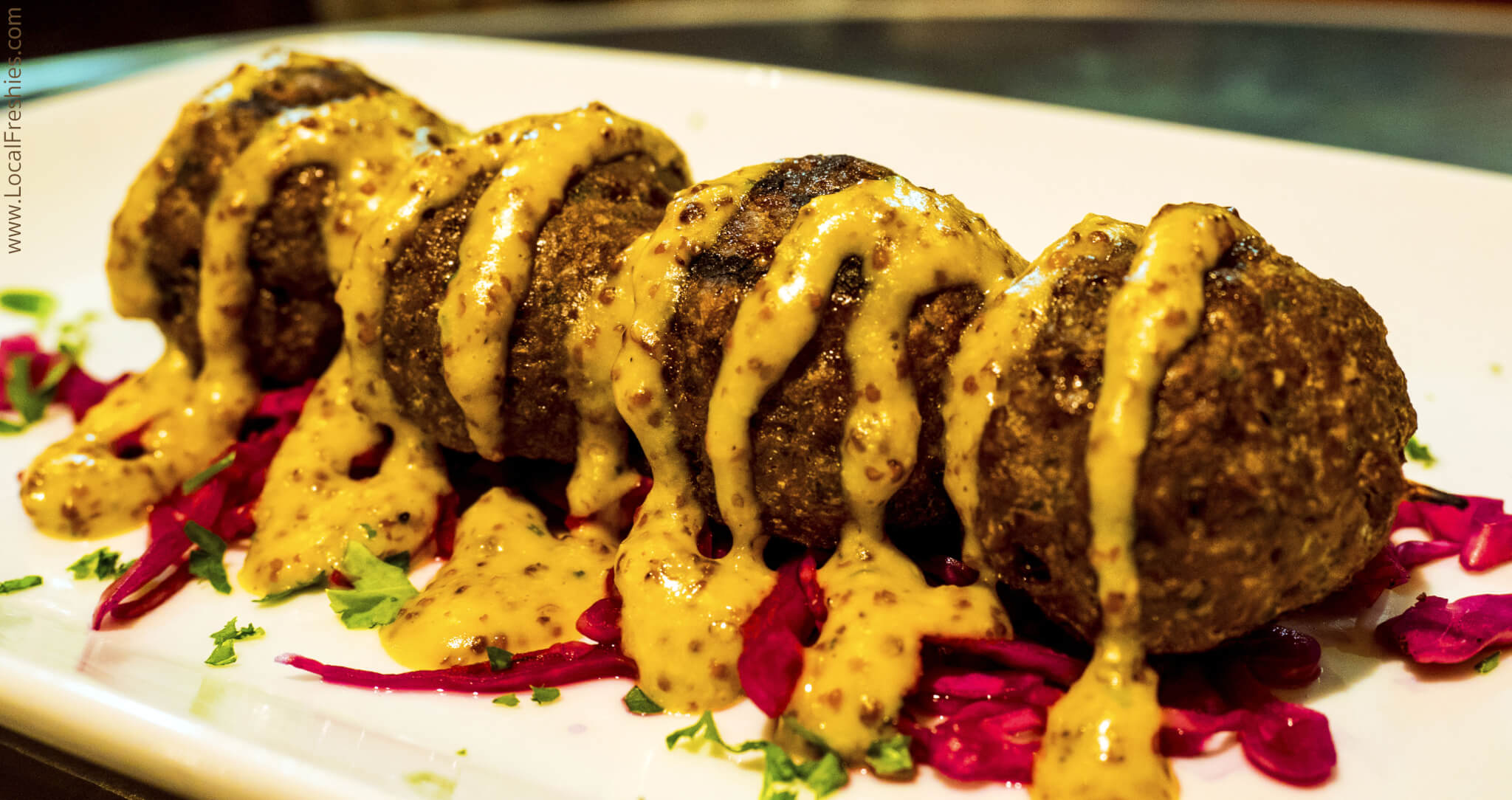 For a town of less than four thousand people, there's an incredible selection of great places to eat that even a foodie would be excited about. It helps when McCall's restaurant code limits any business with more than one location to ten percent of all restaurants. Does this mean eating is expensive? Not really, especially compared to ski towns like Jackson or Vail.
What To Eat In McCall Idaho
Where you're in McCall for a short time or weeks here are a few dishes that you need to try in the hottest, coolest, and most unique restaurants in town: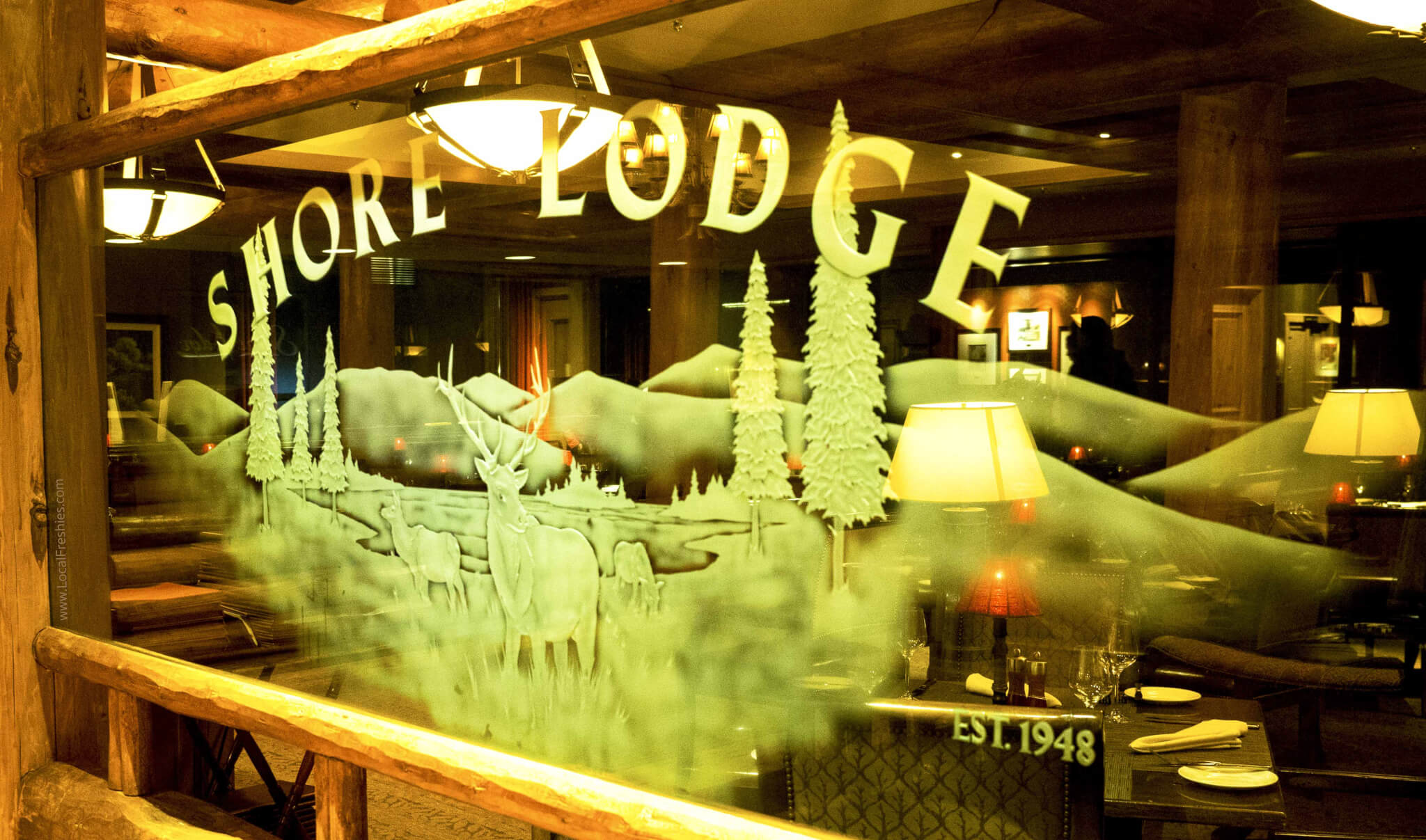 Hotel McCall
When staying in a hotel, you would think it would be just a room. Just like everything else in Idaho, it's not what it seems. In fact, the Hotel McCall has rooms that offer full kitchens, amazing views, and you're only steps away from the shores of Payette Lake.
Shore Lodge
Another option set on the shore of Payette Lake is the Shore Lodge. As soon as you step into the historic lodge (since 1948), you'll feel welcome. Although we didn't get a chance to stay here, we did experience the food. It feels classy but without the pompous attitude. The interior is decorated with taxidermy mounts, leather couches and fireplaces, and the staff is attentive and high caliber.
Additional Resources About McCall
While we enjoyed all our time exploring McCall, there's just too much to do in all seasons for us to experience everything. Here's some more reading material we found that are super helpful.
Flyfisher's Guide To Idaho – We're not big fishermen but we've heard good things about the fishing in the area from locals we talked to. Ken Retallic has been fishing Idaho for over 40 years, and while this isn't just about McCall, it covers the entire state of Idaho. It's a great intro on what to expect.
McCall Idaho Trailmap – We're HUGE fans of these trailmaps and own a handful of them for each of the ski-towns we've visited over the years. They give you a good starting point on some of the best hiking, biking, and backcountry skiing options in the area in a good digestible format.
Payette Avalanche Center – If you're a backcountry skier or snowboarder, understanding the snowpack is key before venturing out. When in the McCall area, the Payette Avalanche Center provides daily avalanche forecasts to make sure residents and visitors are in the know on what's happening out there.