A meal on vacation shouldn't be just another time that you stuff your face. Rather it's a time to experience something different. To try new things. Maybe even live a little in the world of cuisine. Luckily, McCall Idaho restaurants do that and more. Compared to many other towns across the country that have fast food chains and franchises galore, this quaint Idaho resort town on the shores of Payette Lake has made the decision to not allow them. And this has created a boon of unique and amazing places to eat at.
Why Visit McCall?
McCall Idaho is a true four seasons destination. Fun can be had ANY time of year. In the summer, you can partake in any water sport you can imagine on Payette Lake which is right IN town. Enjoy world class mountain biking on singletrack surrounding town. Feed the adrenaline addiction with some lift accessed fun at Brundage Mountain Resort. Heck, even some shuttle shenanigans up at Jug Mountain Ranch on an old military vehicle. In the winter, powder hounds will froth at the consistent powdery snow found at the ski areas surrounding McCall. Snowmobilers have access to almost an infinite amount of trails from groomed routes to powder meadows to play in. Not enough? For more reasons to visit and get tips on your next vacation to McCall: McCall Idaho Travel Tips.
Old Town Café
Though there aren't fast food chains in town, don't worry. You have options for speedy budget friendly eats. A good example of this is the Old Town Café. Tucked in the back corner of a gas station, it offers up quick grab n' go items. Be aware that from the outside the only thing that lets you know this place even exists is a mural on the outside of the station's wall.
All Aboard The Ben's Gravy Train
A unique breakfast burrito filled with eggs, home-made hash browns, crispy bacon, sausage and… GRAVY! To read about their other selections & why the gravy is the secret sauce to the dish, check out our Old Town Café Travel Guide page.
Fogglifter Café
As the name alludes, sometimes you just need a cup of joe and a good breakfast sandwich to lift the fog in your head to start the day right. Focusing on a good product at an affordable price, this classic coffee shop is the most popular McCall Idaho restaurants in town for breakfast. If you visit on a weekend, be sure to go early or you'll have to wait in a long line.
What's Good At The Fogg Bob's Benedict
For starters, you REALLY can't go wrong with anything on the menu at Fogglifter Café. The classic sandwich is a refreshing take on the McMuffin (made with WHOLE Wheat muffins). The Huevos Rancheros are like an eggs benedict meets a huevos rancheros. Even their normal house roast is a great cup of coffee. For us, the crown goes to the Bob's Benedict. A lot of times hollandaise ends sour. Their version ends smooth. The English muffins that it's served on are soft, fluffy, and still the heartiness you'd expect from being whole wheat.
Stacey Cakes
There are average bakeries. Those with classics like red velvet cupcakes and croissants. There are good ones filled with items that have cute names for delectable treats. And then there are the special slices of heaven that you make a pilgrimage for. That's Stacey Cakes.
Snap Into Some Serious Flavor: Gingerbread Snaps
No matter what you taste at Stacey Cakes, be sure to try their Gingerbread Snaps. Covered in crystalline sugar, they're perfectly soft like fresh out-of-the-oven cookies and have a kick of ginger and spice that is just the right amount to get your attention. For more about these & other treats to try at Stacey Cakes, check out our Travel Guide page.
Salmon River Brewery
Nearly a century ago, locomotives connected McCall to the Treasure Valley which includes Boise and the surrounding area. This vital link made it easy for people from all around the valley to make vacation trips to the area. Although the last train arrived in the 1980's, you still have the opportunity to experience the historic train depot by visiting the Salmon River Brewery.
You Are What You Eat So Enjoy The Elk Burger
We're BIG fans of game meats especially on vacation. It makes your time off a bit more exotic. The only problem is most places don't know how to cook it since they have a TON less fat compared to a beef patty. Not at Salmon River Brewery. It's one of the best we've ever head. The combination of toppings and juicy meat make for an unforgettable burger. Also, be sure to wash it down with one of their many award-winning brews like the Blonde Sabbath.
McCall Brewing Company
The epitome of a chill brewpub is the McCall Brewing Company. It reminded us of a comfy Wisconsin bar in the Northwoods. For food, we'd recommend heading to Salmon River Brewery instead. But if you're looking for a relaxed atmosphere with a HUGE selection of brews on draft, this place will be heaven. In the summer, they open their rooftop deck providing outdoor seating to sip a cold one and take in the fantastic weather.
Slurp Up The Cheese Soup With Some Fries
If you do start getting hungry, we HIGHLY recommend their cheese soup. Not letting a drop go to waste, the soup is made from the beer over pours. The flavorful concoction has the taste of aged cheddar with a hint of beer. It's a great option if you order a side of fries to go with it so you can dip right into the soup. So good!
Narrows Grill And Steak House At Shore Lodge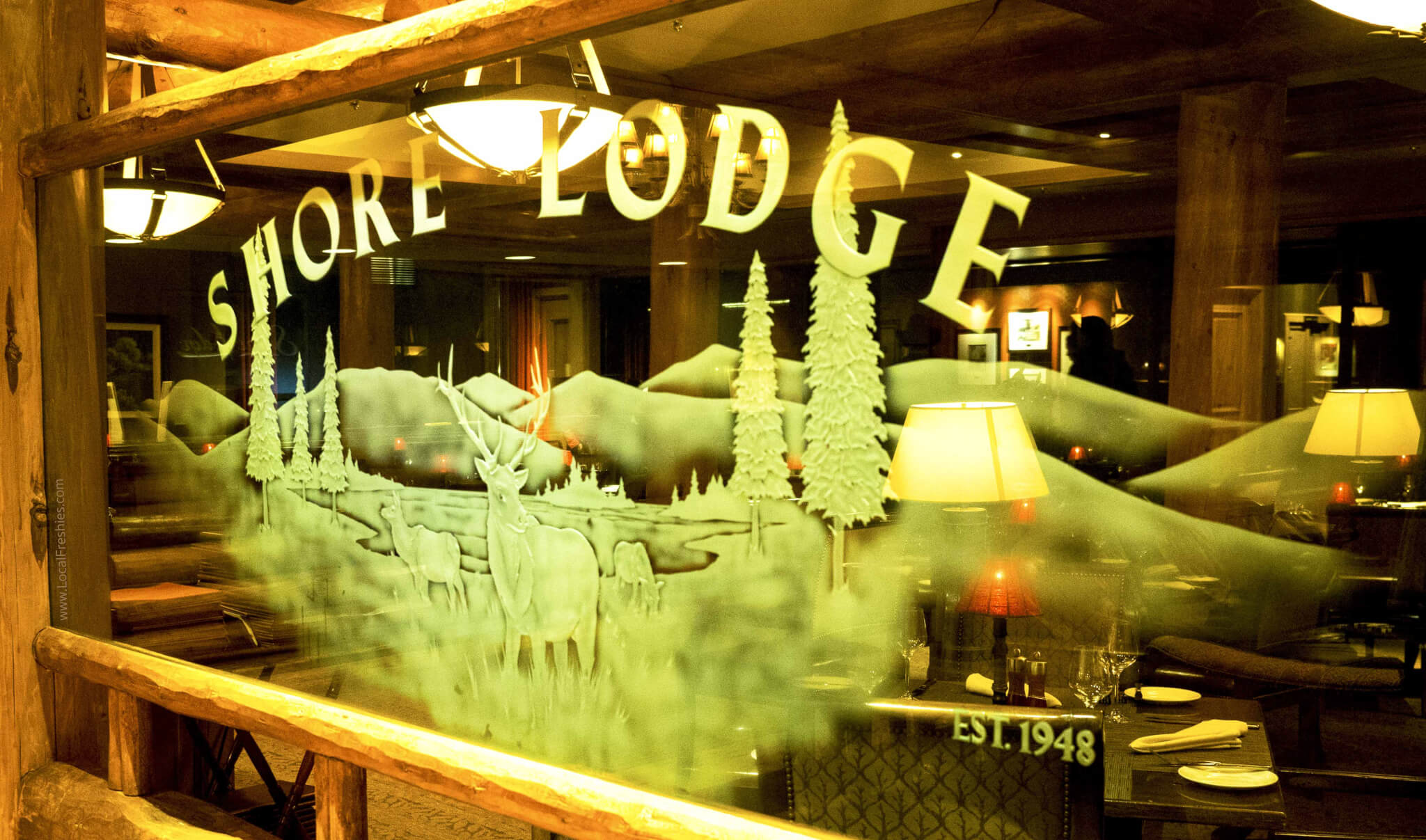 If you haven't noticed, all the McCall Idaho restaurants have the similar attitude. They live by action and not by hype. Sure, Narrows Grill and Steak House could bellow that they're five-time wine spectator winners. But do they rest on those laurels? Absolutely not. Like James Bond, the ambience gives off a sense of prestige but without any attitude alongside the fine dining. You feel comfortable and yet refined. If you're looking for a more relaxed atmosphere and still an opportunity to sample the food, head to The Bar.
Enjoy The Seasonal Bounty
Their menu changes for each season focusing on the best ingredients for the time of year. For example, when we visited in winter, we enjoyed the Venison Dumplings at the Bar. One word: WOW! Arriving in a big bowl, the chunks of venison were similar to what you see in a pot roast. Combined with the perfectly dense but creamy dumplings, it was amazing.
Rupert's Inside Hotel McCall
If there's one spot locals go to when they want to splurge its Rupert's. In many food establishments across the country, "fusion" is all the rage. Rupert's isn't one of them. Rather, they give a nod to their experiences by calling it a "fondness" and rightly so. On the surface the menu items may look like "normal" dishes. A meatloaf. Alaskan Halibut. It's when you delve deeper you realize the uniqueness. Maple Mustard Glazed Idaho Elk Meatloaf with smoked cheddar-onion mashed potatoes. A herb roasted Alaskan Halibut with saffron basmati rice, Spanish romesco sauce, and green olive tapenade. Let's just say you won't leave disappointed.
Get On Down With Some Thai Night
If you're in McCall on a Thursday night, be sure to go to Rupert's for Thai Night. If Thai food isn't really your thing, it will be after eating here! For more about Thai night & what to expect, check out our Rupert's write-up.
North Fork Coffee Roasters
It may not be one of the McCall Idaho restaurants, but we had to at least mention North Fork Coffee Roasters. Inspired by nature surrounding McCall, their roasts are fantastic tasting. Depending on your tastes, they offer everything from light to dark. In their own words, "Find your true North." You can find their roasts at Rupert's, Jug Mountain Ranch, Payette's Porth, and Ruby's Kitchen. Or better yet, pick up a bag from their shop to bring home as a gift.
Additional Spots We Didn't Get To
Even being here for four days, we felt as though we just scratched the surface on the McCall Idaho restaurants. For a town of less than 4,000 residents, it's truly a foodie's paradise.
Pueblo Lindo Mexican Restaurant
We heard from residents that Pueblo Lindo Mexican restaurant is home to one of the best Mexican restaurants in the state. Solid offerings of classic Mexican dishes like Carne Asada tacos, Al Pastor, and chicken enchiladas.
Toll Station Pizza
If you've got a hankering for a slice, Toll Station Pizza is frequently named the best pizza in McCall. For an appetizer, the Idaho Poppers are tater tots on steroids. Featuring jalapeños and cream cheese inside with honey drizzled over them. A great combination of sweet and spicy.
Ice Cream Alley
Our last visit to McCall was in the winter and so the idea of having a scoop of ice cream was a bit challenging especially that they're open only in the summer. Not if but WHEN we visit in the warmer months, this is one that will rise to the top. Home of the mountain scoop and flavors like Huckleberry Cheesecake that's thick and creamy, they make for some great summer fun.
Broken Horn Brewing
Good beers and a great atmosphere to sample them. What more could you ask? Besides the classic brews you'd expect, one that popped onto my radar was the Hell Canyon. A spicy jalapeño concoction that sounds interesting. Be aware that they're closed Tuesday and Wednesday.
The Pancake House – Gone But Not Forgotten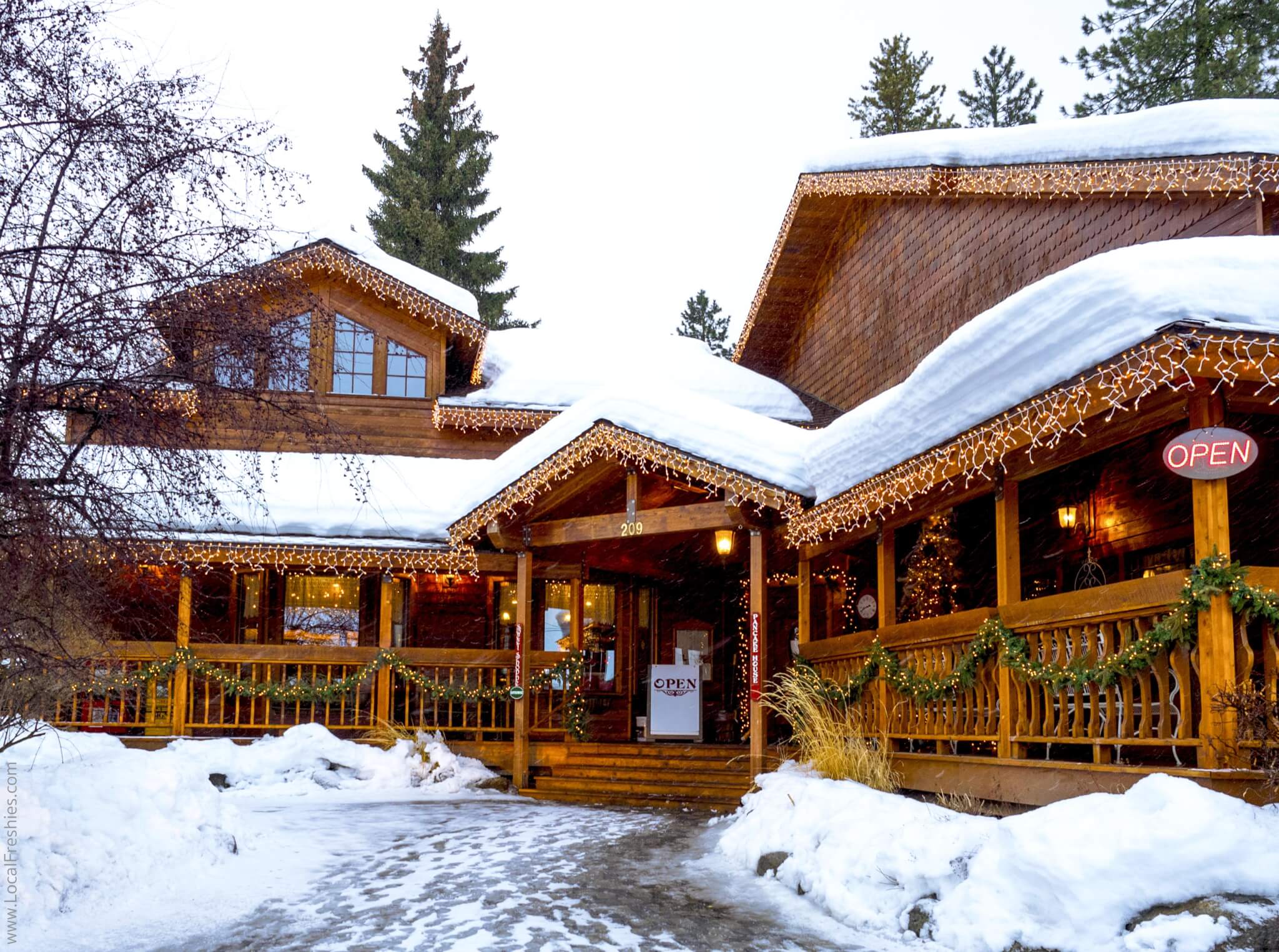 For more than half a century this was THE breakfast spot to head to in McCall. As of December 2021 the last pancake was flipped. After years of looking for the right buyer to keep the tradition alive, the owners just couldn't wait any longer. We will especially miss the Andre the Giant cinnamon rolls and the funky fresh sourdough pancakes. Luckily, there are still fantastic breakfast spots to head to such as the Fogglifter.
As you can see, McCall Idaho restaurants make this resort town a foodie's mecca. You can enjoy local ingredients like elk. Partake in fine dining overlooking the gorgeous gem known as Payette Lake. Heck, you can even sip on some great coffee. Besides all the wonderful activities available to you, these food establishments will make sure you go home happy AND full.