Hours
Monday – Sunday: 7 am – 3 pm
Address
507 N 3rd St
McCall, ID 83638
Website
Yesterday's Burgdorf Hot Springs adventure was amazing, but a ski trip isn't a ski trip unless you actually go skiing. Today, our plan is simple. Brundage is our destination. Making sure we get first chair, a quick bite at THE Local's spot is the perfect idea. We asked around town to see where people snag breakfast before riding. The resounding answer was the gas station. The Gas station?!? Seriously? Always taking the locals' tips earnestly, gas station here we come!
Your Grandma's Gas Station
In any regular town when you go snowboarding or skiing, you're forced to stop and get gas, go somewhere else to grab a bite to eat, and then head to another shop for a good cup of coffee. McCall isn't that type of place. Here, you pull into the local Shell station and gas up, purchase some snacks, grab a cup of coffee, do some laundry if you need, and of course, have an amazing breakfast! Talk about efficiency. It reminded me of stories my grandmother would tell about gas stations on Route 66.
"All Aboard" the Gravy Train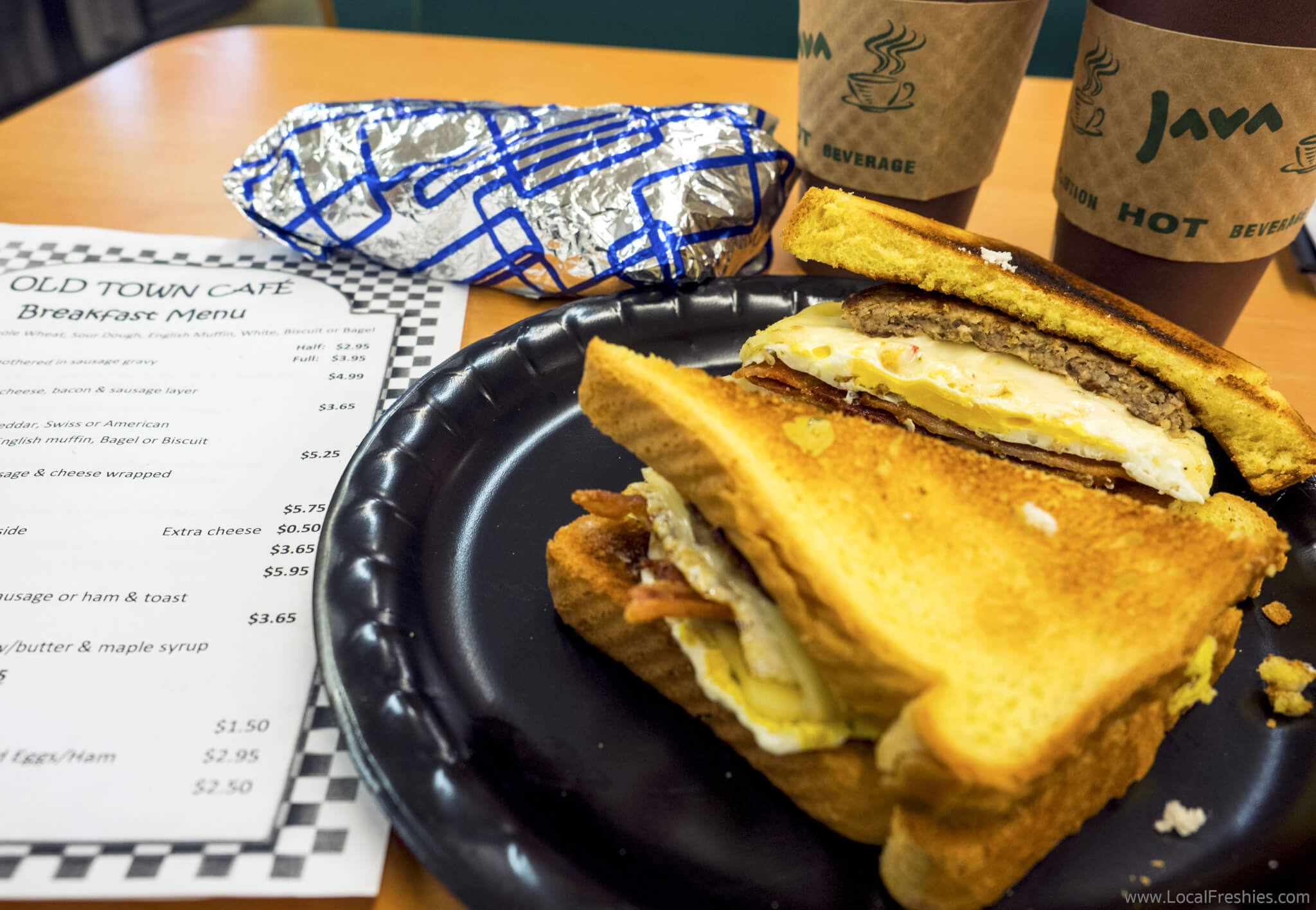 In the back corner of the gas station, there sits a little counter where a sweet older lady takes our order with a smile. "So, what's a Local favorite on the menu?" With no hesitation, she says "Ben's gravy train is the most popular." A breakfast burrito filled with eggs, hash browns, bacon, sausage and… GRAVY? First, the hash browns aren't the store-bought kind. They're made from scratch and are more like home fries than hash browns. Second, the sausage gravy is what combines all the flavors together making it delicious. If that's too much for you, then go for the Moose Toast. It's a breakfast sandwich flanked by Texas toast with two eggs, bacon, and cheese.
Local Freshies® Tip: Lifts at Brundage don't start until 9:30 am
While enjoying breakfast, I check out the lift schedule. Looks like the lifts don't start running until 9:30 am. Why? Brundage is only 40 minutes from the Pacific Timezone so the sun tends to sleep in a little later than most places. Don't worry! You don't lose 30 minutes of ski time if you're a bell-to-bell type of person. Last chair pushes to 4:30 pm as well so you'll get your fill.