Hours
Monday – Sunday: 11:30 am — 11 pm
Address
411 Railroad Ave
McCall, ID 83638
Website
Drinking in an old train station
A funky artistic sign with three salmon illuminates the way to the entrance of Salmon River Brewery, aka SRB. Located in an old train station, it's interior has that deep colored wood you would see in one of those nice railroad stations back in the early 1900's. SRB kicks it up a notch and combines the deep colors with other reclaimed pieces for a bright atmosphere.
When a keg blows… A whistle blows!
Tonight we're meeting McKenzie Christensen, with the McCall Chamber of Commerce, to get the inside scoop on McCall and the surrounding area. Like any great small town, people can tell when you're not a Local. As soon as we stepped through the door, McKenzie waves at us and says, "Are you Local Freshies®?" We make a big nod and smile. It's nice to feel so welcomed everywhere we go. Grabbing a stool, we begin chatting up like good friends. All of a sudden, a loud whistle blows – inside! What is happening?!? McKenzie laughs and tells us every time a keg blows, they blow a real train-like whistle. How cool! After the excitement, our server takes our order.
Passion is how you become a Ski-town Local
McKenzie is originally from Idaho but like so many Locals, she spent a lot of time in the summers visiting McCall and fell in love with it. After college, she was looking for a unique place to call home and McCall really called out to her. You can tell she's driven and a natural leader so heading out on her own made total sense. The decision was easy. The lake access in the summer and amazing skiing in the winter made staying in McCall a given. From helping us find the Local spots to sharing a bit of history of the town, she is invaluable. A fun fact we learned is that McCall is where the official Christmas Tree, known as the "People's Tree" in Washington DC, came from last year. What an honor!
From Hoppy to Sour to Coffee, there's a beer for everyone
Meanwhile, our beer sampler arrives and if you're a fan of hoppy beers then SRB is your go-to spot when in McCall. The names of the beers are worth mentioning too. From a Personal Flotation Device, or PFD Ale to Udaho Golden Ale and even a Buzz Buzz Chocolate Stout, you'll be chuckling your way through the beer menu. There wasn't a bad beer on the list, but here's a few our standouts:
With names like Personal Flotation Device to Udaho Golde you'll be chuckling your way through the beer menu

Gose Sour – We're not big sour beer fans but when they're done right, they are downright amazing. This is one of those amazing beers. It has a slight tinge of melon that isn't too sweet or too tart. The flavor is almost like a delicious tasting apple cider vinegar without the vinegar harshness. Definitely a must try.

Buzz Buzz Coffee Stout – It's winter so we naturally gravitate toward darker beers. The aroma starts with dark coffee notes and as you take a sip that image continues into a full bodied french roast. It made me think of breakfast. How perfect this beer would have been at Brundage after my French Toast snow run!
Best Elk Burger Ever!
As we finish the sampler, our food arrives. Let me preface that Elk burgers are typically dry and not cooked correctly. I've had many bad experiences with burgers made out of game meats. It takes a very talented chef to make a stellar game burger. Taking McKenzie's guidance, we ordered it and shockingly, it was perfect! Juicy, spicy, and most of all downright awesome. If you're a burger person, you must put this on your list to try when in McCall.
Fries are just better in Idaho
It could be the placebo effect, but it seems when you visit Idaho, every item made from potatoes, including french fries, just taste better here. That is especially true at SRB. Their french fries have the consistency of a waffle fry but the length of a steak fry. It gives them a texture that I've never seen anywhere else.
Loaded Mac 'n Cheese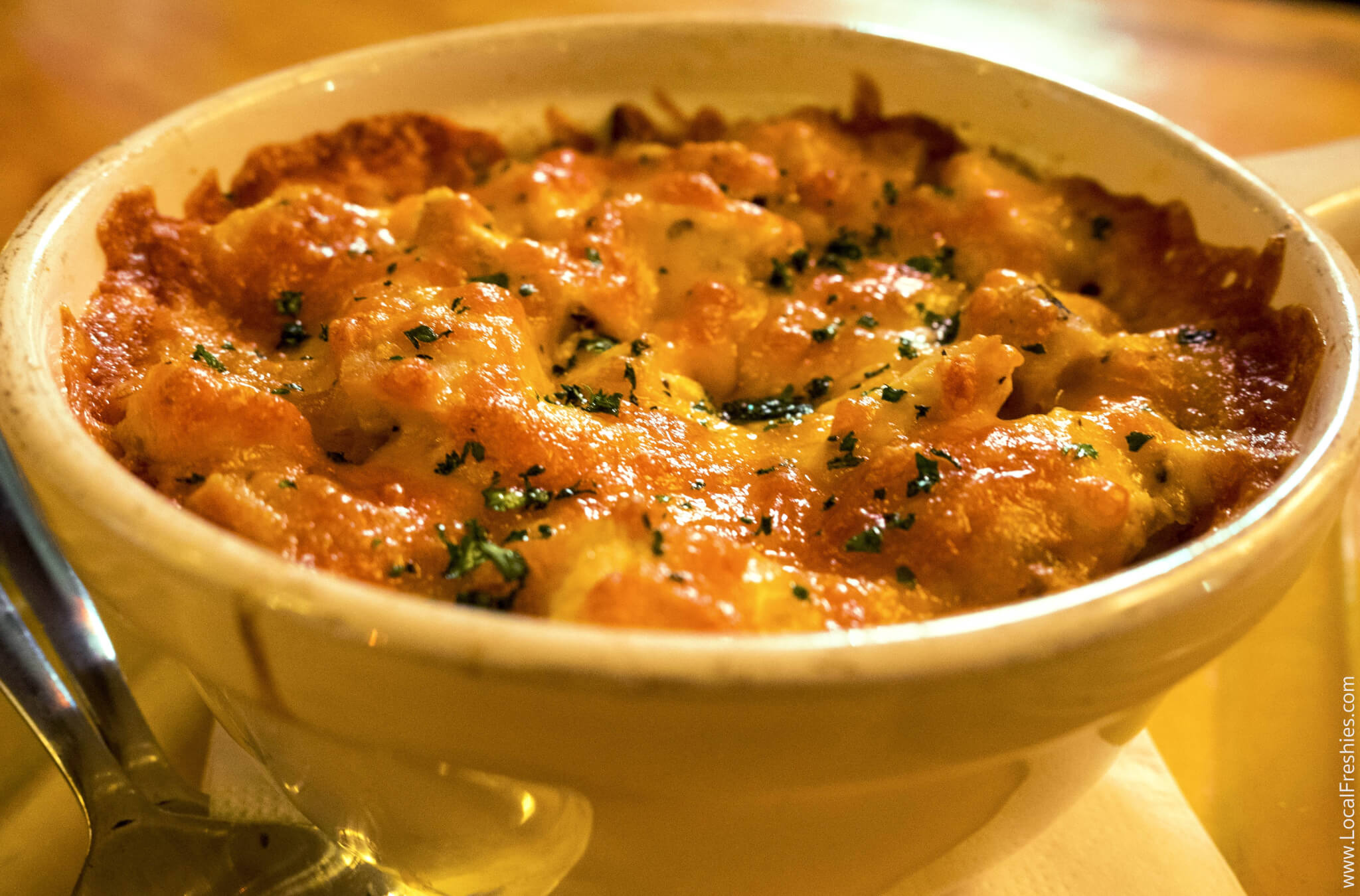 If you aren't a burger person, it's OK.  The menu is big and there are a ton of other items just as good. The loaded mac 'n cheese comes out in a French Onion Soup-style bowl and is sizzling hot. The ooey, gooey notes of the fresh cheese plus large chunks of chicken are just to die for. It ranks right in line with the elk burger and for anyone that loves cheesy things, this is a winner.
Finishing up our meal, we say good bye to McKenzie. Tomorrow we take on Tamarack and will check out one of the Locals' favorite restaurants, Rupert's.