Two roads diverged in a wood, and I —
I took the one less traveled by,
And that has made all the difference.
As Robert Frost's poem "The Road Not Taken" alludes, it's not that one place is more visited than another but rather the way you perceive it. While there are the classic mountain biking meccas like Whistler or Park City, we'd rather journey to a less obvious place. Here's a few of the best mountain biking towns that we feel are less spoken about & are now on our personal bucket list to experience.
Copper Harbor, Michigan
"The BC of the Midwest"
Jaw-dropping views of a great lake? Check. Escape from the hustle & bustle of a major metropolitan area? Check. Miles & miles of prime singletrack ranked among the top 5 trail systems not just in the US but the world? Check.
The grassroots Copper Harbor Trails Club on the northern-most tip of the Upper Peninsula in Michigan is where it's at. Some of you are thinking, "Oh, it's in the Midwest so it can't be THAT good." Well, the riding at Copper Harbor is REAL mountain biking! And, if you've ever ventured up to Mount Bohemia in the winter, you know what we're talking about. Still don't believe us? They've been building their network since the 90's and were given the prestigious International Mountain Bicycling Association (IMBA) Silver Level "Ride Center" just behind Park City. With these accolades, it's no wonder it made our list of the best mountain biking towns in the US off the beaten path.
If you do make it up here, be sure to stop by the Keweenaw Adventure Company for more information on Copper Harbor bicycle rentals, mechanic help, guides, and shuttle service.
Make A Pit Stop In Marquette
While Copper Harbor is the beating heart of the Keeweenaw Peninsula's mountain bike scene, the city of Marquette just a bit south is starting to make waves as well. A bronze-level IMBA certified ride center in its own right due to the local mountain biking association RAMBA. Over the decades, they've hand-built ALL their singletrack (no machines) as well as the re-birth of seriously sweet shuttle serviced mountain biking on Marquette Mountain that's well worth a couple days diversion on your way up to Houghton and Copper Harbor.
Boise, Idaho
City Life with Uncrowded Trails
We LOVE Idaho. The state is a land filled with outdoor adventure for ALL seasons. While most people think of Sun Valley when they talk about Idaho destinations, that's just the tip of the iceberg. A great affordable option is Boise. It's a recreationalist's paradise!
During the day, you can spend time on the pristine rivers and rugged mountains while at night enjoy locally sourced food and drinks on an outdoor patio. But the best part is right at Boise's doorstep. With over 100+ miles of trails, their network covers the full gambit of terrain. You'll find high alpine in the Bogus Basin Mountain Recreation to the smooth rolling network in the lower foothills. And the gem of the network – that's the Around the Mountain to Berm Baby Berm trail. It's considered one of the best not just in Boise but all of Idaho. It's flowing with scenic views of the Sawtooth Mountains and relatively tacky dirt.
For more information about this trail & others, be sure to check out Boisetrails.com.
Ashland, Oregon
Biking Your Way into Alice's Wonderland
We first heard about this destination through an event called the Ashland Spring Thaw. Taking place each May & considered one of the biggest and longest standing mountain bike events in Oregon, it sounded like the Oregonian Downieville Classic. As we tumbled further down the rabbit hole researching this destination, we found out they have an entire network filled with trails named after Lewis Carroll's fanciful creations from Alice in Wonderland.
Besides the creative names, the East Side Forest Lands stretch over fifty miles offering a combination of shuttle accessed riding and cross-country treks. Featuring a rich biodiversity of vegetation such as oak savanna & mixed conifer growth and scenic views, it'll keep anyone entertained. And with many of the trails dropping right back into the laid back town's center, you can finish the day off right with a cold brew or a glass of local wine. Talk about our type of place!
Harrisonburg, Virginia
Biking the "Burg"
While not as old & established a destination as others on this list, this spot is nothing to scoff at. This college town, located in the Shenandoah Valley, has an enthusiastic partnership between the City of Harrisonburg and the Shenandoah Valley Bicycle Coalition. Working together, they've successfully secured federal funding for large-scale mountain bike projects. It definitely helps that it's surrounded by one of the largest concentrations of public land east of the Mississippi.
With over a MILLION acres of the George Washington National Forest, it makes sense that there's HUNDREDS of miles of singletrack. From the easily accessible Rocktown Trails at Hillandale Park to the flowing slopes of Massanutten, with so much to access and explore, you might just consider starting at the Shenandoah Mountain Touring Ride Center. It creates an ideal jumping off point for group rides, multi-day adventures, and family excursions. If you do hit up Massamutten's Western Slopes, they're on resort property so you must be a member of the Bicycle Coalition and volunteer for trail work to obtain a pass. The trails are bicycle optimized and built by riders for riders. If you're craving downhill, there's two lift-accessed bike parks in the area less than 45 minutes from town:
Medora, North Dakota
Ride a Trail that Native Americans Used
We know what you're thinking. Just like those Pace Picante commercials… North Dakota?!? If you're looking for not just a place to ride but an adventure, Lewis & Clark would be proud of Medora as it's a great option. The longest and considered by many the most grueling, the Maah Daah Hey Trail puts you at the doorstep of the vast beauty of the Badlands. Not just a one-day jaunt but rather a multi-day journey, it features A LOT of climbing (8,000+), total self-sufficiency, and lots of advanced planning. Luckily, each section is anchored by campgrounds.
Cedar City, Utah
The "Downhill of the Gods"
Utah has A LOT of the best mountain biking towns in the country. Of course, you have the legendary Moab bike scene. Park City supposedly has 100,000 miles of singletrack that you could create a mountain bike tour out of! But for us, the one area that we were pleasantly surprised by when researching possible road trips is Cedar City. The main area is to the east of the city and is called the Iron Hills Trail System. This area has a vast array of options from intertwining loops for climbers to shuttle-able raunchy rides like Blowhard. And if you need to cool off or just get some lift accessed sessions, head to Brian Head resort. Situated at almost 10,000 feet, they offer 100 miles of what is referred to by Outside Magazine as "Downhill of the Gods" alongside another 100 miles of cross-country goodness.
Whitefish, Montana
Big Riding At "Big Mountain"
The ski resort might be called Whitefish, but as locals will tell you, the real name is "Big Mountain." Skiing might be what put this place on the map, but lately it's bubbling to the top of peoples' lists for the best mountain biking towns. Why? For starters, there's over 500 miles of singletrack in the Kalispell/Whitefish region to enjoy. Secondly, the resort itself contains over 30+ miles of sinewy dirt you can access via a lift.
So, they definitely got the quantity, but what about quality? Being so close to the monstrous bike zones to the north, it's no surprise that passion for quality terrain is there too. If that wasn't enough, as of 2015, the after-work zone known as Spencer Mountain became a legal network. While the freeride trails at the north end of Spencer are separate from another trail network called the Whitefish Trail, this project is done in conjunction with Whitefish Legacy Partners (the organization behind the Whitefish Trail). The Whitefish Trail Network currently has 43 miles and 12 trailheads available with up to 75 miles planned.
Driggs, Idaho
Dirt Pow At Its Finest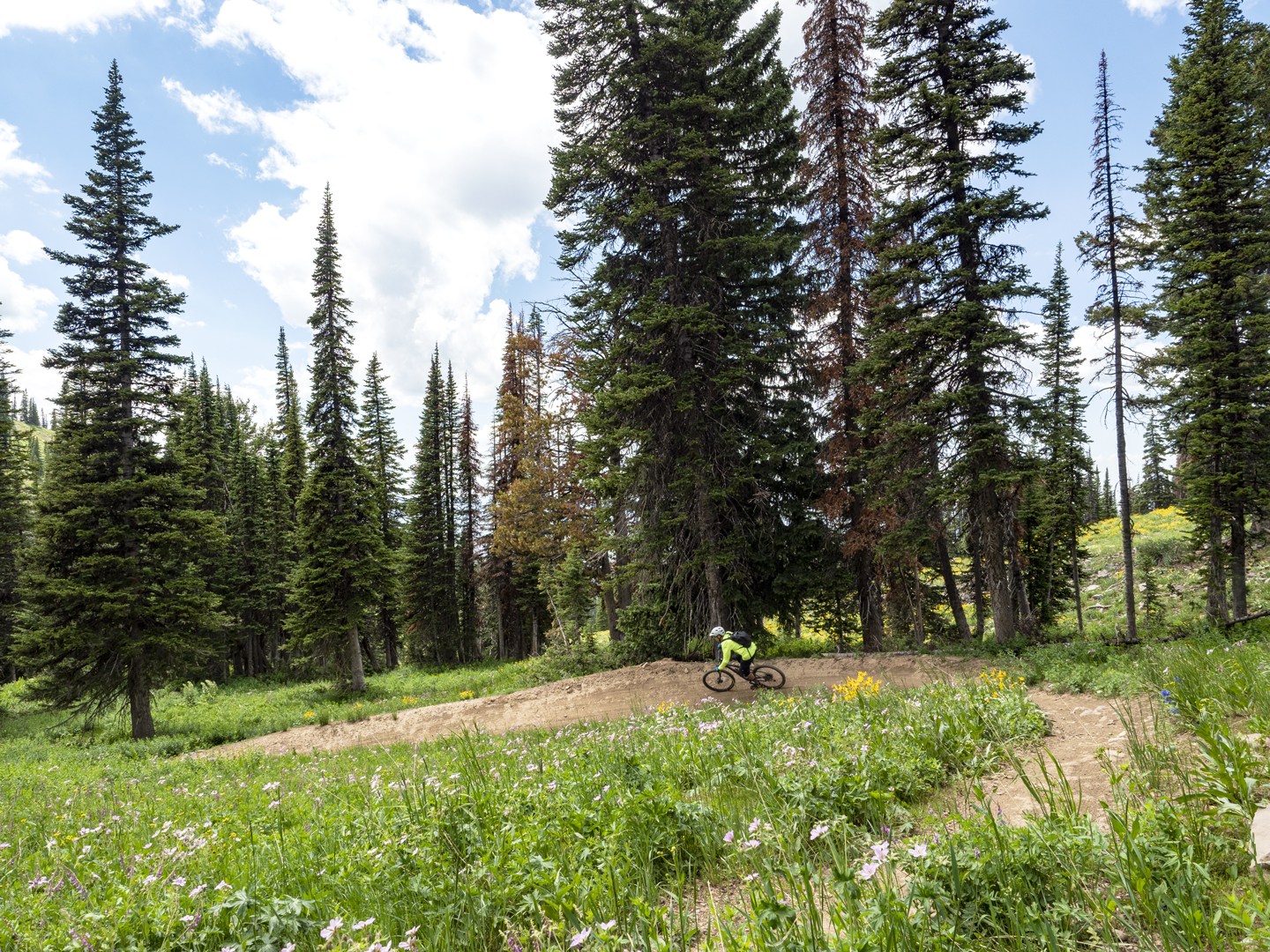 Year in and year out Grand Targhee is voted as one of the best destinations to get powder due to its lack of crowds and hefty snowfall. So, it shouldn't come as a surprise that in the summer months this quiet enclave also serves up amazing mountain biking as well. On our personal visit here, we called Grand Targhee Mountain Biking… The Quiet Version Of Whistler.
Why? For starters, just from Grand Targhee's village you have access to over 70 miles of singletrack. This includes the 2,000+ vertical you can access via lift. And that's just the tip of the iceberg. You can even add to that lift accessed vertical and combine it with Mill Creek / Colter's Pass shuttle spitting you out below the resort. Down in Driggs, you'll find multiple trail networks to pick from such as the Big Holes, the Southern Valley, and our personal favorite Horseshoe Canyon. Not enough? Head up onto Teton Pass for even more trails. To us, the shocking thing was how EMPTY the trails were and just how good the dirt is even midsummer.
Local Freshies® Tip: This is the land of the Grizzlies. If you do venture into the wilderness, be sure that you carry bear spray and know how to use it.
On the cover, this list of the best mountain biking towns might be popular to some people, but in our heads, they're obscure and not as well known… and as Robert Frost stated, "And that has made all the difference."
If you want to read about unique adventures like heli-biking, get tips on gear, or learn about the history of the sport and more, check out our comprehensive guide: The Down & Dirty On Mountain Biking