There's something special about the corner of Idaho and Wyoming, or as it's known – Wydaho. This special place really ignites the soul for adventure. It might be the massive Tetons looming above or being at Yellowstone National Park's doorstep. No matter the reason, if you're looking for a bit of fresh mountain air and some elbow room for your next mountain biking adventure, you should put Grand Targhee mountain biking on the list.
Re-Birth Of Driggs
When we visited Grand Targhee back in 2013, the town of Driggs felt… sleepy. The recession had hit the area HARD. Now, as we drive through town, it feels like a new energy has come in. The center of town is bustling. People lounge at the sidewalk cafés and a restored office building is filled with a ski shop and a satellite of the legendary Teton Thai. Following the asphalt ribbon up, we pass by brightly colored, restored cottages filled with even more businesses. And just like that, we're on our way up to Grand Targhee.
One-Eyed Willie!
Exhausted from the long ride as we started from Lake Tahoe, we check-in at our Grand Targhee lodge and are greeted by the coolest host of all time – One-eyed Willie! This cat's stories are legendary among the Grand Targhee employees. For example, during the last solar eclipse, Willie decided to check out the natural wonder up close, so he climbed up to the top of the mountain. That's 2,200 vertical feet above the lodge!?!? Of course, since he's a smart one, he waited for maintenance to show up and rode down with them on the lift.
Quieter Version Of Whistler
After a good night's sleep, we woke up to a beautiful sunny morning with only a few wisps of clouds in the sky. Walking through the center of the village, it reminded me of a quaint and quieter version of Whistler. It has everything you need. There's a place to get an affordable meal, a classic ski bar, and even a high-end fine dining establishment alongside a rental shop. And all this is mere steps from the lift and the massive trail network. If you stay here, you have everything you need within walking distance. Like a private Cancun resort but better!
Snorkel's Breakfast & Coffee
Compared to the rush of winter, relaxed vibes are in full effect in the summer. Lift access is pushed back to 10 am so you can either head out for a quick pedal or lounge around for a bit. We decided to lounge and meander over to Snorkel's for a chill breakfast. For a full day of adventure, you can't go wrong with the El Jeffe breakfast burrito. This spicy flavorful wrap is filled to the brim with eggs, choice of meats, and even some potatoes. For those that grab any of the other big breakfasts, be sure to get their whole wheat toast. Thick Texas-Style toast filled with big whole grains… it's to die for!
First Time Ever Riding Lift Accessed Mountain Biking
With our bodies fueled and caffeinated, we leisurely walked the dozen or so steps to the lift and hopped on. For those that have never ridden a chairlift in the summer, it's a freeing experience. Having your feet dangle without any equipment attached to them is a little strange. It feels like you forgot something until you remember your bike went on the lift ahead of you.
Is Lift Accessed Mountain Biking Worth It?
So, the $100,000 question is, "Is lift-accessed mountain biking worth it?" Absolutely! First and foremost, do NOT chince and use your own bike and regular helmet (unless of course you have the full Downhill lineup). Things come at you FAST and the terrain is way rougher than you'd find in most cross-country trails.
Local Freshies® Tip: If you're riding lift access, be sure to bring or rent a downhill bike and full-face helmet. Your body will appreciate it, and you'll just have more fun.

Unless you have a beefed up Enduro or downhill bike, you'll make it so much harder for yourself than it needs to be. In addition, Grand Targhee mountain bike park invests a LOT of time and money to make sure the terrain is in tip-top shape.
Mountain Biking Grand Targhee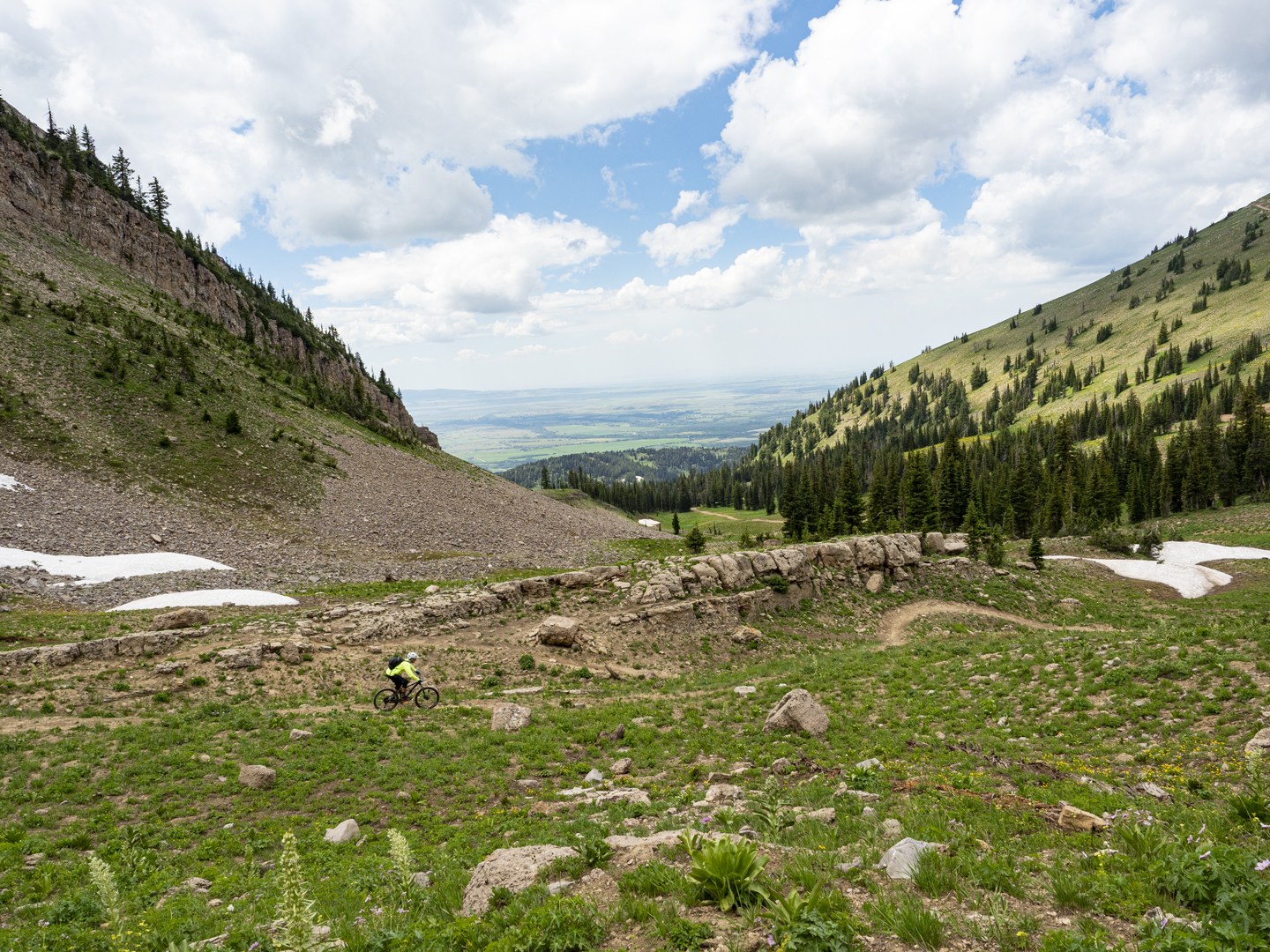 With that said, Grand Targhee mountain biking and the surrounding area have some of the best dirt we've EVER experienced. It was so tacky, you could HEAR the rubber from the tires zip across it like it was pottery clay. Grippy doesn't even begin to explain it even this late in the summer. Combine that with the most relaxed and welcoming mountain biking culture we've ever felt in a region, and you got yourself nirvana. Simply put, the local mountain bikers rip, but they're not trying to show off or prove anything.
Grand Targhee Mountain Bike Guide
Targhee has been building out their mountain biking trail network since 1997, and they're not resting on their laurels either. Instead of focusing on the brutes, we decided to put our attention on the less 'agro' and more fun-for-everyone trails. Most of all, if you do head to the top, be sure to hang up that bike and venture past the summit nature center for a view of the 'Grand.' Definitely worth it!
Bring It On Home
Out of the two lifts that serve the mountain for summer, Shoshone is a good spot to start and warm up – specifically Bring It On Home. Nothing on here is too big, too steep, or too rocky. From top-to-bottom, it's filled with the most perfectly banked turns you'll find anywhere. For those that want to turn it up a bit, head to Otter Slide. Just like the name indicates, the turns are a bit more pronounced and bigger making you feel like you're on a slide.
Chutes n' Ladders
Yet another great name that describes what's about to happen. The first half of the route is filled with 'chutes' or rather banked turns that then transition into 'ladders' or jumps. As always, the tabletops are perfectly built so that if you do want to jump it, you can or just roll right over them.
Tall Cool One
This traditional mountain biking trail is a BEAST! Not in technicality but in pure length. At a whopping 6.7 miles, it's a LOOOOONNNNGGG one. Be sure to bring your camera and allot enough time to take breaks because the views are jaw-dropping.
Sidewinder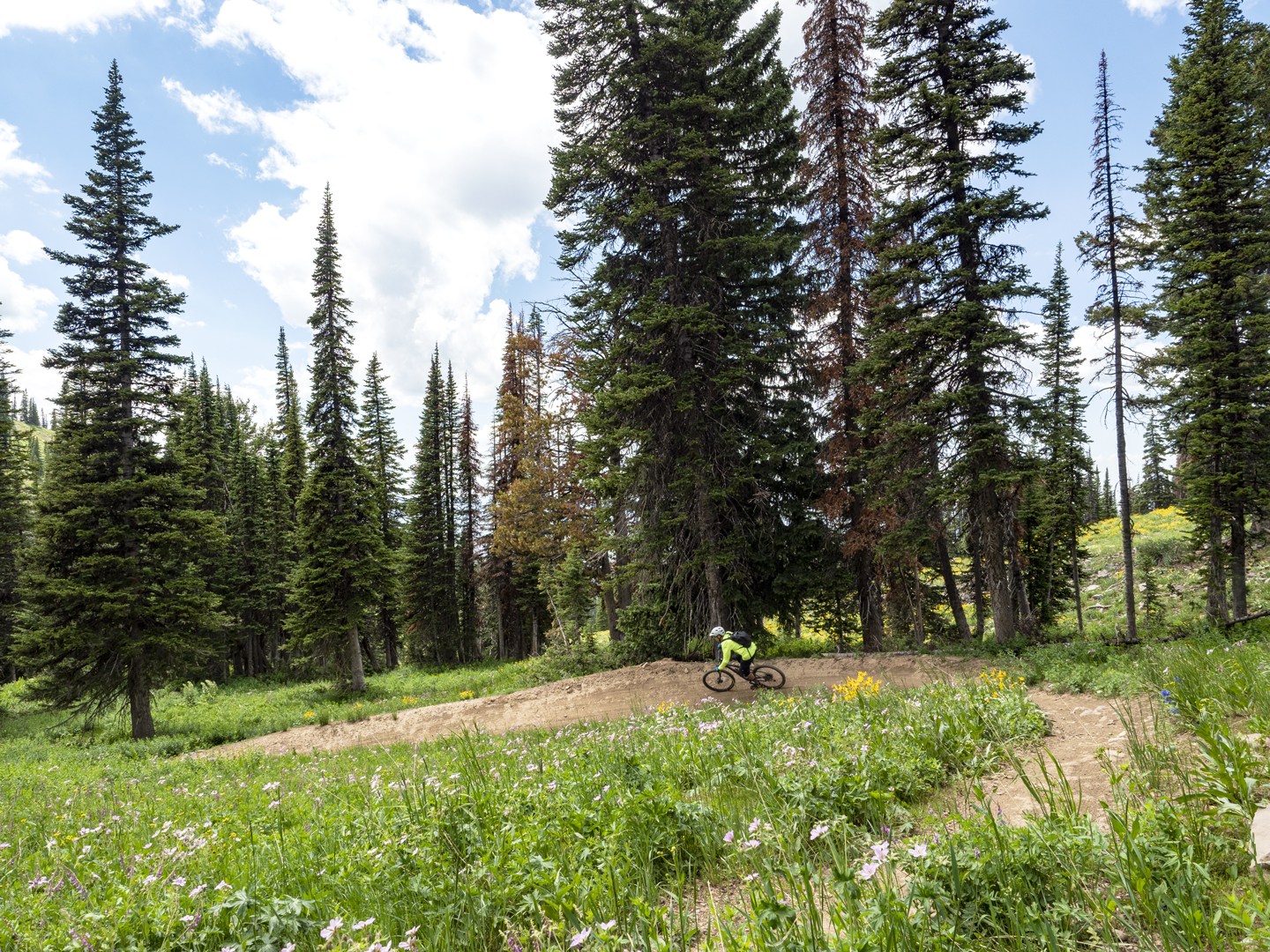 While we talked about the more overall 'fun' trails, we had to give an honorable mention to Sidewinder – our favorite downhill trail at Grand Targhee. Not overly technical, the terrain has enough rocks, granite slabs, and banked turns to keep your attention but not so big to scare the bejesus out of you.
Actions Speak Louder Than Words
Places talk a big game about outdoor adventure, but few stack up to Grand Targhee when it comes to quality. Crowds? Next to nil. Terrain? Over sixty miles of it. And with Driggs' renaissance, the town is a lot livelier too. Instead of heading over Teton Pass where the winter skier visits have set records along with the throngs of summer crowds, we recommend skipping it totally and spending your time on the quieter side. For more ideas on hidden destinations like this, how to get started on mountain biking, and get tips on gear, check out our comprehensive guide: The Down & Dirty On Mountain Biking.