About a hundred yards in front of me a big plume of dust erupted. Mr. Toad's Wild Ride had done it again. As Danny Ocean's character once said, "You lose focus in the game for one second and someone gets hurt." Running up to him, we realize most of the impact was taken by his face. A huge dead branch on the side of the trail slammed very close to his eyeball. Luckily, he was wearing a pair of shatter-proof glasses saving his eye. Looking back at this experience, we realized that these lenses were the only reason his eye didn't get seriously injured or worse blind him. This then raised a question: "So what's the best MTB glasses?"
Keep Safety In Mind
Most of us that enjoy gravity fed two-wheeled fun have spent at least two grand on our mountain bikes. And yet when it comes to safety, many of us cut corners. Heck, it wasn't until our friend almost lost his eyesight did we realize the importance of finding the best MTB glasses. Not just for vision, but for safety as well.
What's ANSI Z87.1?
If you're really serious about your safety, consider picking a brand that meets or exceeds the national standard known as ANSI Z87.1. ANSI stands for the American National Standards Institute, and they've established a standard set of criteria to use for testing, marking, choosing, and maintaining eyeware protection. The goal is to prevent or minimize injuries from eye hazards that you'd find on the trail or at a construction site. The rigorous tests they go through include such hazards as:
Blunt Impact
Splashes and droplets
Dust
Small dust particles
Wrap Around For Protection
Besides falling off your bike, expect to have flying debris shot at you as well. An odd tree branch sticking out on the singletrack. Dirt and rocks being kicked up from a friend's bike tire. Look for glasses that wrap around, protecting your eye from many angles and not just what's coming at you straight ahead.
Consider Your Environment
Think about what kind of trails you normally ride. If most of the tacky dirt you're shredding is in the woods or you live in a cloudy place, you'll want lenses that help in low-light. On the other hand, if most of your shredding is done in super sunny terrain like the desert or the high alpine, full-on glare needs to be considered. If it's a place that has a lot of variability with sunshine, the best MTB glasses will give you the opportunity to switch the lenses.
Not All Faces Are The Same
Let's "face it", the world is filled with different faces. Some have perfect cheekbones. Others have a long or short nose. This means the best MTB glasses aren't just about safety or fashion, but also how they fit you! So, it's a good idea to go to a local shop or sporting goods store like REI that has a BIG selection or even reach out to the company directly to see if there's a way to try them out.
Consider Your Helmet
Even though they may look and feel great on your head, consider trying them on with your helmet. This is especially important if you're riding in the spring or fall when the temperatures are a bit cooler. When the gap is bigger between the top of the glasses and your helmet, the wind will rush in giving you a VERY cold forehead. To help make sure this doesn't happen, focus on how the glasses fit compared to your brim and sides of the helmet. Another cheap alternative is to buy a skull cap.
Cycling Sunglass Technology To Consider
Photochromic Lenses
When talking about the coolest sunglass technology, the one that stands above all others are the photochromic lenses. It's a lens that darkens on exposure of sufficiently high frequency. Or on the other side of the spectrum, if you enter a super shaded section with low light conditions, it'll return to a clear state. In simple terms, one lens to rule ALL conditions.
Polarized
If you've been out on a sunny day in the mountains or on the water without sunglasses, the one thing you'll notice is the amount of glare around you. Glare distorts the true color of objects making them blend into each other. A polarized lens removes all that AND helps objects appear sharper and clearer. Just think of the advantage of racing down a trail. Instead of being caught unaware, you'll see rocks, stones, trees, and whatever else is coming at you.
UV Protection
This should be a no brainer. When you're out on your bike, even on cloudy days, you're going to have some sun hitting those eyeballs. Even 3M safety glasses provide UV protection. Be that as it may, not all UV protection is the same. Look for UV400.
Riding Glasses
Julbo
Been there, done that doesn't even begin to describe Julbo well. The company was founded in 1888, yes as in 1800's, by Jules Baud. Deep in the French Alps, he designed the first pair of protective eyeware for men hunting crystals in the region. In no time at all his, eye protection became THE standard for all mountaineering endeavors on ice. Although the Vermont Classics are still worn by mountain guides to this day, for mountain biking, it's all about the Fury. Out of all the glasses on this list, this one is by far the best value for the price.
Julbo Fury
Specs
UV Protection: UV400+ (In addition to UV400, it also blocks out UVC rays.)
Polarized: Not in the Fury, but other models do provide this option
Lens Replacement: Yes
Case: Yes
Features
What these light glasses lack in fashion, they more than make up in their technology. Their wide wrap-around style provides some of the best peripheral vision out of the group. Combine that with the option to get a photochromic lens, and you have yourself a winner.
POC Sports
The Swedish company POC Sports made a big splash in 2005 for their ski helmets, their focus on safety, and love for the outdoors. All of this translates well to their mountain bike sunglasses. Just like Ikea, their design is simple yet refined and still focused on performance. They have a few options, but from what we've read and seen, their Aspire Clarity model is the one you'd want to get.
POC Sports Aspire Clarity
Specs
UV Protection: UV400
Polarized: Yes
Lens Replacement: Yes
Case: No
Features
The nosepiece features a rubber grip to make sure even if you're sweating like an elite thoroughbred or getting doused in rain, they'll stay grippy. Also, they've partnered with the legendary lens manufacturer Carl Zeiss. Their lenses are specifically designed to enhance clarity by controlling the color spectrum.
Oakley
Since almost the beginning, the company Oakley has been fanatical about their cycling eyewear. Just look up American cyclist and Tour De France winner Greg LeMond to read about their past. Not just focused on style but function as well, the array of options is one of the biggest to this day. Their top of the line Oakley Flight Jacket are a technological marvel. It includes things like a special tab in the middle to allow you to adjust where they sit on your nose. In addition, the top of the glasses has no frame allowing you to maximize fog reduction. For a little less funky but still a kick ass pair, also consider the Oakley Radar EV Path.
Oakley Radar EV Path
Specs
UV Protection: UV400+ (In addition to UV400, it also blocks out UVC rays along with harmful blue light.)
Polarized: Yes
Lens Replacement: Yes
Case: Yes
Features
If you remember what we talked about earlier regarding safety, nearly all Oakley models aren't just ANSI Z87.1 certified, but rather they're rated to meet or exceed ANSI Z80.3 standards for optical and impact resistance. In addition to safety, their patented H.D.O. (High Definition Optics) eliminates distortion leading to clearer, sharper, and more accurate vision. You can even pick up a photochromic lens so you don't have to worry about the type of environment either. Another nice plus is you can easily replace lenses or get another lens for different conditions along with stem sleeves and nose pieces.
Dragon Alliance
If you're a skier or snowboarder you know this brand well. They've been making some of the best goggles on the market for powder hounds. Using what they've learned in the snow world they've come out with some amazing sunglasses.
Dragon Tracer X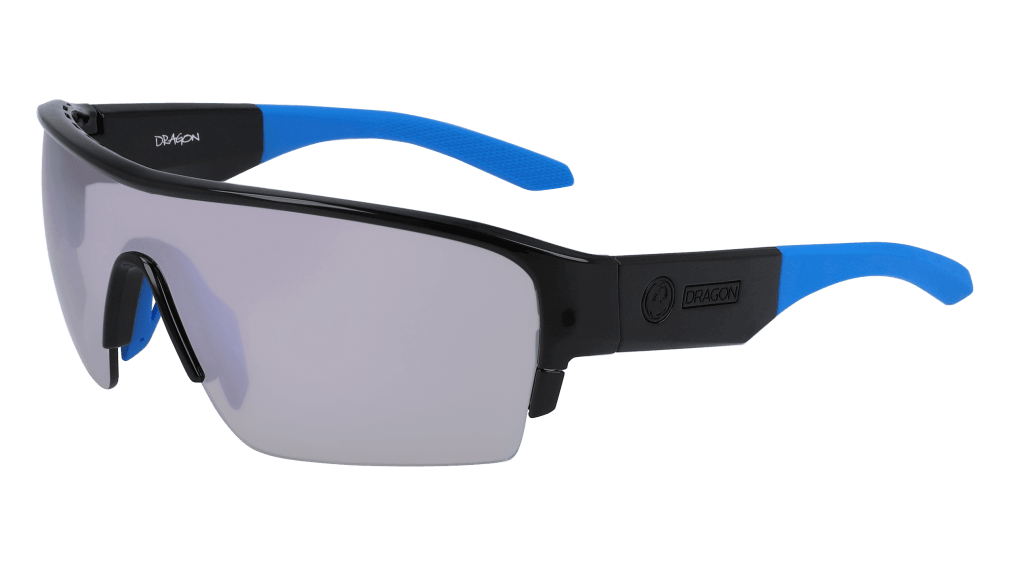 Specs
UV Protection: 4-base polycarbonate provides 100% UV protection
Polarized: Yes
Lens Replacement: Yes
Case: Yes
Features
Out of our list, these are the ones that Jaime thinks are the best mtb glasses for her. She's always had issues with glare and clarity when mountain biking. Their LumaLens technology, which is found on their snowboard goggles (her favorite too for snowsports) has solved this issue for her. Whether it's super sunny, alpine singletrack, or forested rock gardens, these have become her tool of choice. For a full review of the Dragon Tracer X LL sunglasses and an assortment of others, head over to our article: Throw Shades On Those Eyes – Review Of Dragon Alliance Sunglasses.
Smith Optics
Smith has been around for a LONG time in the snowsports world for eyewear. Since 1965, they've continued to push the envelope on goggle technology. Firsts include such innovations as the double-lens for fog free skiing, interchangeable lenses, and a roll-off film for motocross riders. So, it shouldn't come as a surprise these decades of technology have translated easily to their mountain biking sunglass line as well.
Smith Attack Mag MTB
Specs
UV Protection: UV400
Polarized: Yes
Lens Replacement: Yes
Case: Yes
Features
The Smith Attack Mag MTB might come at a hefty price, but with it you get ALL the bells and whistles for your quality cycling sunglasses. For example, being out on the trail gets your hands dirty, and one of the most frustrating things to happen on your eyewear are smudges. Well, Smith has solved for that by adding a coating to the lens so that it's moisture AND smudge resistant. They also come with their patented Smith MAG technology making it easy to swap out lenses. Don't like the sunny lens it comes with? All model types come with a ChromaPop replacement lens perfect for low light or shady sessions.
Pit Viper
Attitude. Funky style. To this day, I remember vividly the first time I saw Pit Viper sunglasses in a ski flick, and I was like, "Huh?" It was so etched in my brain that I had to learn more. Was this a fad? Gimmick? To my surprise they aren't. They're designed well and for a ridiculously good price (half the price or more!). In addition, the company doesn't take itself too seriously either. Seems fitting. We're all out there to have fun not do a job!
Pit Viper Originals
Specs
UV Protection: UV400
Polarized: Yes
Lens Replacement: No
Case: Yes
Features
Although the big companies talk a big game about impact ratings, the Pit Viper Originals show that they're in actuality "well endowed." They're one of the few that have an impact rating of ANSI Z87+. The polarized lenses are perfect in nearly every condition unless it's super dark out. And the adjustable nose piece and two adjustment pieces on the arms will make sure they fit right. In summary, if you're ok with reliving the 80's or hearing something like, "The 80s called and they want their sunglasses back" then you'll LOVE these gems. They're not just for mountain biking either, but rather all outdoor activities like backcountry skiing, hiking, or chilling at the jacuzzi.
3M Safety Glasses
We had to at least give a nod to the "no frills" option for those who are on a tight budget. 3M safety glasses will protect your eyes, provide some UV protection and all for only a few bucks. But just like a hard tail versus a full suspension carbon bike, you get what you pay for.
Specs
UV Protection: 99.9% percent of UVA & UVB
Polarized: No
Lens Replacement: No
Case: No
Features
3M Safety glasses are just like what the name entails. They meet the requirements of ANSI Z87.1. Fit well with a helmet (or hard hat). Absorb almost all of the UVA & UVB light. As anyone that has worked on a construction site or done home renovations knows, you get lots of stuff thrown at you. So, the lenses are anti-scratch and have a Scotchgard anti-fog coating so that you can work OR ride in wet and humid environments. Just like an old Toyota 4Runner… it'll get the job done and keep running forever.
With all these things in mind, who makes the best MTB glasses? Just like a car or truck, it all depends on the person. For a super techy person that's willing to drop the dough, look for sunglasses with a photochromic lens. All about the no frills manual transmission truck that'll do the job but still show style in the parking lot, then The Pit Vipers are a good choice.
If you want to read more about gear, how to get started in mountain biking, or even some off-the-beaten-path mountain biking destinations check out our massive guide:
What do you ride with? Is there another company or model we should add to this list? Something that you don't like or do? Drop us a line under the comments to let us know.