Does April mean the ski season is over?!?!? NO WAY! It couldn't be further from the truth. Think we're crazy? Don't know what we're talking about? Let us explain. Put up the bathing suits (or rather bring' em with ya) and grab the snow gear. Put that trip to the tropics on hold. This spring, head to the mountains! Why you ask? The days are longer, the crowds have reduced to a trickle, and the winter storms have given way to sunshine and warm temperatures. If you haven't taken a family ski trip out west this year, skiing in April is the time!
Why You Should Go
But before you pick a ski resort to visit, there are a few things that you should know about skiing in April. First, don't expect to ride a full day. Instead, focus on the full experience. The après ski is almost as important as the skiing. We're not talking about just hitting up the bar. Is there a cool town to hang in? Are you staying in a place that has a grill and patio to chill on? How about a mountain bike park or a golf course? Now you feelin' it? Next, don't expect many of the resorts to be at full operation. We do call out the ones below that normally stay fully open or near it. Even if you don't hit the ones we mention, it's still good info to know. It means that you'll have a ton of terrain all to yourself and can lap those runs until you can't feel your legs.
If you want to learn the in's & outs of April skiing, what gear to bring, & why it's our favorite time to go on a ski vacation, check out our comprehensive spring skiing guide.
Corn?! What's That Got To Do With Snow?
By this time of year, the snow begins to form into what is called "corn." These little nuggets get their name from the fact that they look like frozen corn kernels. For it to form you need multiple sunny and warm days in a row plus cold freezing nights to produce this glorious surface. If it does, you'll be hooked for life. To learn more about what is corn & why it's our second favorite type of snow, click below.
A Chance To Get One More Powder Day
Compared to early or mid-season, the last snowstorms of spring typically come from the north. This means in between those corn harvests, there's a good chance you'll be skiing cold smoke blower pow. If Ullr does gift you with a powder day, it'll be one of the best days of your life. As tourists and locals alike have mostly moved on from the ski season, you'll pretty much have the snow to yourself. Out of our top 10 days on the mountain, these rare powder days still resonate in my brain today. Like a rare whiskey or a fine wine, it's the unique opportunity to feel warm AND enjoy cold snow.
If you get lucky and it snows overnight, we can't stress this enough – GO EARLY! And once you're on the mountain, focus on north facing slopes. These trails will be protected from the high sun angles during this time of year. Other aspects such as west-facing and south-facing terrain are turning into what many folks like to call "hot pow" or transitional snow.
Get Your Equipment Ready
When it comes to corn snow you need to fight off the "stickiness" and so to do this your equipment needs to be ready for what they call spring conditions. Depending on if you're going to be doing a lot of spring skiing or not, there's a few options. The easiest and most affordable is to switch to warm weather wax (above 32 degrees F). For final touches, use a bristle pad to make 45 degree angle patterns down your skis and snowboard so that the water doesn't flow the entire length of the board. This reduces the friction. The best solution if you're going to be doing a lot of spring skiing is to get your base structured so that the skis or snowboard wick away the moisture. This trick allows you to ride wet snow more smoothly and a great way to extend your day. To learn more about a base structure and how spring skiing works, check out our article.
Where To Ski In April
Now that your board/skis are prepped and you've got an idea of how to ski/board corn, where should you go skiing in April in North America? Here are the things to consider when picking a resort to visit:
Historically open late into the season
Large amount of terrain above treeline
Deep snowpack
Ski resort that's received lots of snow (at least annual average)
Each of the following ski resorts fit this criteria and pretty much have a late closing date. As recommended above, the après should be good too.
Whistler Blackcomb
With a vertical drop over a mile in height, Whistler Blackcomb's skiing covers pretty much the full spectrum of mountain climates. This means by late spring, flowers might be blooming in the village but there's plenty of snow to shred up high. Also, if you visit by late April, mountain biking opens at the bottom of the resort. This means you can ski/snowboard AND mountain bike in the same day! And you can't forget the walkable village which is filled with tons of après activities.
The Bad News
Unfortunately, over the past few years Vail continues to reduce the late season skiing at Whistler Blackcomb. There is hope for skiing in April – WSSF. The World Ski & Snowboard Festival is an amalgamation of snow sports, music, arts and more that happens the last two weeks in April. Although the event has been paused for 2022, meaning the closing date for Whistler is April 18th, it's coming back in 2023. We're hoping that they'll keep BOTH mountains open through the event moving forward.
Where To Stay
When it comes to modern urban planning, Whistler's village is head and shoulders above most other North American ski towns. If you stay within Whistler Village proper in accommodations like Summit Lodge Boutique or Alpenglow Lodge by Bill, you can leave the car parked and walk everywhere. Literally, everything you can imagine is available via the Village stroll.
Mt. Bachelor
Not just another great spring break destination, the town of Bend and its mega-resort – Mt. Bachelor are one of the best for late season skiing. They guarantee that if weather allows (which has been every spring we've been there), they'll keep all 4,323 acres of terrain open.
Bachelor also receives on average the MOST snow in April for any ski resort in North America. Combined with the resort being located on a dormant volcano, its cone shape allows you to follow the sun to find the best snow. In simplest terms, best spring snow on the planet.
Local Freshies® tip: If you don't own a season pass, pick up their spring pass for $309 giving you access to the resort from March 26th through May 29th.
Beer-vana and Après Lifestyle
Finally to put the cherry on top, Bend is truly "Beer-vana" with over 22 breweries available to enjoy award-winning brews. This time of year is gorgeous in town so bring your cruiser to use as your mode of transportation. Right in the center of town you'll find the Deschutes River. Swollen from the snowmelt, the Bend Whitewater Park gives you the opportunity to catch a wave or practice your kayak rolls. Love rock climbing? Head over to Smith Rock State Park. Bend is truly an outdoor enthusiast's happy place.
Where To Stay
If you can afford it, we suggest staying as close as possible to the downtown area of Bend. Hotels like the Oxford Hotel Bend or Campfire Hotel give you a chance to walk or bike to your evening festivities. The Old Bend and River West neighborhoods are filled with gorgeous craftsman style homes and an assortment of breweries, distilleries, and restaurants to choose from.
Alpine Meadows | Palisades Tahoe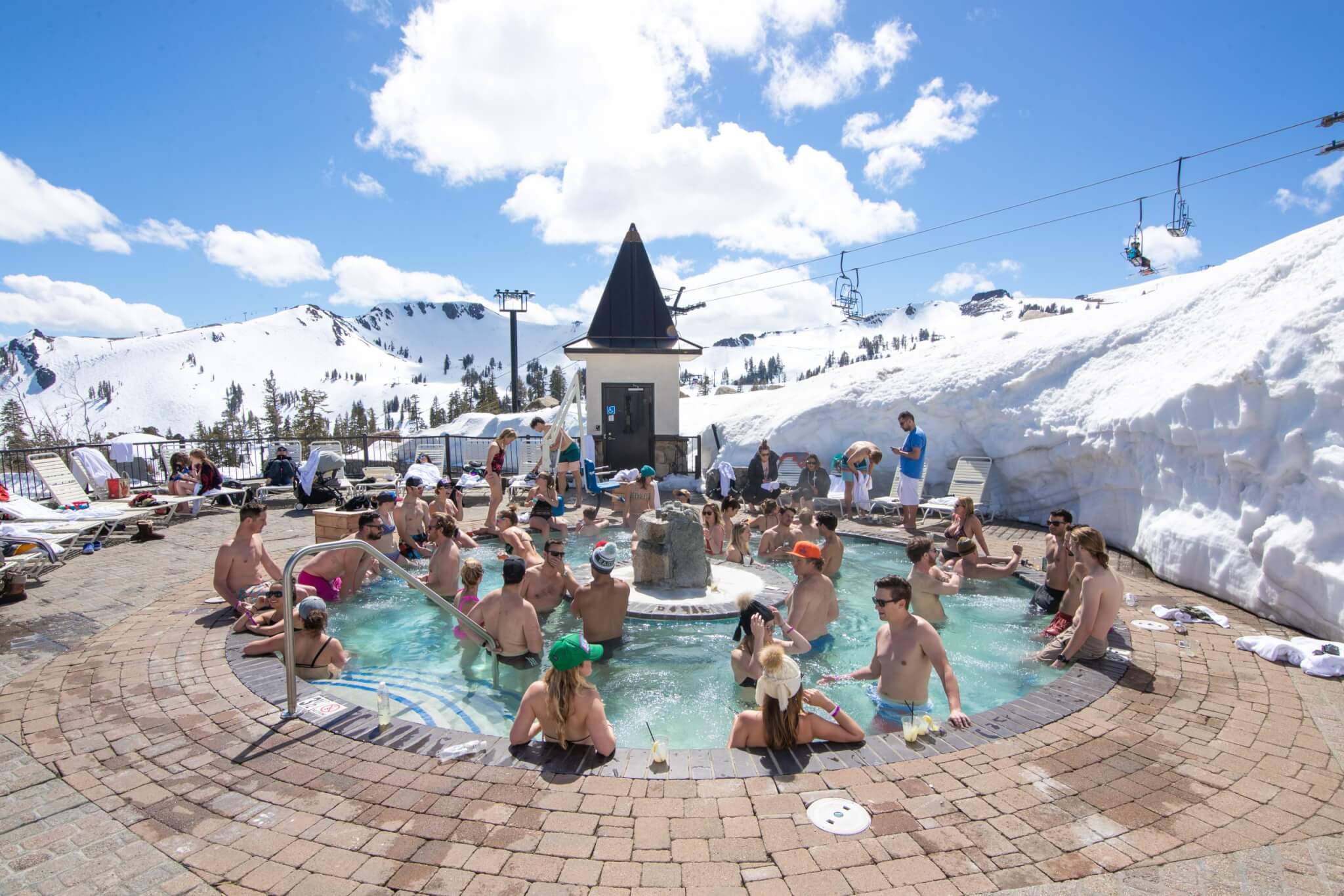 The ski resort formerly known as Squaw Valley has proclaimed itself as the "king of spring." And within the Lake Tahoe region, it has earned its crown. Always pushing to open as early as possible, such as this season when they opened before Halloween. And close when the snow melts which can be as late as July 4th. Both ski resorts have a large percentage of above tree line terrain with an assortment of aspects giving you the opportunity to harvest corn throughout the day.
Off Hill Shenanigans
When it comes to après and off-hill activities, you can't go wrong with Tahoe. Just a few minutes' drive to the north you'll find the cute, historic town of Truckee. Home to amazing cuisine such as the Hoppy Duck. Old school dive bars like the Past Time Club and chic spots like the Bar of America. If that isn't enough, head south to the shores of Tahoe. By this time of year typically you can get a round of golf in or even go for a boat ride.
Where To Stay
You can technically stay in Olympic Valley right at the bottom of Palisades Tahoe at a place like Squaw Valley Lodge. We recommend at least considering a stay in Tahoe City or Truckee. Tahoe City is located right on the shores of Lake Tahoe and will provide a perfect backdrop for your stay. Truckee's downtown area is what you envision a ski town should be. Gorgeous century old buildings filled with bars, shops, and restaurants all within walking distance. For a deeper dive on lodging around the lake, here's a list of the 16 best places to stay in Lake Tahoe.
Mammoth
Its name rings true especially in the spring – the terrain available is Mammoth. Expect AT LEAST 2,000 acres or more. Expect abundant sunshine. Bluebird days. And from a weather perspective, Mammoth Mountain is home to the best climate to create corn to harvest. As others have decided to shut down for the season, Mammoth is only beginning. Spring is what they call their "SECOND Season" and keep the lifts running until AT LEAST late May.
All Season Fun
Like others on the list, be sure to bring your winter AND summer gear. Even if there's a ton of snow in town, you'll find an assortment of lower elevation trails to bike or hike. We've heard from our friends that Lower Rock Creek in spring is like a full sensory explosion of wildflowers and tacky dirt. And if you're an angler, the fishing season kicks off the last Saturday of April. It's such a huge deal that they've called it "Fishmas."
Where To Stay
In April you can skip the ski-in, ski-out access. Once you're in Mammoth Lakes, pretty much everything is close… but not so close that you don't need to drive. There is a plethora of condos, hotels, and motels running the full gambit. If you're planning to stay for more than just a few days, consider finding a place that has a kitchen.
Arapahoe Basin
In the early season there are quite a few resorts that try to start the season as early as possible. But in Colorado, there's only one that is legendary for its spring skiing – Arapahoe Basin. Its high base elevation plus much of its terrain being above tree line ensures that the conditions stay great. On top of that, it's one of the ONLY ski areas that April is their SNOWIEST month of the season. This provides the perfect recipe for some of the best skiing in April if you love chalky pow. And once you finish off the day, sit yourself in the parking lot nicknamed the "Beach" and watch others skiing down the mountain as you grill.
SkiBig3 – Lake Louise / Sunshine Village
One word for Alberta skiing mid-winter: COLD! But by April, you find perfection – a little bit of snow, plenty of sun, and soft trail conditions are the norms. Even if it's warm in town, expect to find packed powder in the alpine. Not just one, but two ski areas typically stay open through the 1st weekend in May. And with a SkiBig3 lift ticket, you can choose your ski resort each day according to the snowfall!
Most Beautiful Peaks Ever
Words cannot begin to describe the beauty of this place. Personally, I think these are the most beautiful mountains I've ever laid my eyes on. Sharp and craggy while literally shooting out of the ground. While there isn't too much near Lake Louise itself, the hopping town of Banff is only 40 minutes from Lake Louise and a mere 20 minutes from Sunshine Village. This beautiful city is filled with an assortment of world-class cuisine, après, and of course hot springs.
Where To Stay
For a more relaxed stay surrounded by nature, consider staying near the slopes of Lake Louise. If you've seen the gorgeous photos of the Canadian Rockies in winter, you've probably seen the world-renowned Fairmont Chateau Hotel. Just three miles from the lifts, the hotel has its own private shuttle to get you there easily and conveniently. For a more rustic stay that harkens back to the roaring twenties, consider the Deer Lodge. Even if you aren't staying there, consider having dinner at the Mount Fairview dining room. Serving dishes like duck confit and braised elk shank, it gives a nod to classic European fare you'd see in the Alps. And for more options in the après scene, consider booking a place in the town of Banff proper.
Heli-skiing In Alaska
Although not a ski resort, if heli-skiing in Alaska is on your personal bucket list (like ours), then April is the time to go. You'd think you want to be there mid-winter… well, you'd be wrong. In December, the sun rises at almost 10 am and sets by 3:45 pm. By spring, the days are longer. The temps are still cold but not brutal, AND you can still expect to get a bunch of snow. So, what makes Alaska heli-skiing so special? Like the others on the list, it's all about location and topography. It's RIGHT on the coast which means it has a maritime snowpack. This then gives skiers and snowboarders the opportunity to ride some of the steepest terrain on razor-sharp ridges and plunging chutes.
This is only a few of the many places that are open into spring. For a full list of our favorite spring skiing spots, check out our article.