Just like all sports equipment, the more time you use it, the better it should be. If you're only spending a day or two on the slopes each season, you can afford to go "cheap" and buy whatever goggle is on sale. But, if you're like us spending ten, twenty, thirty, or more days a winter on the slopes, you better get the ones that fit just right! Here's what we learned over the years on how to buy the best snowboard goggles or ski eyewear out there.
The First Ski Goggles Ever
Before we jump into how to buy them, we thought we'd give a nod to the man that made ski goggles possible – Bob Smith. A dentist by trade in the summer and a powder hound in the winter. His love for that elusive type of snow known as cold smoke or champagne powder helped inspire him to find a goggle that didn't fog. Can you imagine what it was like before them? Skiing in a storm or even getting face shots meant skiing blind, behind fogged-over goggles, or worse yet snow-filled ones!
Alta – The Inspiration Behind Modern Ski Goggles
With his wife Jean, he began skiing powder at Alta in 1965 where he figured out the principle of the fogging-resistant goggle. He started using an insulated double-lens with foam-screened ventilation ports to screen out powder. With his handmade invention, he helped skiers and snowboarders shred down 2,000 vertical feet without stopping to wipe off the lenses. Simply put, we can thank Bob Smith for opening up the world of possibilities for storm skiing and providing us the ability to hop into the trees.
Tips For Buying Snow Goggles
Since then, technology and the plethora of options have exploded. Here's some tips on how to find the best ski / snowboard goggles for you!
Go To A Shop With A Big Selection
By far, the most important thing is to go to a local shop or sporting goods store like REI that has a BIG selection. If there's only a handful of goggles, you won't find the ones that truly fit you.
Bring The Helmet You'll Be Normally Riding With
If you normally ride with a helmet, be sure to bring it with you. Look at how it fits compared to the forehead brim and the sides of the helmet. Is there a gap between the top of the goggle and the helmet? Be sure that this space is as small possible. If not, when you're riding you'll FEEL the cold wind smacking into your forehead. There's nothing worse than an ice cream headache on the slopes due to that. Also make sure the goggles aren't too wide or short for the sides of the helmet. A close, tight fit is the best.
Eyesight Is Critical
For those that wear glasses, another key item to consider is will they fit over your glasses. These models are called OTG or over-the-glasses. If you have the cash, many of the larger manufacturers like Bolle, Smith, and Spy have frames that are prescription-suitable, and you can order a custom lens that an optician can fit for you.
Not All Goggles Will Fit Your Face
This shouldn't be shocking to you – every person's face is different. Some have high cheekbones. Others have a shallow nose bridge or a delicate one. The frame size should fit your face so that there's no pinching and provides enough clearance that you can breathe through your nose.
Focus On The Big Picture
One of the newest pushes in technology is the size of lens. We're HUGE fans of going as big as you can but making sure they fit correctly. Some of the narrower ones may look nice, but they could skimp on peripheral vision. Focus on what you can see on the side and downward.
Pick Up More Than One Lens
Many of the manufacturers today provide two lenses with their goggles. One for storm skiing and the other for sunny weather. While they aren't perfect, it's a good starting point. Once you find the best snowboard goggles or ski eyewear for you, we recommend finding lenses for the following weather conditions:
Sunny Lens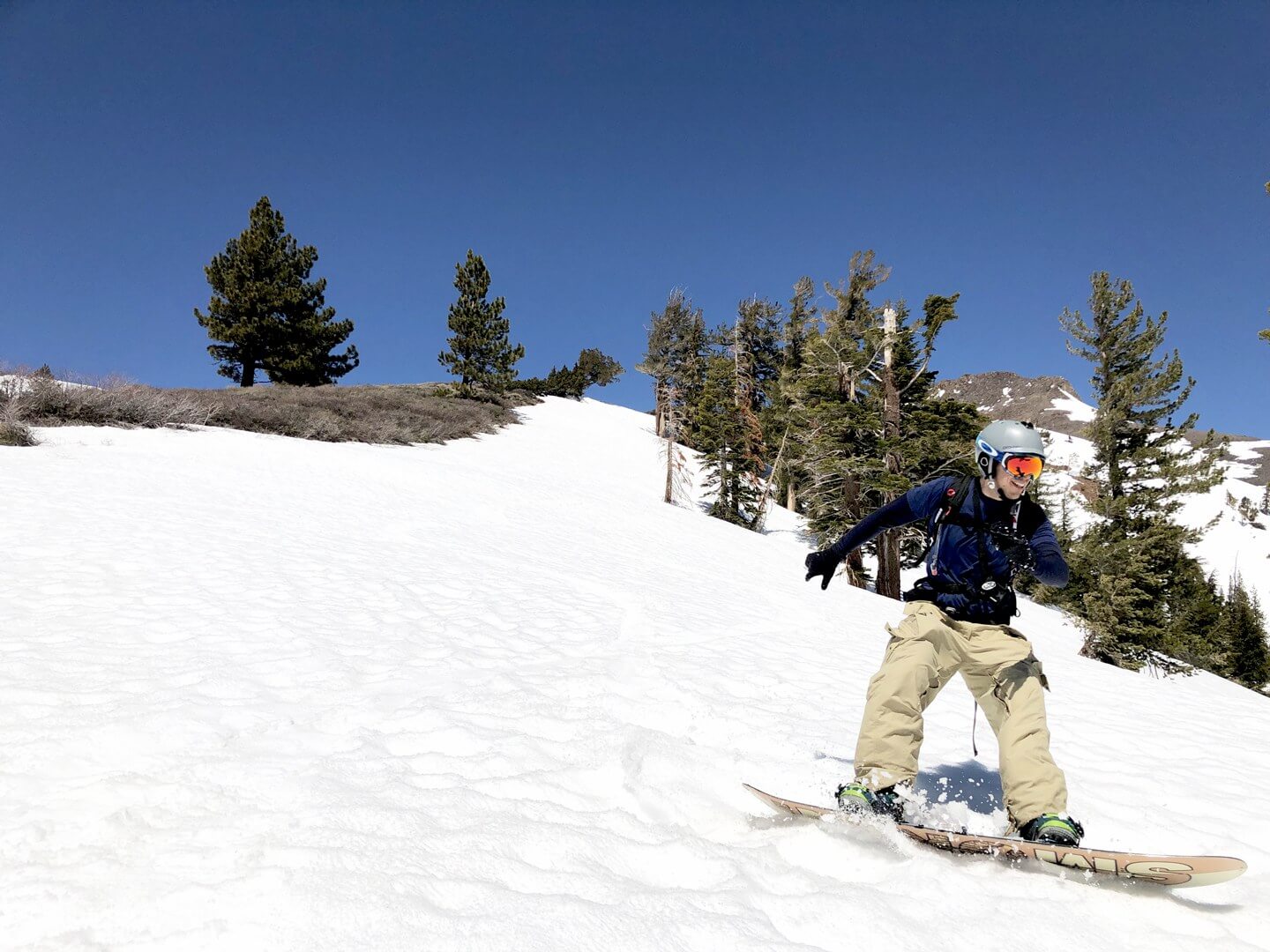 When it comes to spring skiing, the recipe is A LOT of sun that means a lens that has 100% UV protection. Most modern goggles come standard with that. The second most important aspect is looking for one that has a lot of tint similar to a good pair of sunglasses. Tint (or in the eye protection world) is called VLT. Look for Visible Light Transmission with less than 25%.
Stormy-ish Lens
For those days that are cloudy or there's a lot of flat light, you want to find something that lets in MORE light. Look for a VLT that is between 20% – 70%. One thing to note is that there's a few companies that have really focused on helping provide more contrast so you can see the features on the mountain during low light. They do this by filtering out certain colors that work against our ability to see those fine details. They also bump up the helpful colors to exaggerate those details even more. Both Smith Optics AND Oakley have come out with lens technology that combat this – Chromopop and Prizm respectively.
Night Skiing
If you're going to be doing a lot of night skiing, I HIGHLY recommend picking up a clear or VERY light tint lens. While not really suitable during the day for skiing and snowboarding, under the night lights, it'll let in 100% VLT which means you get as much light as possible.
Make Sure It Has A Good Interchangeable Lens System
Since most models have interchangeable lenses, be sure that you're comfortable switching between them. I've learned this the hard way when I bought my first pair. The lenses continued to break and snap since you had to be a bit too gentle for my clumsy digits. For those individuals that want to flip between lenses like a NASCAR pitstop, Dragon offers a pair that are connected by magnets making lens swapping a cinch.
What You'll Be Using Them For
Another thing to take into account is what are you going to be using them for. For example, if you do a lot of hiking or want to use them for uphill travel, goggles tend to fog quickly from the exertion. There are a few brands that specialize on venting. A company called Julbo has created goggles that open up a bigger vent so that when you're climbing up, they don't fog on you.
Ski & Snowboard Goggle Brands
Oakley
It all started in 1975 with only $300 in the back of a garage. The name of "Oakley" came from the owner's English Setter, "Oakley Anne." Jack Jannard focused his company on making products for BMX and Motocross lovers which included a bike grip as his first product. In 1980, he released his first pair of goggles known as the "O" Frame and the company exploded since then. While each of the models they sell are impressive, the Oakley Flight Deck is their premier level for the Oakley line. Providing a spherical lens, it maximizes the amount of peripheral vision you can have. In fact, it might probably be the biggest lens you can get for the rimless design. If you can afford it, you really can't go wrong with any of the models they offer.
Electric
I still remember vividly when the Electric Brand came out with their first model over two decades ago in 2000. Co-founder Kip Arnette studied the art of eyewear for 10 years under his father, Greg, the original designer of Arnette sunglasses. After that company was sold, Arnette and his partners decided to start a new venture and voila… Electric was born. California designed and Italian made, Electric's simplistic approach to frame design puts function first. While they're stylish, you can pick up a pair at an affordable price compared to other brands out there. Our friend at Snowlife swears by the EG2 due to their ease of use and how much beating they can take.
Spy
Born in 1994 in southern California with the motto of "it's not seeing different things; it's seeing the same things differently." The founders Mark Simo, Brian Simo, and Beaver Theodosakis saw an opportunity. The market for eyewear didn't support the action sports and motorsports as well as it should be. With a world class roster featuring pros like Shaun Palmer, Marc Frank Montoya, and many others, they helped push the limits of what eyewear could provide. Spy's groundbreaking technologies have pushed the limits of what seems possible such as today's Happy Lens. It's is the only lens on the market which harnesses the beneficial aspects of long-wave blue light, while offering protection from short-wave blue light known to damage the eyes.
Dragon
Another brand that started out of a garage, the founder Will Howard built a company that encompassed his love of surfing, riding dirt bikes, and of course snowboarding. What started as a sunglass company has expanded to include some of the best snowboard goggles in the industry such as their Dragon X2 goggles. Recruiting snowboard legends like Jamie Lynn and Chris Roach, they've been pushing the envelope of what a snowboard goggle is supposed to do. From their LumaLens which helps enhance the contrast of seeing the snow surface to their patented Switflock lens interchange providing the EASIEST lens switching in the biz. Another great feature is their spherical lens shape. It's manufactured how your eye works to minimize distortion. One thing to note is all their Dragon goggles are prescription insert compatible. If you love ease of use and supporting a company that's still true to their roots, this is it.
Anon
Beginning in 2005 and pronounced 'an-nun', it was started by none other than Burton. Originally manufactured by Smith Optics, Anon's now produced in the Burton factory. Just like all things Burton, you can expect a good looking pair of snowboarding goggles that's light and work well. Their unique technology is that the bottom of the goggles have magnets which can connect to their patented facemask making for a seamless link. This means no frosty nose on those brutal cold days AND no graupel stinging your cheeks.
POC
When you talk about the Swedes, most of us quickly focus on Ikea. Their simple yet stylish designs are what many a house is filled with. And so it shouldn't come as a surprise with the snowy climate that POC is based here. Founded in 2004, it may be one of the newer brands on the block, but their mission tells you how serious they are:
To do the best we can to possibly save lives and to reduce the consequences of accidents for gravity sports athletes and cyclists.
They made a HUGE splash in the market with their new ideas and solutions to reduce brain and body trauma in case of a crash. And they've taken this mantra into making goggles as well.
Wildhorn Outfitters
A new player on the market is a company called Wildhorn Outfitters based out of Utah. Instead of focusing on the high-end premium market, their focus is on providing an affordable pair of ski / snowboard goggles that won't break the bank AND work well. The biggest differentiator is that they have a magnetic clips for their lenses similar to the Anon but at the fraction of the price. We had a chance to demo a few of their offerings and were definitely impressed. To read our full review about their products and the company head here: Wildhorn Ski Goggles – Review Of The Roca & Pipeline.
Smith Optics
Last, but in no way least, Smith Optics is the KING KONG of the snow eyewear brands. From affordable to high-end premium models, they have something for everyone. As we said above, they literally WROTE the book on gear for your eyes. They've come up with unique innovations such as the micro-fan to move air across the lens, spherical lens designs, and ergonomically designed frames. It shouldn't be a shocker to this day they're STILL the #1 brand for both pros and the recreationalist alike.
Goggles That We Ride
With all this said, the Oakley Canopy fit my helmet and face the best. It gives me the biggest peripheral vision out there without being too overburdensome. In addition, I'm a huge fan of the PRIZM lenses by Oakley because they provide additional clarity alongside the tint. Jaime, the other half of Local Freshies®, loves to ride with Dragon's X2 Goggles since they fit her face and helmet the best. We've picked up new goggles over the years but it seems as though that once you find that brand that fits your helmet and face, they continue to work for you.
Now that you got the gist of what you're looking for, we hope our lessons learned help you find the best snowboard goggles or ski eyewear so that you don't have to go through the same painful (and expensive) learning curves.
Gear Guide
Looking for more information on how to pick ski boots? Wondering how to figure out if a jacket is going to be waterproof enough? Then head over to our ski & snowboarding gear home page. You'll get tips on how to find the best gear for what you'll be skiing or snowboarding. Learn about equipment that's made by locals for locals. And of course, make sure each part of your kit fits correctly so that you stay toasty and comfortable.