Sometimes your mind, body, and soul need some re-charging after a day on the slopes. Sure, having a cold one is a great way to unwind but what about those aching muscles? Nothing cures them like a good old-fashioned soak in a hot spring. Here's what we consider the 9 best hot springs in US & Canada near a ski town.
Ojo Caliente
Ski Santa Fe – New Mexico
Our personal favorite is Ojo Caliente which literally translates to "hot eye" as in the earth's eye, commonly known as a hot spring. About 50 miles outside of Santa Fe, these hot springs are well worth the drive. Why? Well, Ojo Caliente is the only hot springs in the world with four different types of mineral water including lithia, iron, soda, and arsenic. Their twelve pools are then filled with different types and combinations of these waters giving you a unique way to take a dip.
Pagosa Hot Springs
Wolf Creek Ski Resort – Colorado
Home to the DEEPEST geothermal hot springs in the world, these amazing pools of water are nothing to sneeze at. Combine that with the actual pools being terraced to overlook the beautiful San Juan River, you'll enjoy the scenery of the river along with the mountains. With twenty-three pools varying from 86 to 114 degrees, you'll be like Goldilocks and find just the right tub. It also doesn't hurt that it's next to the snowiest ski resort in Colorado.
Glenwood Hot Springs
Aspen Resorts – Colorado
Just a little more than a decade after Colorado became a state, Glenwood Hot Springs opened its doors in 1888. At that time, it became the largest hot springs pool in the world. Around the turn of the century, it earned the moniker "Spa of the Rockies." Today, it embraces its deep history and combines all the clean, modern amenities you'd expect, such as a state-of-the-art ozone pool purification system. For example, the original sandstone bathhouse built in 1890 is now home to the resort's full-service spa of the Rockies.
Bozeman Hot Springs
Bridger Bowl / Big Sky – Montana
Another hot springs started during the late 19th century are the waters just a few minutes outside of Bozeman. When these springs opened, the local paper described its waters as "remarkably soft, pure, and delightfully refreshing for both beverage and bathing purposes." In the past few years, they've expanded the variety of pools available to include both indoor AND outdoor. The four outdoor pools are the most popular due to the natural feel with rock features, lights in the pools, and even live music events on Thursdays and Sundays. This is a great option to finish up your trip to Yellowstone National Park or use as a respite from tackling the slopes at Bridger or Big Sky.
Burgdorf Hot Springs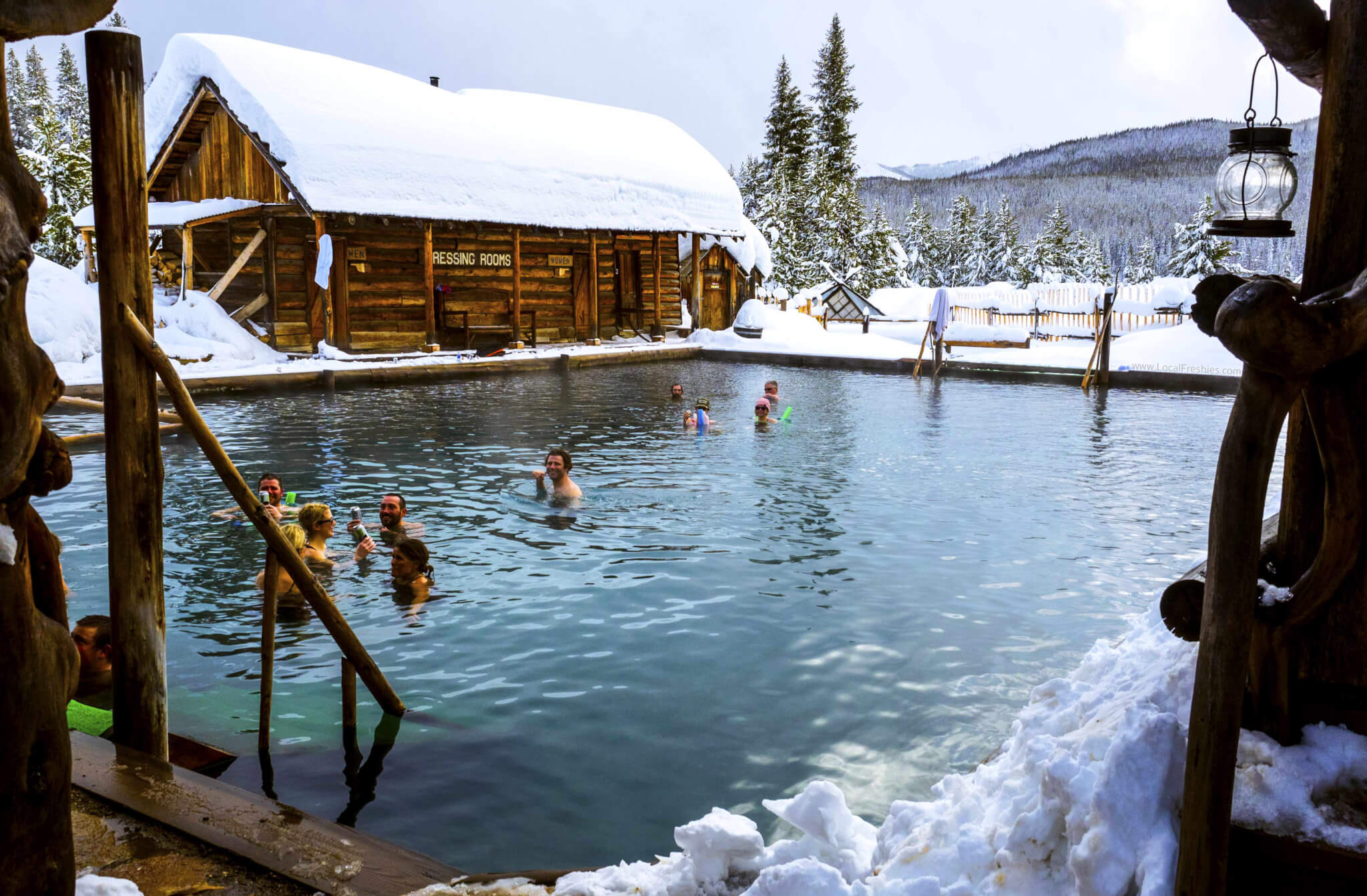 Are you someone that wants to combine adventure WITH a rewarding dip into a hot spring? Then look no further than the Burgdorf Hot Springs in winter. On the historic register, the only way to access this rustic resort is by hopping onto a snowmobile. Fortunately, they have heated changing rooms to get you in that swimsuit. And when you're done, you'll dry off and change back into your snowmobile gear, leaving cozy just as you arrived. For those feeling even more adventurous, you can stay overnight in one of their cabins. On the fence? Read about our personal visit to the Burgdorf Hot Springs.
Make sure to check their website for any policy changes throughout the year.
Grover Hot Springs State Park
Kirkwood – California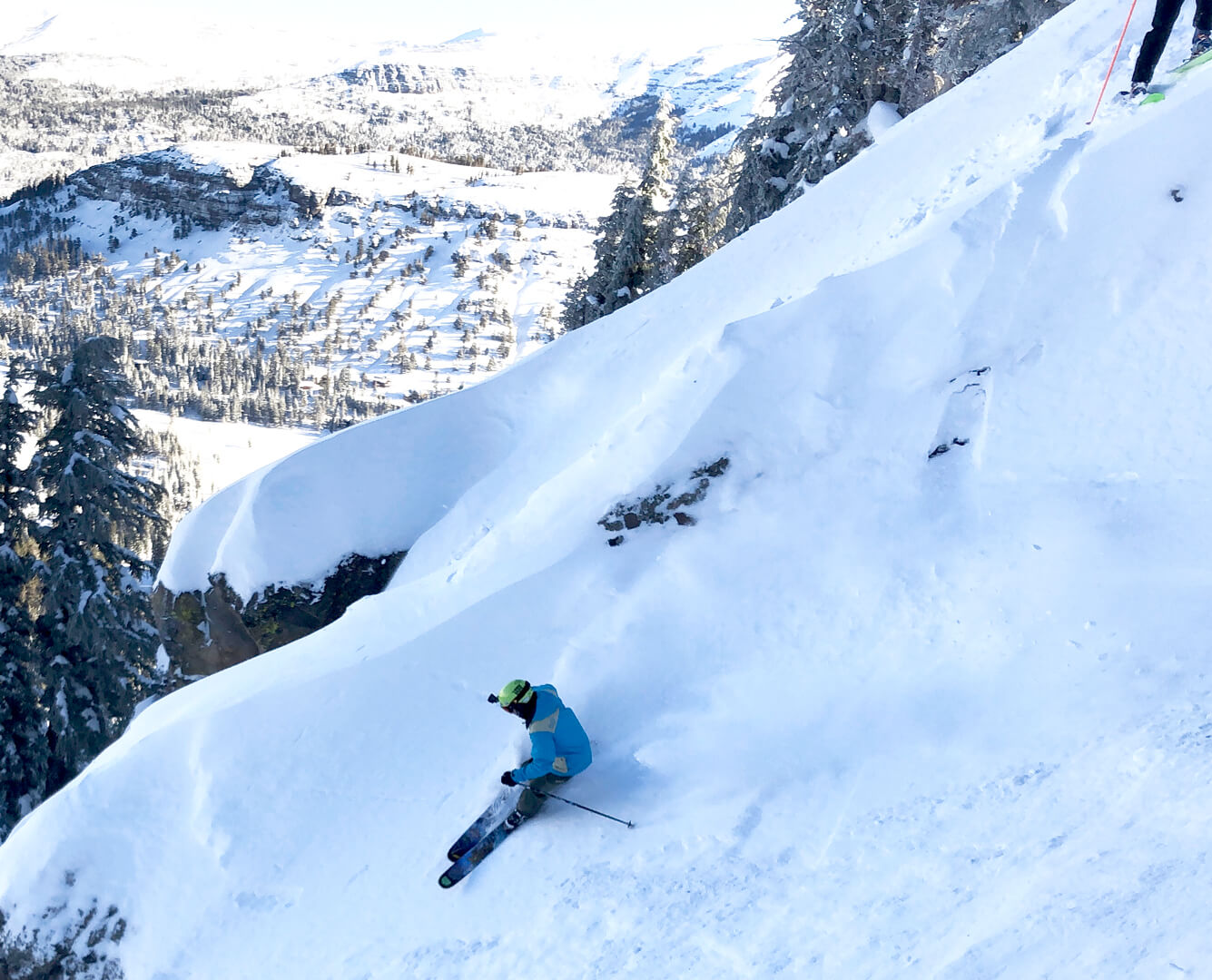 While not as rustic as Burgdorf in Idaho, this California gem in a quiet valley is a heaping slice of heaven away from the hustle and bustle of the south shore of Lake Tahoe. In the winter after a long day of tackling the slopes of Kirkwood, its hot waters soak away all the muscle soreness. And in the summer, you have the opportunity to explore the surrounding meadows, mountains, and pine forests and then take a dip. Some historians believe that the 1st European settler to visit these springs may have been John Fremont and none other than the legendary guide Kit Carson.
Note: The park is still temporarily closed due to the Tamarack Fire and the state park system is working hard to re-open them. Be sure to visit the California State Park's website for the latest information.
Benton Hot Springs
Mammoth / June Lake – California
When it comes to hot springs in the Sierra Nevada, the Eastern Sierra is typically the "hotbed" people talk about. The area is filled with both natural pools found in the wild and relaxing resort hot springs. One of our favorite when heading down to June Lake is to visit is the Benton Hot Springs. For just shy of a century, this 1,000+ acre property gives you a chance to truly get away from it all in one of their 12 private tub sites for the day or even overnight. Due to its popularity, if you want to truly enjoy this unique experience, be sure to reserve far in advance.
Banff Upper Hot Springs
Ski Big 3 – Alberta
The Canadian Rockies are arguably the most majestic peaks in the world. Photographs don't do justice to these mountains. As Ansel Adams once wrote, "No matter how sophisticated you may be, a large granite mountain cannot be denied – it speaks in silence to the very core of your being." And one of the best places to take in their grandeur is at the Banff Upper Hot Springs. Located just above the town of Banff, you'll be entranced by their magical waters and the views they afford.
Local Freshies® tip: If you're keen to avoid the crowds at this popular spot, do like the locals. Come in the morning for the most relaxing visit.
Ainsworth Hot Springs
Whitewater – British Columbia
The Powder Highway is the ultimate destination for those that love uncrowded slopes, steep terrain, and plentiful snowfall like no other region can offer. Besides having the highest concentration of snowcat/heli-skiing operations in the world, it's also home to an assortment of world-class hot springs. One of them being the Ainsworth Hot Springs. Nestled in a mountainside overlooking the vast expanse of Kootenay Lake and the Purcell Mountains, it's a great option for those that want a relaxing day after hitting up Baldface or Whitewater Ski Resort. Offering up three odorless pools, THE highlight of them is the horseshoe cave, offering an exhilarating experience. You'll just have to see it for yourself.
Since visiting our very first hot springs after a day of shredding pow, we make it a point to find ones near ski resorts. And after being to countless pools over the years, these are what we think are the 9 best we've visited that are near a ski resort. Are we missing any? We're always on the lookout for our next diversion on a ski road trip.