In this day & age, the goals we sometimes set are more focused on accomplishments like summiting a mountain or grabbing first chair. That's fine, but sometimes you need step back and smell the roses… or rather the virgin snow. It was on my latest backcountry mission with my wife that shook me awake on what is important. It's not always about seeking the gnar, but rather enjoying the time you have with loved ones.
Amazing Snow Brings Never-Ending Crowds
So, how did this revelation come to be? Over the past month, the never-ending storm cycle of epic proportions has also brought an endless stream of crowds to Lake Tahoe. With long lift-lines & parking lots filled to over-capacity, negativity and stress began to creep into my head. A feeling of urgency to grab the powder before it was gone. Utter hopelessness.
Little Fleas Eating All The Powder
Standing at the base of California Lodge looking up to the hundreds of little specks across the mountain, like fleas dotting the face, I couldn't take the masses anymore. I needed something more secluded. Suddenly an idea came into my head – Trimmer Peak! With a deep snowpack all the way down to the basin, it was the perfect moment to try & hit it. It had been OVER TWO years since I visited this backcountry zone and fond memories of slashing waist deep blower pow came over me. Looking over to Jaime, I suggested tomorrow we leave the boundaries of the resort & go after it.
Trimmer Peak Bound
The next day dawned bright. Packing up all our gear, we checked the forecast. The avalanche problem today was focused on Wind Slabs. That meant we had to be on the lookout for cornices, snow drifts, and other evidence of wind loading. I couldn't wait to make it to the top of the false summit and shred some pow. With our plan set and options given, we set course for the trailhead. Car after car after truck zip past us towards Heavenly. We bless our stars that we weren't going back to that mad house for today.
Serenity In Solitude
We check all our gear and confirm our plan. Setting out on a leisurely pace through the flat forested meadow, the fresh snow dampens all the noises. A sense of calm floods over me. I take a big breath & let out a sigh of relief. Silence. All the hectic chaos of the resort disappears from my mind.
Goals Don't Match…
Little did I know Jaime's idea of success was different than mine that day. I wanted to reach the summit, but she wanted to get more comfortable on where she was in relation to our map & trip plan, identifying aspects, and confirming slope angle. As the day proceeded, we continued to stop every few minutes. We looked at the map, confirming where we're at. My sense of urgency begins to bubble up. Will we make it to the top? I grumble about it, making negative comments.
We Don't Follow the Masses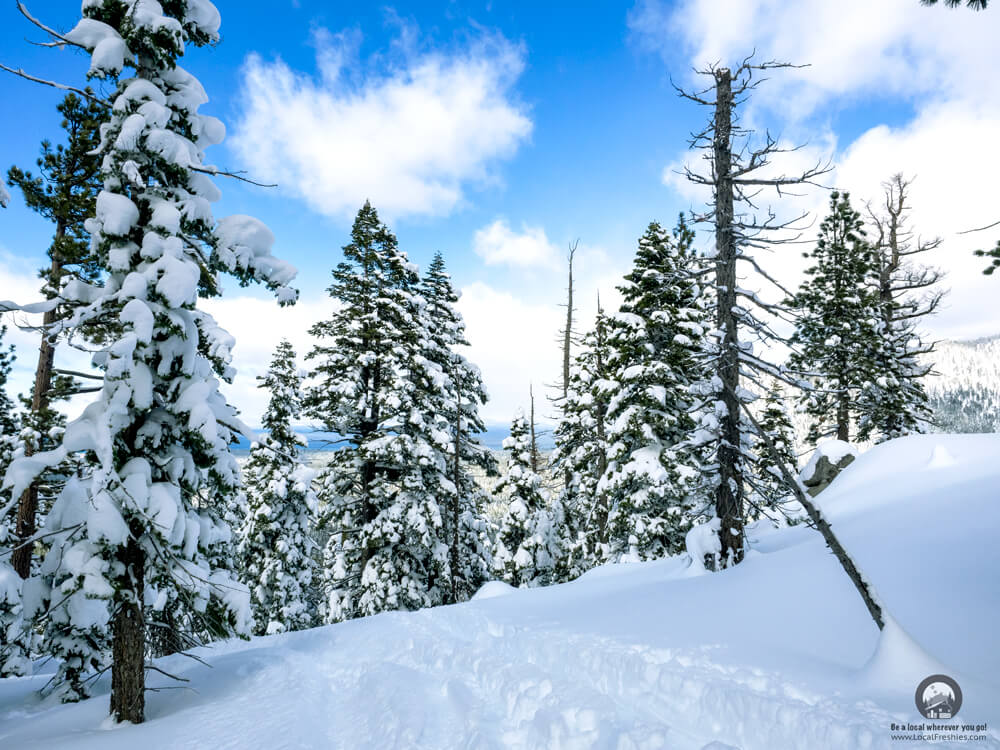 As we continue our ascent, Jaime raises a concern on the slope we're climbing. Trees, brush, and debris fill the drainage. It doesn't look fun. Instead of following the skin track, we make the conscious decision to steer off and put eyes on the slope we DO want to ski. With feet of fresh virgin snow, breaking trail is arduous work. After about thirty minutes of schussing, the thick forest opens up to perfectly spaced glades. Now THIS is more like it.
Time Is Becoming Precious…
As the sands of the hour glass tick away, I realize that we aren't going to make it to the summit. Frustrated & cranky, I comment that we should strap in here. She asks me "Why are you being such a jerk today?" I tell her my goals of today. With a perplexed face she responds, "My goal wasn't to make it to the top. I wanted to make this my first trip into the backcountry actually navigating & knowing where we are the whole time."
I'm Such A Jerk
Suddenly, I come to the realization that my head was in the wrong place. I feel terrible. Instead of focusing on helping my backcountry partner, I was being selfish. My goals weren't aligned with hers. I give her a big hug and we transition the splitboards into shredding mode.
The Powder Turns Are OH SO GOOD!
We point our boards downhill and begin our descent. Leaning back, we surf down the mountain in between the perfectly spaced glades. The ride to the bottom finishes too quickly. I could do this 10 more times! Down at the car, we begin to review the day.
What Did I Do Wrong?
Taking off our gear, I look back at whence we came. Could we have made it to the top? Sure. I learned something valuable though… voice your goals. Understanding what each team member considers success will help ensure everyone has a great day. We may have only climbed 500 vertical feet & got in a couple of turns, but the tour was a success.
A HUGE thank you to Richard Bothwell of Outdoor Adventure Club for helping teach me this valuable lesson. If you're interested in avalanche training or becoming acquainted with the backcountry, we HIGHLY recommend him & his team. Onto the next powder day…