The Adventure Begins at 3 AM
The alarm sounds. It's still dark and really early. I mean really, really early. Try 3 AM early. Instant reflexes almost make me slap the snooze button. Not today though. I'm excited to be getting up at this hour. A couple of friends and I have an adventure planned that has been on the list for a long time. See, I live on the Eastern side of the Tahoe Basin at the bottom of the rugged Sierra Nevadas. Every day from my house on my way to work and running around town, I look up at these striking mountains. There are many lines that I have already accomplished and many more that I want to ride, but one stands out in particular. No matter where you are in the Carson Valley it can be seen. In fact, most of the time this peak has snow on it year round. Standing at 10,600′, it is a giant compared to the rest of the peaks in this area. On a good snow year, rumor has it there is 4,600′ of rideable vert…. the longest run in Tahoe! As for the terrain options, this one has it all with bowls, chutes, faces, steep descents, gullies and plenty of glades. It has even been compared to some of the monsters down South in the Eastern Sierra. So what's the name? Let me introduce you to Job's Peak.
The longest run in Tahoe is also one of the toughest to get to
Sounds to good to be true with all this amazing terrain at your fingertips, right? I bet you're thinking it gets tracked out really fast too. Wrong! This one isn't an everyday backcountry run. To summit Job's, you will need a group of adventurers in really good shape that have all day spend with you (or better yet can camp a few days). There are only two ways in. One is from South Lake Tahoe and the other's from Minden-Gardnerville in Carson Valley. It's a choice of either distance or ascent. From Luther Pass, you'll gain 3,200′ of elevation over 7 miles, while Carson Valley ascends 5,800′ over 5.5 miles. Tough choice, huh?
The journey begins in darkness…
After eating a hearty breakfast, taking a shower and putting the final odds & ends in my pack, my buddies pull up. It was 4 AM sharp and right on time. We loaded up my gear and were off. After 35 minutes, we arrived at the trail head in Carson Valley. Remember the adventure part… well, this is where that begins. Normally when you arrive to your backcountry trail head the sun is up, you strap on your skis and start skinning. Not this time. Today, the journey started with bushwhacking through sage brush for about a half mile in the dark. Looking on the maps, there seemed to be a trail that led to Job's Canyon where we'd then follow that to the top. Sounds pretty simple.
What Happened To The Trail?
The unfortunate thing for us was that the trail disappeared roughly a quarter mile in. The going was tough up the canyon. Boulders, logs and lack of light made it difficult so we opted to go for higher ground. The thinking was if we could get to the snow line, it would make the traverse easier. This was good in theory but only in theory. The pitch started off pretty steep, and before long, we were using hands and feet to shimmy up the slope. After about and hour or so, the sun started to rise. It was time to take a few minutes to catch our breath, have some water and refuel.
Change of plans… follow the animals to the top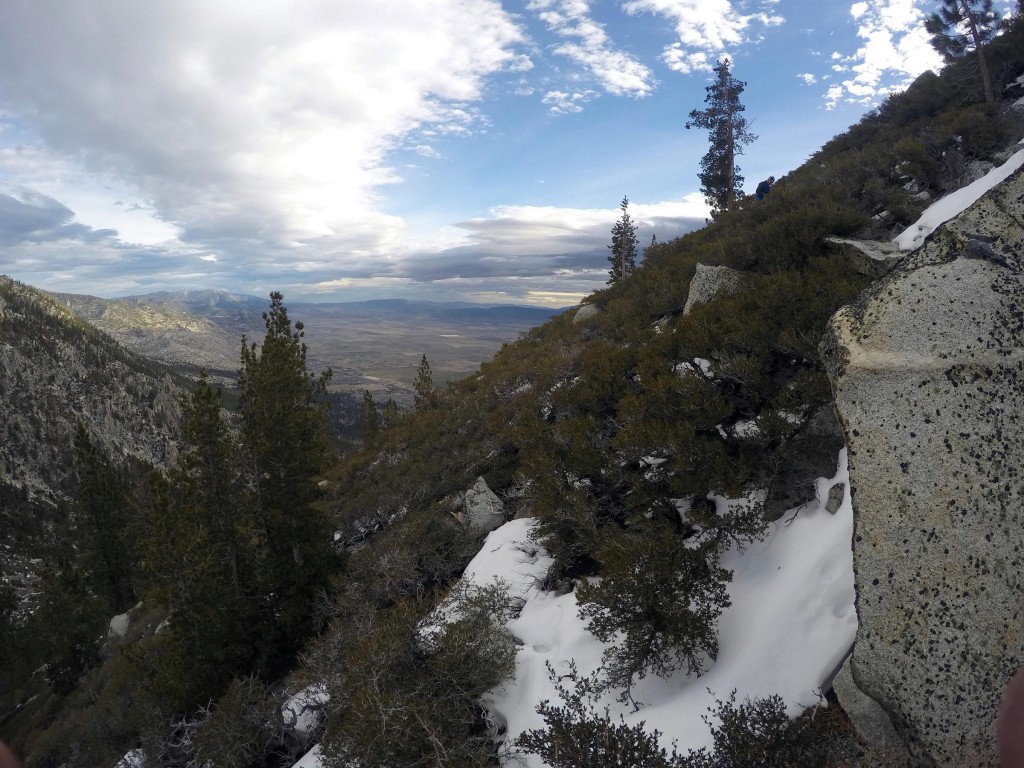 Once we regrouped and took a breather, there was a small change in plans. We found a pretty significant game trail that cut along the side of the hill while still gaining decent elevation. It had to be easier than our prior plan, so we gave it a go. We were now moving at a pretty good pace and covering some ground. The sun was now fully shining and it was evident that the temperature was going to hit 70 degrees as forecasted. Travel steadily continued and another hour & a half had passed. Patches of snow became more and more common. The game trail eventually came to an end at a thicket of Manzanita bushes and granite boulders the size of small cars.
Ridge In Site Close To The Top Or Not?
The ridge was in site and looked like we would be able to climb to the top in about an hour or so. Initially, we followed each other but then we began to find our own paths. Climbing this section began with picking our way through the brush up the hill and quickly changed to climbing through it while holding on for dear life. Our packs weighed between 50-70 lbs. with food, water, gear and snowboards/ skis strapped on. The incline increased significantly. It felt like if you got off balance just a little bit, the weight of your pack would pull you off the mountain and send you tumbling to the bottom. Did I mention the granite boulders? Where the Manzanita let up, snow and boulders took its place. The first victim was Zack "The Z Man" Holm. I heard a scuffle and looked over. He went down. Luckily it wasn't a big fall, but he came up with a pretty good gash.
After a quick duct tape job we were back in action
Onward and upward to the top! Things weren't quick moving, but we were all in it and continued to move forward. Then, it was my turn to fall victim to Job's Peak. I assumed my footing was good for a second, but the combination of snow and rock didn't hold. Grabbing whatever I could to stop my fall resulted in tearing all the skin off my knuckles. It looked worse than it was but after a few minutes of creative duct taping, we were mobile again. Another hour passed and we still hadn't made it to the top, but we had almost made it to the snow line. Before we got there though, Stephan (the finest specimen Germany's ever made) was the last victim. He went down in a patch of Manzanita and ended up with a duct tape job too.
One last break before the skinning
Everyone's spirits were still high and the scenery was beautiful. We enjoyed just looking around and taking it all in. Out of the corner of my eye, I noticed something disconcerting… evidence of a prior avalanche. It wasn't super fresh, but it was within the last week. This wasn't a point where we needed to turn around immediately, but simply a field observation that hinted clues about the snow pack was important.
Finishing up, we strapped on the skis and started to skin
Now we were making up some time but not killing ourselves. It was a tricky, steep side hill but totally manageable. The temperature continued to rise as we traversed. Zack laid down a clean skin track horizontally across the hill. As I followed, every once in a while the snow would give way and slide below me. Stephan brought up the rear and was having the same experience. The snow was really loose and wet by this point. We didn't talk much about it, but the mental notes were definitely being made. Another half mile and we had made it to the base of our goal.
As I stated in the beginning, there are many options to ride at Job's. You have lots of choices like the North Chutes, Fay Canyon or Exit Couloir. But let's be real though… there was no question for us.
The reason for all this effort up Job's Peak is to ride Jaws Couloir
It's the most popular line and drops North off the summit. Immediately, your faced with a sketchy rollover that quickly exceeds a steepness of over 45 degrees. Jaws then chokes down into a narrow crux. This is probably the spot where caution is needed the most. If there's a lot of snow, you should have plenty of room. A shallower snowpack though means a tighter squeeze. Make sure to have a look on your way up to determine the best route. Click here to see our Route. Standing at the bottom looking up, it's as good as you read about.
Choose your line or choose your life… a tough decision was made
We were all amped to climb that last quarter mile and pick our lines. There was one problem though. As we regrouped and discussed the run, snow quality came into the conversation. This late in the day and at this time of year, the snow changes rapidly due to varying temperatures. Today, there was no mistaking this was the case. Stephan said it first, but we all agreed. With the snow conditions and the signs we noticed on the way up, the avalanche danger was too high. It wasn't worth risking injury or our lives no matter how much effort we put in to getting here. As a group, we made the decision and pulled the plug.
It was a tough one, but it was the right one. For a consolation prize, we did get a quick run down a gentle slope through some trees to the dirt. On our descent, we chose to go the recommended route down Job's Canyon. Normally going down doesn't take as much effort but it just wasn't our day. If it were covered in snow, this would be the line. No snow below 8000′ meant another hour or two bouldering down the canyon with our heavy packs. Sometimes it doesn't go your way. We still had fun and found the adventure we were looking for. Next time, we will do a better job and know exactly when & where to go. We shall one day meet Jaws again.
Until then…