Similar to last year, the California Avalanche Safety Course Workshop was held on a beautifully clear fall day. Crisp in the morning yet warm enough in the afternoon for an après beer outside. As we stepped into the North Tahoe Convention Center, the positive energy was infectious. Compared to last year, it looked as though there were twice as many attendees. It felt like a reunion of the backcountry community. People talked about their summer adventures and excitedly discussed their thoughts of what the upcoming winter might bring. For those that didn't make it or just need a refresher, here's a recap of the California Avalanche Safety Course / Workshop for 2019.
Big Mountain Riding
Jeremy Jones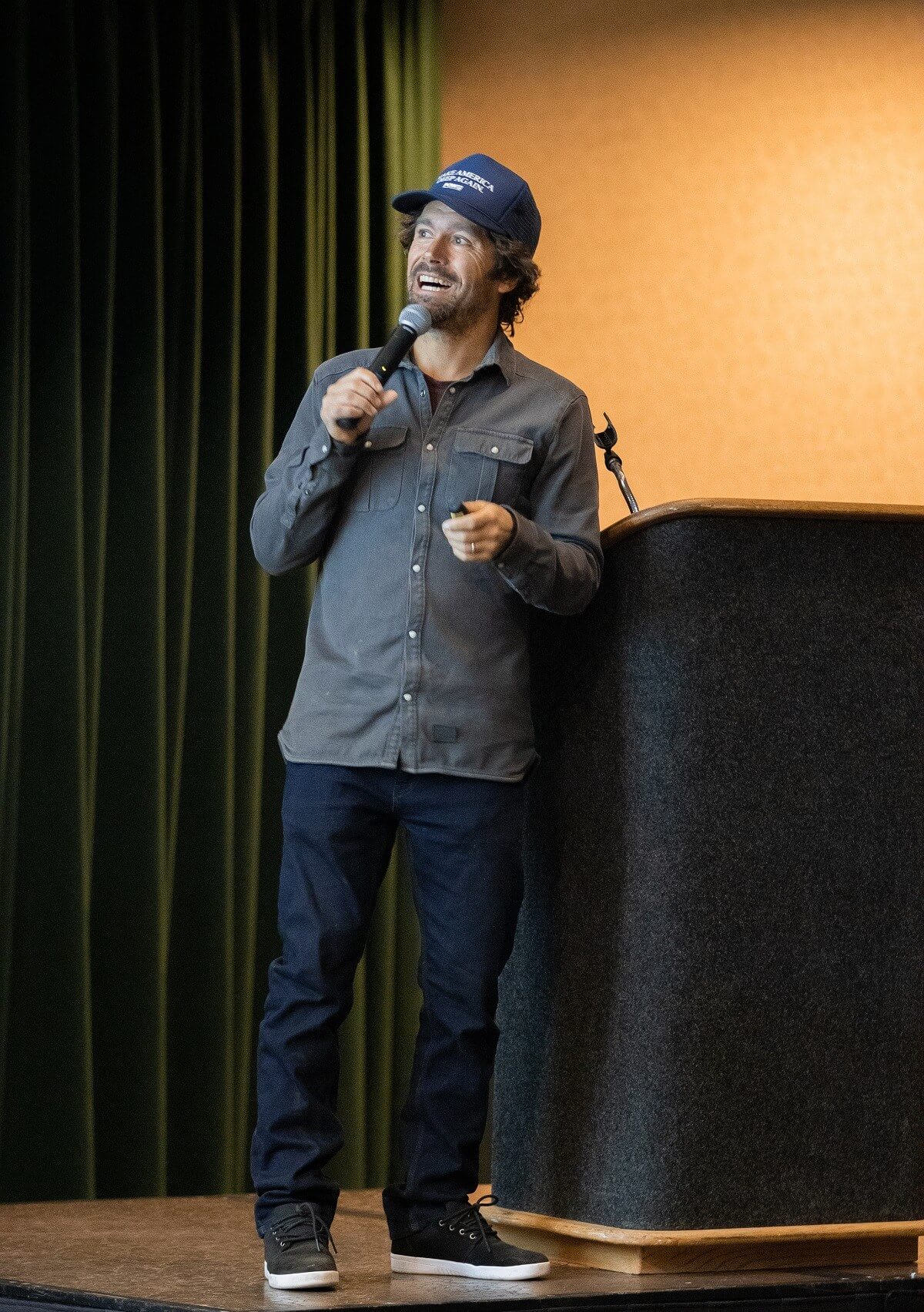 As the lights dimmed, we looked over the schedule and our jaws dropped. Talk about not pulling any punches right off the bat! The man. The myth. The legend in the backcountry community – Jeremy Jones was first. As David Reichel from Sierra Avalanche Center introduced him, you could tell he was just as excited as we were to hear what Jeremy had to say.
Jeremy started things off by letting us know that even now he still considers himself a "beginner" when it comes to the backcountry although he plays an expert in the movies.
Understanding When The Door's Open & When It Closes
The overarching theme of Jeremy's speech was focused on big mountain riding and how he slowly steps up the volume to the bigger lines. For example, the beginning of the season (December) he's focused on getting reps and keeping it mellow. April & May is when he pushes for the big lines.
No Such Thing As A Bad Day
He considers himself a devout member of the seven-day recreationalist. Never talk about how terrible the conditions are. You should NEVER call it a bad day. Instead, stay positive and use terms like:
It was technical
Training Day
Love Of Sport Day
The Fundamentals
When heading into the backcountry, Jeremy typically follows these basic concepts:
The earlier the better
No rush after a storm
Ride to live another day
Celebrate Turning Around
Being in the mountains, sometimes you can get a bit lax because the weather seems to stay stagnate. In reality, conditions can change quickly unbeknownst to you. If it's been a couple of weeks without a "No" to your plans, this should be a red flag.
When The Fecal Matter Hits The Rotor Oscillator
Brandon Schwartz
After Jeremy Jones, Brandon Schwartz spoke at the California Avalanche Safety Course / Workshop. He started his with an interesting question. When you head into the backcountry, a lot of individuals answer the question "What do you think?" with an "I don't know, it seems okay." It's when you let your partners just take the lead instead of being an active participant. Risk Management doesn't need to be complicated. The better questions to ask your team when you're out there are:
What could go wrong?
How bad could it be?
What are we going to do now?
If you understand the nine avalanche problems and which ones to be on the lookout for that day, this will help answer these types of questions. Knowing what the risk is will make sure that you know how to handle it and provide a treatment.
The BOO-RA!!
Ryan Lewthwaite
Between the Eastern Sierra Avalanche Center & the Sierra Avalanche Center lies the Bridgeport Avalanche Center, responsible for the Bridgeport Winter Recreation Area (BWRA) fondly known as the "Boo-Ra." The last three seasons have seen a lot of big avalanches, removing historic trees that have been in the area for hundreds of years. Last season, they only had one public observation out of the 74 submitted summaries. Their goal is to make more people aware of this resource and ask anyone that visits to submit an observation.
Nickolay Dodov Foundation
Richard Bothwell & Michael McCarthy
How many of us could react positively after an earth-shattering incident like losing your son in an avalanche? That's what happened to Alex and Natalia Dodov, parents of Nickolay. Instead of getting angry at the world, they used his death as inspiration to help our youth get educated on how to recreate safely in the mountains so that they can go home to their parents.
Nick Is Here With Us
But what to do? Well, they made the decision to become "missionaries" in offering FREE classes to organizations like schools, ski teams, and boy/girl scouts via the Nickolay Dodov Foundation. What started as a handful of classes in the first year has grown to over 2,000 kids / year! All of this is done on a shoestring budget of only ten thousand dollars. And what if they go through the budget (which they do)? Well, they use their own hard-earned money to keep the momentum going!
The Next Chapter In The Foundation – Avy Course For Kids
As anyone that's taken an avalanche course knows, it can get a bit overwhelming. So, how do you fill the gap between the Know Before You Go avalanche safety course workshop and Avy 1? By creating an avalanche safety course workshop specifically for kids. The way things are presented is key to make sure that the younger generation can retain and apply these teachings.
How To Help The Nickolay Dodov Foundation
If you've gotten a chance to meet Alex and Natalia Dodov, you know they're the hardest working individuals ever. Their goal isn't to become famous but rather continue to expand the amount of kids reached. If you know a class, school, or organization that wants a FREE class, reach out to Natalia. Or, if you think what they're doing is awesome and have a few bucks to spare, consider donating to the foundation. Every bit helps to reach just one more kid. Either way, Natalia will make sure she gives you "buckets of hugs" for helping.
Snow Observations From Donner Summit
Randall Osterhuber
The Central Sierra Snowlab, located on Donner Summit, has a long-detailed history of scientific information due to the railroad passing through there. The one constant throughout all the years is how extreme the winters can be. Biggest seasons receive twice as much snowfall to average versus drought years that can be on the other spectrum.
Tahoe Extreme Weather… Has gotten MORE extreme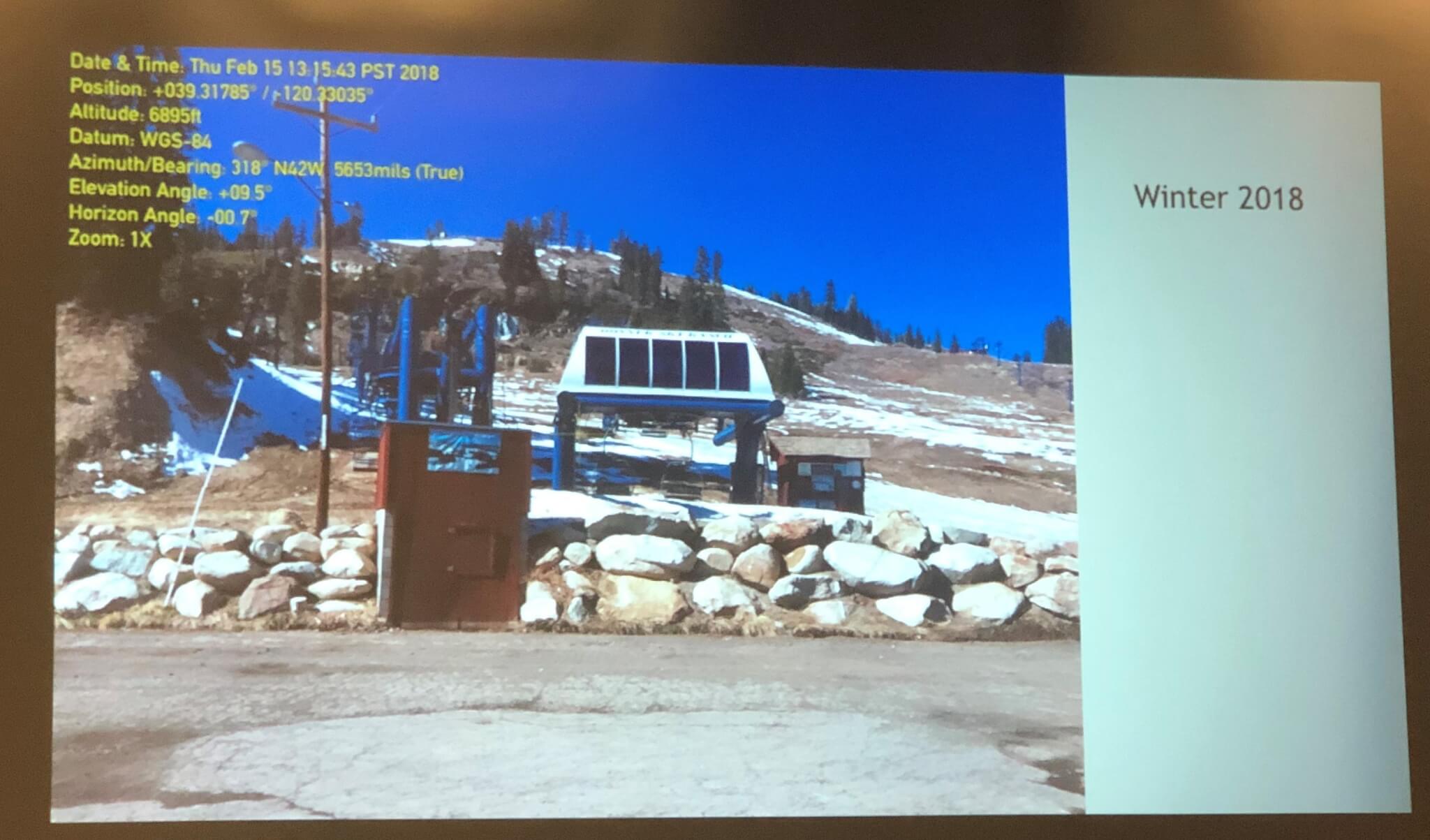 After over 140 years of data, the likelihood of extremes should go out the window, but the reality isn't the case. Over the last decade, Lake Tahoe has seen more extremes. Here's just to name a few:
January 13, 2012 – the ONLY day ever in January without snow on the ground
Winter 2015 – Driest winter EVER by 30%
2017 – Wettest Water Year ever
Latest Weather Trends In Lake Tahoe
Ski seasons are starting later (i.e. drier falls) and finishing later (i.e. wetter springs). We're also seeing on average less days with snow (i.e. more often rain) and less overall snow on the ground.
Stories In The Snow
Meghan Collins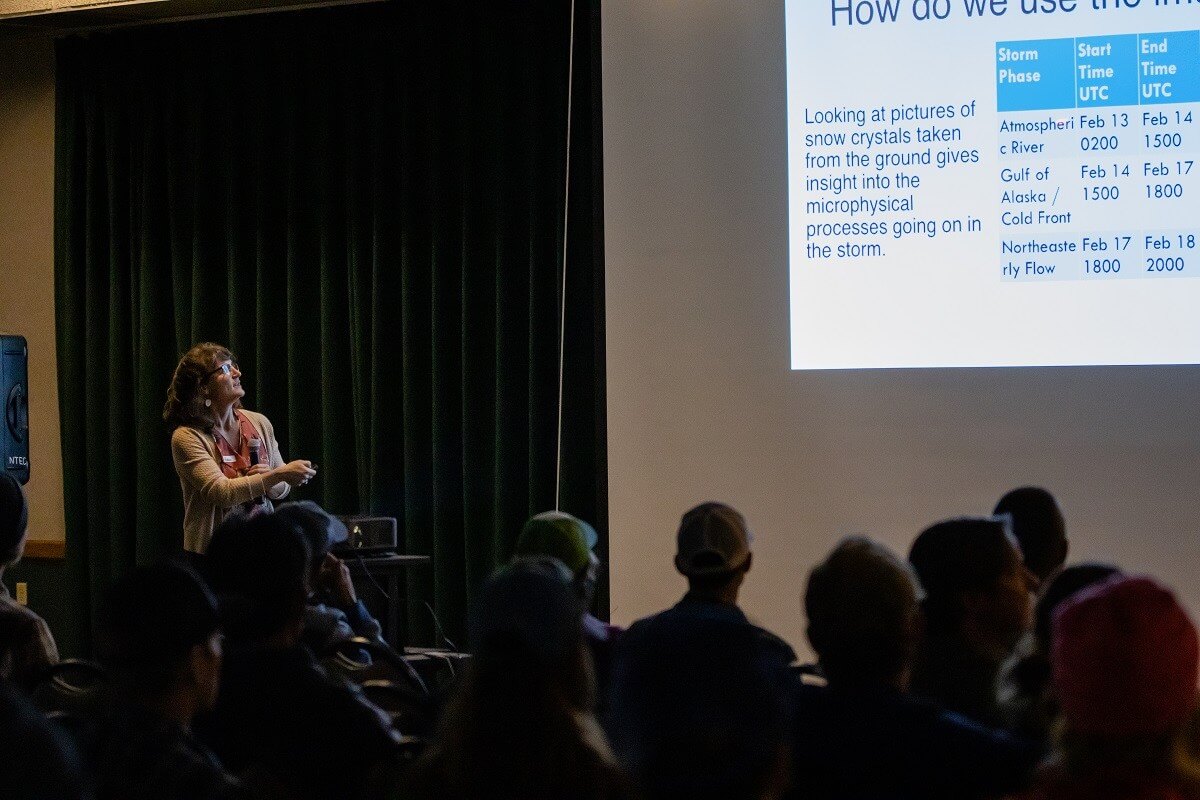 Have you ever wanted to be part of a scientific effort… on snow? Well, this is your chance! As part of the latest project from the Desert Research Institute, they're reaching out to the community to obtain photos of snow crystals during a snowstorm. Snow crystal formation is affected by temperature and humidity, but they want to take a closer look to see if they can use these snow crystals:
To help us understand where moisture will fall and when
If pollutants in the air affect snow crystals
If there is any correlation between avalanches & crystal shapes
To become a citizen scientist, all you need is a smartphone, a magnifying lens, and a flake of freshly fallen snow. For more about this and how you can participate: DRI – Stories In The Snow or pick up a free Stories In The Snow kit at one of their outings:
Mt. Rose – January 4 – 5, 2020
Diamond Peak – January 11 – 12, 2020
Forecast Predictability
Zach Tolby
Although many joke about weather forecasters being wrong all they time, when you compare them to other macro long-term forecasting such as political or economical, they actually have a pretty high success rate. So why is forecasting so darn difficult? The simple answer is we can't measure NOW accurately. Even within a room, the temperature can be vastly different and each of these small differences compound exponentially. Now, put those differences on a global scale and you make it even harder.
Ensemble The Future Of Weather Forecasting
To overcome these challenges / variability, ensemble forecasting has been introduced. While seasonal is still nearly impossible to do, they've gotten better at determining long-range.
Forecast Of Opportunity
Using oscillations like the Madden Julian Oscillation (MJO) there is some predictability into the 3-4 week range. The problem is that it doesn't provide regular predictability and may only give forecasters the opportunity to make predictions that far out once a season.
Two Weeks Out
Although they can't see what day a storm is going to show up, these forecasts have gotten better at predicting the trends to let us know the probability of going into a drier spell or a wetter one.
7 – 10 Days Out

In this range, due to the ability to understand atmospheric rivers and since they account for approximately 50% of the season's precipitation, we can now at least understand approximately when they'll make landfall. Unfortunately, 7 – 10 days out we can only say it'll hit somewhere between Seattle and San Diego versus 5 days out, it's somewhere between Portland and the Bay Area.
One Week Out… Or Less
At this level, weather forecasting has its own complications because it needs to be more accurate. People want to know things like when it will start snowing and at what snow level… which become very difficult.
Overall, due to the processing power and additional tools such as the new weather satellite, the ability to forecast has gotten better over the last twenty years. Unfortunately, there's still a long way to go for the ability to predict a season.
Life In An Avalanche
Michael Ferrari
The Mt. Rose area has a long history in the field of snow research including legendary folks like Dr. James Church and Monty Atwater to name a few. Michael has spent nearly his entire life chasing snow from Europe to Utah. For the past thirty-two years, he's been part of the Mt. Rose Ski Patrol and seen a lot. As director of ski patrol, he was influential for helping open The Chutes area. His argument has always been that there would be more accidents if it wasn't managed.
The Transition Of The Chutes To Be Open
During the process of getting approval for them to become part of the ski area, a fatality was recorded within the Hornet's Nest on December 15th, 2002. This wasn't a tale to stop The Chutes but rather a reason that they should be managed so that deaths like this wouldn't happen again.
February 12th, 2007 – A Day Of Personal Reckoning
After the first significant storm rolled in, Michael and his partner Pat Robertson were in the process of doing avalanche mitigation within The Chutes. They had already done all the ridge-tops and were now in the process of doing the lower slopes. They sent four shots into the Yellow Jacket chute with no reaction. Pat and Michael then both ski cut, again with no reaction. It wasn't until they ski cut at mid-slope that a two foot chunk of snow along with Pat went for a lineal ride of over 500'!
EYES ON ME! EYES ON ME!
As it happened, Pat yelled "Eyes on me! Eyes on me!" as Michael watched him drift down the mountain into a big plume of snow. The only reading he got on his beacon was 62 and nothing else. It wasn't until he saw Pat's helmet on the snow that he found him. He had hit a tree with his chest which damaged his transceiver so it wasn't working. Pat had a serious brain injury and it took him twelve months to heal. He even had to re-learn how to walk. Fortunately, he was able to make a full recovery.
Ski Patrol – Third Most Dangerous Profession
Since 1950, 26 ski patrollers have died during duty and 47 people have died inbounds. Big or little, all avalanches can kill you. No matter how much snow safety we put in, sometimes the mountains are just closed for business.
So, as you venture out this winter, remember that having fun is key but so is coming home safely. If you don't know where to start when it comes to gear, looking for tips, or just want to read about some of the scary experiences we've had like having a person break a leg be sure to explore our backcountry guide: