Skiing has been around for nearly five thousand years in some form or fashion. Europe might be the birthplace of modern skiing, but by the 1880's, the Norwegian immigrants in Wisconsin and Minnesota quickly figured out with easier access to lumber stocks, they could make excellent quality hickory skis cheaper than their friends back in the old country. By 1887, several Norwegian ski-makers, like the Hemmestveit brothers, had relocated to the U.S. A hundred years later… this tradition of manufacturing skis is still alive and well in North America. In fact, it's downright booming! Here are just a few of the ski companies making skis right here in the U.S. & Canada:
Skis made in the U.S. & Canada
Slant Skis
Lake Tahoe, California
On the west shore of Lake Tahoe, located in the cozy hamlet of Tahoe City, Slant Skis was founded in 2007. Unsatisfied with the quality of workmanship available on the market, they began making their own skis. Confucius said, "Choose a job you love and you'll never have to work a day in your life." Following this mantra, their passion transformed into a business. They are still 100% employee owned and try their best to source all their materials from the U.S.
Each of their models have full bamboo cores meaning they're construction is light AND environmentally friendly. For the 2017-18 season, they have a new model coming out called the Diplomat. It's the perfect patrol-style ski, meaning a ski that's designed as a tool for "work" on the mountain. A ski that can take a beating, go anywhere and keep a good edge on the worst or best conditions. They're also building a brand-new fleet of demo skis this winter. For only $50, you can demo ANY pair… and the best part? The cost of the demo can go towards buying a pair of new Slant Skis. Now that's quite an awesome deal!
Wagner Custom Skis
Telluride, Colorado
Telluride's moniker "To-Hell-You-Ride" might have come from the old mining days, but today's locals are still "riding" hard. Wagner Custom Skis is still a bunch of hard-charging Telluride locals living the dream. That means making and marketing custom skis for skiers all over the globe. Each pair of their skis are painstakingly handcrafted based on the Skier's DNA (learn more about that here: wagnerskis.com/getstarted/). What does that mean? Well, it means each ski that is bought is custom built just for you! Using a different combination of materials, structural layup, sidecut, turning radius, length, width, flex pattern, etc., they make sure what's attached to your feet works in favor of you not against you.
They've also recently moved into a new factory which is literally steps away from the chairlifts in Telluride. As far as we know, there are no other ski factories so passionate about the sport that they're located in a ski town steps from the lifts! I don't know about you but that HAS to help with R&D.
Yopp Skis
Bethel, Maine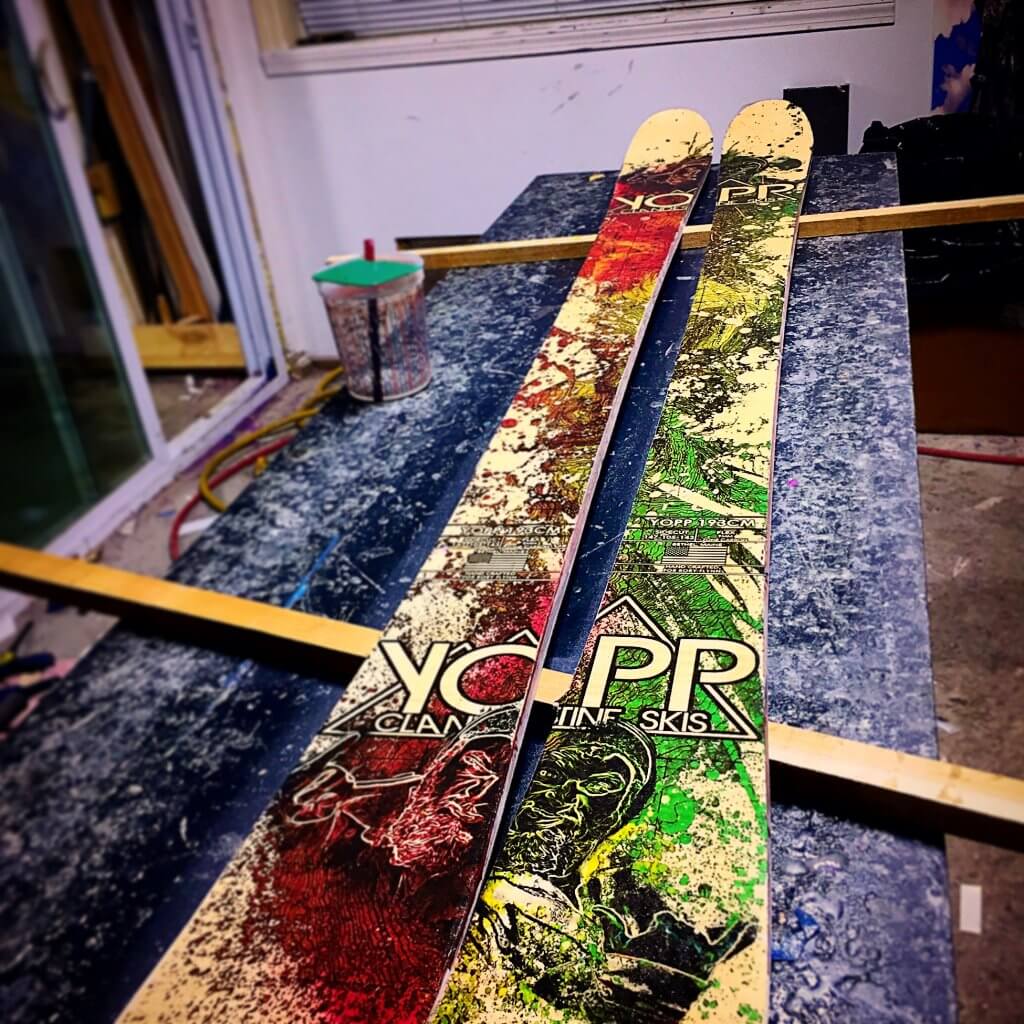 It all began in a wood shop in southern Maine at the Ye Olde Perkins Place (YOPP). Established in 1717, the shop belonged to their great grandfather, a master carpenter and woodworker. What began as a hobby brought the shop back to life for a new purpose… handcrafting downhill skis. Spending the first 5 years devoting all of their extra time and income, they fine-tuned their process, material choices and equipment. Finally, in 2014 they outgrew the family's wood shop and moved to Bethel, Maine.
Now located in the mountains of Western Maine and with the White Mountains nearby, they have been busy refining their collection of skis. Their selection shares a common backbone between their woodworking heritage along with modern ski construction. Their new home allows them to build skis that can handle all conditions on the hill, in the backcountry or in the park. They customize each ski to meet every individual customers' needs and desires. It's their goal to share the indescribable feeling of making turns on hand crafted skis with people that love skiing as much as they do!
Sego Skis
Teton Valley, Idaho
Sego Ski Co. designs, tests and builds freeride skis in Teton Valley, Idaho. With a first-class factory staffed by skiers (and one snowboarder), they offer high quality, American made skis. Having the Tetons in their backyard, it affords them the opportunity to ski their products on a daily basis. This also means they can build the ultimate ride for powder hounds, beer league racers and everyone in between.
This year, they're working with other local small batch companies to manufacture snowboards in addition to their own line of skis. Heading to Grand Targhee? With their new headquarters located right in downtown Victor, Idaho, stop by for a beer in their new showroom, meet the crew, and even take a tour of the newly expanded factory. Not planning on being in Northwest Wyoming anytime soon? Don't you worry! Keep your eyes peeled for the Sego Bus at a local ski area near you for your chance to try their demos this season.
Foon Skis
Pemberton, BC
Old School? New School? How about ALL School! That's what Foon Skis is all about. Taking the experience and knowledge of the past and applying the latest in techniques, all of this helps them produce a ski that embraces the past, present & future! If manufacturing in North America wasn't enough, they also locally source the wood for their cores. The Yellow Cedar which grows on the slopes of the Coast Mountain Range, produces a superior product like nowhere else. How come? Due to climate in this region, the wood is as strong as a hardwood but much lighter!
New for 2018, the Gretski has gotten a big makeover. First, the shape has been tweaked a bit bringing more balance. Second, they've used more kevlar, getting the weight of the ski down to 1650 grams (181) but at the same time it has none of the skittishness associated with carbon skis. Pulling it all together, the new graphic makes sure everyone knows your rocking a pair of skis not just made in Canada but that the core or "soul" of the ski comes from here too!
This is just a glimpse of some of the ski companies that have made the decision to keep a time-honored tradition alive and well in the U.S. & Canada. Is there another company that we should include in our 2018 edition? Let us know via our social media outlets.