For anyone that's skied or snowboarded with a couple of friends, there's always that one time where your crew stands on top of the park and yells, "Let's race down." The thrill of chaos and friendly competition with your buddies leads to a melee of action. If you dig this sort of thing, we know the perfect event for you… the Banked Slalom! This is a race on a winding course filled with whoops, rollers, kickers, banked turns, and of course chopped up snow. Luckily, it's a popular event, and there are many competitions around the country for you to watch. Here are a few of the most popular.
Baldy Banked Slalom
Learn more about Baldy Banked Slalom 2023
Sun Valley, Idaho
January 7-8, 2023

Sun Valley's ONLY snowboard specific event of the season. Now in its 9th year, the Baldy Banked Slalom is one of the qualifiers for the Mt. Baker Legendary Banked Slalom listed below. This year's course is from the top of Warm Springs run and ends just before I-80. A true ode to the sport of snowboarding and reaffirmation of the sport's disregard for the mainstream, especially on an Olympic Year! Instead of being about the cash purse, it's about getting together and shredding an awesome, wild course with your best friends. Definitely worth checking out if you're in the area.
Here's a cool write-up of the 2014 event on Visit Sun Valley.
Mt. Baker Banked Slalom

Learn more about the Legendary Banked Slalom
Mt. Baker, Washington
February 3-5, 2023
Just like the Daytona 500 for NASCAR fans, the hallowed Mt. Baker Banked Slalom (aka the Legendary Banked Slalom) is considered the most prestigious of all the Banked Slalom events. Why is it so famous? Well, it happens to be one of the oldest Banked Slalom events in snowboarding. This event is actually considered the incubator of the boardercross event you now know. And, the list of winners that receive the duct tape trophy reads like the hall of fame for snowboarding. Here are just a few:
Tom Sims (Won the 1st annual)
Terje Haakonsen
Shaun Palmer
Craig Kelly
Xavier De Le Rue
Rob Morrow
JLA Mammoth Banked Slalom
Learn more about JLA Mammoth Banked Slalom
Mammoth Mountain, California
March 3-5, 2023 (based on past years – not confirmed)
In 2013 on the 10th anniversary of legend rider and artist Jeff Anderson's passing, Volcom celebrated his life with a fun day of shredding at Mammoth. Jeff was always at the point where snowboarding and creativity meet. Over the years, the event included a traveling art show and a rideable art park at Mammoth. Now a decade later, the goal of the event is still shining through as part of the annual Banked Slalom. If you're anywhere near Mammoth, we highly suggest checking out this inspiring event yourself.
Nate Chute Banked Slalom
Learn more about the Nate Chute Banked Slalom
Whitefish, Montana
March 18-19, 2023
The Nate Chute is the second longest running Banked Slalom in the U.S. and the third longest in North America. Nate Chute is a well-known snowboarder from Whitefish, who tragically took his own life at a young age. This "Contest for a Cause" raises money and awareness for the Nate Chute Foundation. Dedicated to reducing suicide among young people in Montana, the foundation is focused on giving teenagers like Nate an outlet to help save their lives. They do this through suicide prevention education and training, mental health counseling, and efforts to reduce substance abuse and improve self-esteem.
Slash and Burn Banked Slalom
Learn more about the Slash and Burn Banked Slalom
Howelsen Hill, Colorado (Steamboat Springs)
March 18 – 19, 2023
Just like the origination of the Legendary Banked Slalom in Washington, the Slash and Burn Banked Slalom in Steamboat, Colorado is a small grassroots event continuing to expand annually. In keeping with that hardcore spirit, part of the proceeds for this event go to the Steamboat Springs Winter Sports Club to help fund future generations of shredders. This makes sure that the torch of fun, soul-filled events like this one keeps burning bright.
A-Robs Smash Life Banked Slalom
Learn more about the A-Robs Smash Life Banked Slalom
Lost Trail, Montana
March 25, 2023
At its core, this is a celebration of Aaron Robinson, Dillon Candelaria, snowboarding, and the friendships that have been made because of them. It also serves as a fundraiser for the A-Rob Plant a Seed Project. This project, run by Aaron's mother Pam, gives kids that are less fortunate in Montana's Flathead Valley the opportunity so they can get involved in snowboarding and skiing.
Sugarloaf Banked Slalom
Learn more about the Sugarloaf Banked Slalom
Sugarloaf, Maine
March 25, 2023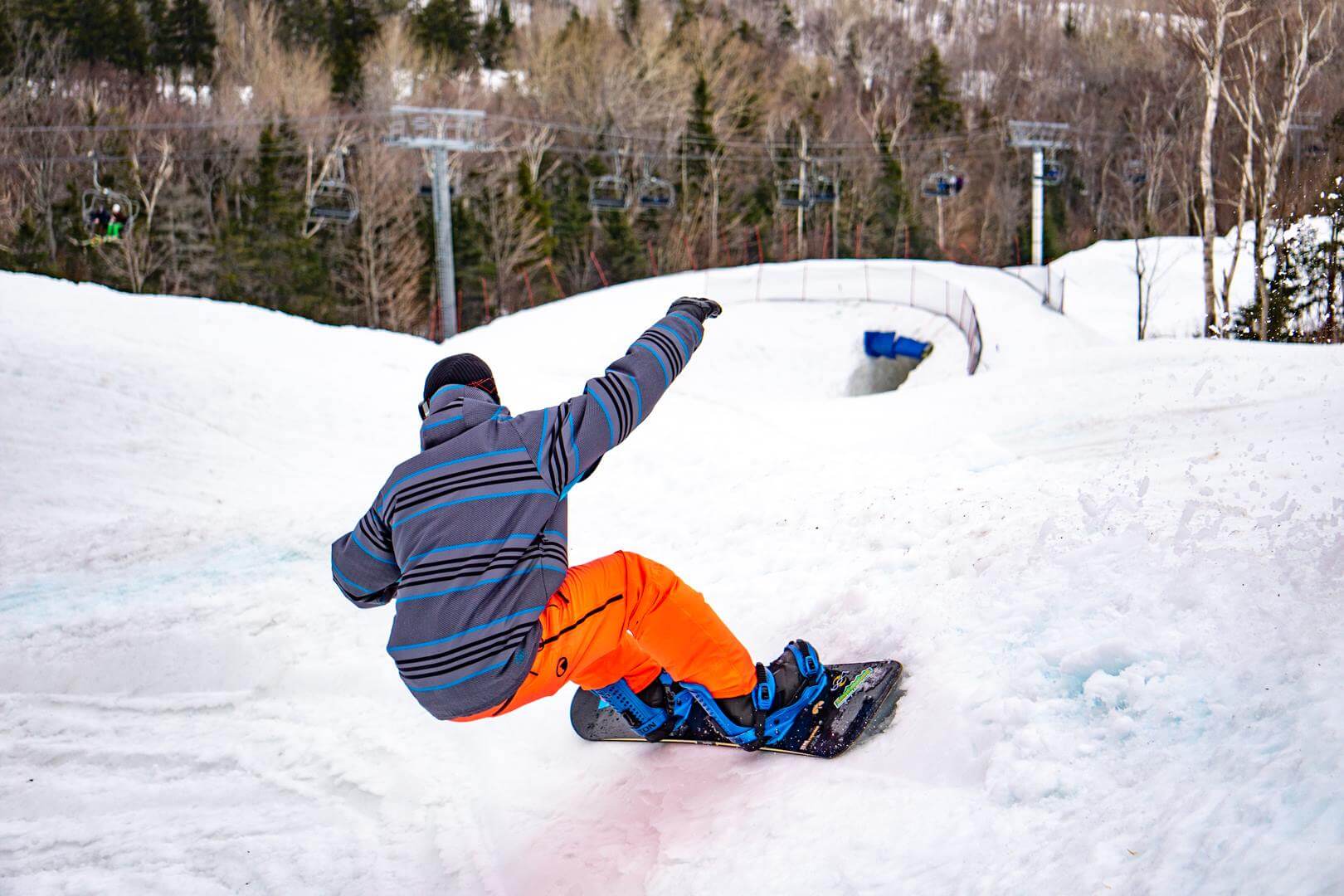 Even though the West Coast usually gets more snow and has bigger mountains, the East Coast is the home for contests and events that are energetic and unique. The Mike Baker Banked Slalom definitely lives up to that hype. Don't miss out on this event if you're anywhere near Maine.
Sidesurfers Banked Slalom
Learn more about the Sidesurfers Banked Slalom
Sugarbush, Vermont
March 25, 2023
A snowboard only Banked Slalom event held on Sugarbush's Mt. Ellen, in partnership with sunglass accessory brand, Sidesurfers. The goal of the race in John Murphy's words, owner of Sidesurfers, is to gather the community to celebrate the simple act of turning to create positive camaraderie and help pass the craft to the next generation of rippers. Competitors get two runs at the course filled with table tops, berms, rollers, and various snow features. A cash purse is then awarded to the top overall competitors. The payout of such will be based upon the number of total entries. But don't worry… the top competitors will also receive prize packages.
Neil Edgeworth Memorial
Big White, British Columbia
Mid-April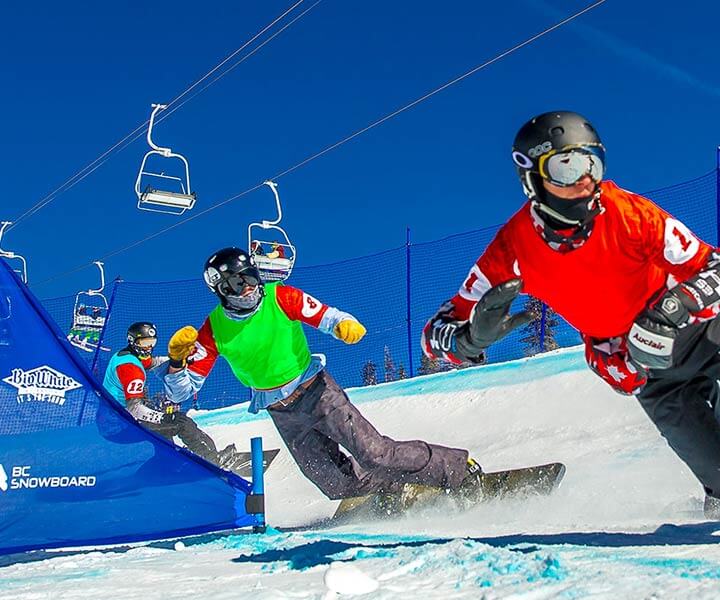 Originally called the Inland Banked Slalom in 1987, the event took a short hiatus in the early '90s before it's rebirth in 1997 under Edgeworth's name after he was tragically killed by an avalanche in Chamonix, France. Although there are many prizes to be had (worth well over $20,000!), taking part in the second oldest Banked Slalom is more about fun and friendship than winning.
If you've already missed the Banked Slalom event in your neck of the woods, don't worry. There might be another one nearby. If not, we'll have you covered next year as we highlight these cool energetic events.