It's true… the window ticket price for Vail ski resort is over $200, but that doesn't mean you can't afford to go skiing. Just like buying a Rolls Royce, you don't NEED to go to the fanciest or glitziest resort to enjoy skiing. Instead, make the decision to visit a Mom & Pop operation in your area that either gives awesome discounts or maybe has a ridiculously affordable ticket price. To help in the hunt, here's a few cheap ski resorts in the USA & Canada that you can ski for under $59. If you're particularly frugal, you can even pick up a lift ticket for under $25! So, don't complain about the prices… just visit a resort that's affordable!
Pacific Northwest
Hoodoo Ski Area
Founded in 1938, Hoodoo is situated on Oregon's Santiam Pass providing a relaxed atmosphere for both families and those that want a true skier's area. Instead of high-speed chairs and luxury amenities, you'll find uncrowded slopes and wide-open trails to grip it and rip it. On those days that it does get hammered with snow, head to the backside for some more challenging terrain.
Facts:
Skiable Area: 800 acres
Trails: 32 runs
Vertical Drop: 1,035 feet
Snowfall: 450"
Daily Lift Ticket: $69
Other discounts: Wednesday through Saturday, they offer night skiing from 4-9 p.m for a measly $38.
Mt. Spokane Ski & Snowboard Park
Located in Washington's largest state park, this ski spot is deep in the Selkirk Mountains, northeast of Spokane. Located on the same storm track as the Cascade ski resorts, Mt. Spokane receives quite a bit of the white stuff, but due to its geographic position, they also receive a drier form of snow. And, with the resort completing their expansion project just a few years ago, there is an additional 279 acres serviced by a new triple chairlift to tackle as well.
Facts:
Skiable Area: 1,704 acres
Trails: 52 runs
Vertical Drop: 2,000 feet
Snowfall: 300"
Mid-week Lift Ticket: $59
Other discounts: Every Wednesday night through Saturday night, you can go out and make some turns for six hours, and it's only $27 bucks.
Northern Rockies
Pebble Creek
The local's motto is "If you can ski at Pebble Creek, you can ski anywhere." From our friends who've visited this locale, there's a lot of truth to this statement. Regardless of the acreage, this modest sized ski area has some big terrain as well as wide open corduroy for the beginners. It's a ski area that will have you walking away with a big grin on your face. The deal was so good we had to check it out ourselves and realized that Pocatello AND Pebble Creek are the best deal in skiing right now.
Facts:
Skiable Area: 1,100 acres
Trails: 54 runs
Vertical Drop: 2,200 feet
Snowfall: 250"
Full – day lift ticket: $62
Additional Mid-Week Specials (except Holidays):
Monday – 2 For 1 Day
Half-days even 9:30 am – 1 pm you can pick up a pass for $49?!?!
Turner Mountain, MT
What do you need for an awesome ski area? Amenities, heated seats, perfectly groomed slopes? Nah. For us, it's 100% about the terrain, snow, and most of all crowds. This ski area is on our bucket list ever since we heard about it. Only employing THREE folks during the winter, it's 100% about the skiing and nothing else. A true community resort where the double chairlift was built by volunteers and equipment loaned from the town of Libby.
Facts:
Skiable Area: Unknown
Trails: 25 runs w/ ½ being expert
Vertical Drop: 2,110 feet
Snowfall: 250"
Full – day lift ticket: $45
British Columbia
Mt. Timothy Ski Area
If you haven't noticed about this list, there's a theme. These aren't corporate run outfits trying to squeeze out every dollar from your pockets. Instead, they're community focused and just trying their best to get people outside. A few years ago we talked about Mt. Timothy Ski Area having financial troubles due to the forest fires. Luckily, they raised enough money to keep the lifts turning AND they were able to keep the lift ticket price at an economical rate.
Facts:
Skiable Area: Unknown
Trails: 35
Vertical Drop: 1,017 feet
Snowfall: 95"
Full – day lift ticket: $72 (CAD)
Manning Park Resort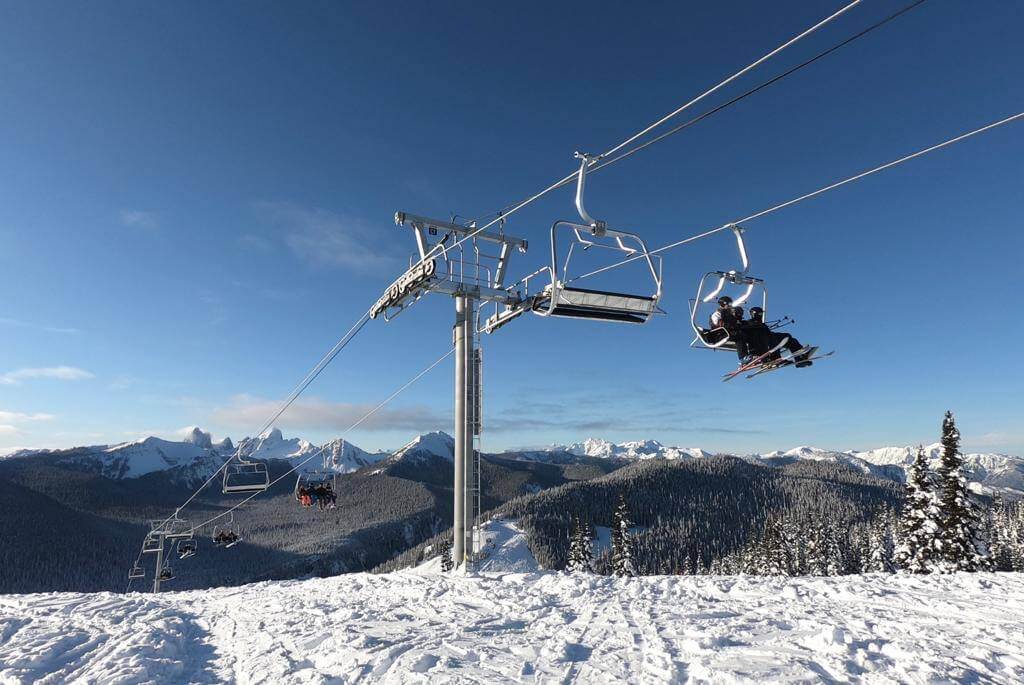 Located in the provincial park of the same name, this ski area has come into a golden age since the local RV resort purchased the ski area back in 2013. Over the past few years, they've invested time and effort including such infrastructure enhancements as a new alpine guest services building and thirteen new cabins alongside the existing twenty four chalets. The cherry on top though is the brand new quad chair, named the Bear Chair, which replaced their iconic Orange Chairlift. Enveloped by the scenic Cascade Range mountains, expect jaw dropping alpine vistas. Besides the ski area, there's over 64 km of cross-country ski trails, an assortment of snowhoe trails, snow tubing, a rink to skate on, and a LOT of backcountry skiing options available around this jewel of Canada. Definitely worth a visit.
Facts:
Skiable Area: 140 Acres plus open gate policy
Vertical Drop: 1,433 feet
Trails: 34
Snowfall: 215"
Full – Day lift ticket: $59 – $79 (CAD)
Lake Tahoe
Donner Ski Ranch
This ski area, located on the famous Donner Summit, is one of the oldest and iconic ski areas on the West Coast. As soon as you step onto the grounds, you can feel that it has personality and charm. It's 100% about the skiing here and the culture surrounding it. Instead of high-speed lifts and a high-end McMansion village filled with $20 coffees, you'll be greeted to cozy fixed grip chairs and a historic lodge built in 1947. Definitely worth checking out if you want to feel the soul of the sport.
Facts:
Skiable Area: 460 Acres
Trails: 52
Vertical Drop: 750 feet
Snowfall: 396"
Daily Lift Ticket: $99
Old School Days: $59 (Valid every Tuesday, Wednesday & Thursday, starting January 10, 2023, excluding February 21, 22 & 23, 2023)
Northeast
Mt. Abram Maine
Being the largest doesn't mean it's the best or even the most desirable. Only a few miles outside the town of Bethel, this family run ski area is a great illustration of this. It was the first in Maine to offer a Boundary to Boundary policy. What does that mean? Well, it signifies that if you see a set of ski tracks go into the woods, you can follow them. All they ask is for you to use good judgement and ski with a friend.
From perfect groomers to sweet tree lines, this ski area offers as much as the big boys in the region. Another interesting fact is all the trails at Mt. Abram were named by the creator of Rocky & Bullwinkle, Jay Ward. So, get your Boris or Natasha on and get some turns in!
Facts:
Skiable Area: 560 Acres
Trails: 54
Vertical Drop: 1,150 feet
Snowfall: 115"
All-Mountain Lift Tickets: $35
Other discounts:
Carload Fridays: $99 (Tickets for anyone in car, seatbelts required for all)
Maine Day Thursdays: $19.60 All Maine Residents are available for discounted ticket
McCauley Mountain Ski Area
Growing up in Chicago, my father used to talk about skiing at a place called "Old Forge" back in the late 50's. A big smile would suddenly form as he reminisced about his "skiing days." Years later, I began to research to see what happened to this place. It's now called McCauley Mountain!
Although very, very small, this ski area has all the skiing and snowboarding variety you'd find at the larger resorts on the East Coast but in a very inexpensive package. Outrageous bumps and double-black glades, as well as easier trails from the summit, it has it all. Don't believe us about the double black glades? Well, it's produced three Olympic alpine skiers and two Olympic Nordic skiers (with a third—a female biathlete—qualifying now). Top that off with being one of the snowiest ski areas within a lake effect snowbelt and you have a good chance for some powder days. Not bad for a small hill, eh?
Facts:
Skiable Area: 325 Acres
Trails: 21
Vertical Drop: 633 feet
Snowfall: 225″
Weekend All-Mountain Lift Tickets: $35
Weekday All-Mountain Lift Tickets: $25
As you can see, no matter where you live in North America, there are ways to get on the snow at a decent price. So, this season don't give the excuse that it's too expensive. Instead, head to a Mom & Pop resort, support local, and feel the REAL soul of skiing.
Looking for more trip ideas or inspiration for your next vacation? Check out our in-depth guide: Ski Trip Planning – Plan The Best Ski Holiday Ever! We give you tips on when to visit certain ski areas, highlight indy ski areas that feel less corporate and have big personalities, and even how to avoid crowds.