What makes a ski resort great? Is it the lift network? Deep snow? Terrain? No matter how you stack it up, Sierra at Tahoe ski resort should be on your must ski/snowboard list when visiting the south shore of Lake Tahoe. We might be a bit biased, but there's a reason we call this resort our "happy place" & go to spot to hit on a powder day.
Sierra-at-Tahoe – A Truly Hidden Gem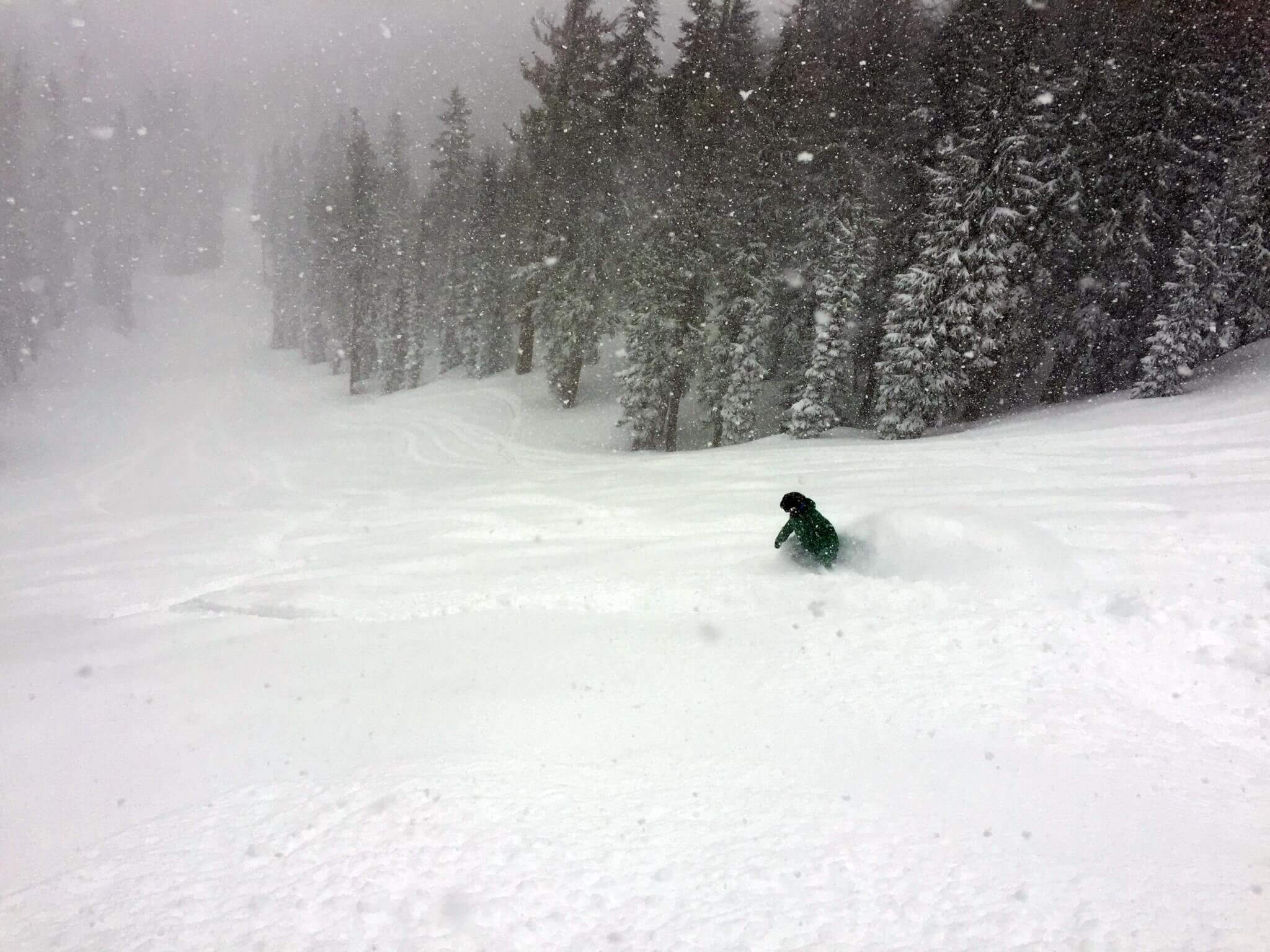 Kirkwood is known the world over for its steep n' deep while Squaw Valley is legendary for those wanting to get after it. Everything about Sierra at Tahoe ski resort… is secretive. A true "Locals" spot. It wasn't until a friend gave us a personal guided tour of the resort did I realize what this place had to offer. From a terrain perspective, almost 1,500 of the 2,000 acres are hidden in the trees. From the eyes of a foodie, the "stashes" of what they serve are just as concealed. In our Sierra at Tahoe ski resort travel guide, we'll reveal a bit of the tasty treats you'll find and introduce you to what kind of terrain it has to offer. Of course, we're not going to share all the secret stashes. If you want those tasty tidbits, you'll have to make friends with a Local & perhaps buy them a barley pop.
Why Some Locals Call It "The Ranch"
When you're riding up the Grandview chair, you'll sometimes hear this place being called "The Ranch". Why, you ask? Well, back in 1946 when brothers Ray and Floyd Barrett started the resort, they named it the "Sierra Ski Ranch". Similar to Chicagoan's calling it Sears Tower versus Willis, there's many a Local that still go with this moniker.
Sierra Ski Ranch Moves To Its Present Day Location
After the resort was sold to long-time local Vern Sprock in 1953, it was during his tenure in the 1960s that the California Transportation department started to worry about avalanche danger. The ski ranch, where it originally was situated, was on the south side of the American river about a mile farther down the highway from where Sierra-at-Tahoe sits today. In its original location, the terrain was more avalanche prone. So, in 1968, they picked up the resort & moved it to the north side of the American River, up to a higher elevation. This was all spurred by a relocation of Highway 50. For a closer look into the history of the resort and its trail names, be sure to check out our post Legacy: The Origins of Trail Names – Sierra-at-Tahoe
Terrain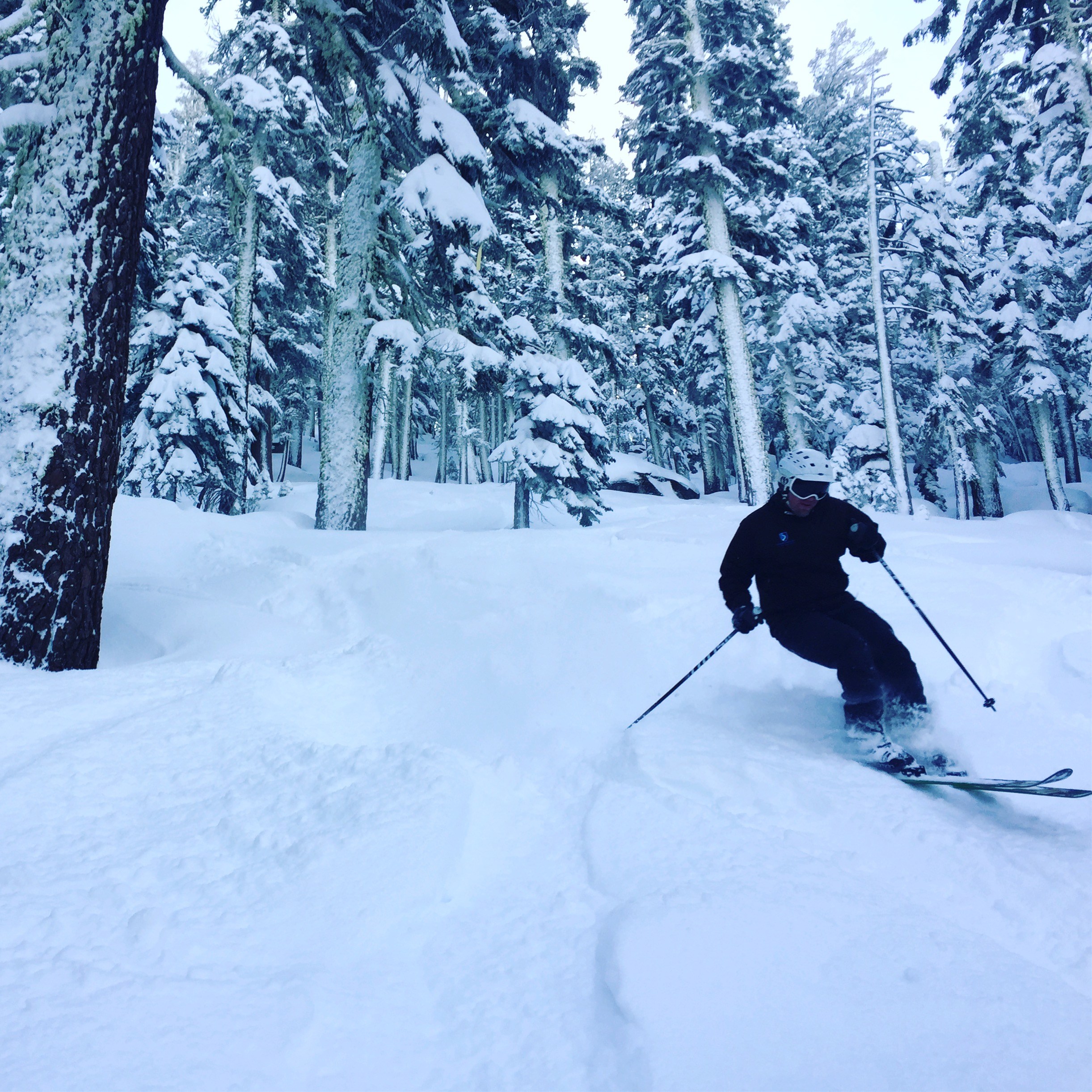 While most "serious" skiers & snowboarders overlook this resort, you shouldn't. Boasting an annual snowfall of 480 inches and 2,000 vertical feet of fall-line skiing laid out over 2,000 acres, it's one of the larger resorts in Lake Tahoe. And if you're a tree skier, due to the loggers of days-gone-by saving the old-growth red fir trees and chopping down all the other species, you'll have a vast playground to play. As a Local once told us, "It feels like they strategically placed the trees a perfect distance apart."
Experts
Where Sierra at Tahoe ski resort lacks in huge open faces like Kirkwood or Squaw Valley, it's replaced with what we like to call "Kootenay pillows". Sierra-at-Tahoe's terrain can be considered "Boulder-tastic" to say the least. With an absence of dirt & abundance of rock, once the snow is deep, these rocks become pillows to blast over. Trails under Grandview like Dynamite & Preacher's Passion cascade down nearly 1,300 vertical feet. Your legs will be begging for mercy. And for those that can't live without bowl terrain, head over to Gates 1-5 in Huckleberry Canyon. This lift accessed backcountry zone is filled with cliff bands, steep slopes and an assortment of playful terrain fit for any serious shredder. For those feeling a bit timid but still curious, there are guided tours available for this area.
Intermediates
Bee-line straight over to the West Bowl area. Nearly all the trails that trickle down to this lift are blue square. Powderhorn & Pyramid are a great option for anyone looking for a leisurely run. Wide with plenty of space to negotiate steeper sections, you won't feel hemmed in. If you're feeling a bit more confident, try Horsetail if it's groomed. It has the same fall line but a bit narrower.
Beginners
As the classic song "On Broadway" states, "They say there's always magic in the air on Broadway." And that rings true at Sierra at Tahoe ski resort for people starting on the slopes. Right at the day lodge, the Broadway slope is served by its own quad chair. And once you're ready to test your limits, head over to the Grandview chair & try out the easy cruisin' run of Sugar n' Spice. As you descend the trail & a snowbank appears to the left, stay to the middle or right of the run. Hot shots like to bomb this section and shoot out of the trees between this run & upper Snowshoe.
Best Places To Eat & Drink At Sierra-at-Tahoe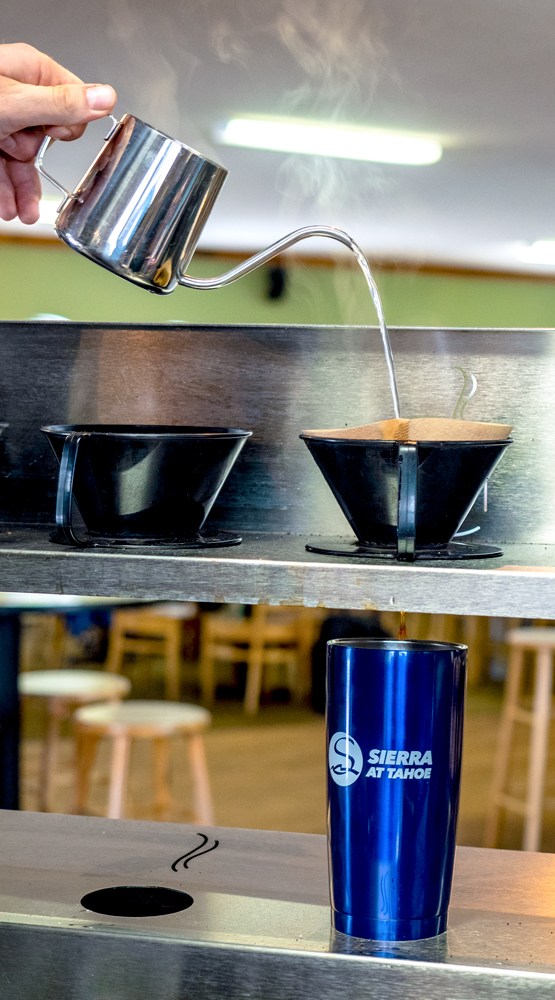 Java Junction – For Early Risers That Want 1st Chair
While Sierra at Tahoe ski resort is only 12 miles from South Lake Tahoe, it is a challenging drive since you have to get over Echo Summit especially if there's active chain controls. Luckily, for those that leave town early, you can enjoy a fresh cup of high-quality pour over coffee inside the main lodge at Java Junction. The employee favorite in the morning is the dirty Chai. The key to it its popularity is the David Rio tiger spice which is way better than the syrup.
Solstice Eatery – Where To Find The Best Food
Of course, you can head back down to South Lake Tahoe and grab a bite to eat at places like Coldwater Brewery or Blue Angel Café. But, there are some tasty, hidden treats you should consider at the resort if you're looking to fuel up. Inside the unassuming igloo shaped building is the "Solstice Eatery" featuring some of the best food you'll find on the slopes anywhere!
Poke Bowl, Banh Mi & Salmon
Our personal favorite after a long morning of shredding pow is the Poke Bowl. It's like sushi in a bowl, but even better. The seared tuna, fresh veggies and sticky rice combine for a fresh meal that will leave you full & happy. For those looking for an awesome sandwich, try their Banh Mi with tri-trip. It's tender, juicy & spicy. Perfection! Feelin' a bit more extravagant? Grab the salmon noodle dish. A bed of home-made gnocchi style noodles, stir fried veggies and baked salmon covered in a miso paste are something you'd find at a high-end restaurant. It's so good that you might come up just for lunch and skip the skiing.
Feed The Whole Subaru
For those heading back to Sacramento or the Bay Area, Sierra-at-Tahoe features a cool concept that we've never seen anywhere else. Understanding their market, they provide a takeaway meal so that you can have an amazing hot dinner once you get home without being forced to cook. It also comes with a high-quality bottle of local Zinfandel that's "Snowmmelier" approved.
The People's Bartender @ Corkscrew Bar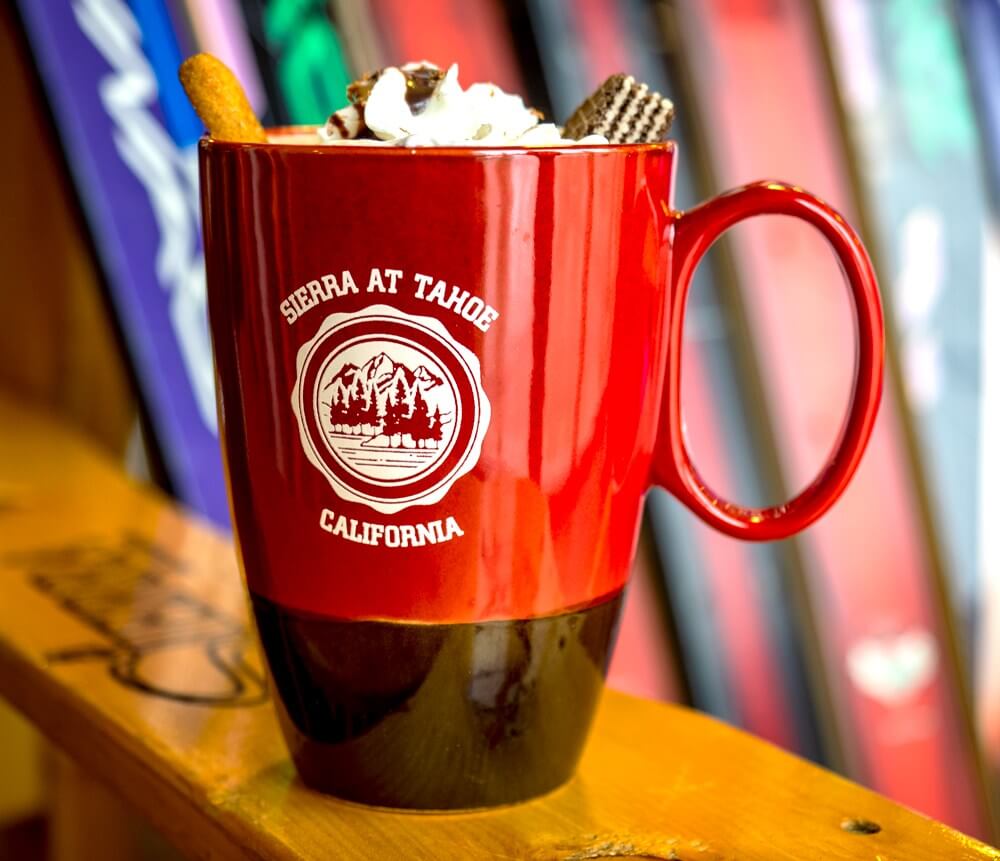 In addition to the killer food inside this igloo, there's the Corkscrew Bar featuring what they call the "People's Bartender" – Tony Dove. After 15 years of surfing in Costa Rica, he came back to "catch the winter wave". As soon as he saw this bar, he was sold & has been here since the beginning. Like any good bartender, Tony serves up cool one-of-a kind drinks like the Chip Shot and the Olympic Colada. The Chip Shot, originally from the Edgewood Golf Club, is like a hot toddy meets hot chocolate meets coffee. A great option for those cold snowy days. The Olympic Colada, on the other hand, is a perfect spring-skiing drink. The 3-layered (red, white & blue) Piña Colada with rum was created to celebrate Sierra's Olympians in the 2018 winter Olympics.
As the old adage goes, "Don't judge a book by its cover", the same thing is true for Sierra-at-Tahoe. On the surface, it may look like a normal resort. But it's the secret stashes that make this place our favorite! So, the next time it snows… you know where we'll be. Sierra-at-Tahoe, here we come!