Starfire Yellow. Crimson Reds. Highlighter Orange. The hardwood forests of the Appalachia might be considered the gold standard for their pageantry of colorful displays. But that's not the ONLY place to see Mother Nature's transition. As we await the snow to paint the landscape white, here's a few of the best west coast fall foliage spots in the US & Canada to catch the action.
Hope Valley – Lake Tahoe
Get inspired for a fall getaway to Tahoe
Since we're based in Tahoe, we've done quite a bit of exploring this time of year. We use our hiking adventures as an opportunity to prepare our legs for the upcoming ski season. And the one that's ALWAYS on our bucket list for fall colors for West Coast fall foliage is Hope Valley. The valley contains stands of aspen, black cottonwood, and willows splashing the meadow with yellow, orange, and red. And if you time it right, the upper granite peaks will be dusted with a bit of snow adding another layer to an already beautiful photo.
For a full download on where to see fall colors around Lake Tahoe, check out our article – Time is Running Out – 6 Places to see amazing fall colors in Lake Tahoe.
Downtown Nelson
For the latest of fall color in the Kootenays & Nelson
Any excuse to visit Nelson, regardless of season, is a great idea. By far our favorite ski town visited, this place is magical in the fall. Its cityscape is located on a hillside filled with ash, maple, oak, chestnut, cedar, fir, and elm trees that light up with reds, golds, oranges, and yellows. After a summer of hiking and biking, Nelson is perfectly suited to stop and smell the roses… or rather take in the colors. Filled with amazing restaurants serving world-class cuisine, awesome boutiques, and an assortment of outdoor fun, you can't go wrong.
Kebler Pass – Crested Butte
For the latest on fall color in Crested Butte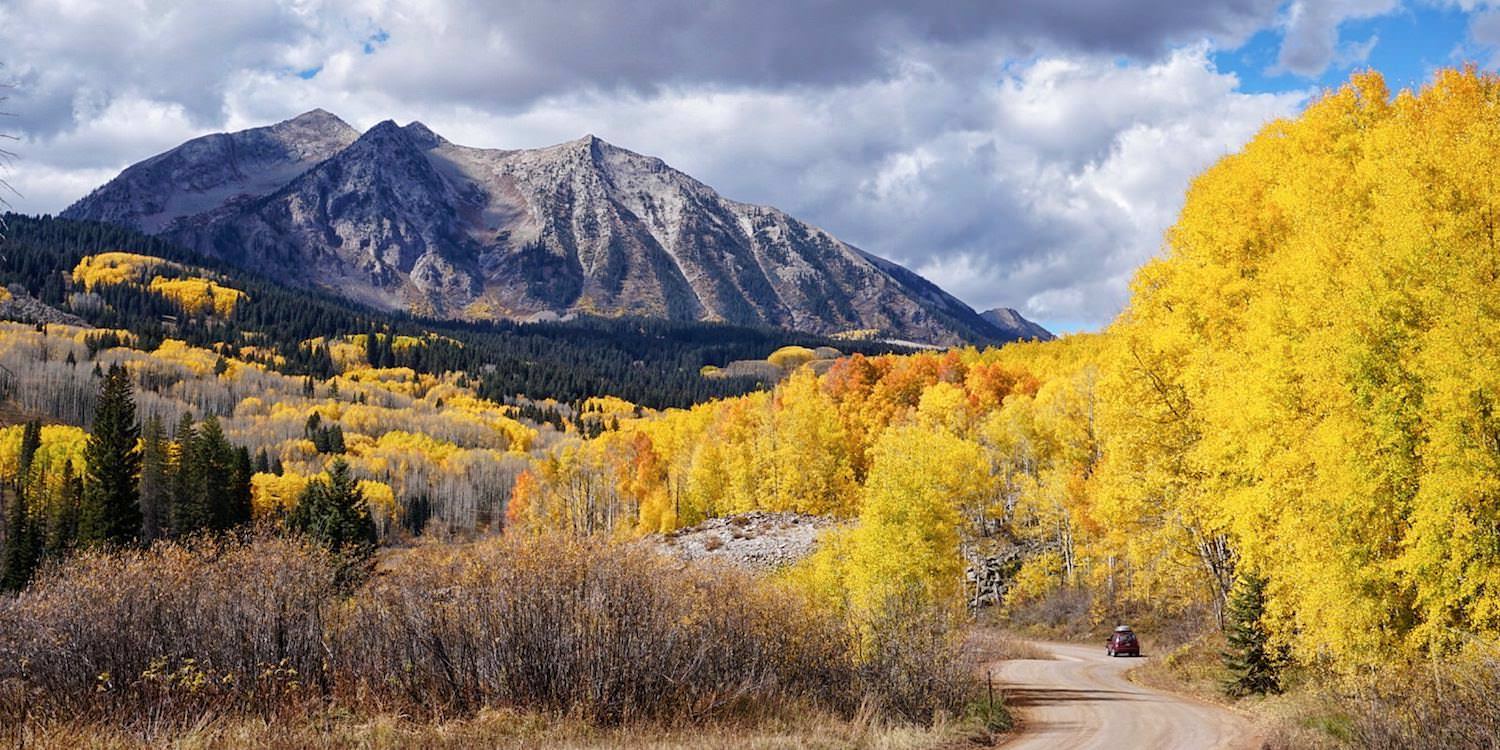 We couldn't make this list of the best spots to see fall foliage in the Western US & Canada without highlighting the King of Kings in Colorado for aspen groves. Kebler Pass, just outside of Crested Butte, is home to the second largest grove in North America and biggest in the state. The wind rustles through the vibrant sea of yellow below the jagged peaks of the Ruby Range. It's a striking backdrop that a photo cannot give justice. Not enough? Check out these seven amazing fall foliage drives near Crested Butte.
Rainbow Bridge Overlook – McCall
For more about this & other Idaho fall getaways
The asphalt ribbon known as Highway 55 from Boise to McCall might be one of the most scenic fall foliage drives in the Western US & Canada. Besides the breathtaking canyons and crystal waters of the Payette River this time of year, the surrounding peaks are splashed with pockets of reds. Like all great autumn spots, it isn't just about the colors. The backdrop against it and on this drive over the Rainbow Bridge is where it's at. This cast-in-place arch crossing was built during the Great Depression and has become a historic landmark for those traveling from Boise to McCall. Once you've gotten your fill of photos, finish with a stay in the gorgeous town of McCall on the banks of the Payette Lake & you got yourself the ultimate autumn getaway.
Larch Valley – Lake Louise
Learn more about Larch Valley & Sentinel Pass
While many destinations use descriptions like breathtaking or jaw dropping, the Canadian Rockies and Lake Louise REALLY mean it. If you're looking for fall colors, Larch Valley rises to the top. In fact, the valley is so majestic & inspiring that it was printed on the Canadian twenty-dollar bill twice! Filled with the unique evergreen known as the Larch (i.e. Tamaracks), every autumn these conifers turn a brilliant golden yellow and drop their leaves. The colorful display is accentuated even further with the rugged snow-capped peaks behind them.
From scenic winding roads to hikes into Larch Valley, these five spots will inspire your inner Ansel Adams.