Shoulder seasons are an opportunity to either extend the past season or prepare for the next one. For skiers & snowboarders, fall means it's time to start ramping up for the upcoming winter. Gear needs to be prepped, festivals must be attended, and of course, you need to pick where you're going this winter. After three decades of chasing snow, we've realized you can increase your odds of a powder day when planning a skiing trip or at least ensure the snow is good.
Plan For The Best Ski Trip Ever!
To help make it easier to pull off an awesome snow trip, we've created a checklist to use when planning a skiing trip. Once you do have an idea of when and approximately where you want to go (or even if you don't), click on our Destinations tab to read about the places we've visited over the many seasons.
Checklist For Researching Ski / Snow Trip Destinations:
Good snow: You can't predict weather, but you can at least increase the odds of getting dumped on when you're there.
Crowds: During your trip, you don't want to spend your time stuck in lift lines.
Terrain: Are you an expert, intermediate or a mixed group of skill levels? Be sure to check out the trail maps to give you an idea of the type of terrain that is available for your group.
Après: Since trips like these are planned well in advance, there's never a guarantee of snow. Be sure to choose a location with plenty to do in case Mother Nature doesn't cooperate. For more details, check out our apres guide.
Where To Go?
You've finally decided to take a snow trip. The question really is… are you flexible? Can you only take off for a long weekend or a certain time of year? Do you want to go to a certain region or ski resort? It's essential to plan a trip accordingly to maximize your time on the snow.
When To Go?
Over the years we've realized that storm tracks in North America happen during certain times of year for places ala "climate." For example, the Sierra Nevada typically has a pause mid-winter for 3-4 weeks (or longer) around January. It happens so often that they've nicknamed it "Juneuary." Of course, you can't predict weather but at least you can give yourself a better chance for good snow. Based on our personal experiences, here's a list of the Best Ski Resorts To Visit By Month In North America. Keep reading for some general ideas on the optimal time to visit destinations.
Early Season (Pre-Christmas):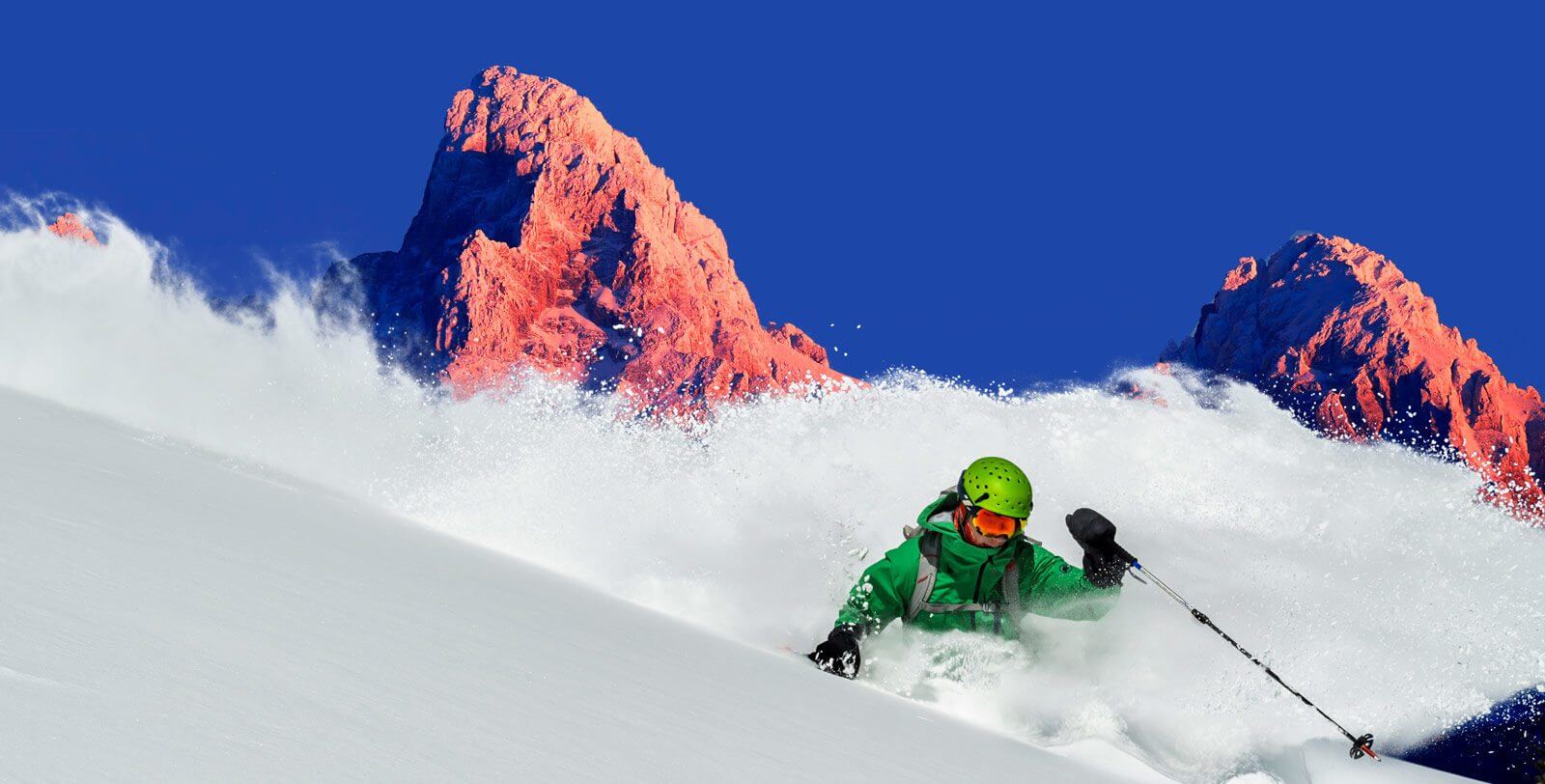 If you really want to go on a trip before Christmas, it's all about consistent early snow. The following regions and resorts are usually pretty reliable.
Pacific Northwest – On average their seasons start "hot 'n heavy". Note, there is always the possibility of rain due to low elevation so be ready to find alternate entertainment when planning an early trip here.
Whistler – Since this area has similar weather patterns to the PNW but at a higher altitude, there is a lower probability of rain.
Grand Targhee – With its own awesome terrain, different from its big neighbor, one thing to consider before planning a trip to Grand Targhee is the remoteness from Jackson, Wyoming. It is called the "Dark Side" of the Grand Tetons but that just means more pow for you!
Wolf Creek – In Southwest Colorado this place is known to be open early (by Halloween on a good year) and boasts some of the highest accumulations in all of Colorado.
The Holidays (Christmas-January):
For this time of year, it's all about getting away from crowds in addition to finding the good snow.
Northern Rockies (U.S.) – During this time of year, the storm tracks usually end up taking northern routes, making this location an ideal recipient! Also, the crowds are normally further south this block of time.
Interior British Columbia – The Powder Highway gets hammered this time of year. Again, minimal crowds due to low temperatures and more popular spots around N. America. Interior BC makes a great place to visit during the holidays.
Ogden, Utah – Compared to its brethren in the Big and Little Cottonwoods, the crowds are usually much less while storms still like to head south into Utah.
February:
Most places should be a safe bet this time of year. In a good winter, storm tracks slow down and even the Tahoe region can get huge snow dumps. The 2016-17 season is a great example of the storm track slamming California HARD.
Spring Break (March – April):
As people begin to think about other sports like golfing, THIS is the time to hit the normally crowded regions. In fact, The 'Ides' of March Have It Why Skiing In March Is The Best Month To Go & Where. For less people go later in March or better yet even April. We've had some of our best days of the season in April.
Lake Tahoe – By this time of year, Tahoe's snowpack is usually deep. The sun is warm and there's a good chance that one of those infamous Sierra storms will roll in.
Colorado – Due its higher elevation, this is THE time to go to Colorado. Snow should not be an issue. The storm track seems to be magnetized to Colorado in the spring. Be mindful of spring breaks during this time to avoid the crowds.
Late Season (May – June):
For this time of year, it's all about the resorts with a deep snowpack and places where a good local following ensures there are enough people for the resorts to keep running the lifts late into the year. It's also when you can harvest our 2nd favorite type of snow – corn! Don't forget… trips during this time of year should have some good après activities for the afternoon. By that time of day, the snow will turn to mashed potatoes, and you'll be looking for something else to do. Some of our favorites are listed below and don't forget to check out our top 10 spring skiing destinations article as well.
Mt Bachelor – In a normal winter, the summit of the mountain is closed due to the winds and snow. By late April and May, the probability of the summit being open is almost certain. Mt Bachelor is cone shaped meaning you can "dial" corn snow softening by starting on the south facing slopes and slowly moving from one trail to the next.
Mammoth – This late in the season the crowds are gone, but the snowpack still exists. In addition, there's a good chance you'll see pros lapping the park trying to get one or two more tricks under their belt for the next season's blockbuster flick.
These suggestions are based on our experiences and travels. If you want more information to improve your odds of reducing lift lines, finding the best snow, and having a great time, check out our in-depth resource guide: