If you've read some of our past articles about how to get the most out of Spring skiing/boarding, you should know that we are addicts for finding the best snow in any season. Rather than call it quits for the season, it was time to head to Mt Bachelor, the King of Spring, to close it out the right way. This mountain is the epitome of a volcanic peak.
Standing head and shoulders above any other mountain near it, it is awe inspiring. Driving up on a Spring bluebird day, the first thing you'll notice (after the fact that you are looking at a gigantic snow covered volcano in front of you) is the Summit lift rising out of the tree line and ascending to the top. In a way it seems out of place on such a majestic peak but that is what makes the chairlift ride up so memorable. Mt Bachelor shares with you its massive bowls and snowfields that seem more like a backcountry adventure rather than in-bounds at a ski resort. Without a single tree to be found, the Summit chair is exposed to all the weather that hits Mt Bachelor. This means that nearly 30% of the ENTIRE season it is closed due to inclement weather. Don't worry about that fact…it's Spring time now! The storms begin to die down this time of year and aren't as ferocious which means there is a higher probability of getting to ride this epic chairlift as a Springtime treat. In fact, Mt Bachelor is known for its fantastically long Spring skiing season lasting into late May with even a few powder days sprinkled throughout.
What makes Bachelor perfect for late season
There are three major factors that help make sure Mt Bachelor is a guarantee for excellent late season skiing. First, the consistency of having a deep snowpack is legendary. Even though this season had one of the worst recorded snowfalls, they still received over 200 inches meaning there is still enough to ride through late May.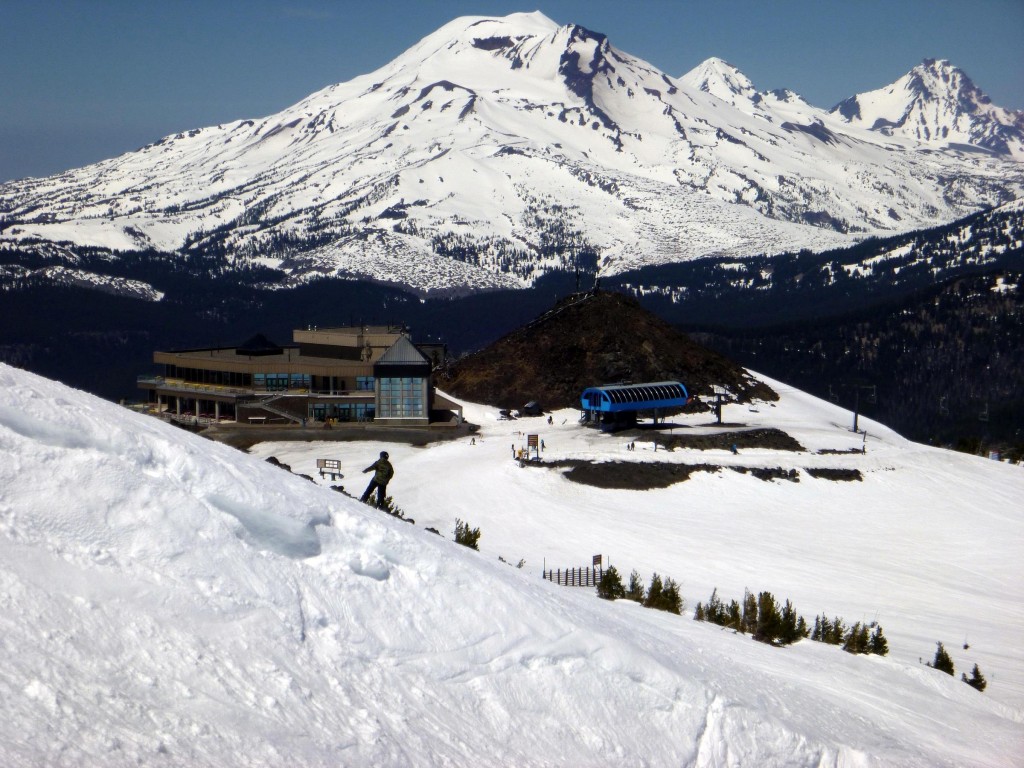 Second, even though air temps may hit the upper 50's each day on the mountain, at night it drop below freezing helping to ensure the most perfect corn snow you'll find anywhere. Finally, as we mentioned before, the mountain is a cone which means you can literally chase the perfect softness of snow based on the time of day. Most other ski resorts face one direction which means that the window of good snow will be smaller. The sun will soften the snow all at once and turn it into mashed potatoes immediately. Fortunately with Mt Bachelor, this isn't the case. It was a mountain made for spring skiing.
Where to start the day – South side
Depending on how early or late you visit in Spring, the best bet is to start on the south-facing exposures that are lower in altitude. This means head over to Sunrise Chairlift. Examples of south facing runs are Rooster Tail and I-5. These runs get the first bit of direct sunlight and turn soft SUPER early in the day. In May, we started the day around 9:45 am and hit the runs off of Skyliner Express. DSQ and Olympian were simply perfect with the corn snow just soft enough to allow you to get an edge but not too soft that it would make it difficult to make turns. After your legs are warmed, up its time to head up to the Summit and hit Cow's Face, a massive south-facing snow field. The chairlift will disappear from sight and then the view will suddenly appear before you, literally taking your breath away. With no man-made structures visible or obstructing the raw feel of its expansiveness, you will feel as if you teleported into the middle of nowhere. Large easy turns come natural on this huge face, letting you float down the mountain with as much speed as you want.
Finish Strong – Pine Marten
If you visit in late April there's a good chance Northwest or Outback chair is running. If you are lucky enough for this to happen, this will be where you want to end the day. If these lifts aren't open then head over to Pine Marten and hit runs like Old Skyliner or Coffee. The Pine Marten runs don't get direct sunlight until about 12:30 – 1:00 pm which means you can squeeze out a few more epic corn runs before the entire mountain turns to mashed potatoes. After the day is done, it's time to head down to Bend and enjoy the sun and a barley pop.
Growing up, one of my favorite places to hang out was the local snowboard/skate shop. You'd drop by after school and talk about new gear or hear rumors about how awesome the new snowboard/skateboard video was that just released. Aspect Boards & Brews is the perfect excuse to start hanging out again at a snowboard shop and talk about the glory days or how epic the day was on the mountain.
On the inside they have a snowboard shop with a great selection of gear but on the outside, that's where a chill kick-back beer garden sits serving the best in local beers like Boneyard, Good Life, and Crux. What goes better with a beer than an interesting conversation? Elliot and Tanner are the two guys there manning the helm that fit the bill to a tee. Elliot grew up in Houston and fell in love with skateboarding. One day, a few of his friends invited him out to Steamboat Springs, CO to hang out. After that first trip he was hooked on the West and after landing a job, he immediately left the big city and headed for the mountains of Colorado… the rest is history. Tanner, on the other hand, comes from the West and is the epitome of a powder hound. After going to school in Montana and then living in Alaska, he ended up in Bend as he continues his quest for epic pow days. These guys have great stories to tell and are great listeners for yours. Aspect is a great way to end a perfect Spring skiing day.
If you're wishing you could've gotten a few more runs in this season, don't worry! Mt Bachelor is staying open through Memorial Day! There is more than enough snow on the cone to get some epic runs in before your season is over AND there is a ton of cool events like the Pole Pedal Paddle competition where you ski, bike, and finish off paddling down the Deschutes river. If you are also thinking beyond the snow and are on the hunt for beer, be sure to check out last week's article here to help guide you on making you're Bend Ale Trail decisions.
Don't end the season wishing for another run. Get up there and get it!